2012 Finds page
OK for what it's worth. This page is my daily log of better finds. But just to let you know for every good item pictured here I dig hundreds of targets. Bottle caps, pulltabs,can tops, aluminum foil and every other type of metal crap you can think of.
Gold pieces for 2012
53 pieces, 203.8 grams 5 returns
12-30-12
Year end gold video is up
12-28-12
Getting ready for the Year end gold video. Got all my goodies from the bank for a photo session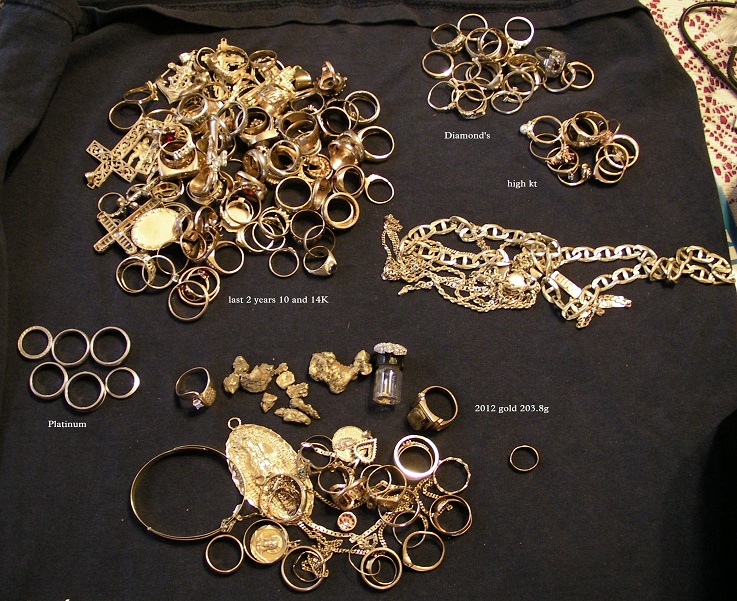 12-16-12
Back to the same spot
No gold for me but did get a silver dime and a silver ring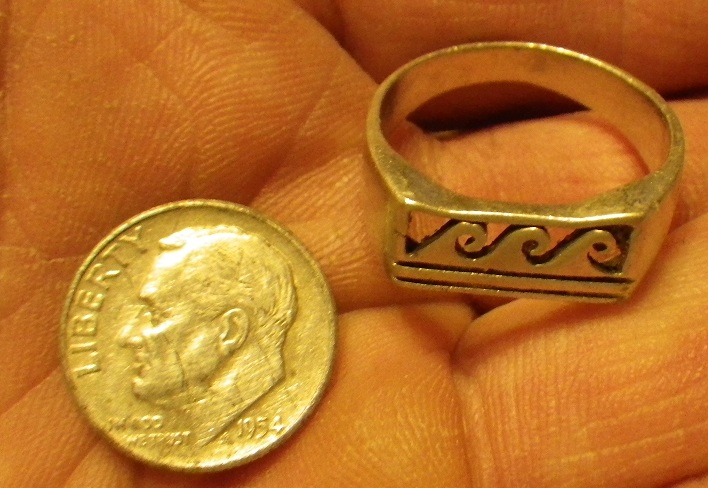 12-14-12
Found a beach that wasn't completely buried by Sandy, I had fun for the first time in a while
My take was 2 washington silver quarters, a 1943 silver war nickle, a buffalo nickle and
a thin 14K gold band 0.6g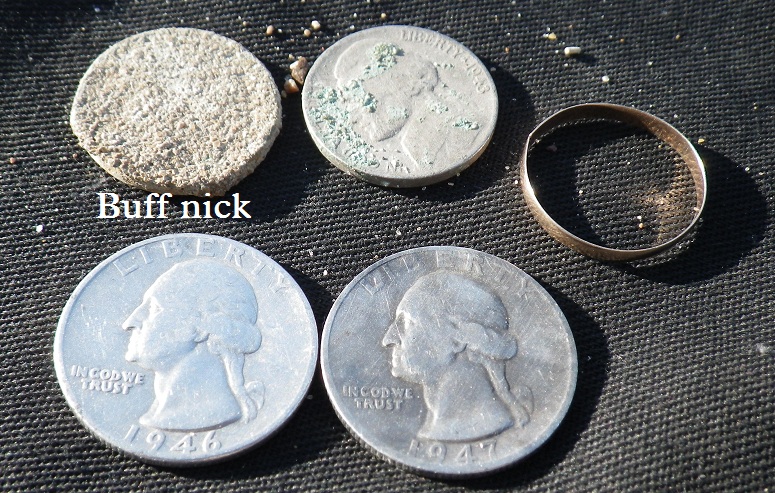 12-9-12
Did not get to do much hunting in November. Hit a few parks and got a couple silver and a couple indians.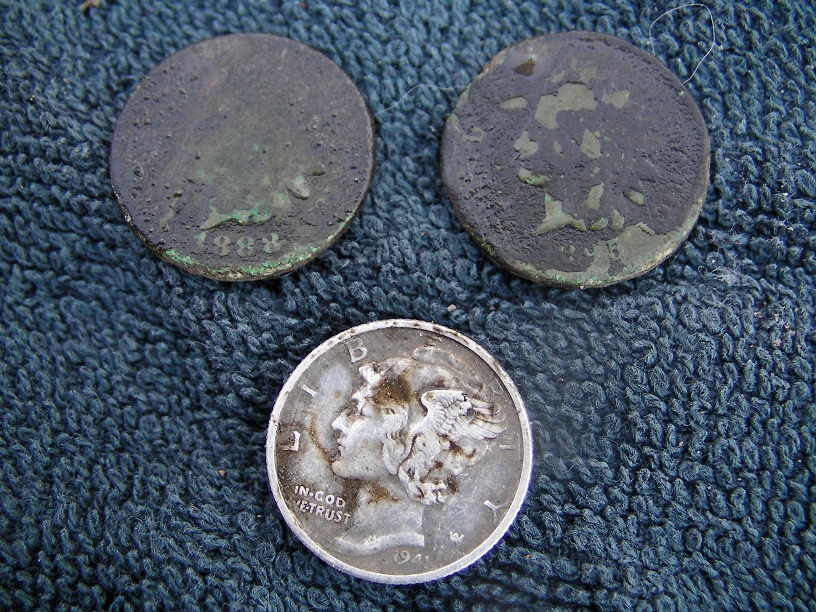 12-7-12
Was bored and drove around the beaches, found one that looked promising in the dry sand.
about 4 dollars in change, 2 silver rings and a silver ear ring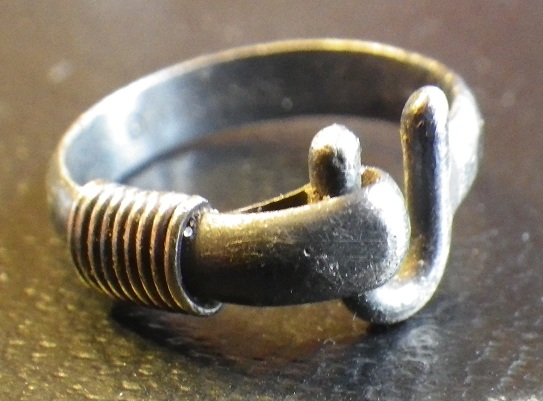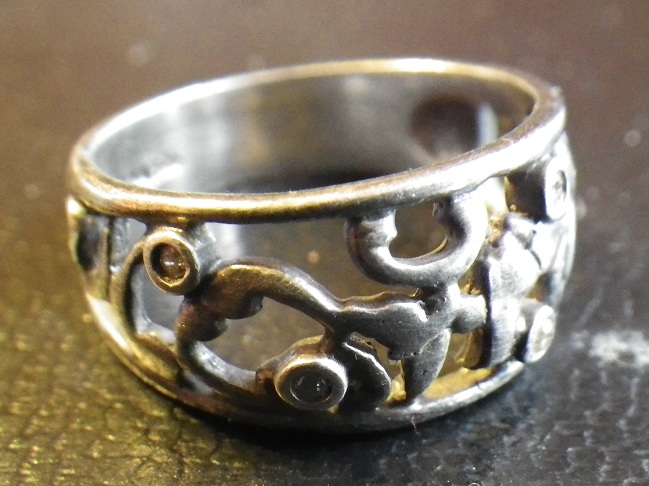 11-10-12
Hit the river this morning, first coin in the water was a 1905 O Barber dime.
I was working the shallows with the Extera 705 and decided to try out farther, went to the car and changed
over to the Excal II. Wandered out to chest deep water and got several blob to bottles and an
1888 O Morgan Dollar!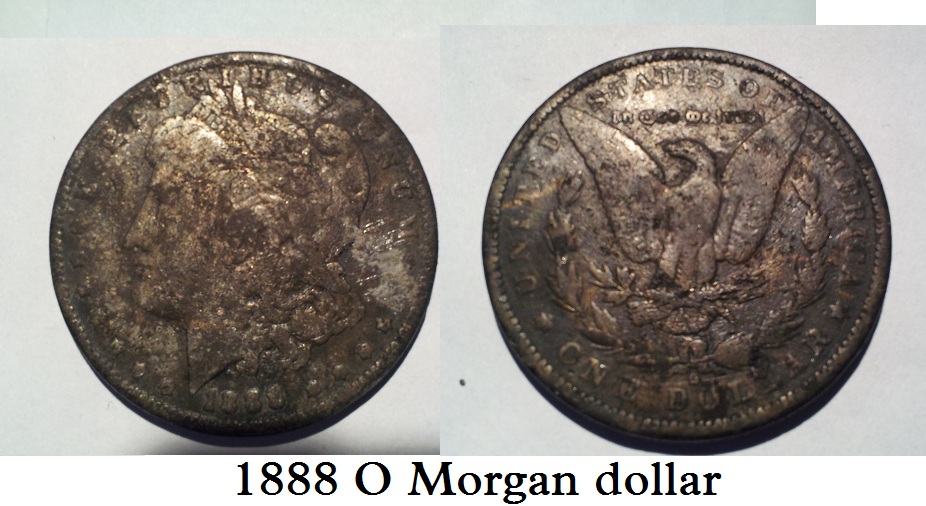 11-8-12
So bored i decided to try a park for a little while, got a couple wheats and some clad.
I believe I may be spoiled with beach and England hunting.
I have lost my taste for park hunting.
11-2-12
It has been slim pickings with sand in everywhere. Managed some change and a couple junk earrings in the dry sand.
The beach season could be over until we get some waves.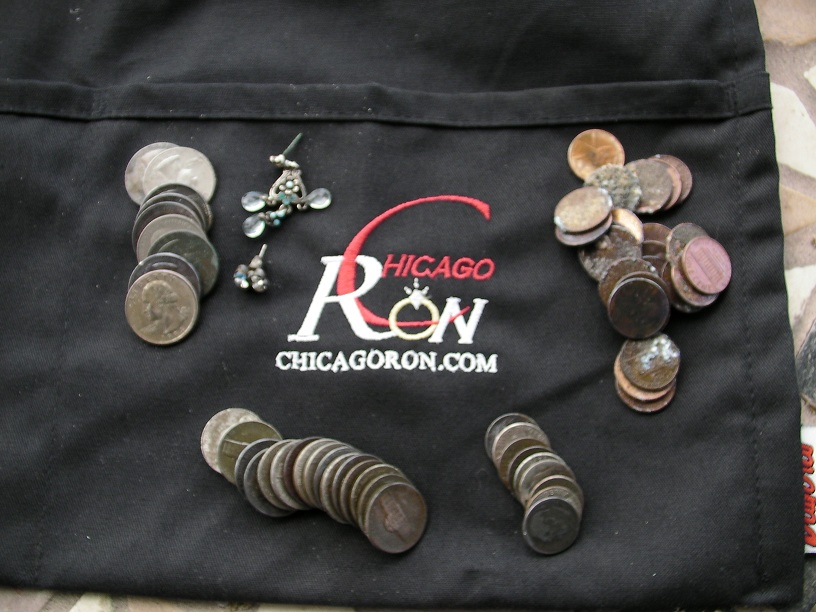 10-23-12
2 hours in the water, about 2.50 in change, and 2 pieces of junk jewelry.
10-22-12
Did you catch the 1 hour National Geographic show I did last year. Now on you tube
It is called Thames Treasure Hunters, Lucky Muckers. Total time is 48 minutes long.
Link to NatGeo's Thames Treasure Hunter
10-21-12
Got back into the lake today for a couple hours. 1 silver ring and a 1944 Walker half dollar.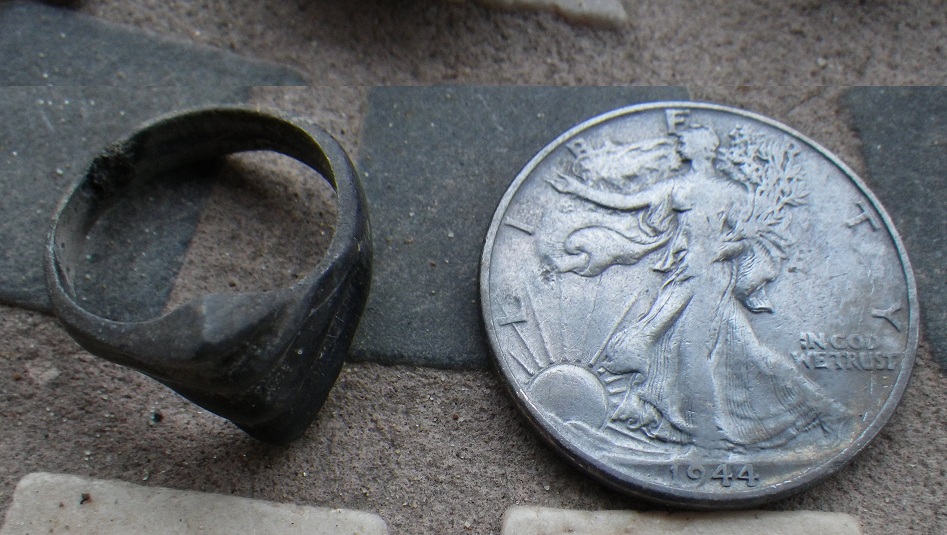 10-15-12
3 of the team found Roman silver coins today, 5 coins all from the same ruler Honorius 395 to 423 A.D.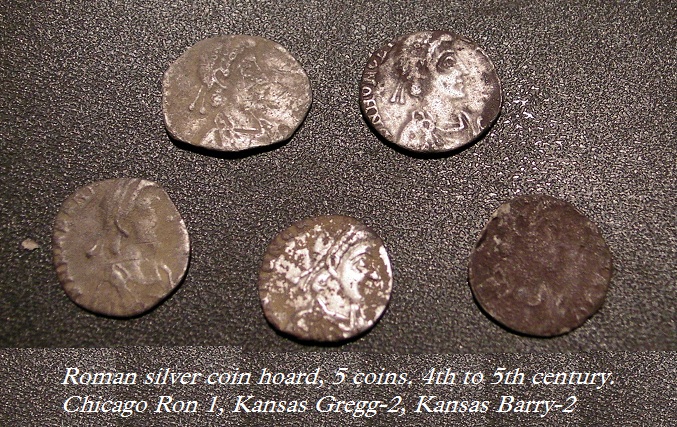 Coins were reported as a hoard as required by the Portable Antiquities Scheme.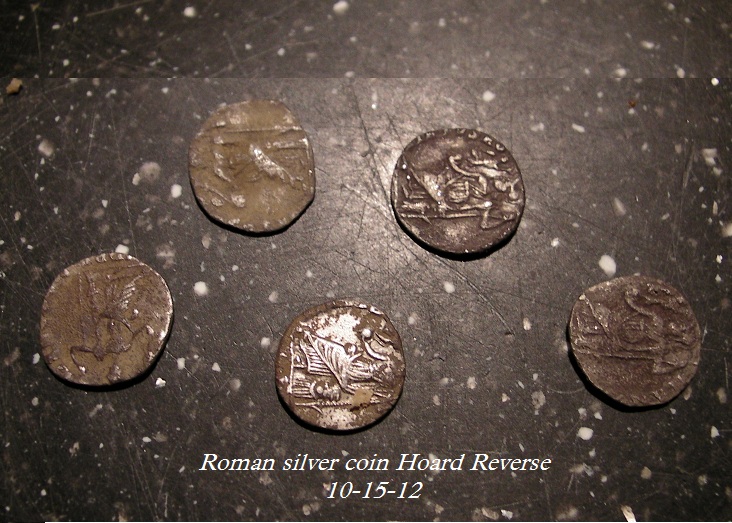 10-14-12
Misouri Jeff eyeballed a beauty 10,000 B.C. spear point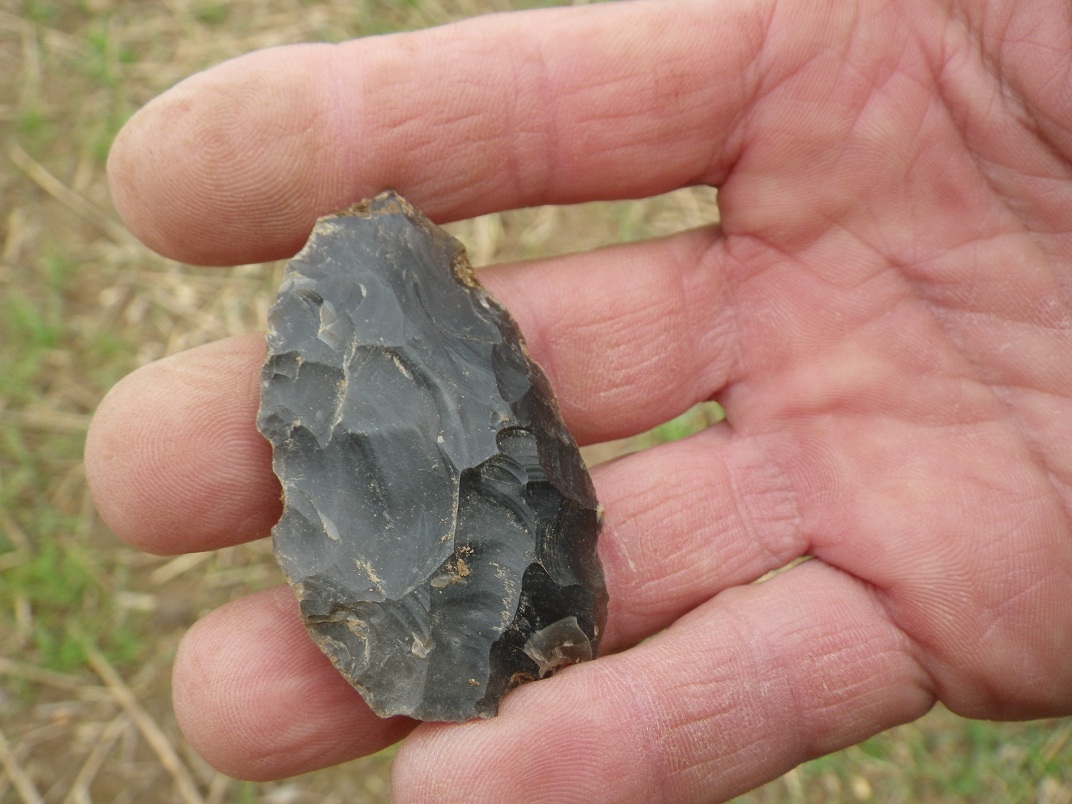 10-12-12
New team for week 3.
Kansas/Misouri team kicked ass last year.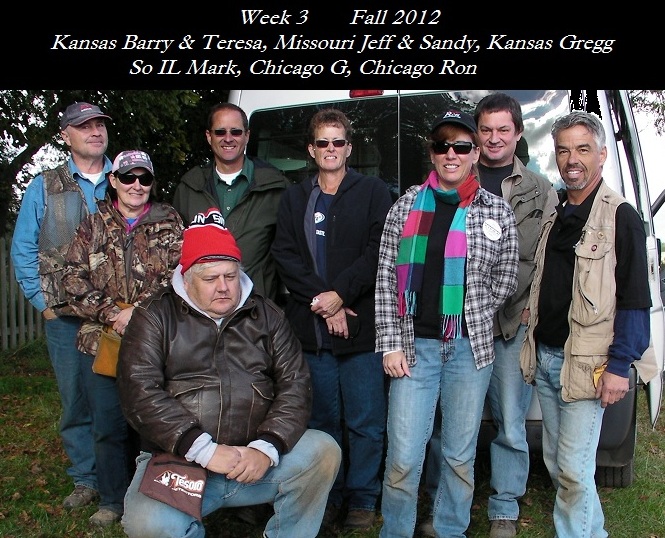 10-9-12
I got another cut half of a hammered penny. NY Carter got a nice Victoria 1894 shilling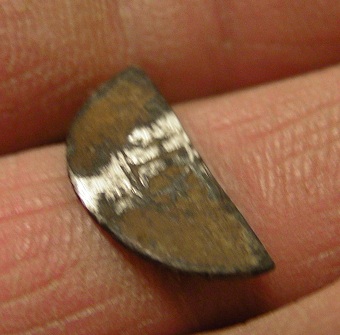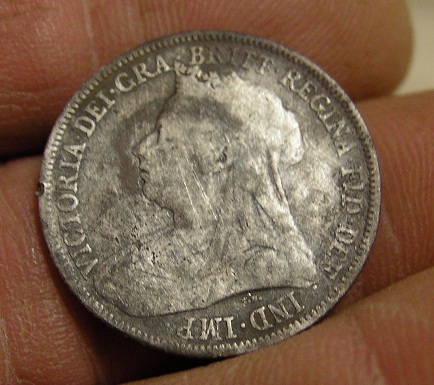 Cal George got a guilded navel officer button and 1600's buckle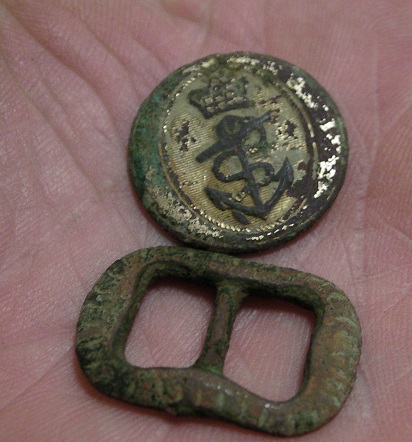 10-8-12
Everyone is finding lots of targets, couple of hammered silver coins some milled and lots of British pennies from George I (early 1700) to present
Boston Mike did well today, 1819 George III bull head 6 pence, silver button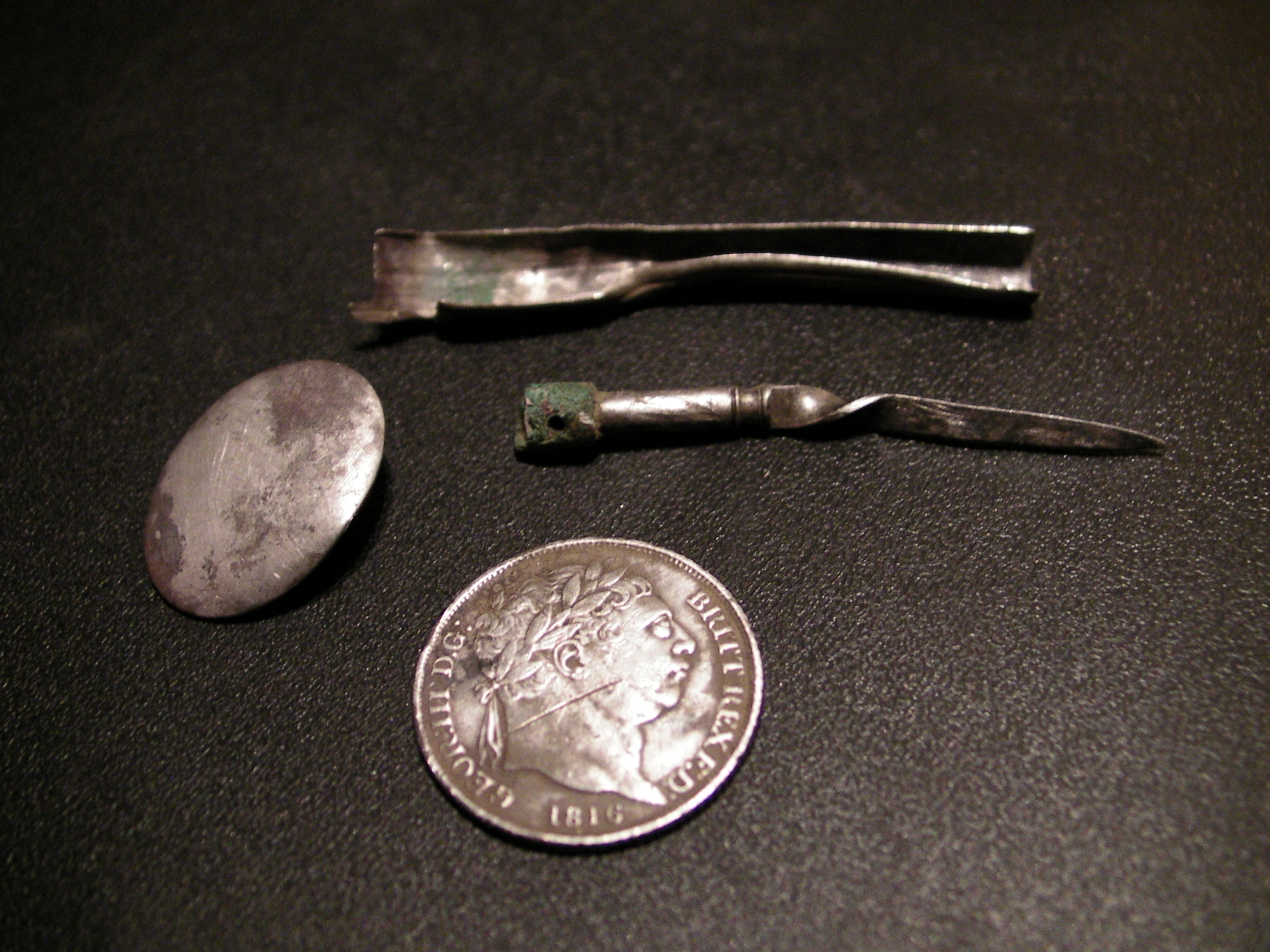 And this cool silver tooth pick/knife is a holder. probably from the 1800's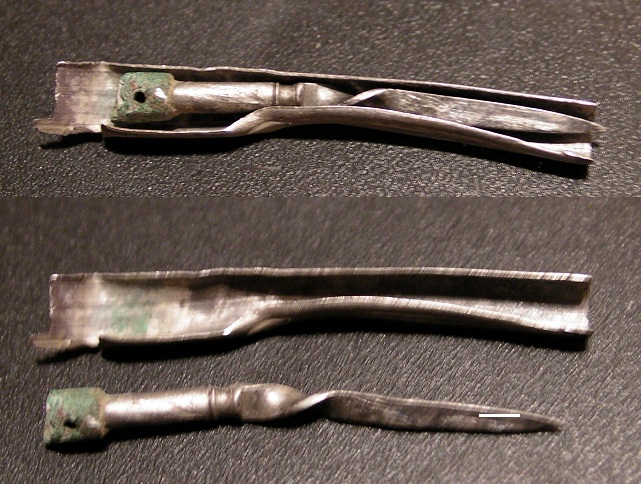 10-6-12
Boy's are getting there ears tuned to England hunting. They should do well. 2 guys with the new CTX-3030, 1 with the Daus the other is using an e-trac.
I got a Scottish cut half hammered penny yesterday afternoon. 1200's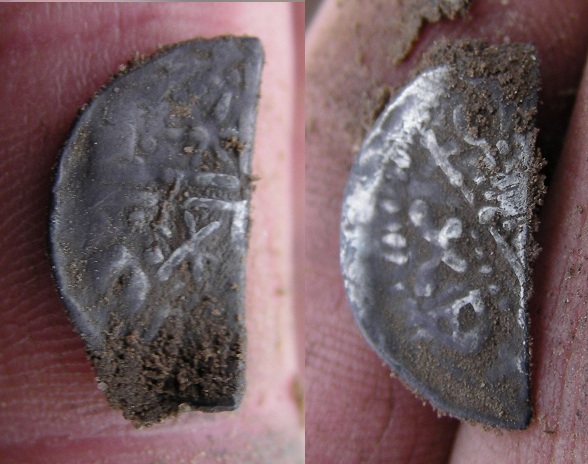 Some of the boys finds from today!
15 or 1600's Crotal Bell --------------------------------Royal Navy button late 17 or earlt 1800's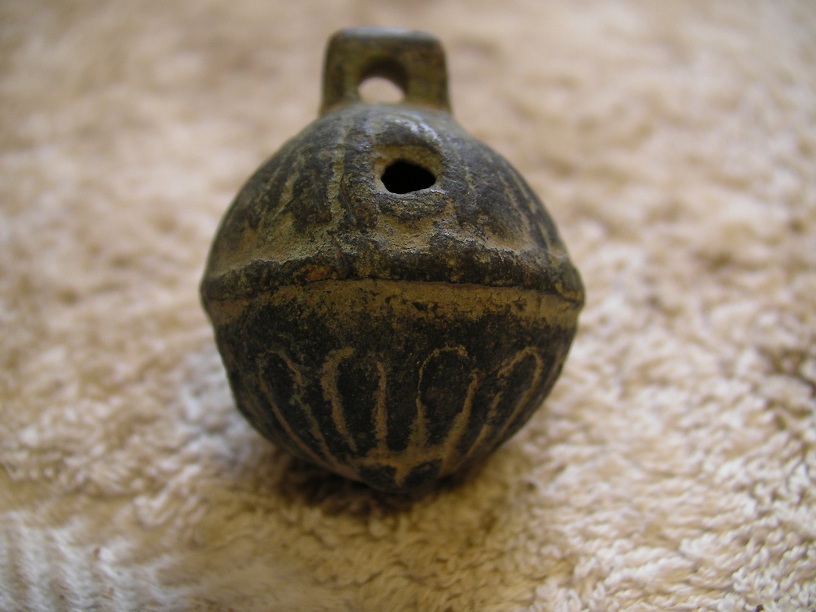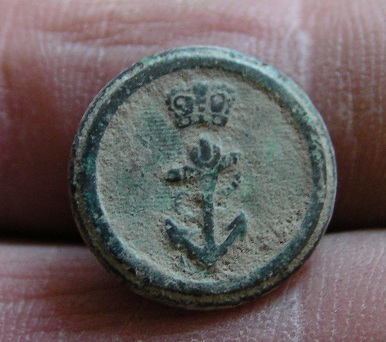 William III coin weight late 1600's--------------------1774 Russian bale seal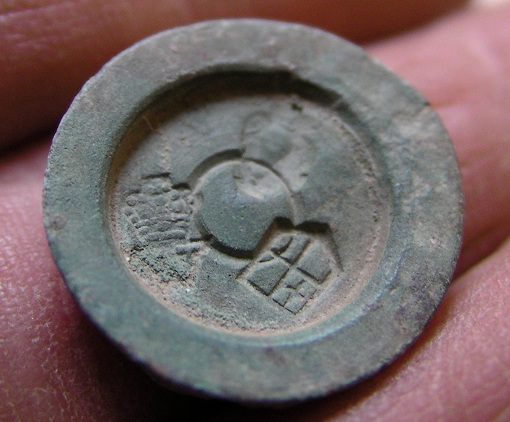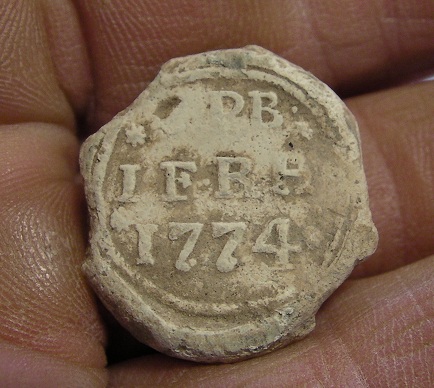 10-5-12
New Team arrived today.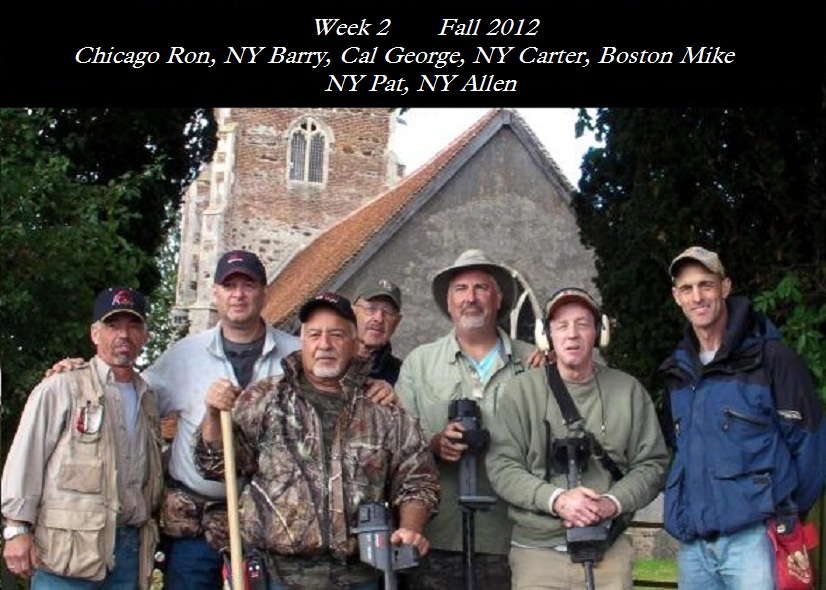 10-4-12
I can't seem to find my a$$ with both hands, LOL
We had a wager between all 7 of us for 5 pounds per man, most hammered silver coins for the week takes it.
Today was the last day and of the first week, after the dust cleared it was Boston Mike with 9 hammies that took the prize.
Congrats Mike nice hunting!
I'm taking 4 of the guys back to london tomorrow morning and picking up 4 new hunters to join Cal George, Boston Mike and myself.
10-3-12
Lots of targets dug by everyone, 8 silver coins yesterday for the team and another 9 today.
Several nice hammered pennies some milled silver coins, Holland Rob dug a beauty
16th century silver matrix seal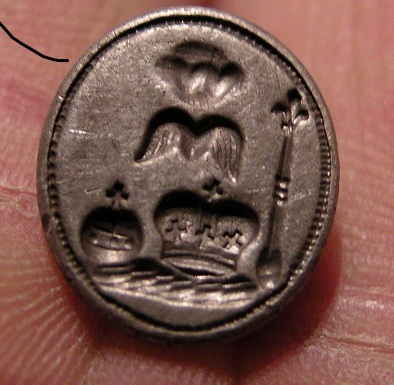 10-1-12
Light rain most of the day. Again I didn't get anything good
but Florida Mitch dug a beauty Celtic silver coin, Cunobelin from 1 to 40 AD.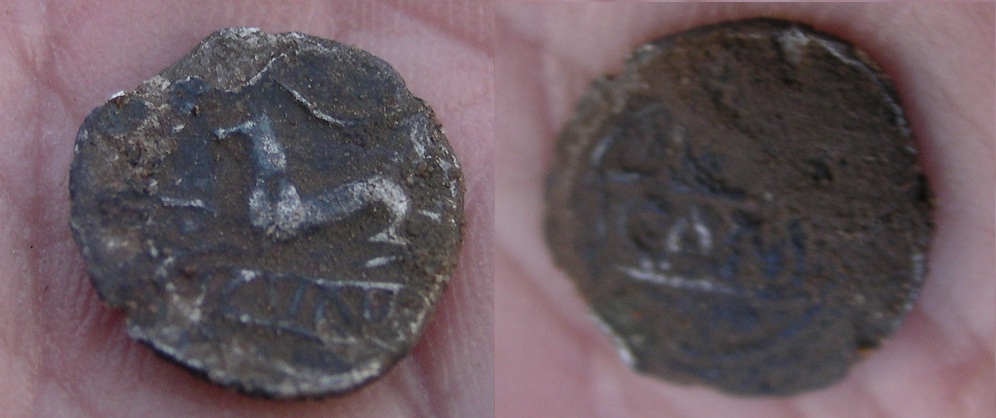 Canadian Ron got a beauty Roman or Saxon, bronze Snake head strap end. couple hammered salver coins for the other boys.
Clenaed up Roman/Saxon snake head mount or strap end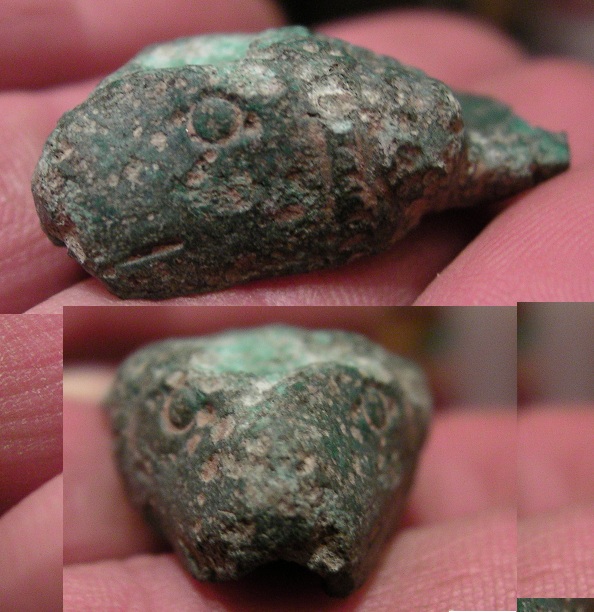 9-30-12
9-29-12
Just got internet service up. I have been hunting for a day and a half, Most of the fields are recently plowed and rolled,
but there hasn't been much rain so they are very fluffy! Not getting a lot of depth.
I don't have any silver yet,
Holland Rob got an Edward the 1st hammered silver farthing 1279 yesterday and a beautiful silver seal matrix today probably 16 or 1700's.
Here is the crew this week
9-26-12
All packed and traveling tomorrow!
3 weeks of roaming the fields of Colchester England. I have a good feeling about this trip.
Perhaps a Roman gold torq, Or pot of coins! The museum would get to buy it by treasure law rules. But that is my dream find!
9-24-12
I hit 6 beaches today, it was horrible! SAND, SAND AND MORE SAND!
Fortunatly it is time for some England hunting! 3 weeks of wandering the plowed fields of Essex!
I'm done with the water until I get back so stay tuned for updates from the field's of England!
First afternoon of hunting will be 9-27-12
England is 5 or 6 hours ahead of Chicago.
Also I will be bringing the new CTX-3030 to put through its paces.
9-22-12
Today I will be using 1 of my 2 brand new Excaliber II battery pods.
Just a tip all rechargable batteries have a useful life!
Mine were 4 years old, to buy 2 new ones or keep wondering if they are working?
Always optomize you time in the water!
Also sending in the Excal 1000 for repair as the threshhold keeps going up after I set it.
9-17-20
Rough day. I spent 4 hours trying 6 different beaches.
The first 5 were heavily sanded in, I finally ended up on the beach we have been hunting for the last couple weeks.
still has lots of rocks showing but the iron is very heavy. Only got coins and some brass and copper pieces of scrap.
My machine has not been getting very much depth,
. I may have reached the usefull life of my quick charge batteries.
Purchased 2 new pods!
9-14-12
All by my lonesome at the beach this morning. Hit the cut again, looks like a little sand moved.
Hit about 30 coins a 10K gold wedding band, 1.9 grams a silver rosie dime and a cool crown pin.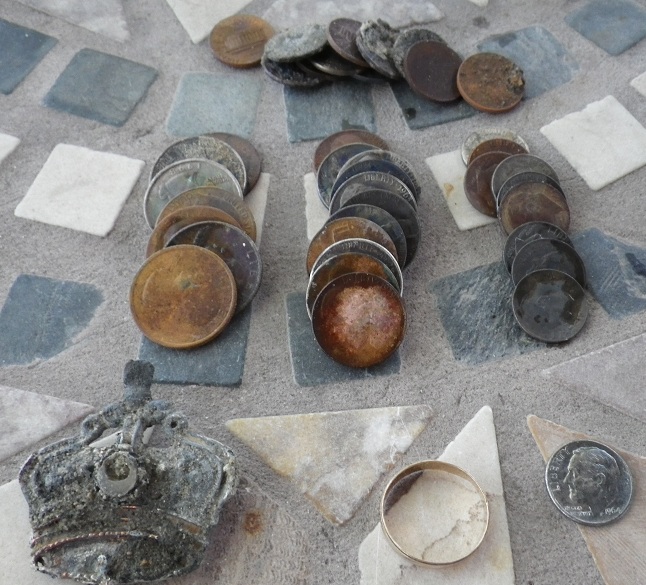 a 10K gold wedding band, 1.9 grams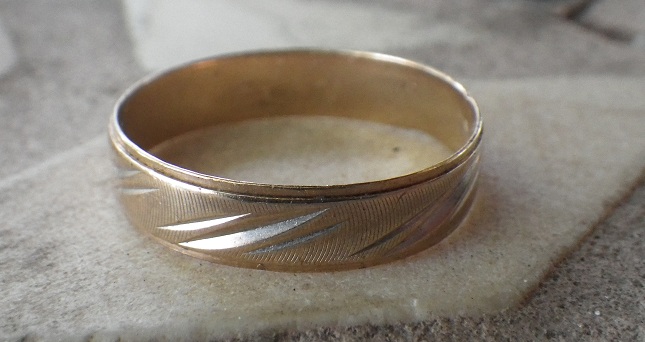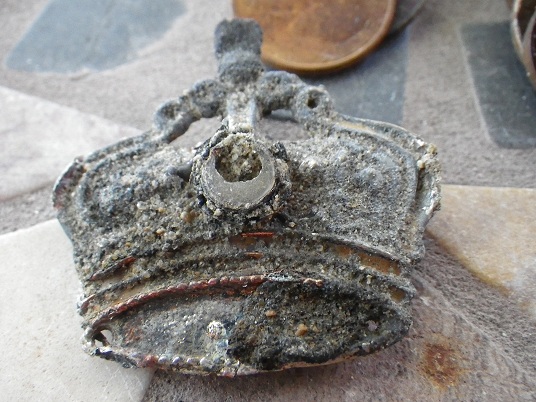 Back in the morning for another go!
9-12-12
Straight from the firehouse to the beach,
Damn work is really interfering with my detecting time.
I managed a silver ring and earring, and about 4.50 in change.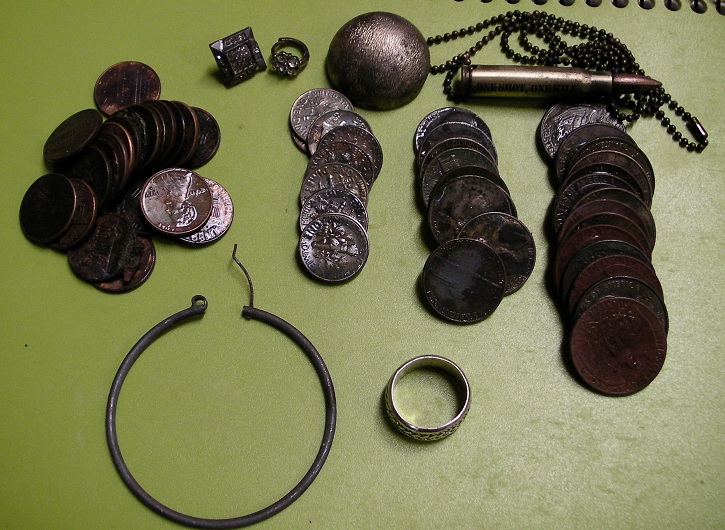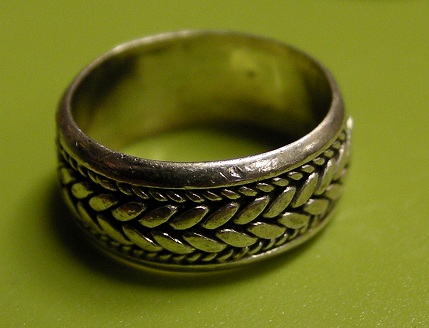 9-11-12
hit it this morning for 3 hours.
I got a silver quarter 2 rosie dimes a silver bracelet,
l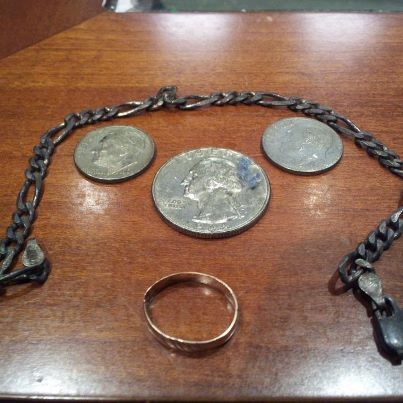 And a 14K 0.9g wedding band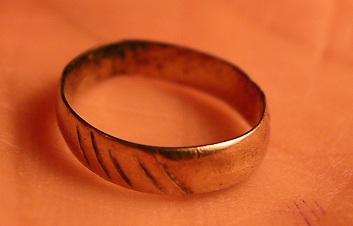 9-8-12
Midwest Historical Research Society's annual big beach hunt!
I am the huntmaster for the Chicago club. Today we had our member only hunt 64 members hunting.
over 1000 silver dimes, 50 40% silver halves, plus 40 token prizes.
I managed 31 silver dimes and a subscription for Lost Treasure magazine.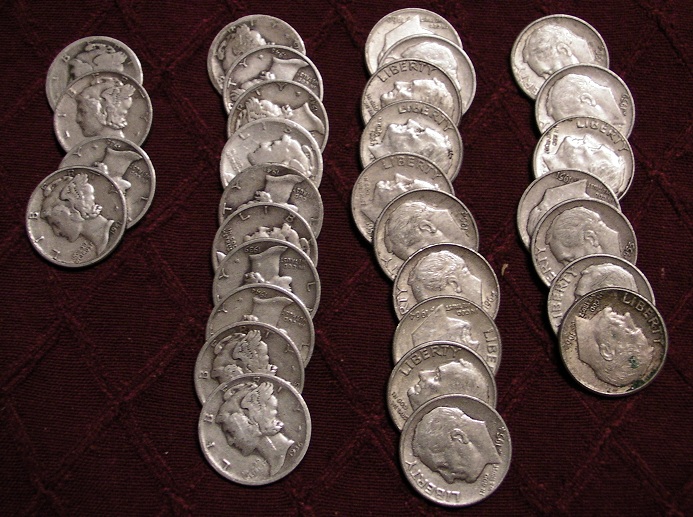 Lots of fun in the sun even with the 25 to 30 mph winds. Congrats to all the hunters on there findings.
9-6-12
Hit 2 beaches, first on was the best for me!
Got several coins and my first Platinum of the year!
Men's wedding band 13.8g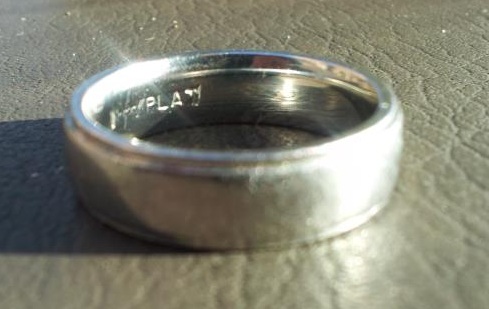 9-5-12
Waves have been too rough for any water hunting. Finally got out after a week off!
Just change andf a gold plated ring, good to get back in the water.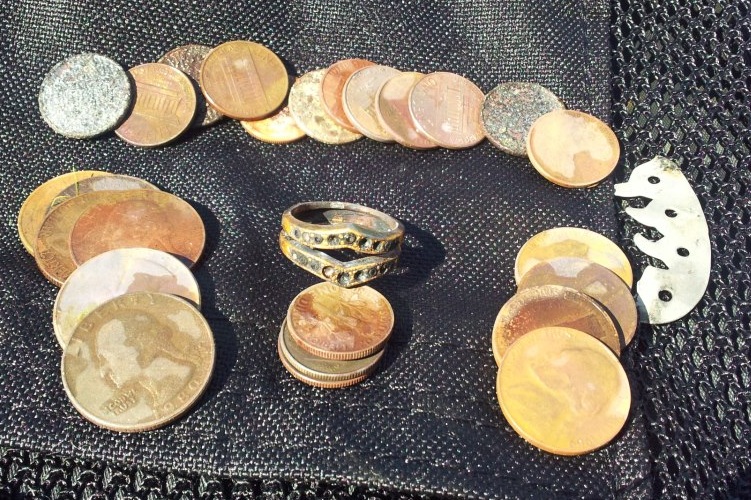 3 hours and man did I have fun,
Lots of coins, several junk earrings plus a silver earring
Gold plated silver ring, silver stud earring and a Altrium 1982 HS ring.
The 2 rings were on a chain together I think. Already talked to someone at the allumni dept at the school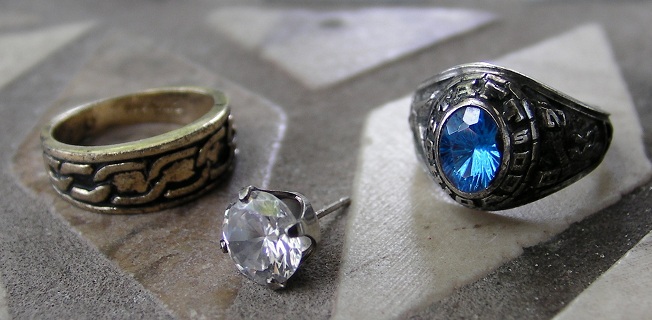 8-30-12
Hit a couple different beaches for a total of about 3 hours.
4 or 5 dollars in change and a couple junk jewelry,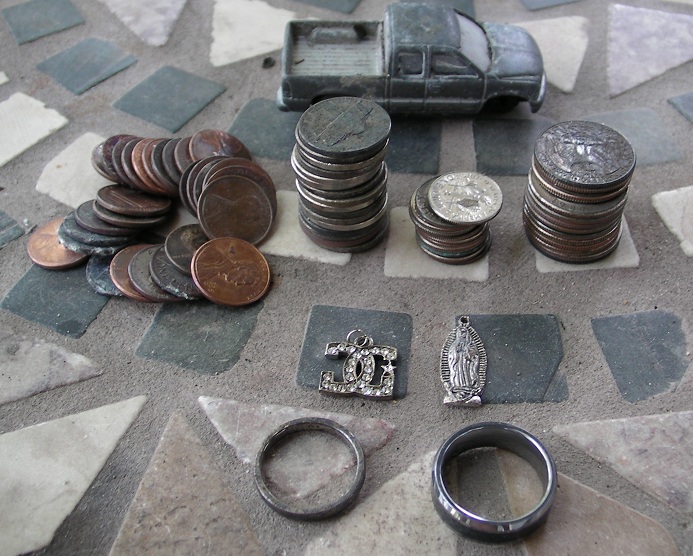 These Tungston carbide ring are becoming ever more popular.
They sell for about 150 to 300 dollars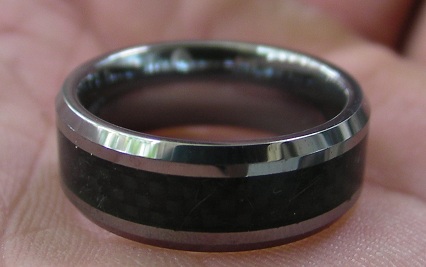 8-28-12
Went back to the beach with all the rocks where I got the 1951 10K class ring last week.
No gold but I got 3 silver.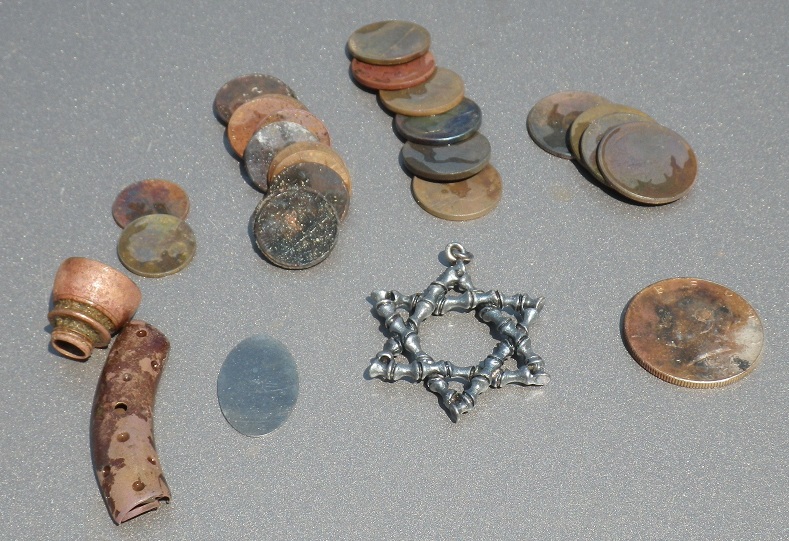 1967 40% silver half dollar, Silver star of David medallion and a small silver charm.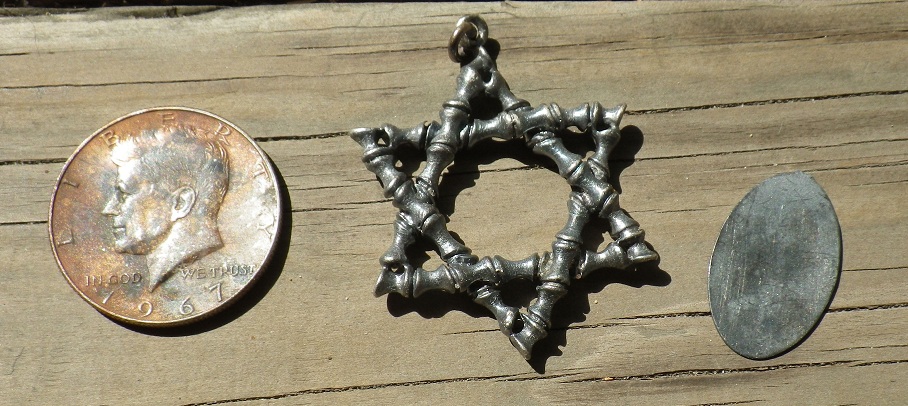 8-26-12
Hit 2 beaches this morning, not many targets, some coins and this nice fresh drop silver ring!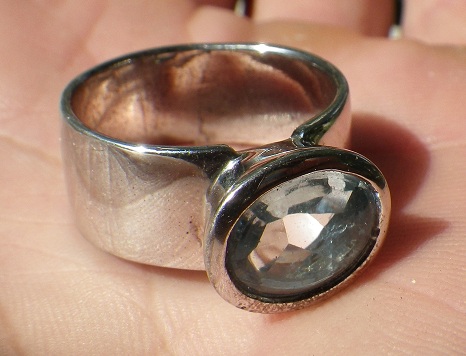 8-24-12
Headed back to the only beach in Chicago with rocks.
2 hours of hard digging. 10 or 12 coins including a 1953 rosie dime and 10K HS ring!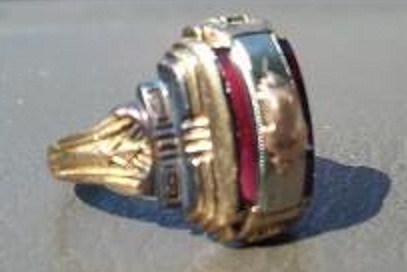 I will get a better pic up later.
8-23-12
Broke the no gold streak finally, We hit 3 different beaches today for about 4 hours total. Water is sanded in badly.
3rd beach I tried the dry and was finding black coins, the beach had not been hunted in a while or hunted well.
about 2.50 in change and a 10K diamond heart pendant, 2.7g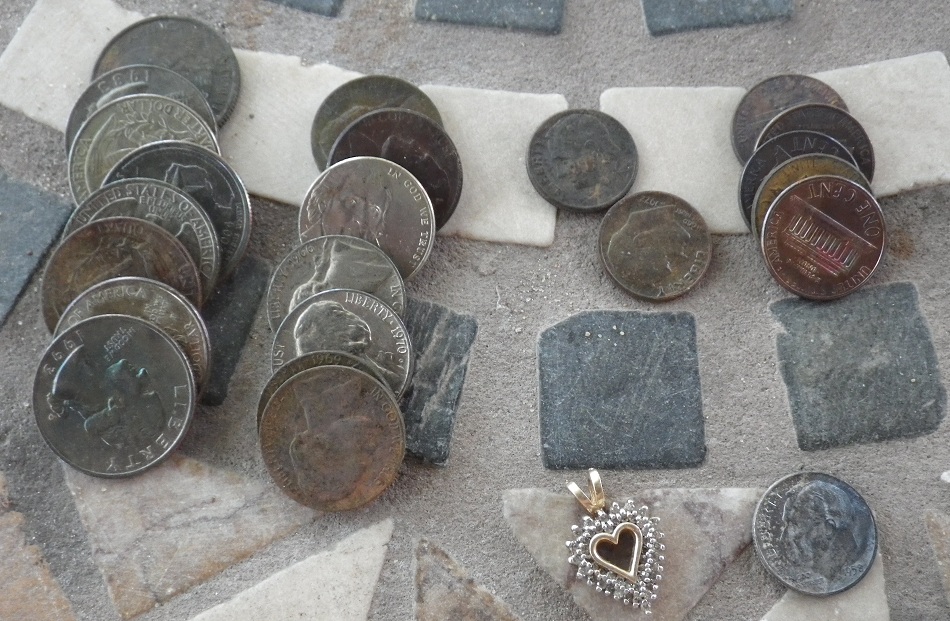 8-22-12
Got a call from a distressed Jennifer, She had lost her gold promise ring at North Ave. beach
I met her and Dan at 5pm and had her show where they were sitting and reinack what the remembered doing.
Started gridding the area and 3rd pass heard the low growel we all love to hear.
Scooped it up in the basket and held the basket out for her to remove the ring.
She burst into tears and hugged me! Love it, another happy return!
8-18-12
Gave a 1 hour presentation at Cabela's in Hoffman Estates. Had a nice turn out
everyone was asking questions and enjoyed the display I had set up of some of my gold
Top left: 8 of the 11 gold coins I have found in England,
Top center: Silver rings in tray surrounded by silver rings on a 30" chain
Top Right: 1.5 ounces of gold nuggets, 9 nuggets, largest is 3/4 Oz
Bottom: Gold rings chains and medalions.
.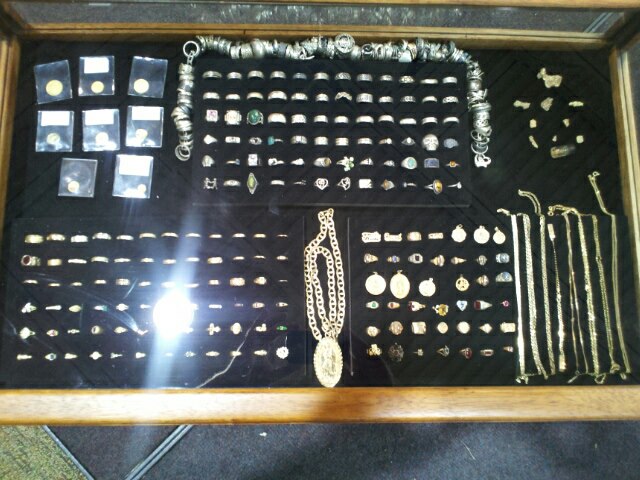 8-16-12
Been hard finding any targets, all the beaches are sanded in. We managed to find 1 beach with rocks showing!
I got 2 silver dimes a silver chain wrapped around a belt buckle.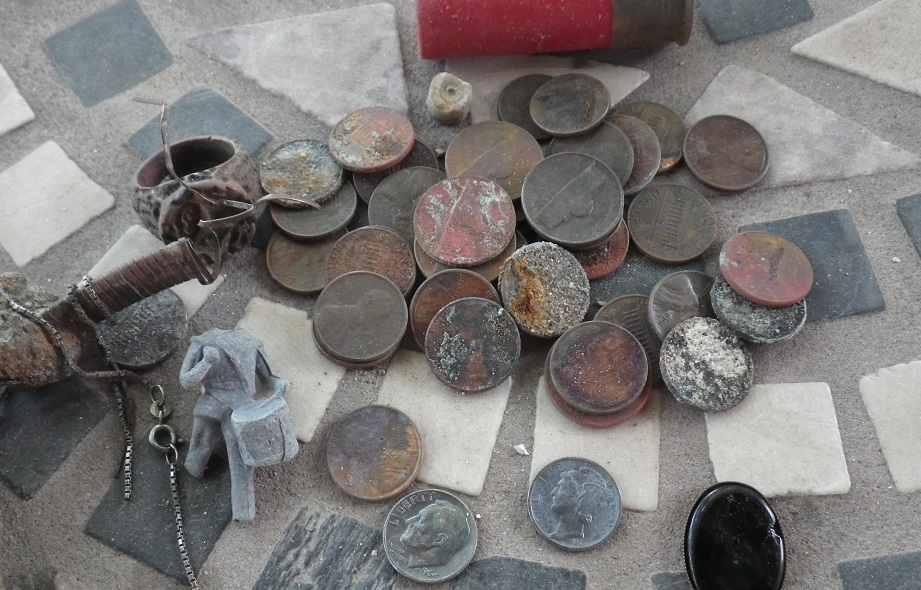 1964 rosie and 1937 mercury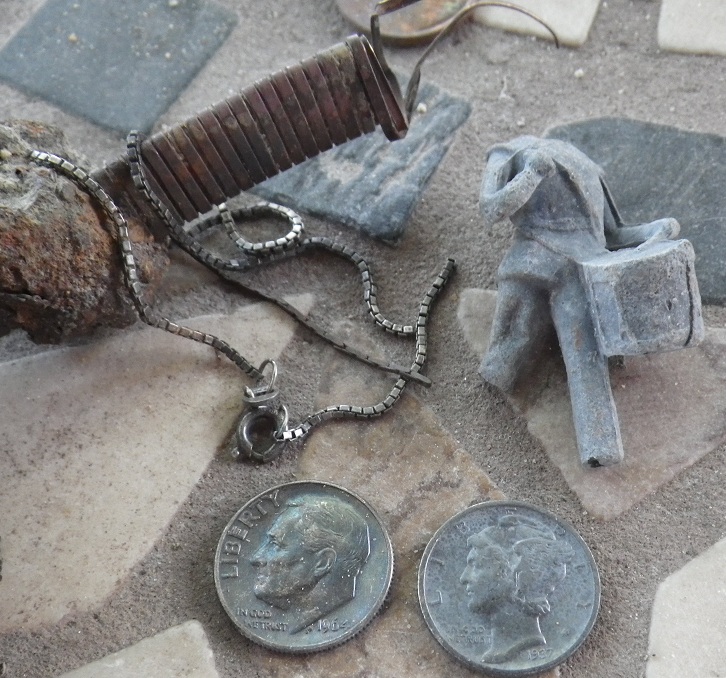 8-12-12
Another delay in posting, was getting ready for the Cabela's presentation.
Only able to get in 2 hours befor other commitments.
Couple coins and a Tiffany silver medalion.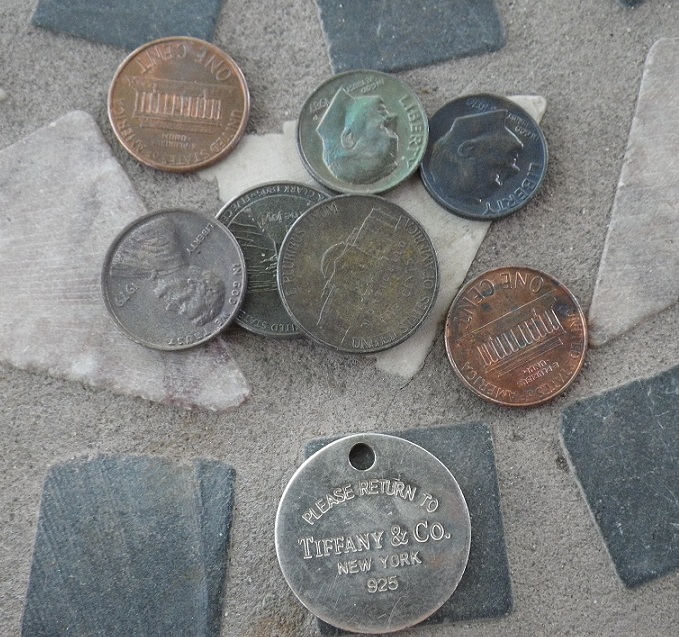 8-8-12
Went back to the cut but the waves were relentless. Only able to take the beating for about 2 hours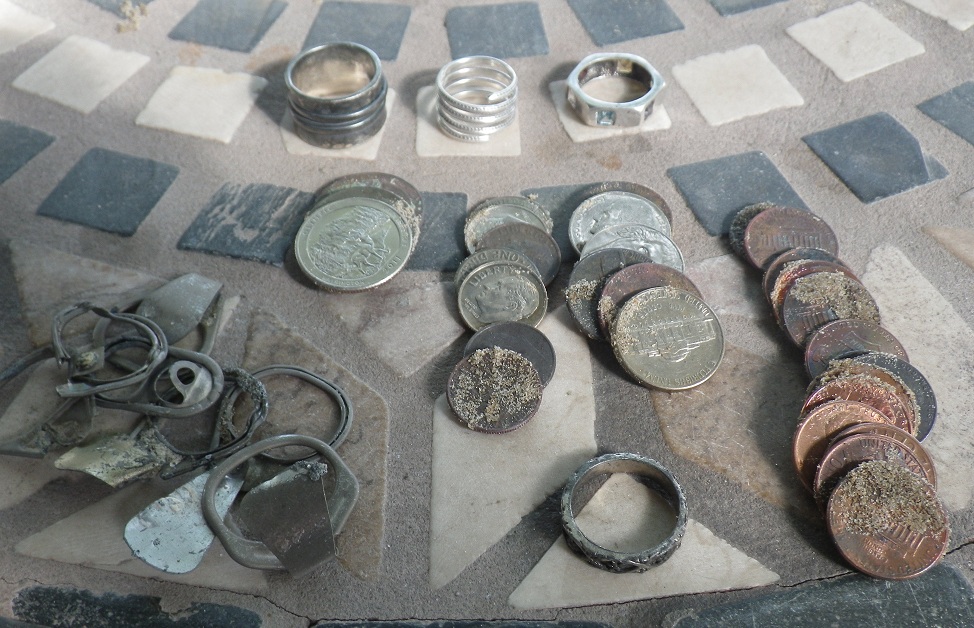 Managed 3 silver rings!
8-7-12
Finally some gold from the cut. Only a 10K earring but it is a welcome site in the basket. Also got a new waterproof camera today. Videos will be back soon!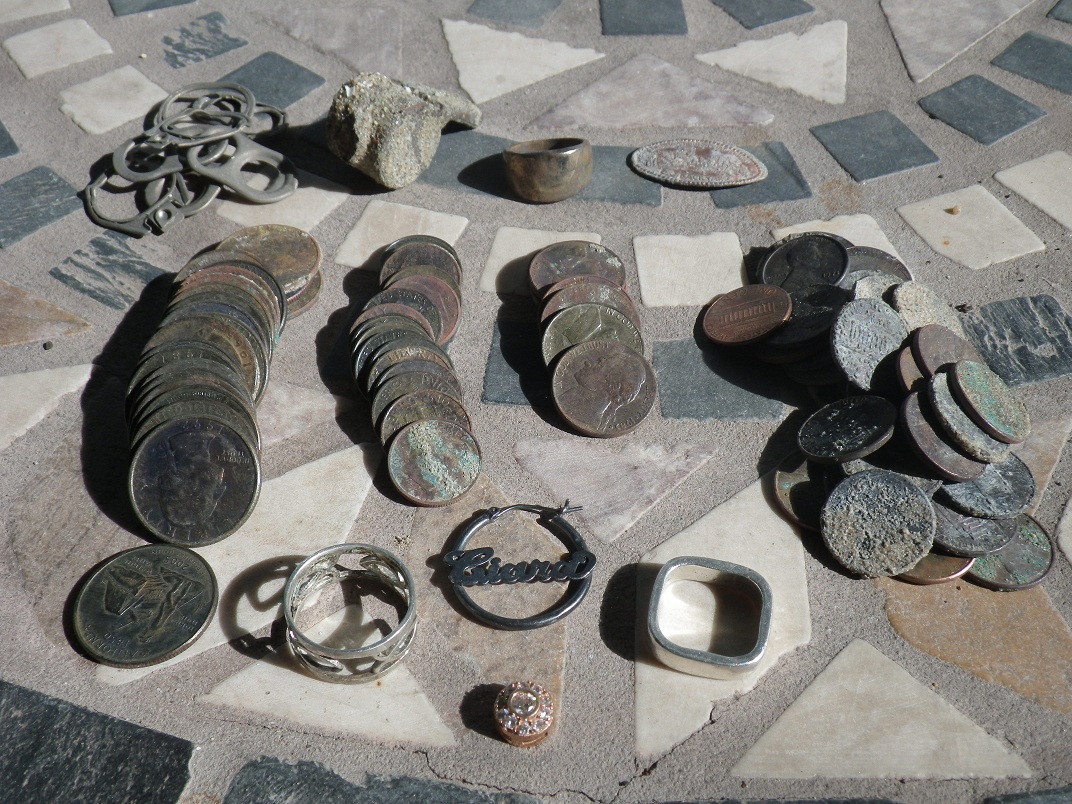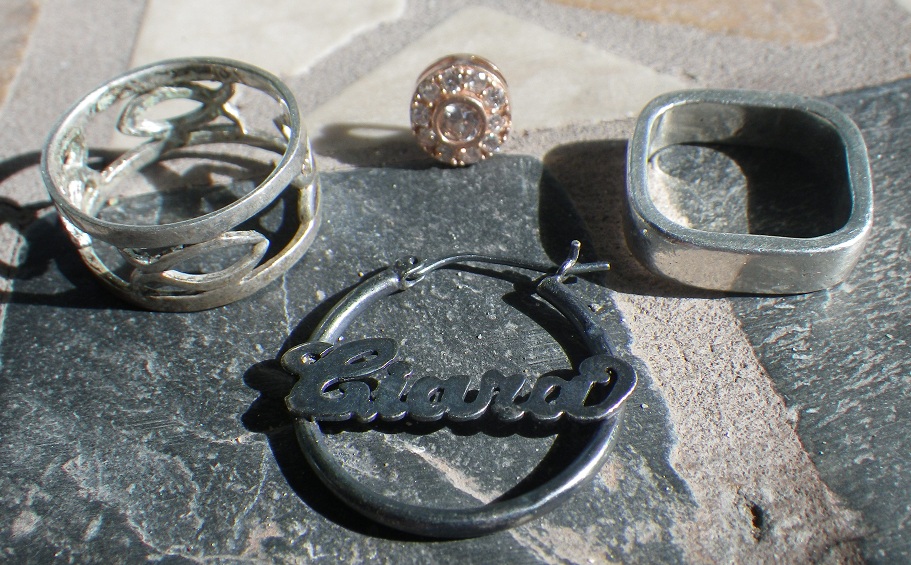 8-5-12
Silver Rosery and a waterlogged smart phone. The miniSD card has tons of photos.
I found the person on facebook and asked if she wanted the card. no answer yet.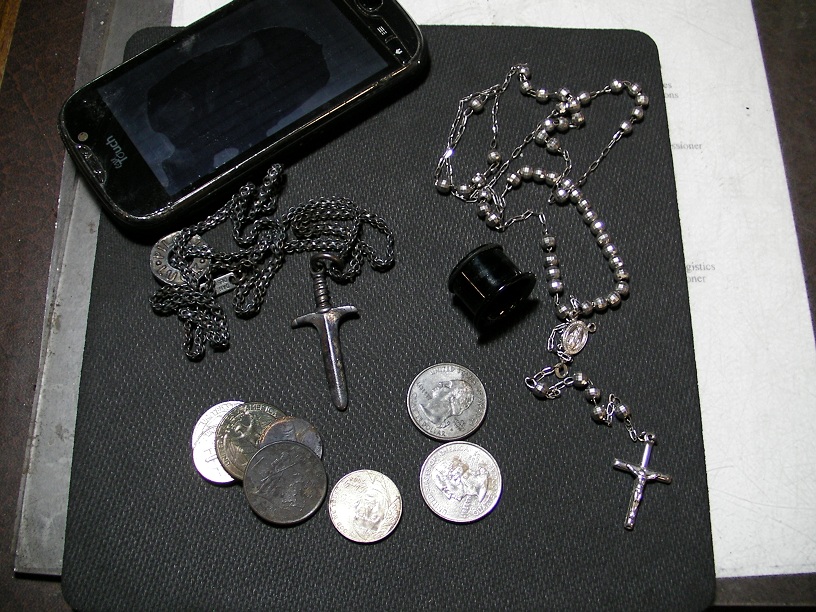 8-4-12
More silver from the cut. 3 more hours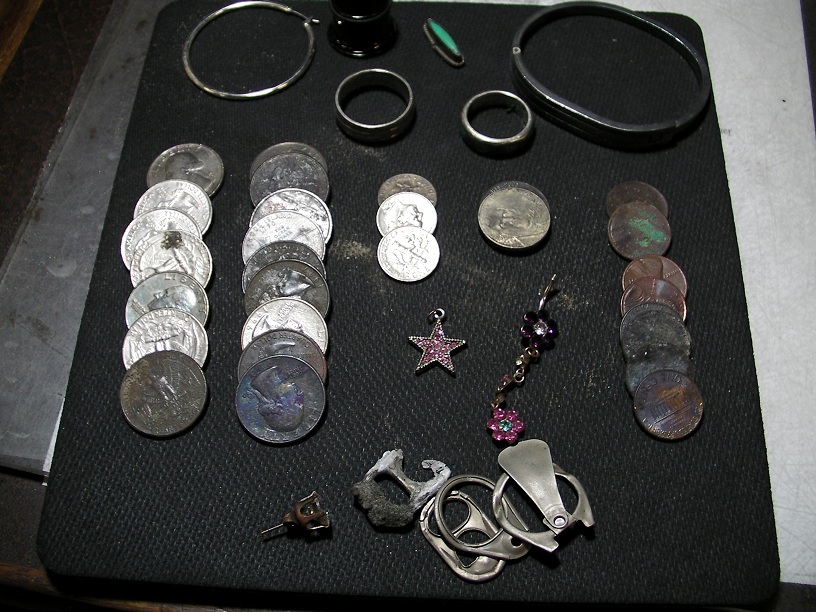 Almost another ounce of silver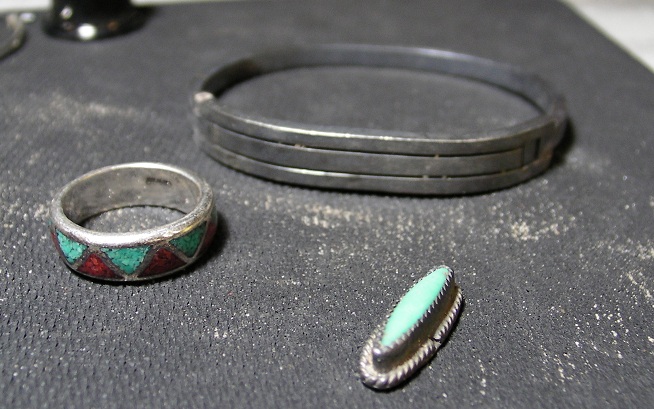 8-3-12
Another day another 3 hours on the beach. Still getting silver from this rocky cut beach. Gold is elusive but must be here. Only time will tell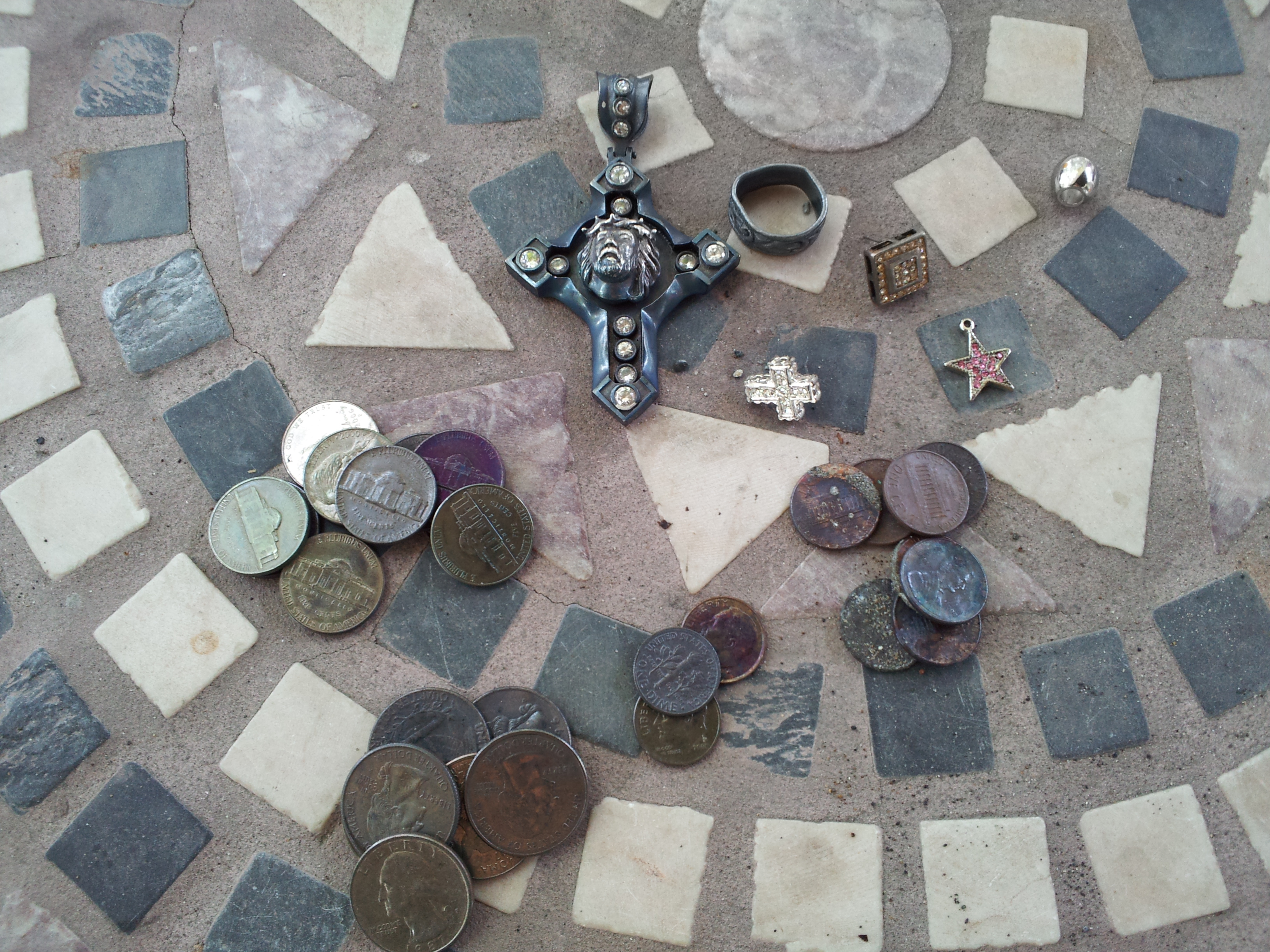 Medallion is 32.1 grams of silver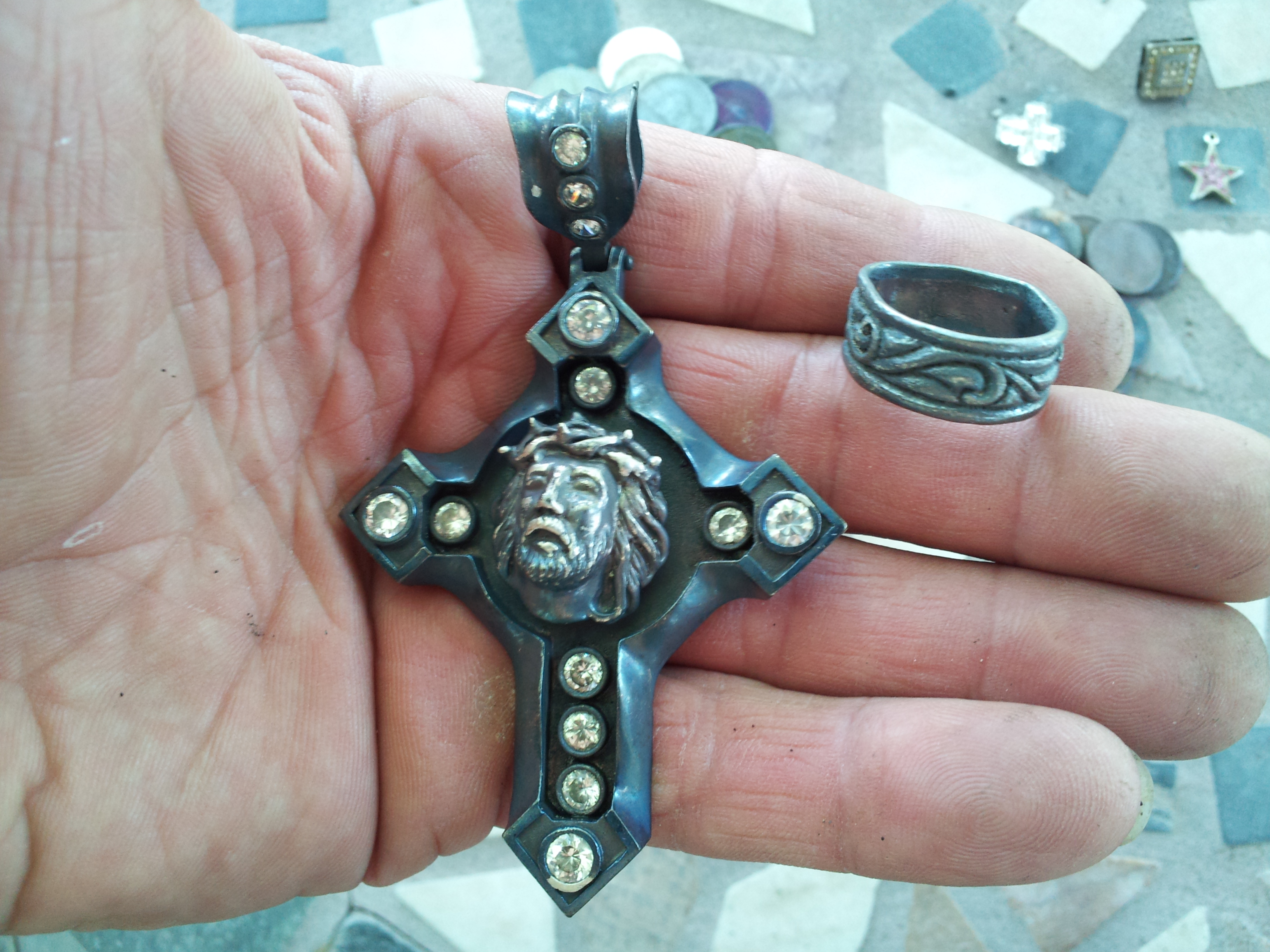 8-2-12
Got about 2 hours this morning. Got a nice silver chain about an ounce of silver. a stainless steel cross and another small charm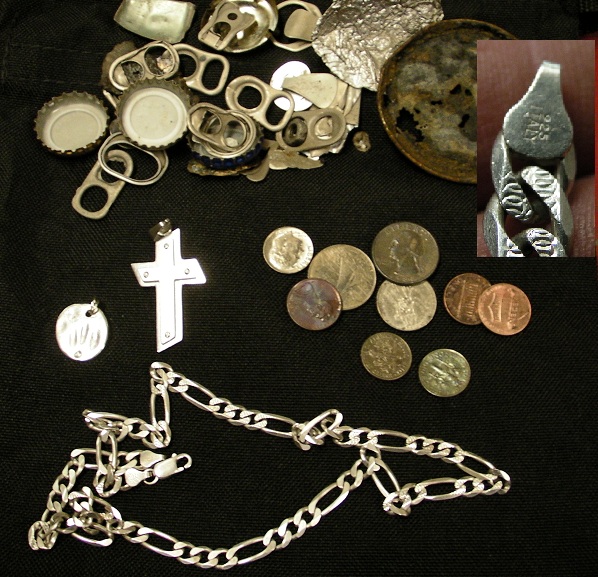 7-29-12
Mostly change and junk, I got 1 silver hoop earring. decided to head to another beach after the first hour or so.
I hit the 10K men's ring after only 15 minutes, then I really slowed down got 2 other junk rings and on my way back through the area
I got the men's ring I found a dandy. 14K diamond ring about 1ct total weight. Also got a 1944 wash quarter.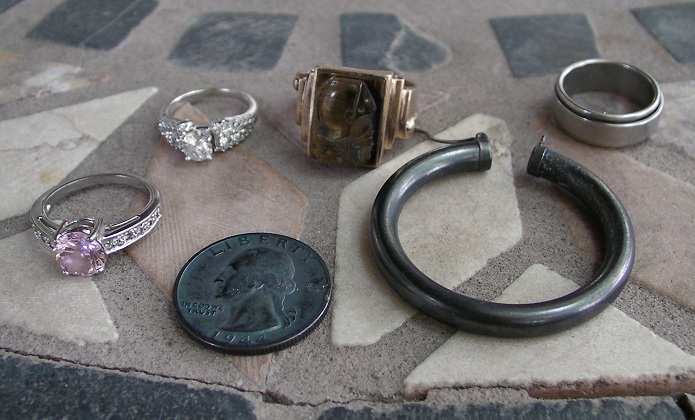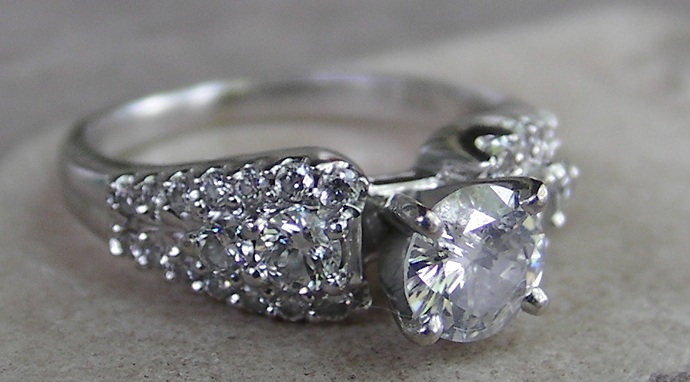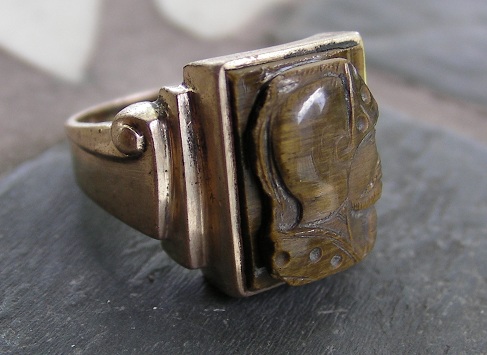 7-25-12
I was contacted by Minelab and Cabela's to participate in
CABELA'S FALL GREAT OUTDOOR DAYS EXPO
FEATURING CHICAGO RON AS GUEST SPEAKER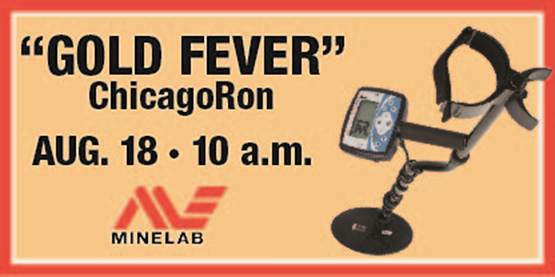 7-25-12
Right out of the firehouse and down to find a cut
dug lots of coins, 2 silver earrings and I got a man's gold band as well.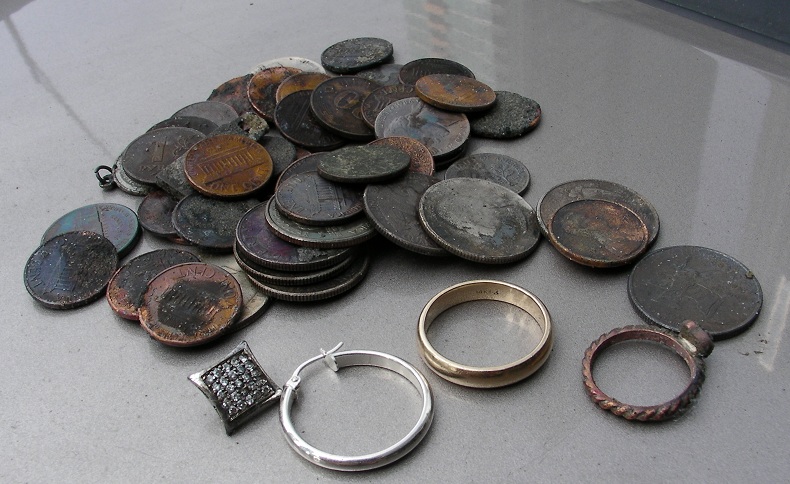 14k gold band, 6.0g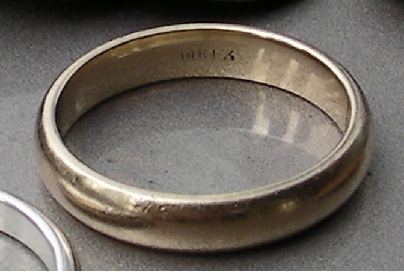 7-23-12
quick hit this morning. Again there were holes everywhere. Someone is hunting these beaches 24/7
They still left some goodies got about 25 coins a couple junk jewelry, the chain is junk but gave me a scare as I saw it lying on the bottom!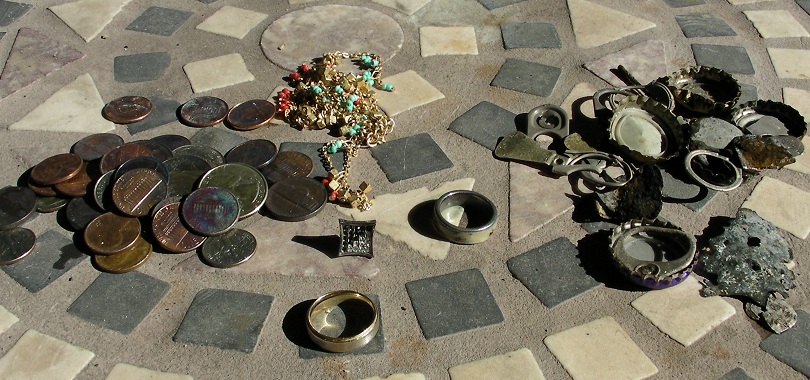 10K artcarved men's band white gold spinner on yellow gold base. 6.3g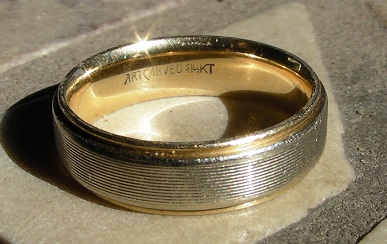 7-20-12
The waves and my schedule are keeping me out of the water, but not for much longer!
I will with the help of a new friend soon be adding an interactive blog to this page or my main page.
An easier way for you to ask questions and make comments, also making it easier for me to reply.
Thanks G for the tech help, encouragement and support!
7-17-12
Got back to the beach for the first time in over a week. Got about 60 coins
several junk jewlery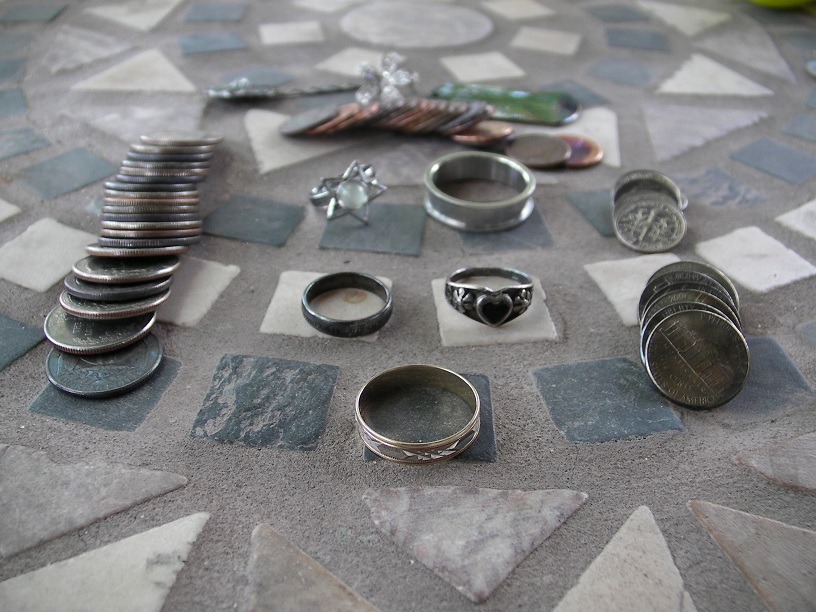 2 silver rings and a 10K men's band, 2.0g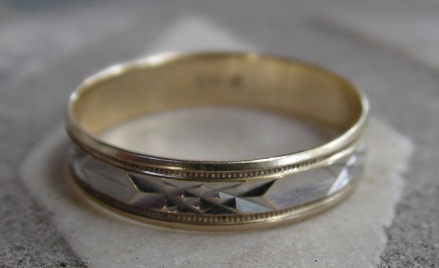 7-15-12
Met up with 2 local Anchorage hunters, Doug and Dave.
They showed me around and we went out hunting for several hours.
Only managed coins and 1 silver band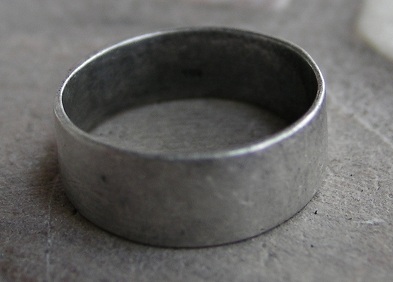 Doug got a nice big silver ring and a token from the Anchorage Fire Dept which he gave me!
Thanks Doug and Dave for the hospitality To show my thanks I treated to Pizza an pitchers!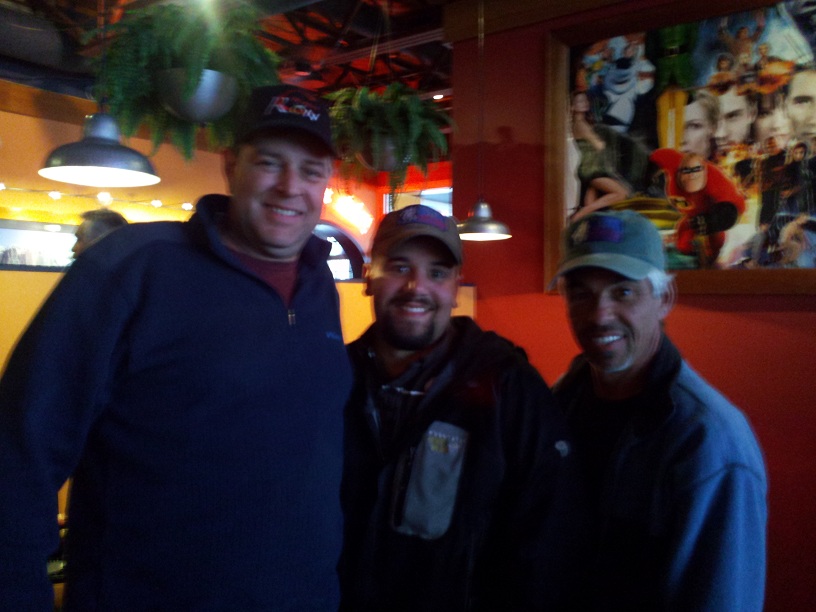 They also presented me with one of there club hats with Chicago Ron embroidered across the back!
Mat-Su dirtfishers
7-14-12
What a great week of nugget hunting, made some great finds and had a lot of fun.
there were 13 hunters here for the week and we found a total of 19 troy ounces of gold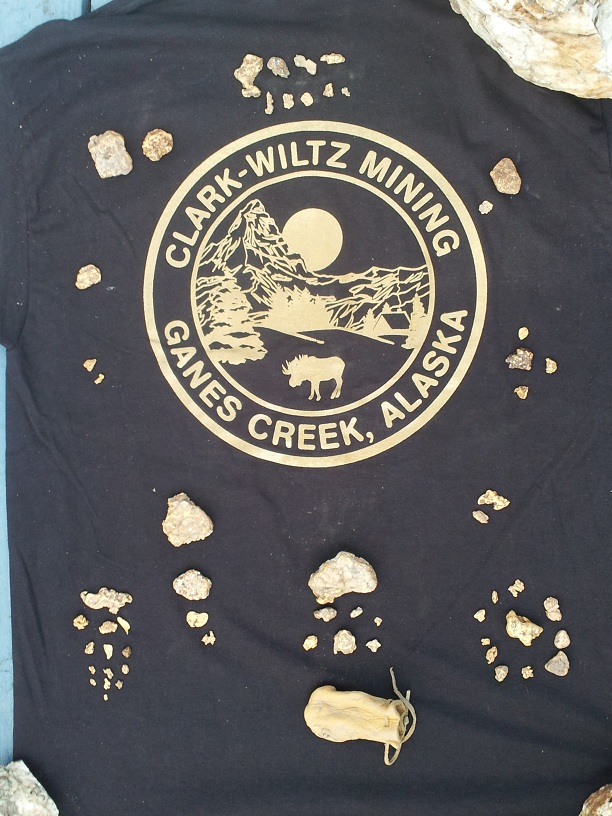 Here are the nugget totals for
Left: Me---------------------------------- Center: Mindy------------------------------ right: Tom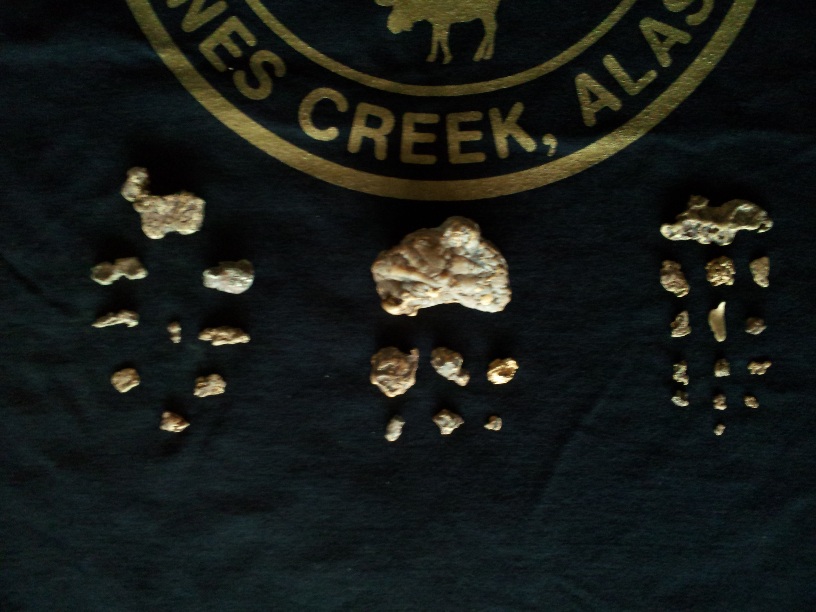 My total was 9 nuggets for 1.49 troy ounces.
7-13-12
Had a great morning, I just managed to walk the right way today.
Hunting for gold nuggets is not like any other hunting I have done, it's very random like finding a needle in a haystack.
No homesite, no previous village or long forgotten hiding place. Just a treasure left by mother nature.
Today she gave me 4 nuggets!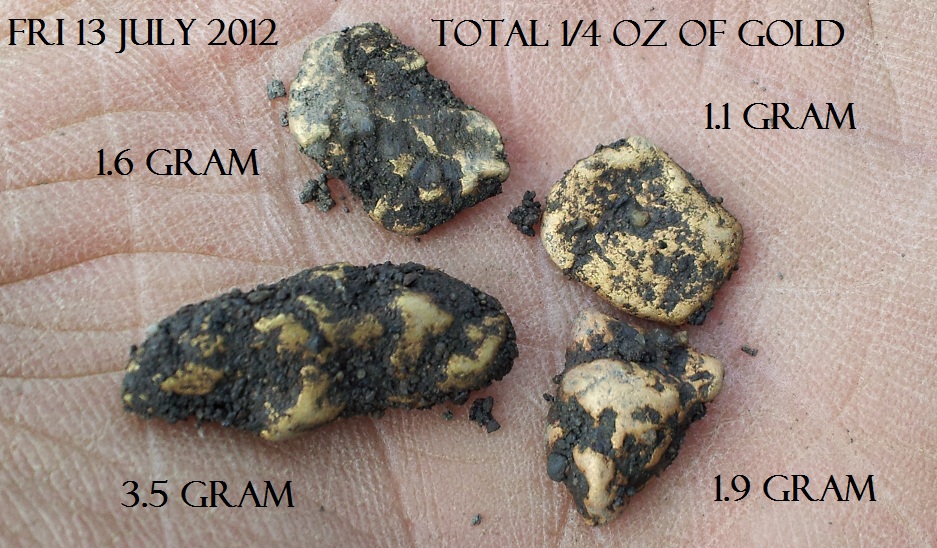 7-11-12
What a tremendous day. I got 2 nuggets a .01 and .16 troy oz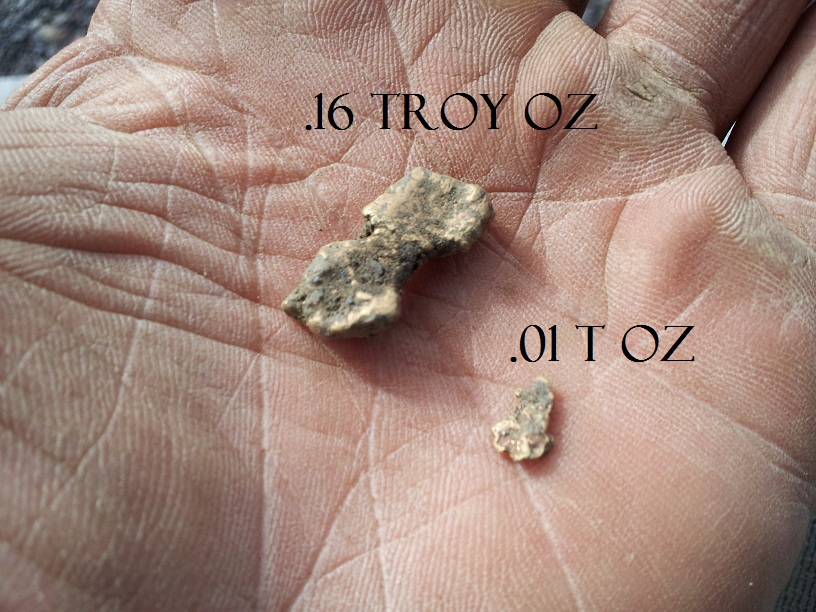 The real fun came when Mindy got a monster 4.78 troy oz nugget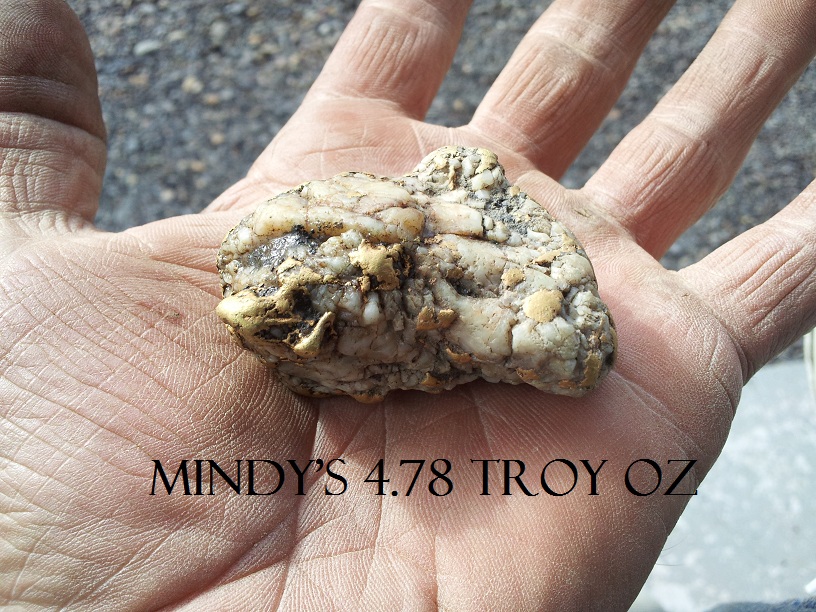 The pic really does not do it justice.
7-10-12
Day 3 starts with a beautiful sunrise!
no gold today for me! several nuggets were found by other hunters.
7-9-12
Day 2 here in Alaska, After getting 2 nice nuggets on the first day I'm ready to hit a new area and bang in some more gold!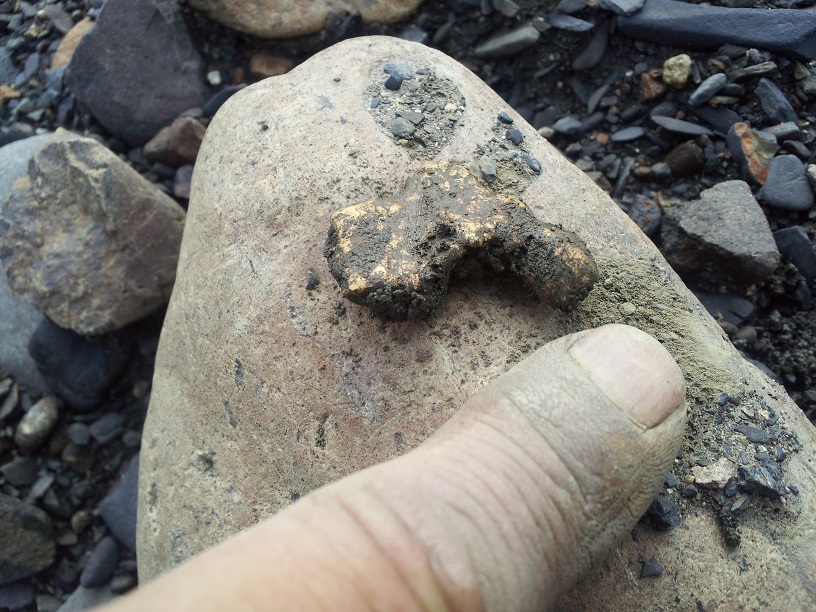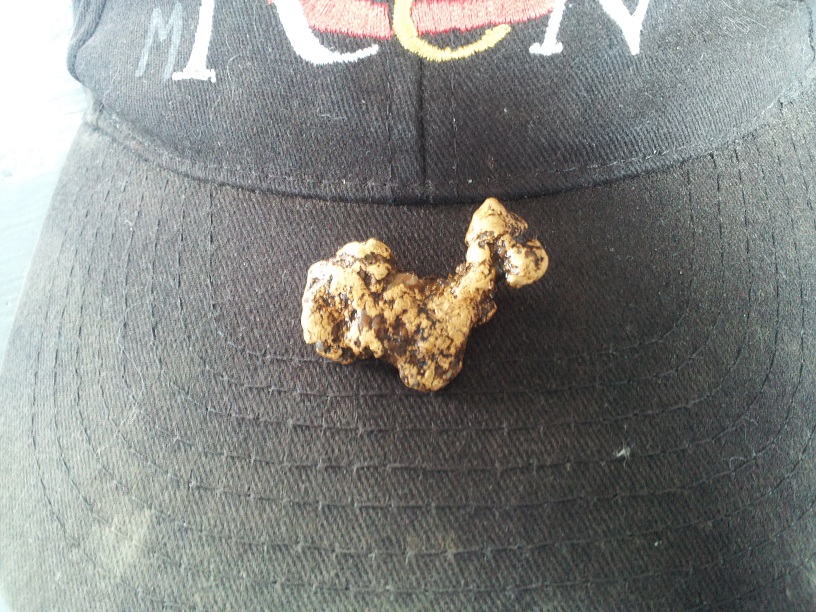 What a great nugget, 22.9 grams .74 troy ounce that is what I'm talking about.
7-8-12
I leave Anchorage for the 2 flights to get me to the hunting fields.First stop is McGrath, small landing strip. a hotel and
the bar/licquor store opened early on Sunday so we could pick up a few liquid needs!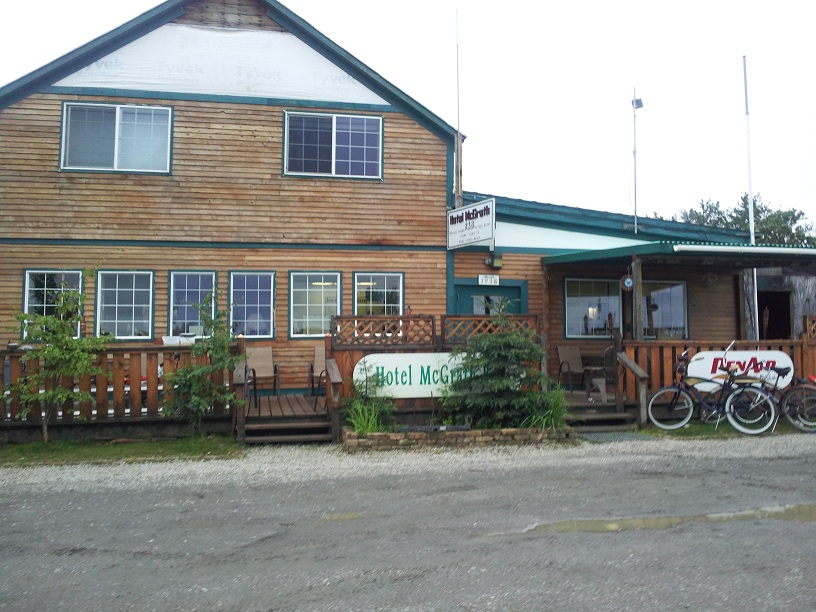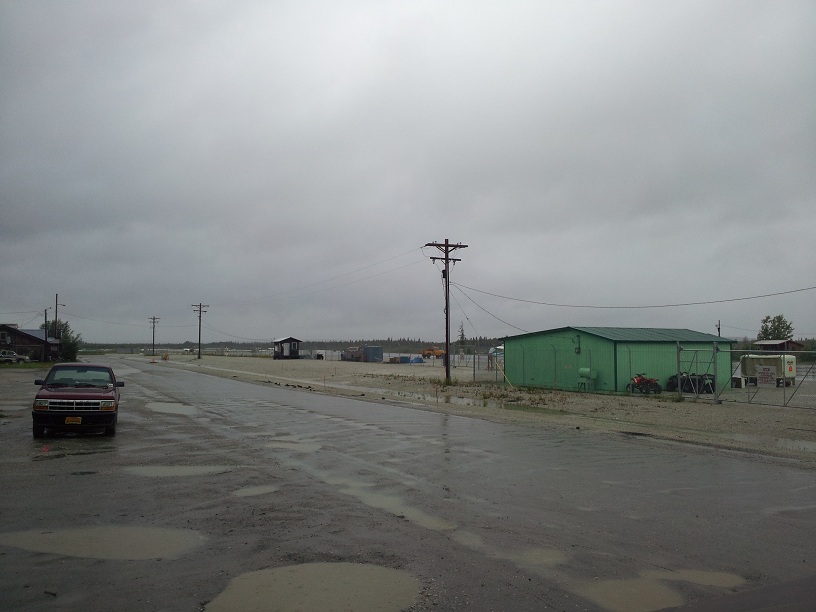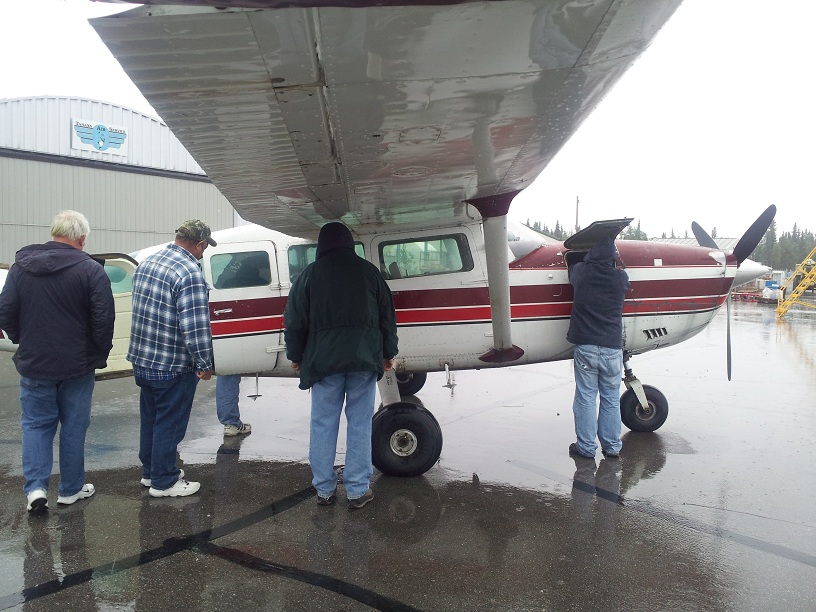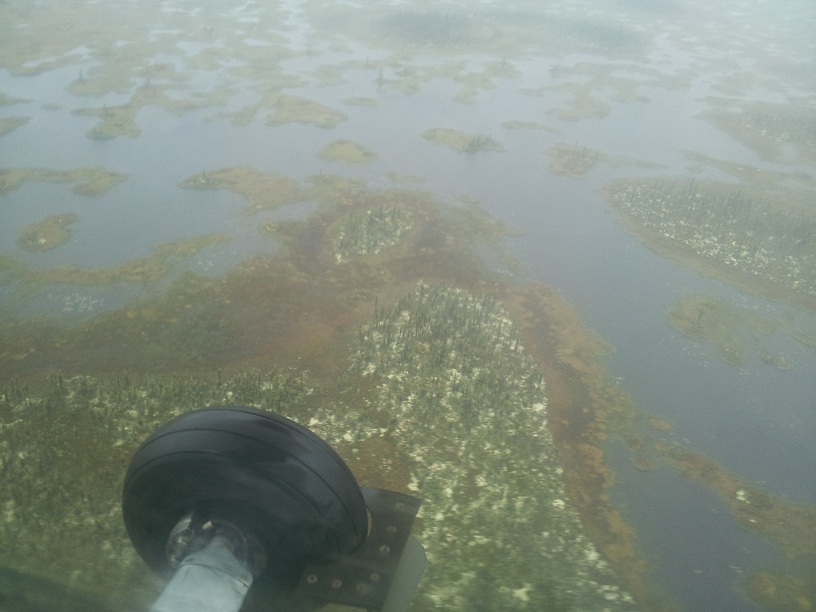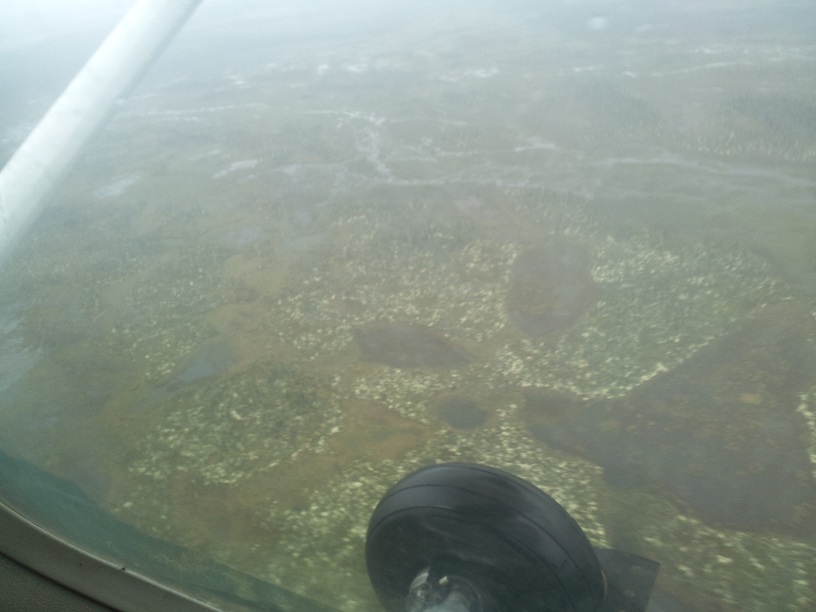 After a weather tempered travel day, we arrive and hit the freshly bulldozed tailing piles. I got my first nugget 7.0 grams or .23 of an troy ounce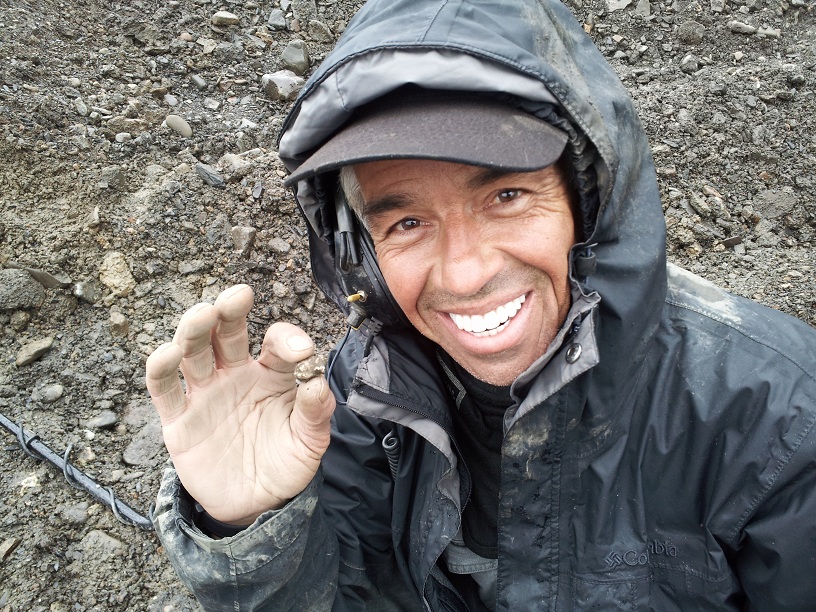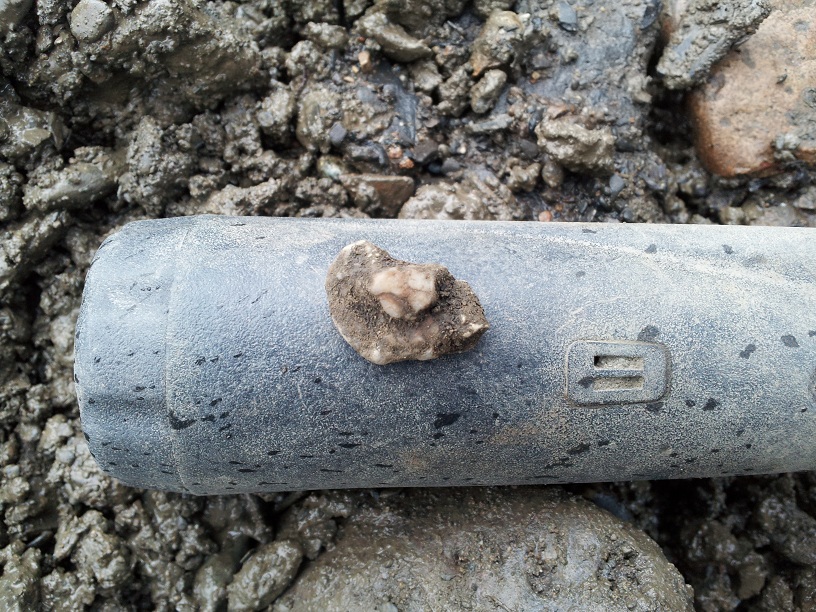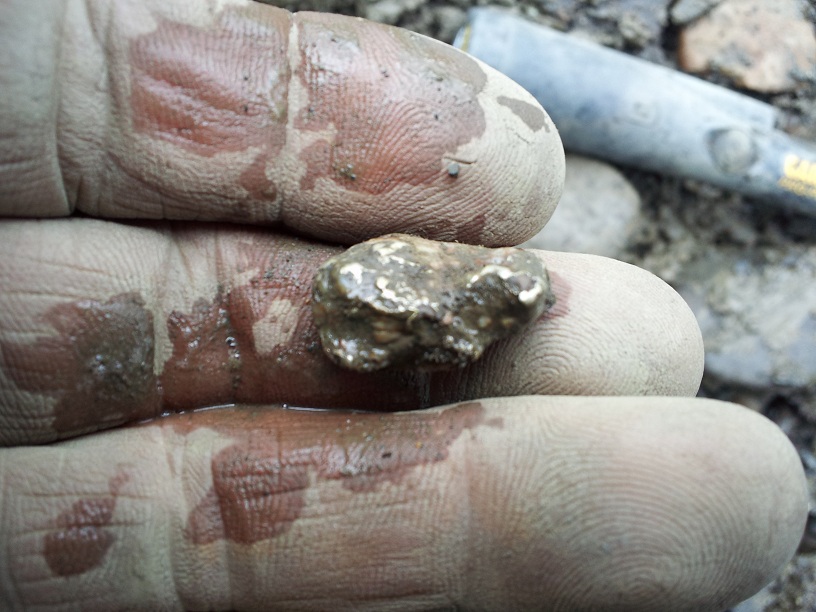 An hour later I got a 2nd smaller nugget. 2.3 gram or .07 troy ounce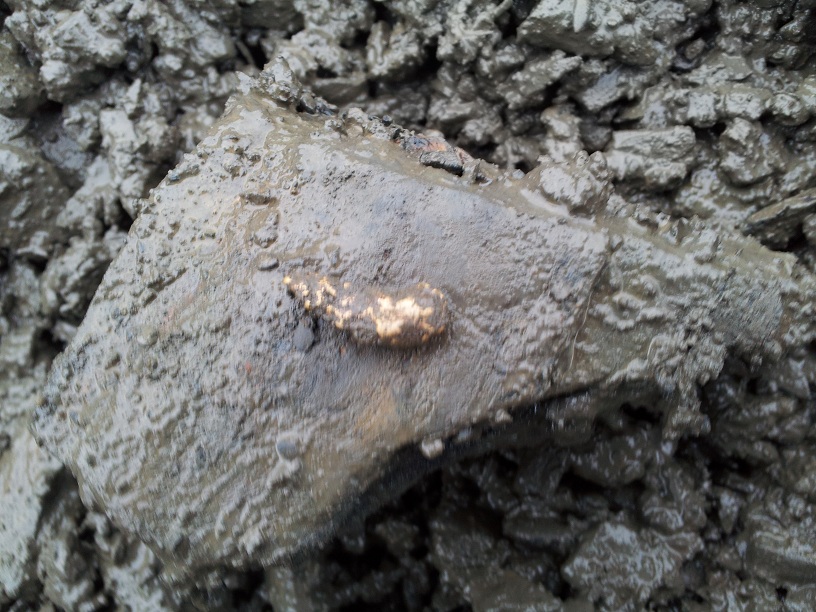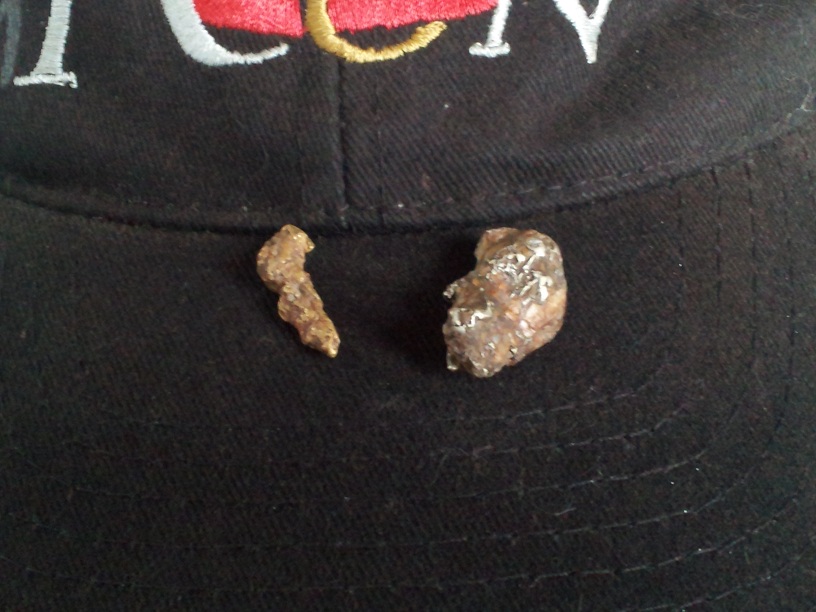 Total of 9 nuggets were found on the first afternoon. Largest was almost a half ounce
7-7-12
Off for some serious gold nugget hunting. I will be spending 6 days hunting near Gains creek Alaska.
Looking for gold in nugget form, some hunters do panning as well and the guys that work here are doing both.
They pull lots of gold out of the area, they work the rivers, creeks and the tailing piles.
Tailing piles are the rock and shale debris from mining, when they were mining the area they left large piles of gold bearing
material, most of the gold was removed but pieces still remain.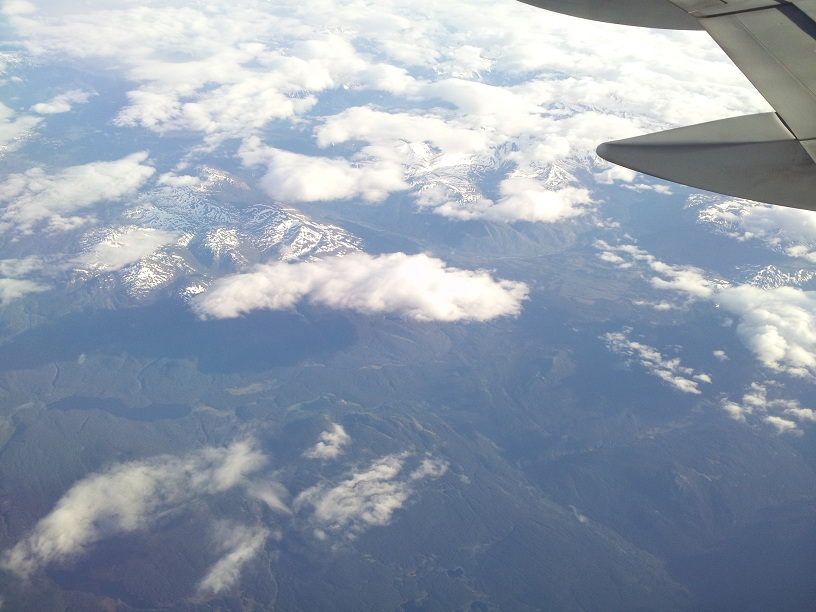 The land scape up here is Beautiful and very remote and rugged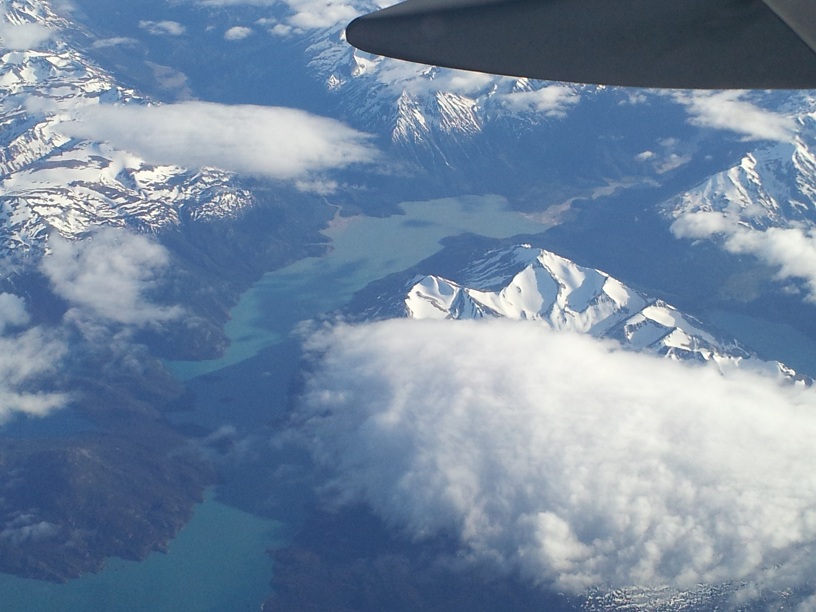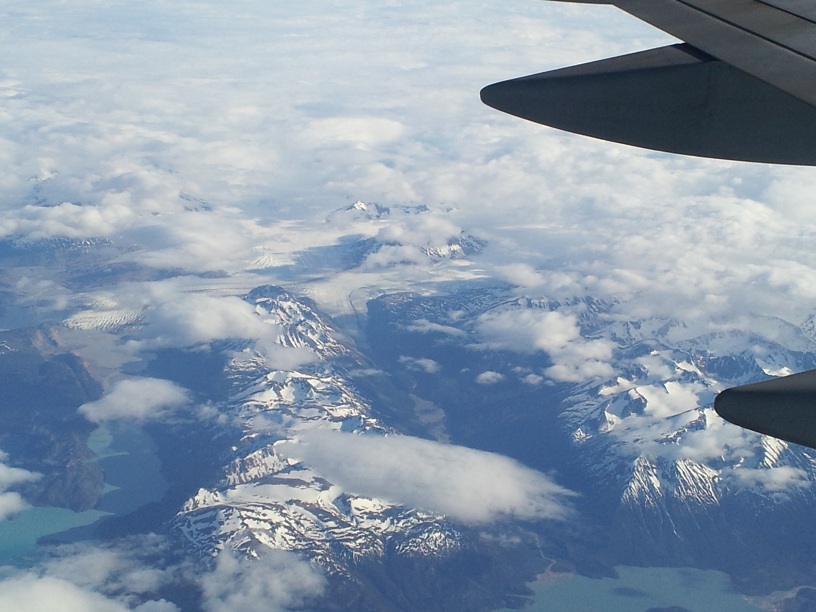 Our group meet at the Anchorage airport. From left: Mindy, Tom, Gene and Sarah. There are 13 hunters here for the week.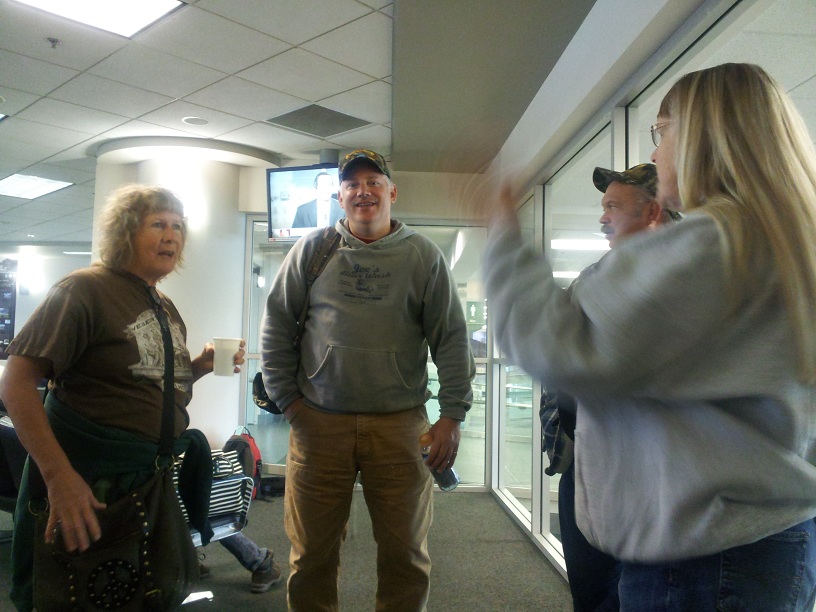 7-2-12
Wow what a work out today!
Spent 6 hours in the cut. I struck gold 14K heart ring with diamond chip. 1.6g
and I got 2 silver rings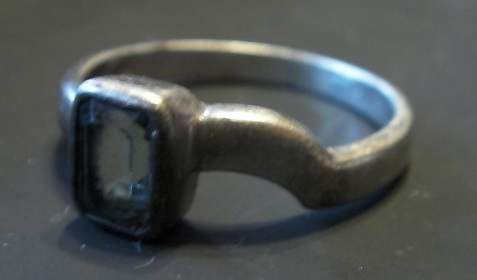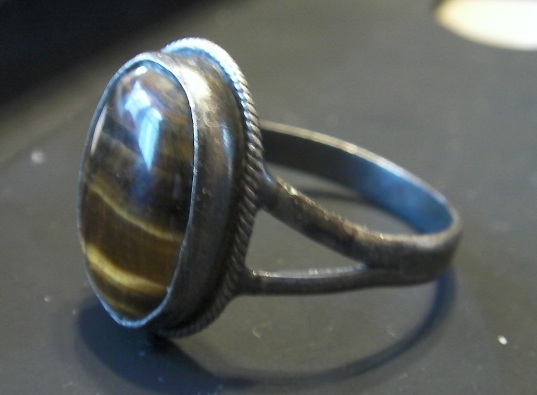 and a first for me!
I got my first gun! 25 automatic, nickel plated.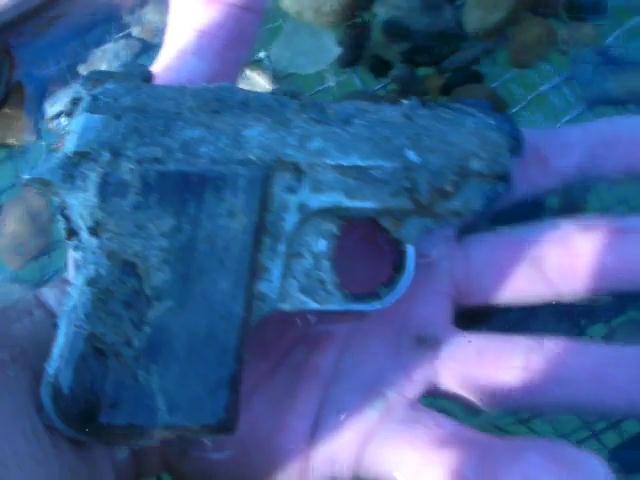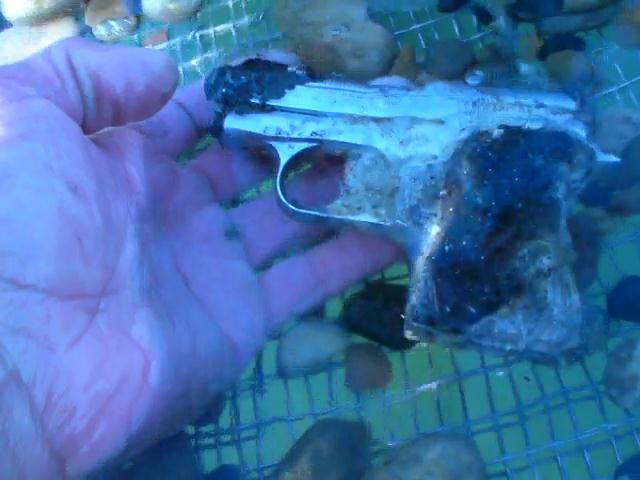 Looks like the serial number is still there I just have to get the crust out of the way. Then I will report it to CPD.
7-1-12
I didn't get relieved from the firehouse until almost 7:30 so I got a late start. spent 3 hours just going around in circles, targets were tough to recover in some spots due to tightly packed golf ball to football sized rocks. Managed 2 gold and 15 or 20 coins, almost no junk in the cut except the occasional can lid.
14K Italy gold bracelet, 8.3g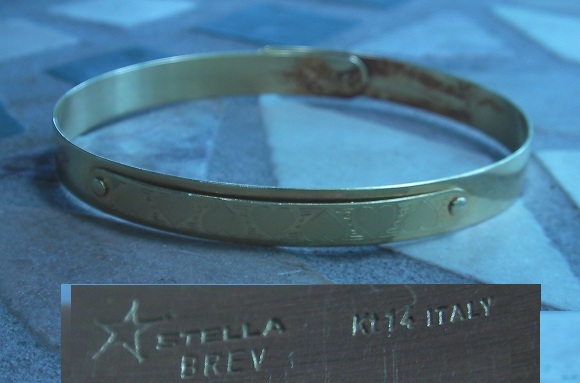 14K men's wedding band, 3.6g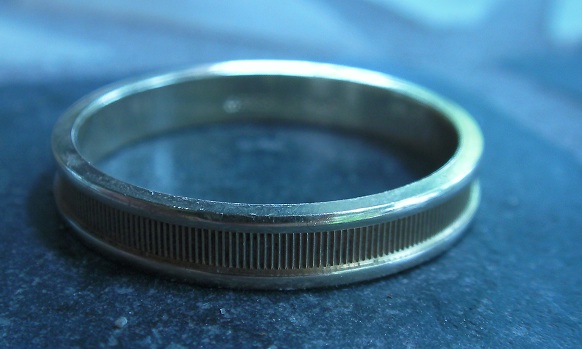 6-29-12
As usual at the 1st beach at 6 am, only coins and trash, by 7 on my way to the 2nd beach,
that one wasn't any better, 8:30 on to beach 3, the sand movement over the last week has been tremendous.
Unfortunately mostly sanding in out regular beaches.
I decided to try 1 more beach before calling it! Just like yesterday BINGO!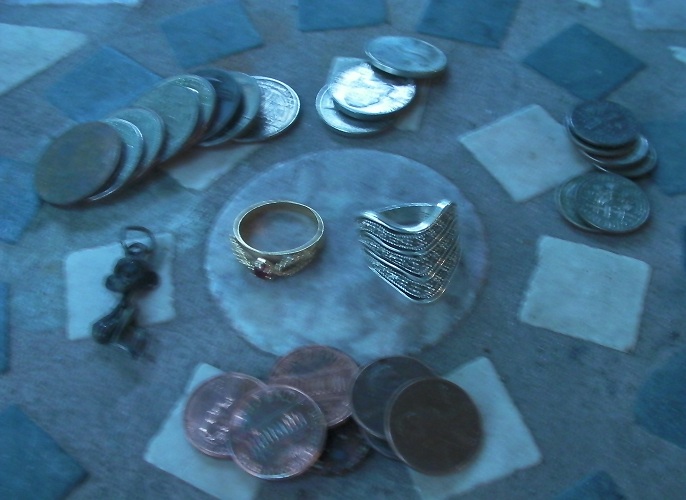 Nice cut with lots of rocks. I dug several black coins and some junk then
I got a silver ring and actually saw it before I swung over it,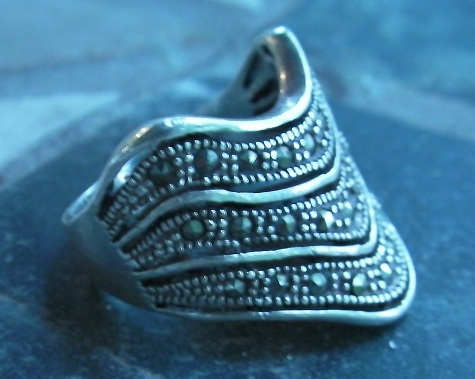 couple more coins and a smooth soft low signal. 18K ring with 1/4 ct ruby, 2.9g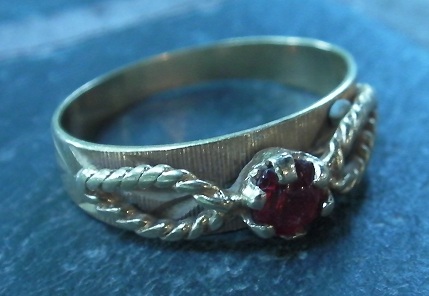 6-28-12
Hit 3 different beaches.
first 2 with Mark, I managed a 14K medalllion, 1.9g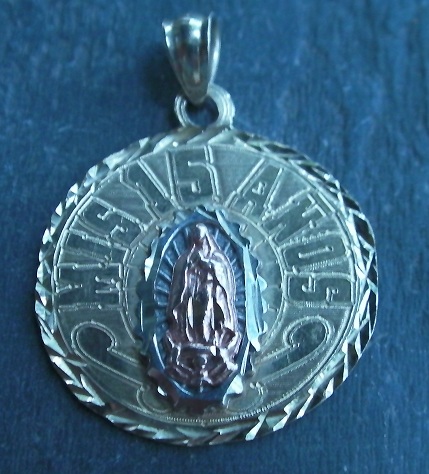 only dug 6 other good targets.
Then I hit a beach that had a good cut 2 months ago. Part of the cut is back.
10K Antique initial ring HOJ 6.6g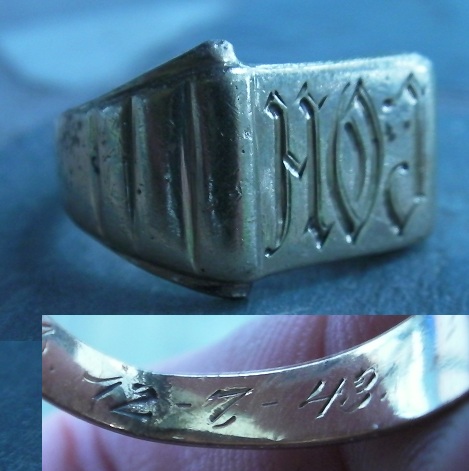 inside inscription 12-7-43
6-27-12
I quit smoking today!
Hot and long day at the firehouse!
Jackie came by to pick up the High School ring I found 10 days ago.
6K 2012 HS ring.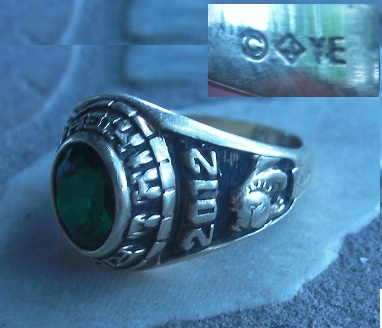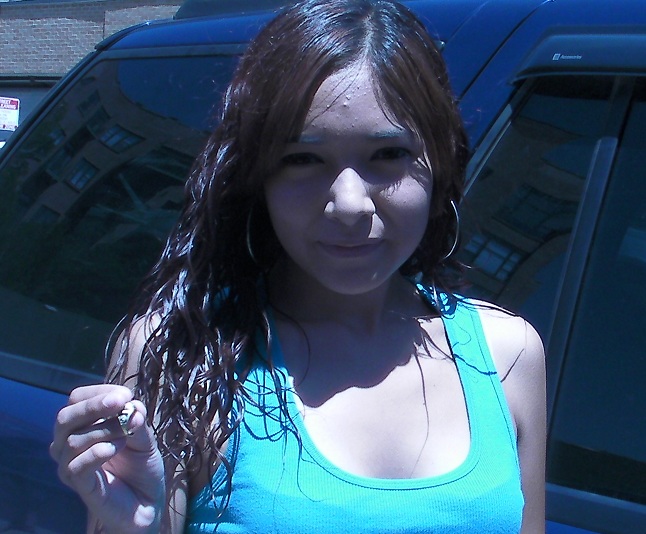 6-26-12
Waves and wind were not cooperative so I had to settle for dry sand hunting.
3 hours and I got 32 quarters, 21 dimes, 22 nickels and loads of pennies.
a silver post earring, 2 junk earrings and several other junk jewlery.
4.00 per hour not even min wage. LOL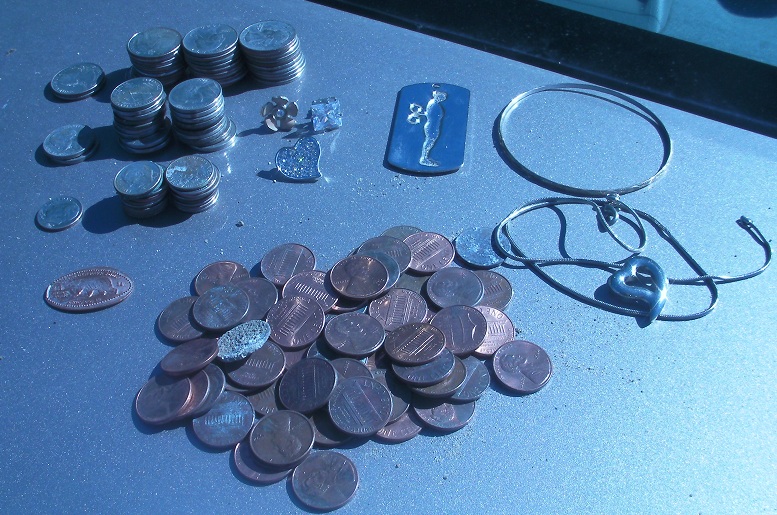 6-24-12
Hit 2 beaches beaches for a little over 3 hours this morning.
I got about 30 coins and 2 rings, a silver one with a mother of pearl heart, and a 22K ring with a cool design, 3.2g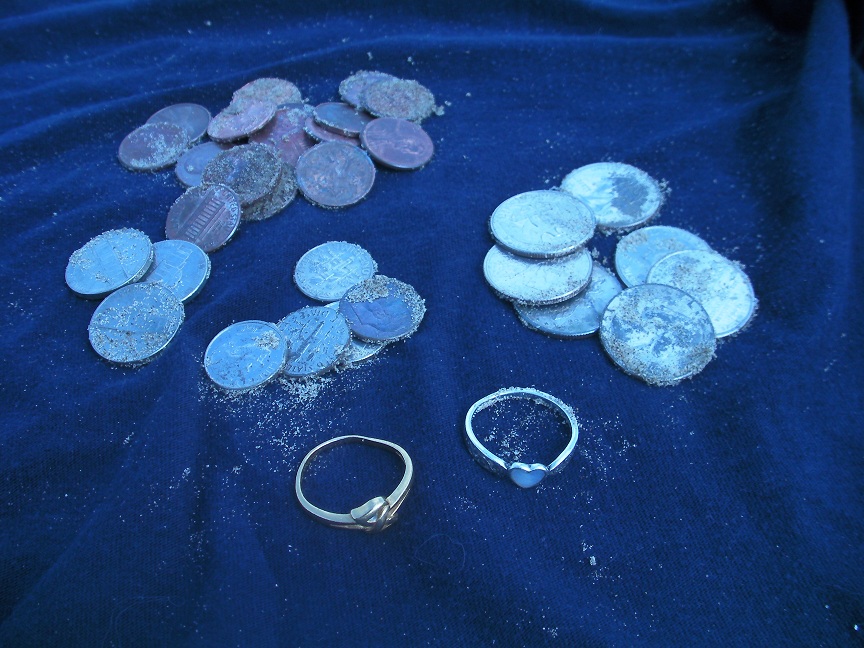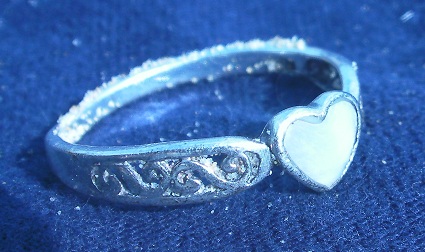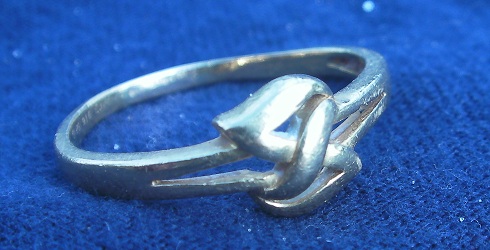 6-23-12
Out for my annual birthday hunt, and as usual I got skunked! LOL
For some reason I can't find my butt with both hands on my birthday, 3 years in a row now
6-22-12
Man all the hunters are making it tough to find any goodies!
Got some coins and 1 keeper a sterling silver Tiffany money clip!
Retail: 170.00 Just need to change the initials to CR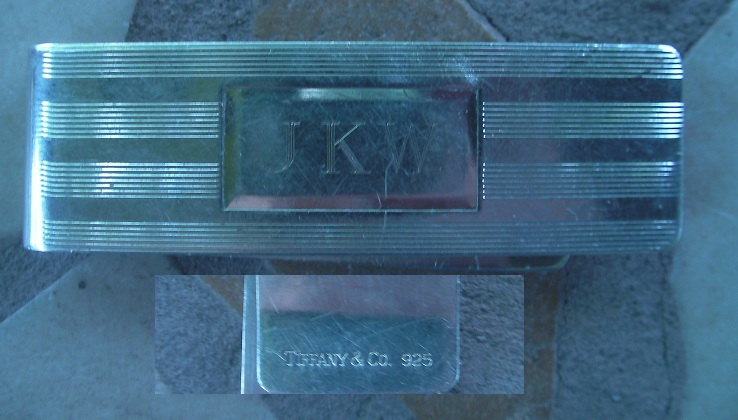 6-20-12
No detecting for me today. Had a charity golf outing at Cog Hill golf course.
6-19-12
I got in a little over 2 hours this morning. It has been pretty hot but the hunters almost outnumber the baithers. LOL
Only got coins and junk. Not even worth a photo!
6-18-12
1 hour hunt befor going into the firehouse gets me more than the last 2 hunts combined. LOL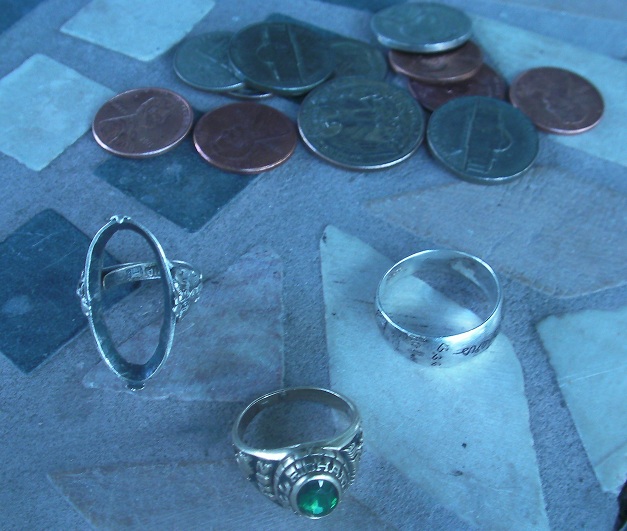 So here's a new one, I got this 2012 HS ring today. Markings are jostens, checked there website and it seems they
have a 6k gold alloy ring called yellow Elite, that is cheaper than 10K gold. Still gold is gold.
6K 2012 high school ring.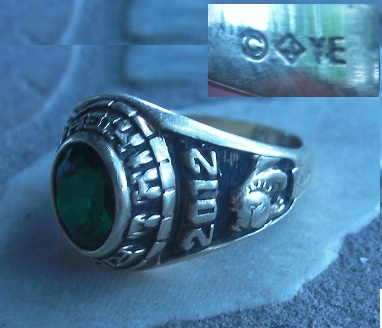 Also got 2 silver rings Antique one missing stone and a sisters ring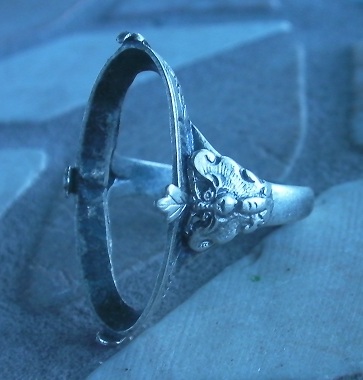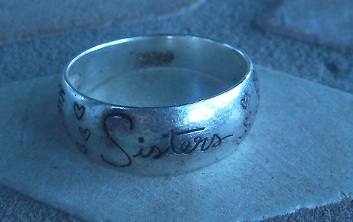 6-17-12
Another day in the lake, Gold is being very elusive. 3 hours got me 2 silver, some junk jewlery and coins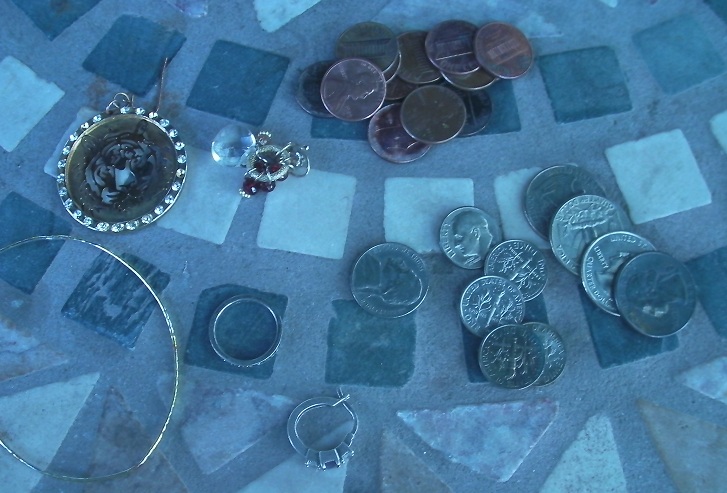 Silver Earring and silver anniv band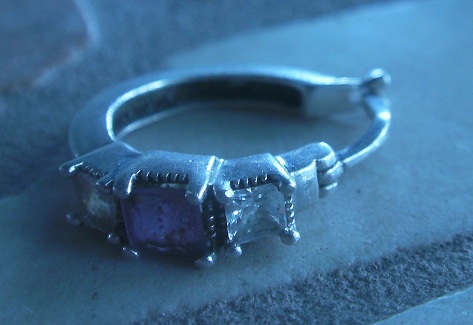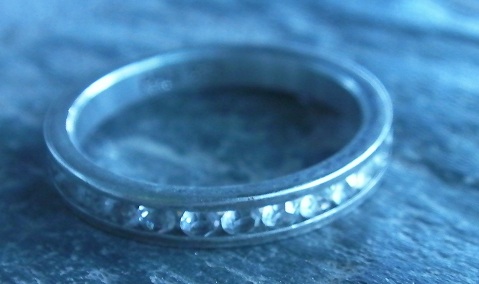 6-16-12
4 hours in the water lots of fresh drop coins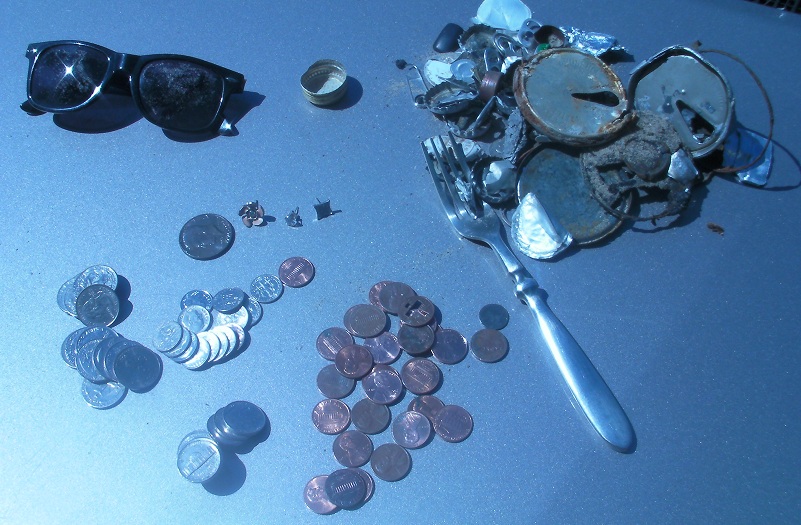 3 earrings were my only jewlery, middle post is silver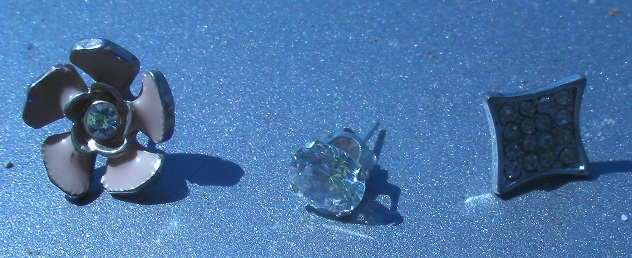 6-11-12
Monday morning and no other hunters on the beach.
I hit 3 beaches today in about 6 hours.
I got a stainless steel ring, about 45 coins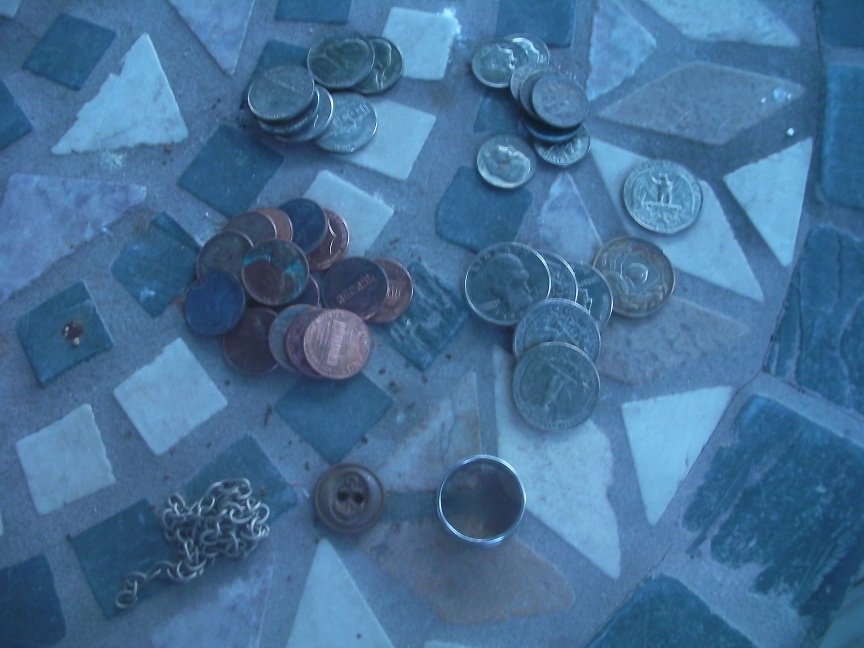 6-9-12
only hit the beach for 1 hour before work this morning. But I made it count.
Got 8 coins, a junk earring and a gold medallion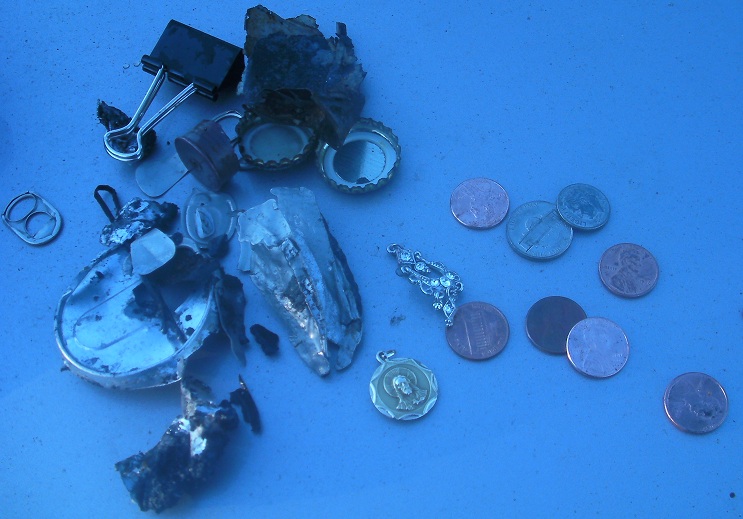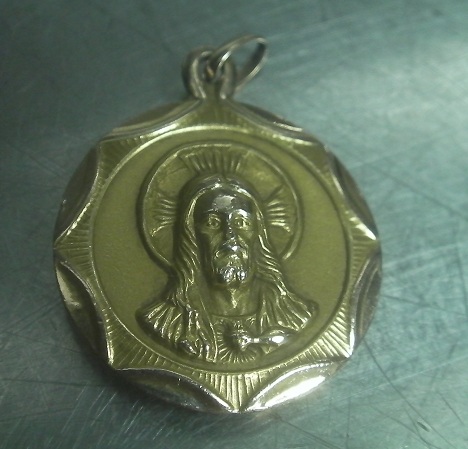 6-6-12
Hit 2 different beaches, first was sanded in and not many targets. 2nd gave up some coins and a silver Tiffany band.
Tiffany Sax fifth ave. silver ring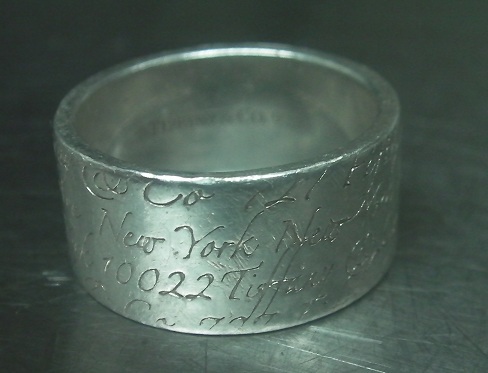 Retail 170.00
6-5-12
Met at the beach early with plans for an all day adventure.
First beach gave up 2 silver quarters and a couple wheaties
On the way to the 2nd beach I got a call from Melissa, who had lost her ring in the grass near Montrose beach the previous night
I told her I was on Lake Shore Drive and could meet her in 20 minutes.
When I arrived she pointed out a large area in the soccer field where she could have lost the ring. Thankfully she was only in a small portion of the area. The first spot she put me on, I hunted for about 10 minutes and she walked around to make sure it was the right area. She moved me to an area 100 feet away and 10 minutes later I had it. 14K white gold ring with 5 small diamonds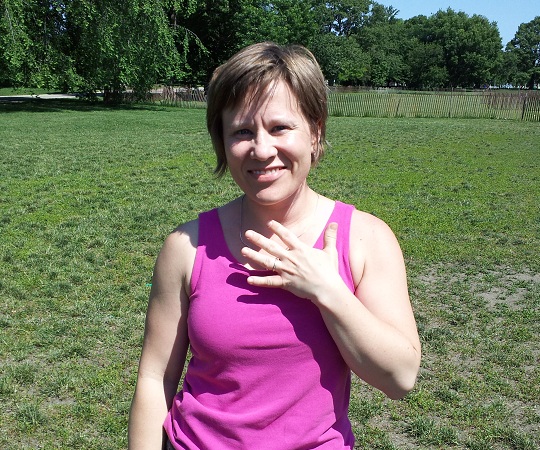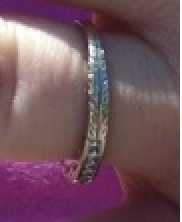 After the return hit another beach for a couple hours but I only got coins and Junk.
6-4-12
Went back to the beach I got the small gold ring last week the cut opened up a little, got about 30 coins and a couple pieces of junk jewelry, lots of junk.
My first good target was the Tootsie toy car. I love the old cars and this one is complete.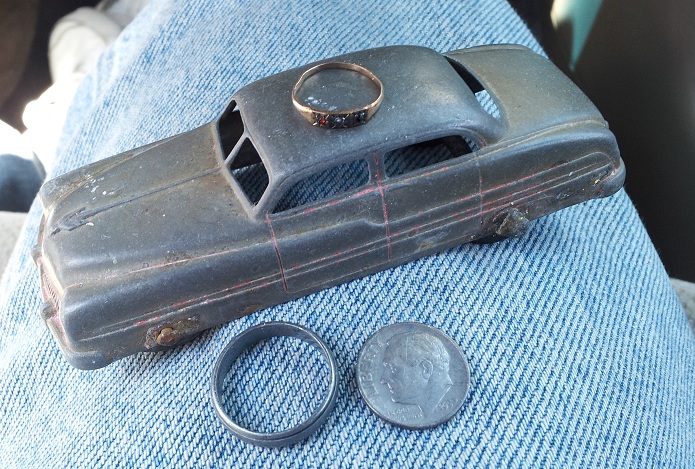 Also got a 1953 rosie, silver ring and a 10K kids ring. 0.5g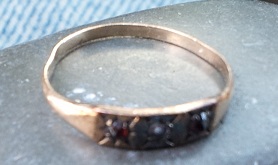 6-2-12
hit 2 different beaches this morning, first one didn't produce much just a couple coins, the 2nd, which is a beach we did well on last month gave up some goodies.
Ended up with some coins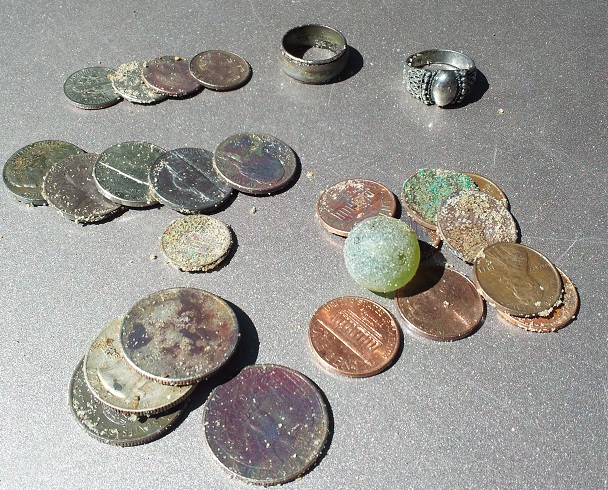 a silver ring and a 10K gold filled and silver spinner ring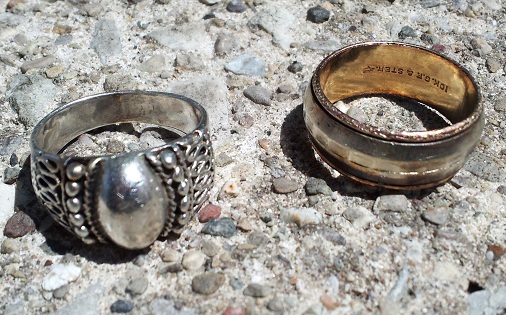 5-30-12
Hit the beach for almost 4 hours this morning, seems like the Day after Memorial day hunters missed some goodies! About 40 coins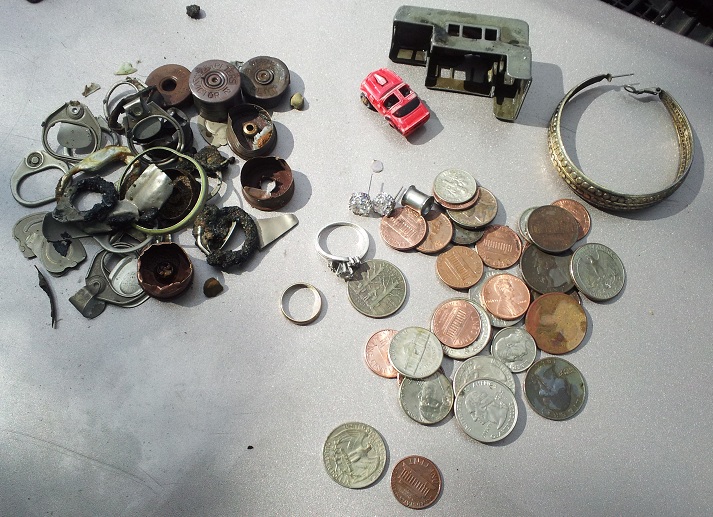 a pair of junk cz earrings found about 5 feet apart in chest deep water. A silver ring with cz's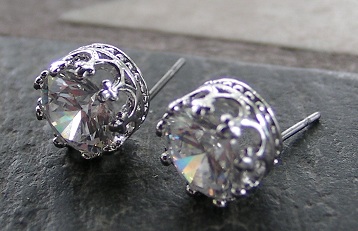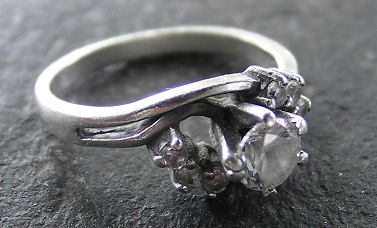 and a very small woman's wedding band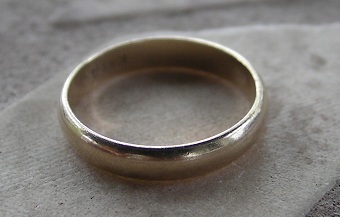 5-29-12
one of the most popular beaches for detectorists. 7 or 8 hunters came and went while I did 4 hours of wandering.
I got about 15 coins, lots of junk targets two junk jewlery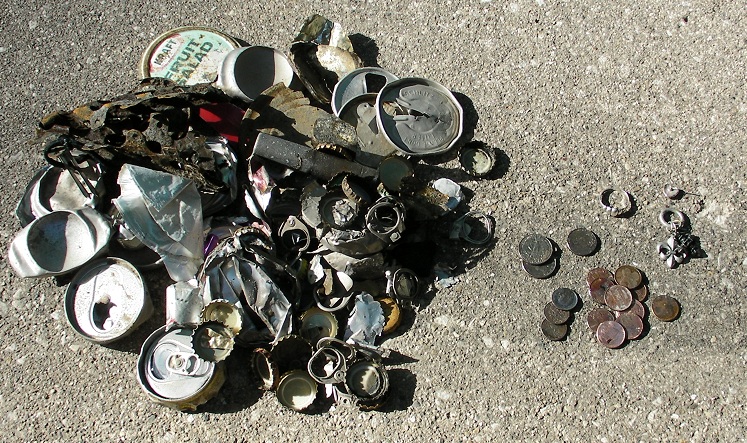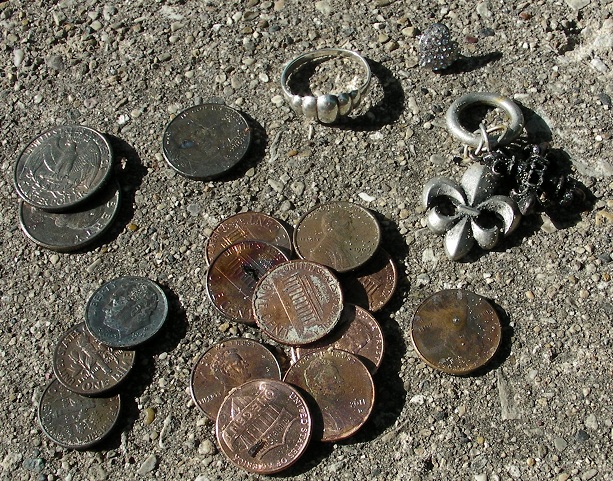 and a silver ring.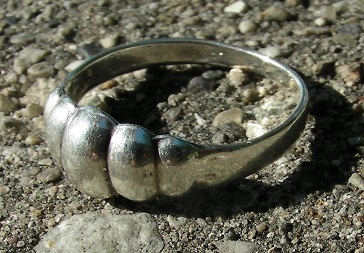 5-26-12
Tried several beaches, no fresh drops or cuts. It's gonna be a long week!
5-24-12
Hit the beach for 3 hours before my battery died.
Only got 3 silver a merc, a rosie and a war nickel plus a buffalo nickel.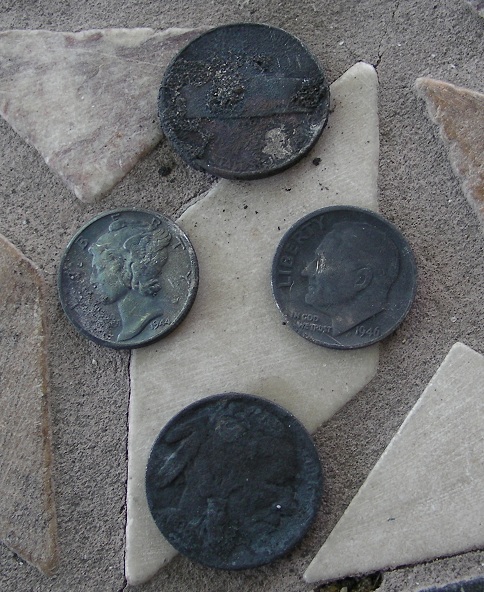 I took pictures of my totals for the last 8 days
at the 100 year old virgin
Silver coins 83
2 halves, 31 quarters, 43 dimes, 7 war nickels and 3 buffalos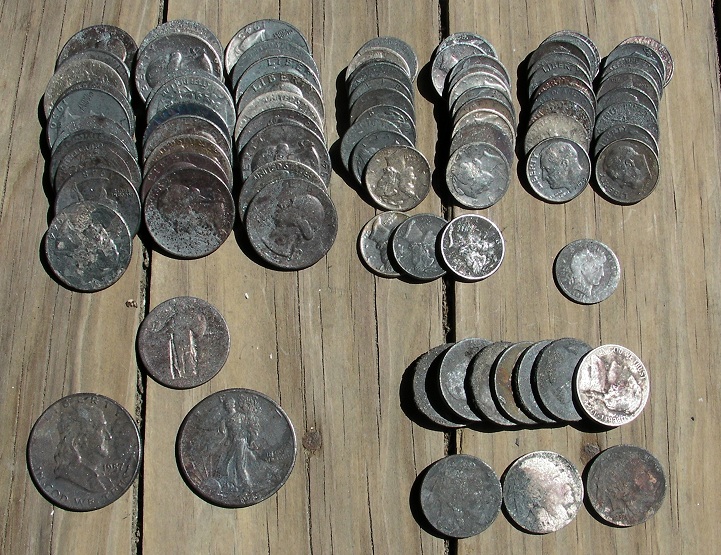 Jewelry Total
3 gold, 15 silver rings, 5 medallions and 2 chains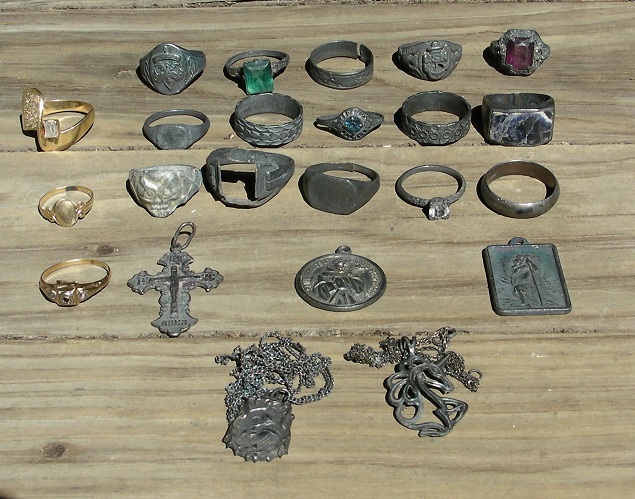 5-22-12
New video up on the Tube!
#40 Silver coins Everywhere! Beach Cut Bonanze 3, The 100 Year old Virgin
Silver Coins Everywhere! The 100 Year old Virgin.
I spent 20 hours over 5 days hunting this virginal beach, I recovered over 80 silver coins,
3 gold rings, dozens of silver items and some cool artifacts.
5-21-12
4 hours in the water and finally got a little yellow!
Silver quarter, dime 2 silver rings and a St Francis medallion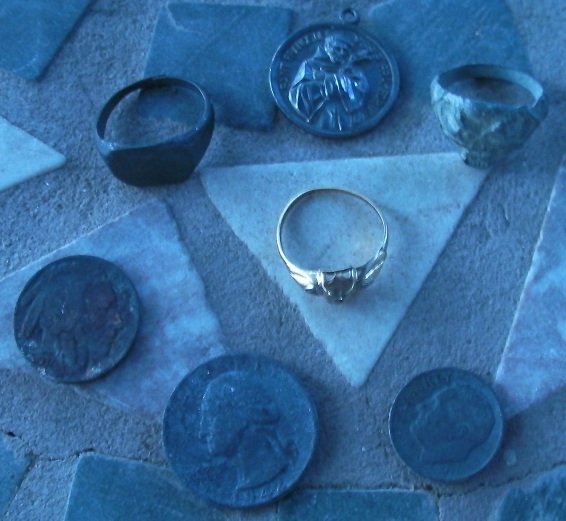 Antique 10K gold ring Center stone is missing 2 chips tested good
.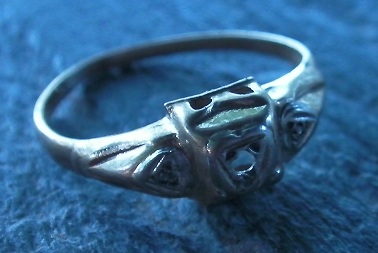 5-19-12
Go Minelabbing day!
Had a blast and met a lot of graet people. Didn't win any of the Machines Minelab gave away but got 2.40 in silver dimes.
5-18-12
Out again, more silver but gold seems to be eluding me!
1942 Walker half, Washington qtr, 2 mercs and a war nickle.
1 silver ring and a silver Greek cross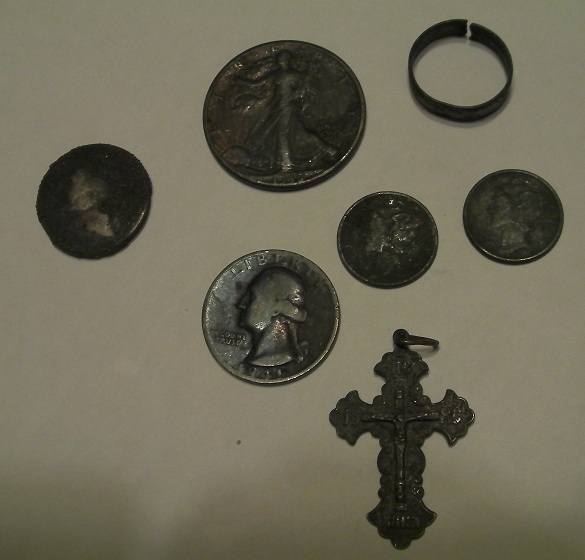 5-17-12
3 hours on the new cut (100 year ol virgin)
3 washington quarters, 3 merc dimes, 2 rosies and 3 war nickles.
2 silver rings a silver chain and charm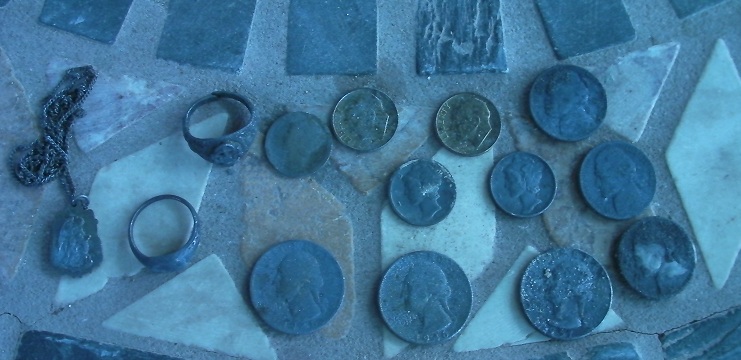 Better shot of silver jewlery
5-15-12
headed back to the cut!
6 am and hunted until 11, so 5 hours detecting. Wheats and silver started right away with lots of silver jewelry.
I ended the hunt with 1 gold ring 10k initial ring 0.6g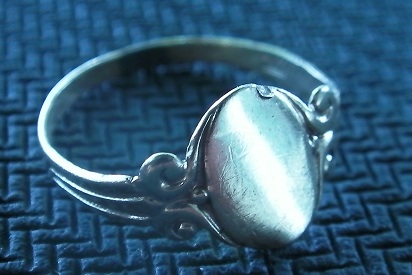 23 silver coins- 8 wash qtrs, 7 rosies, 5 mercs and 3 war nickles plus 3 buffs and a V nickle.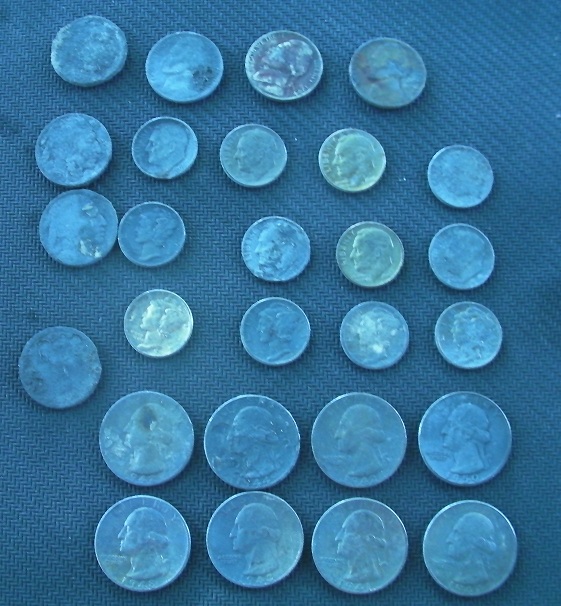 I also got 4 silver rings a 14K gold filled ring.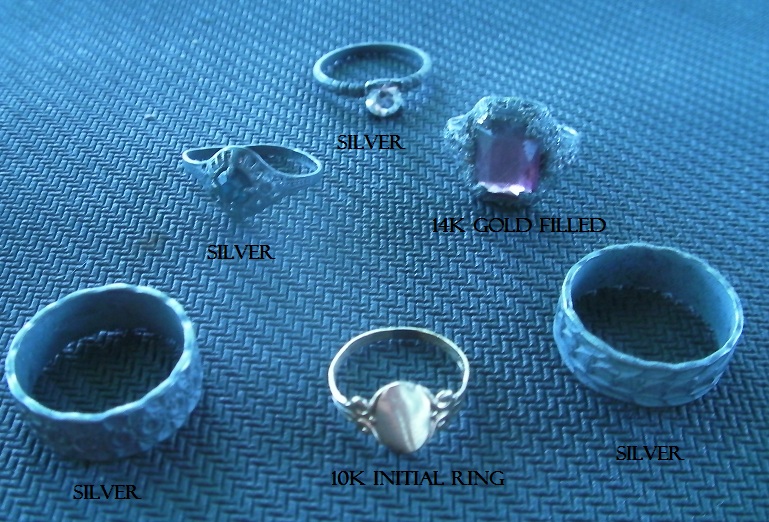 5-14-12
The 100 year old Virgin beach!
Mark and I did some research on Sunday and came up with a beach we thought might be good! Man were we right.
We hunted from 7:30 to 3, and together we dug 51 silver coins, 4 gold rings, over 80 wheat's, 6 buffalo's, 2 V nickles, 1 Indian and a dozen silver items,
What a day!
Here's my take for the day.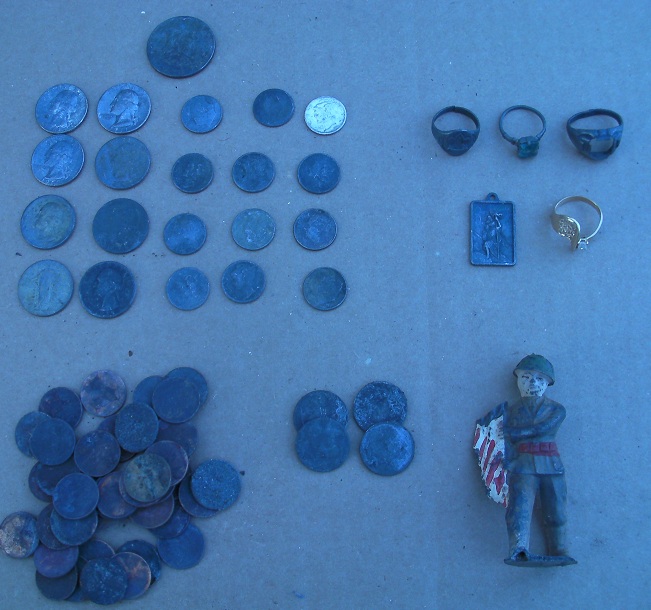 21 silver coins. 1 franklyn half, 7 washington qtrs, 1 st lib qtr, 3 rosies, 9 mercs,1 barber dime, 4 buffs and about 35 wheats.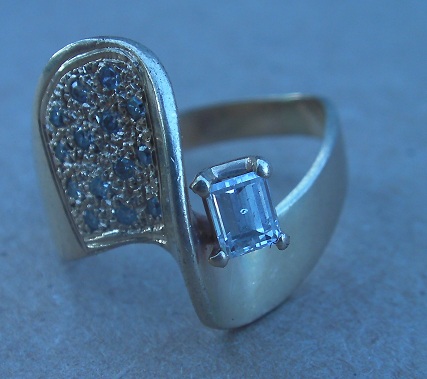 14K 1/2 ct Diamond with 15 chips custom made ring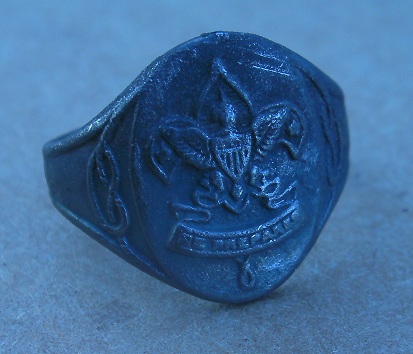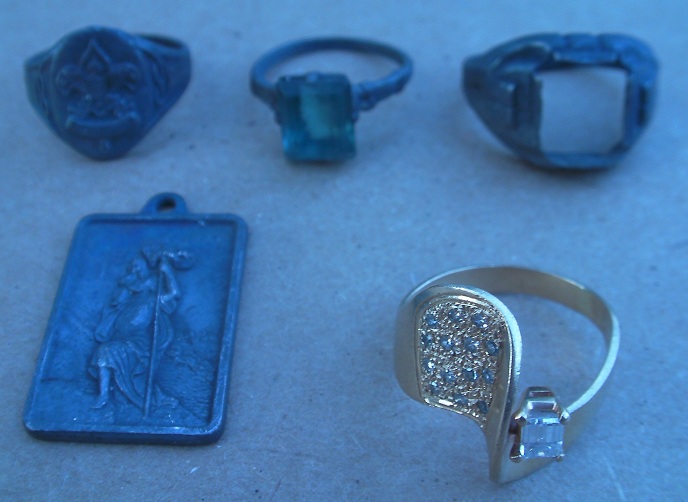 silver boy scout ring, 2 other silver rings and a silver medalion
5-11-12
I went down to the beach and got some silver,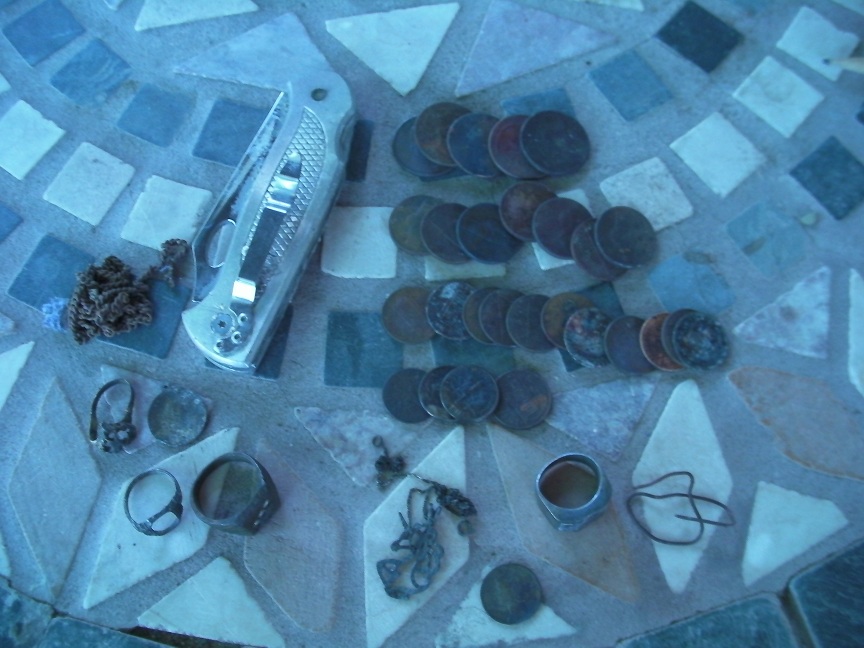 Close up of the 3 silver I got silver ring, silver chain and charm and a 1937 merc.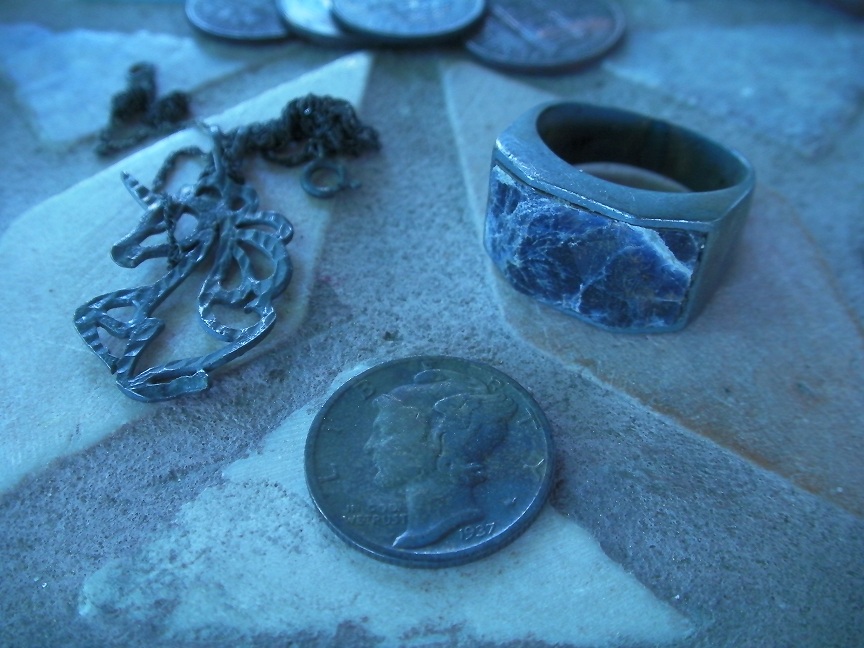 5-9-12
Got back out to the beach and found a small cut. No silver coins but I did manage 2 silver rings.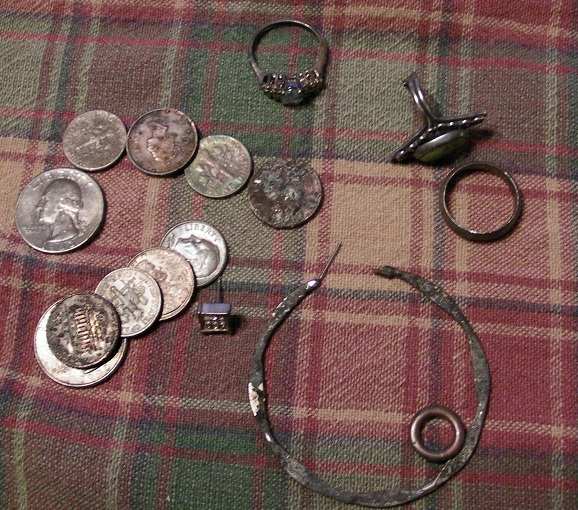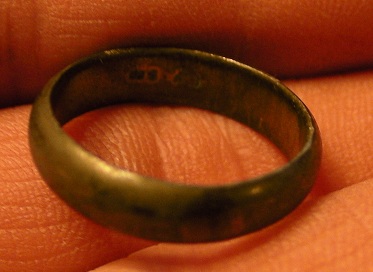 5-8-12
Hit several beaches today, but got nothing but coins and junk.
4-30-12
Got to hunt with a friend Mudslide Slim on some land he was testing.
I got 3 Union spencer 2 ringers (first ones) a J hook, a baggage tag from Amelia VA. one 1937 wheat and some misc lead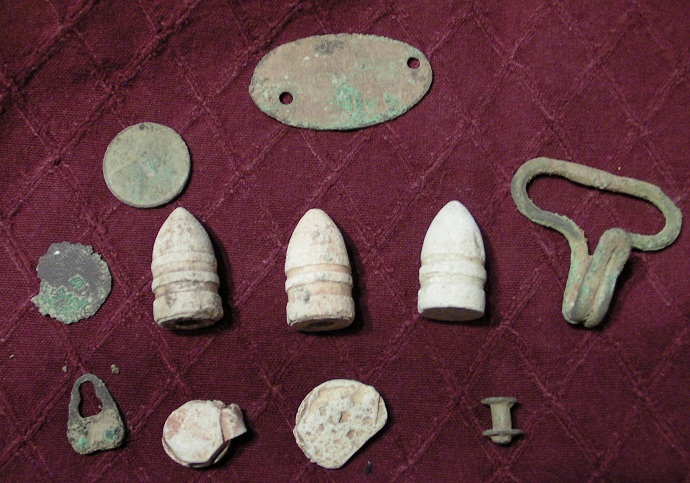 only had and hour and a half before we had to leave for the airport.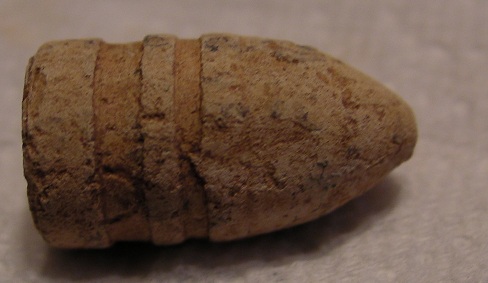 close up of spencer mini nall
4-28-12
I am headed to Virginia for the weekend! Going to do some serious Civil war relic hunting.
Met up with the crew for the hunt, hit a civil war fort. It was held by both sides and had some colonial history in the area as well.
We got about 5 hours of hunt time. I got 2- 3 ringers, 2 cleaners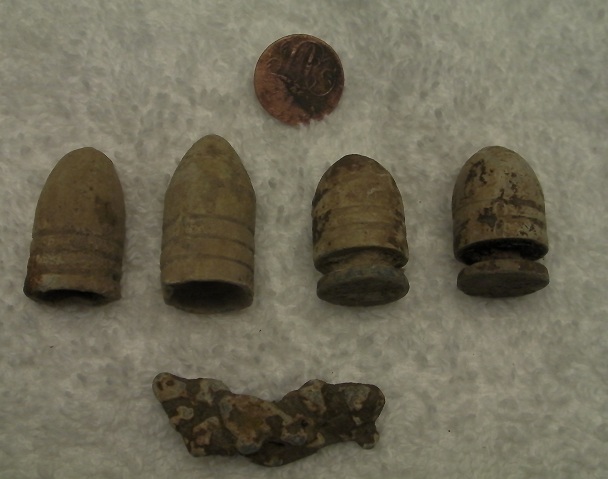 and a beautiful war of 1812 script Light artillery button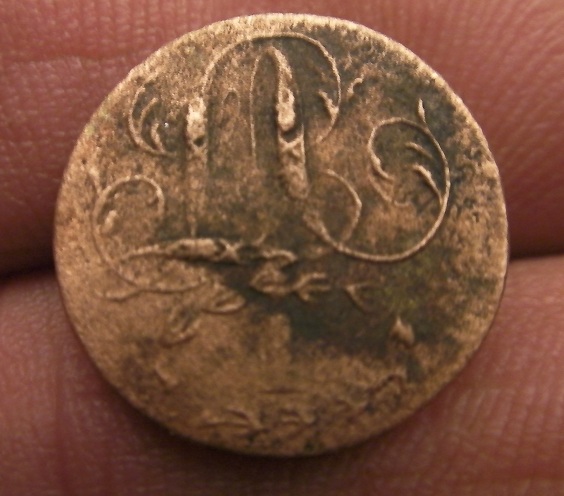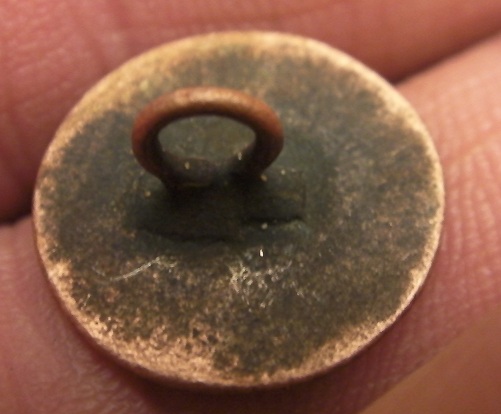 4-27-12
I met up with Michael to return his Texas A&M class of 1994 ring tonight.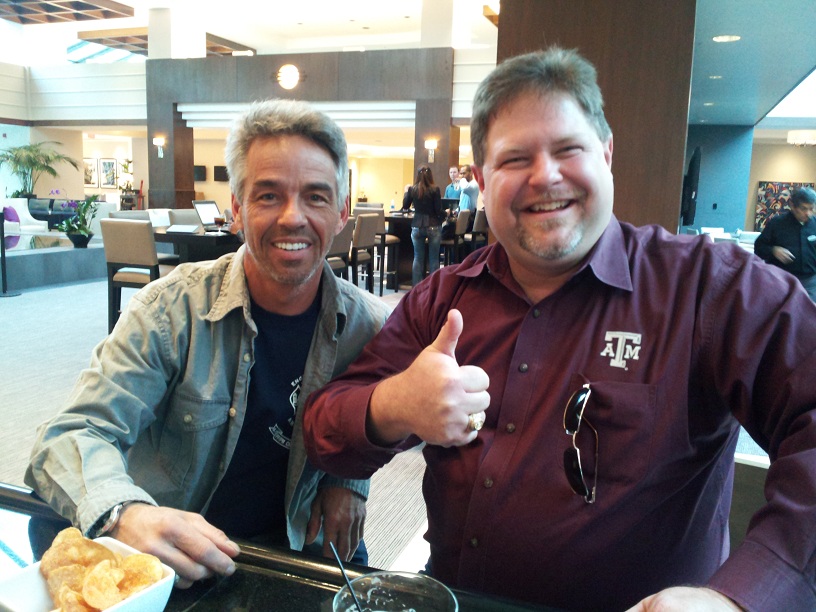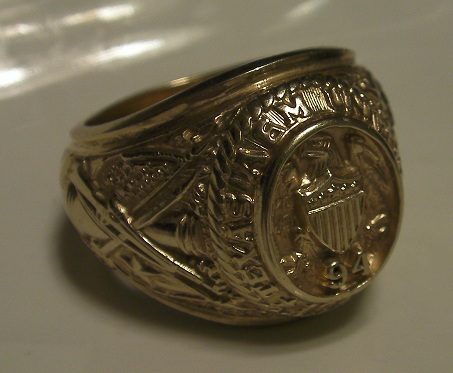 4-24-12
I was editing video today and found a best of video I put together a couple monthes ago and forgot to post.
4-23-12
I decided to try the giving beach with the Extera 705 and managed a 1923 merc. only got about a dozen targets
4-17-12
Sorry for the delay in posts. Had to take care of stuff around the house.
I went back to the cut and it was starting to close, dug some trash and a couple coins.
4-15-12
I worked the cut but wasn't getting many targets.
I moved to the shorline and got a silver cross, then a silver ring.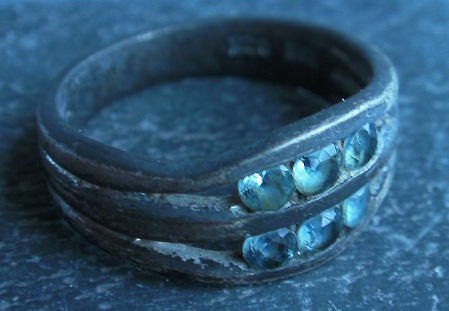 Then I worked the slope from the water to the top and
got a 10K pear shaped aqua marine ring,1.9g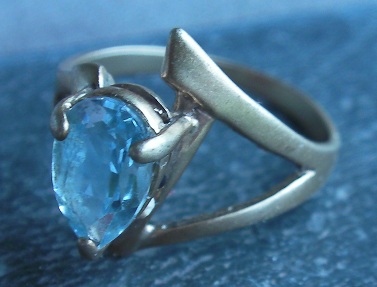 4-14-12
I was going to go home after the firehouse,instead it was coins and small silver only
No more gold YET! I did get about 30 coins and a silver star of david charm in the hour and a half I had to hunt.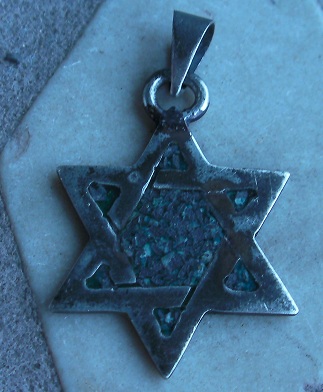 4-12-12
I tried 4 different beaches today. Of the 2 I looked at yesterday, the first had a small cut woth no targets.
The 2nd had a good sized cut but very few targets, It looked so good too, sloped shoreline, rocks in the cut.
Then I tried old faithful but the cut is now gone, the waves of the last 2 days finally finished it.
4-11-12
Got out for about 2 hours. There was a small cut at this beach, we were digging modern coins and a couple pieces of junk jewlery.
I did find a cool 1950's Tootsy toy car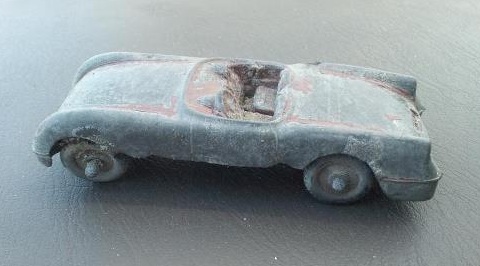 Chevy Corvette
I then proceded to drive around another 6 beaches, I think I found 2 with potential.
We will see tomorrow!
4-9-12
Only got to hit the beach for an hour and a half, the waves chased me out. (sissy)
The cut is closing manadged 6 coins and a silver medalion.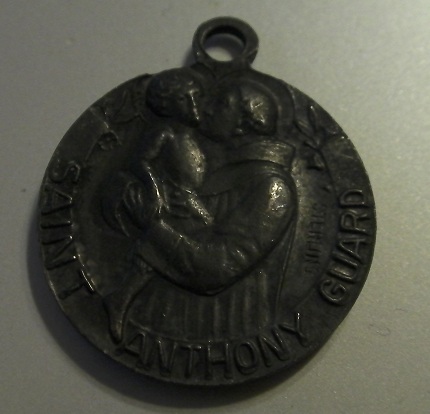 4-8-12
Hit the beach for 3 hours this morning. No gold unfortunately, but if you found it everyday it would get boring, Right?
managed 4 silver coins, 2 washington quarters 1940 and 46, a 1942 merc and 1957 rosie dime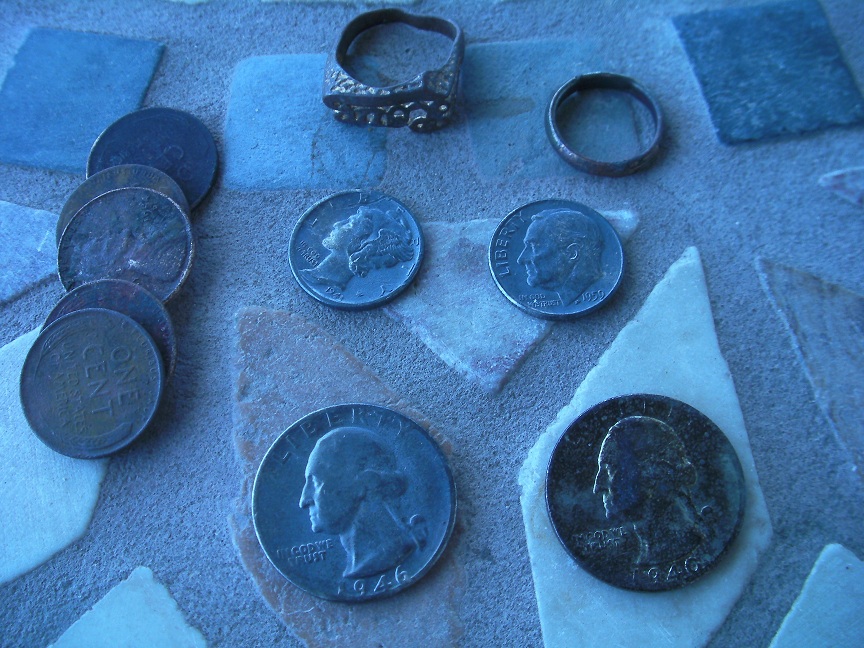 2 junk rings and a dozen other coins. Plus the trash.
4-4-12
I acquired this 10K Texas A&M 1994 ring 2 years ago in a trade with another club member. He wanted a Diamond ring I had and traded 1200 dollars in scrap gold for it.
It was in my ring display on the Nat Geo show Lucky Muckers. While I was in England I received 3 e-mails from allumni of Texas A&M university offering to help track the owner down.
Yesterday I sent them the information and today Michael the ring owner called me. He will be trying to fly in to pick up his ring personally. Will post pic's after the return!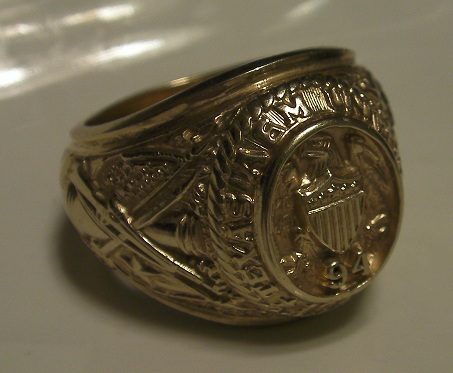 29.7g --------------660.00 scrap
4-3-12
Back in the States and I will be updating England finds tomorrow
Hit the beach for a couple hours this morning. A dozen coins and 2 rings, 1 stainless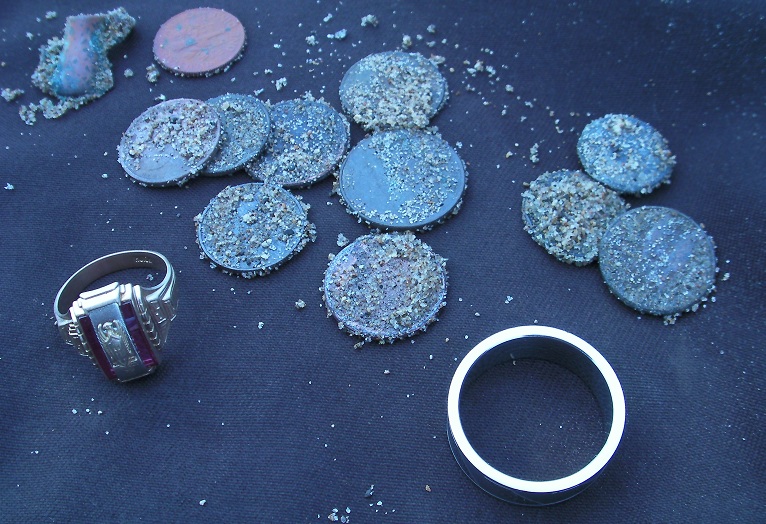 and a 10K 1950 HS ring, 6,2g Looks like brand new!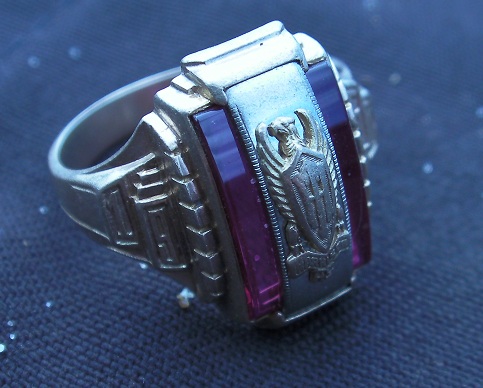 Just for you info:
These hunts are me and 13 other hunters, hunting 11 hours a day!
Sorry for the delay in posts, I have been way too tired after these 11 hour days to take pictures and post.
several milled silver coins and some nice artifacts. My team however have had some stonking finds including even more gold! 6 gold in 8 days
will post more pic's tomorrow.
3-25-12
Another rough day, plenty of targets and just a little silver.
I dug a great duck buckle, 1600's to 1800's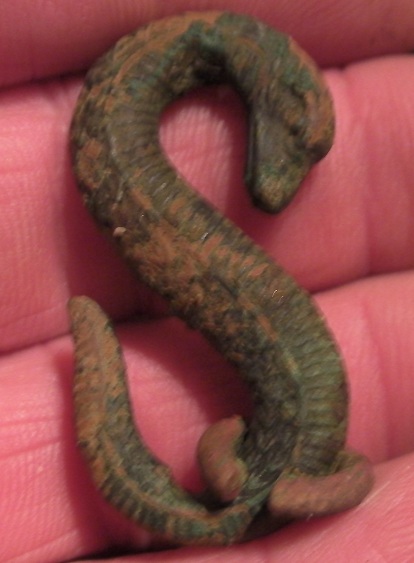 a couple cross and pellet lead tokens from the 1500's of 1600's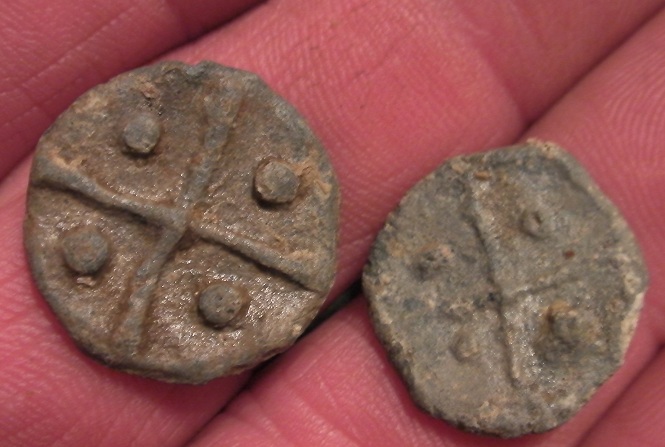 some type of silver foil wrapped thin stick and a nice pewter rose button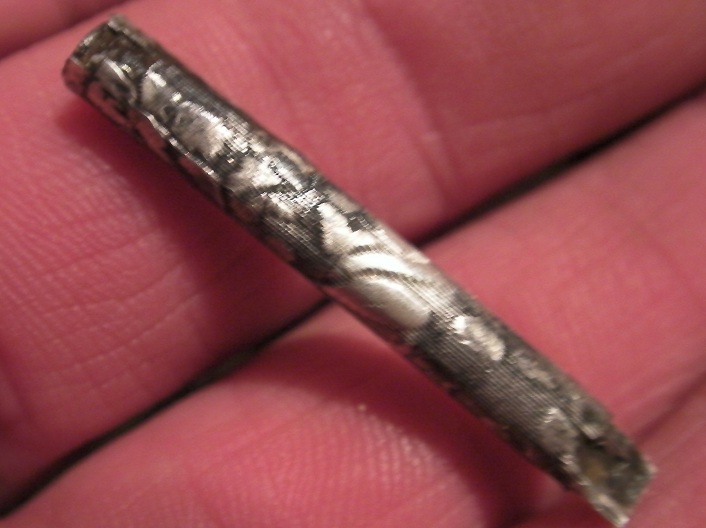 Tenn jeff got a snake buckle just a little larger than my duck,
3-24-12
Picked up three new hunters today, Tenn Bill, Tenn Jeff and Bav Jeff
easy start for them Jeff got a 1834 milled silver shilling.
Bav. Terry has been on fire all week, today he got 3 hammerd silver and a 1818 6 pence.
3-23-12
still digging lots of crap, shotgun shells, lead and buttons.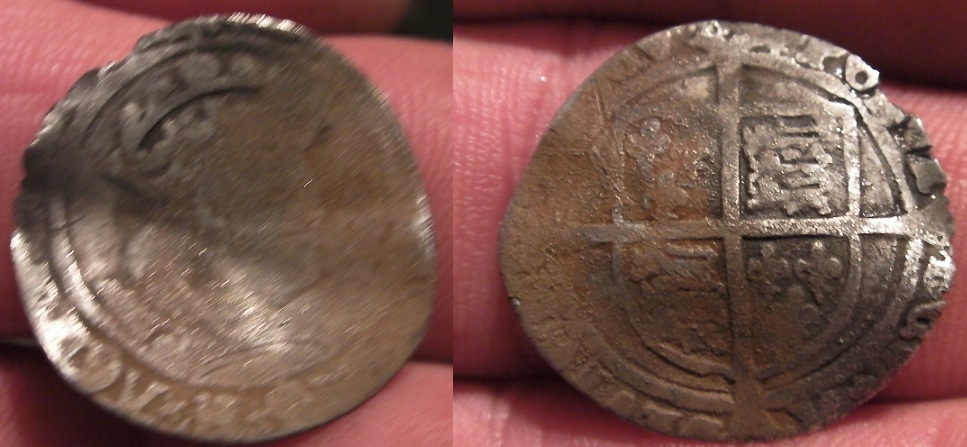 Henry the 7th or 8th half groat
Cal George cleaned up a monster find tonight.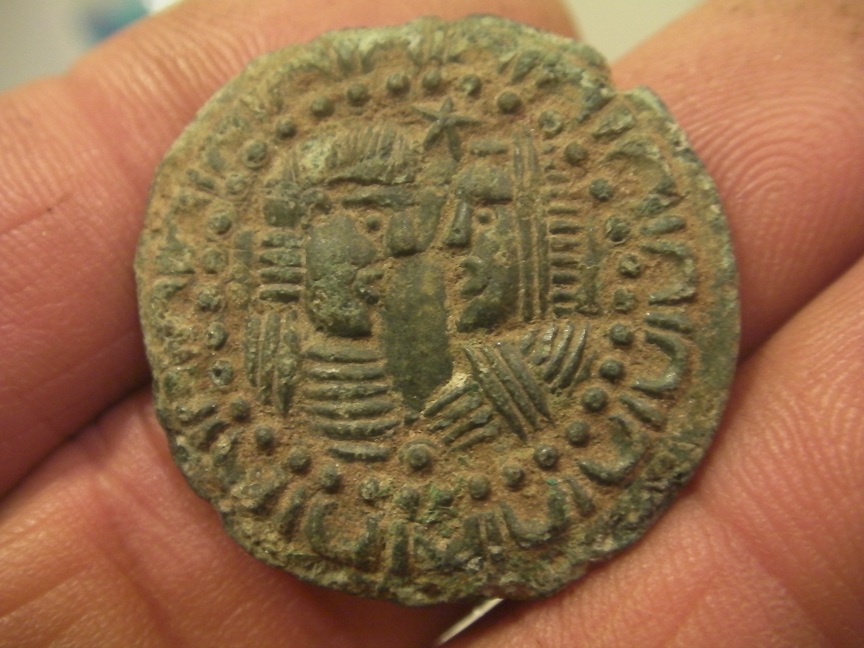 We think it may be a Saxon marrage medallion very cool find.
Terry got another 2 hammies and a milled siver
3-22-12
Got a great artifact today. I believe it is a Celtic wode grinder pestel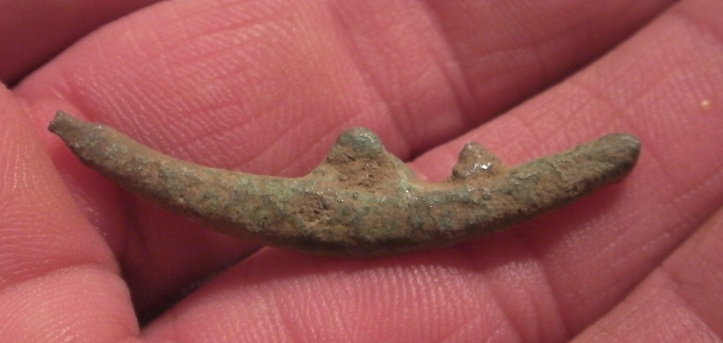 3-20-12
Another Hammered silver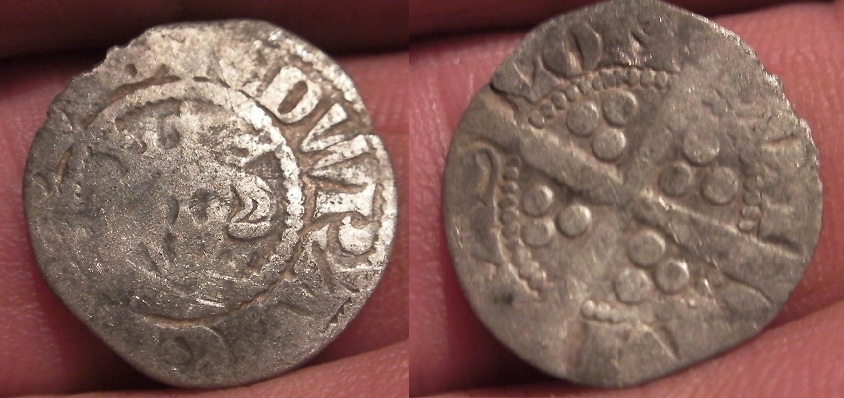 Edward penny.
And a toy cannon, blown up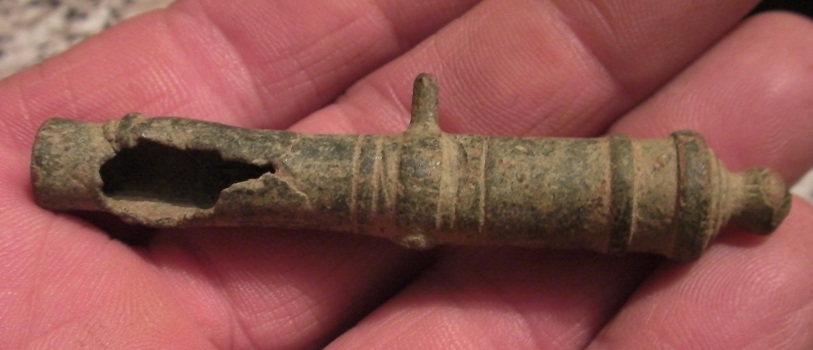 3-19-12
Got a hammie today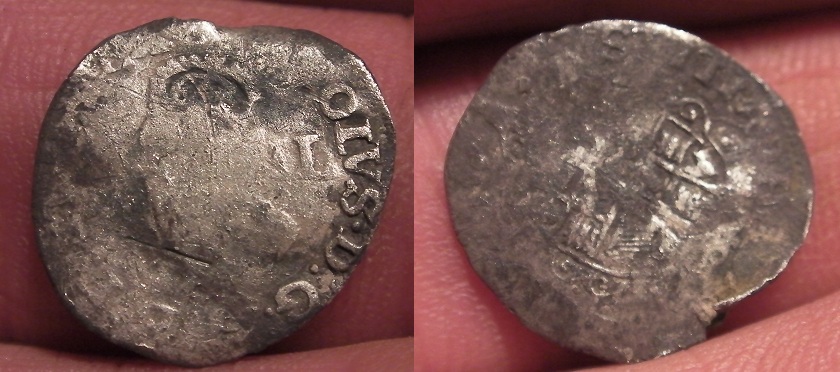 Charles I, 2 pence
Bavarian Terry got a nice Midieval or ancient gold ring, a roman silver and 2 hammies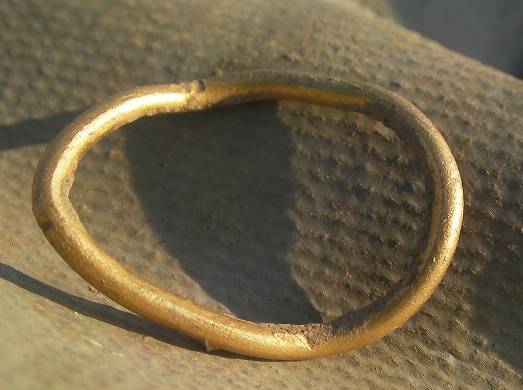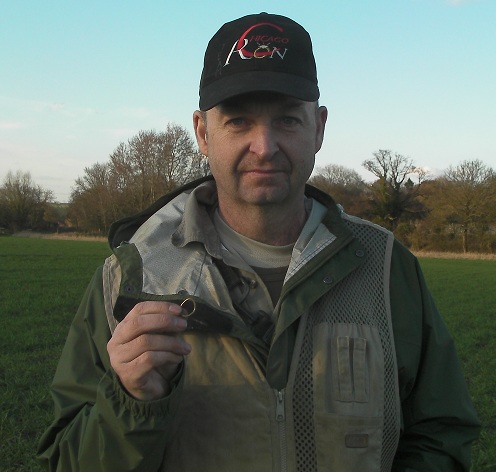 Thin band, 2.3g
3-18-12
Lots of buttons and coins but no silver today.
3-17-12
Wow has it been a tough 2nd week. I can't seem to find my ass with both hands.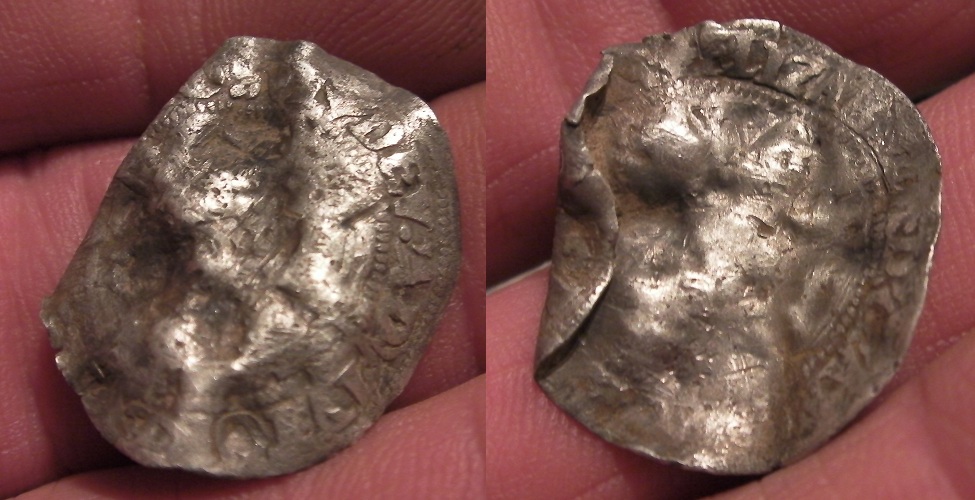 I got this Lizzie 6 pence on the 17th
Fortunatly the boys have been finding the good stuff all around me.
Wendell got this beautiful Saxon gold coin off the Saxon hoard field. it will be added to the hoard and purchased by the museum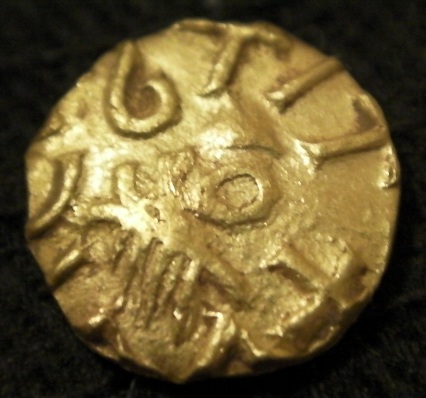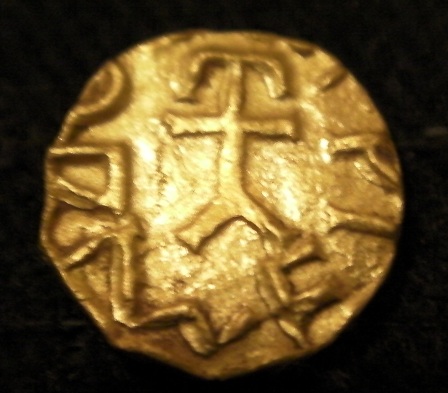 3-16-12
We hit the new land where John got his Celtic 1/4. Much slower day.
I got a 1919 silver milled Florin (size of a US half).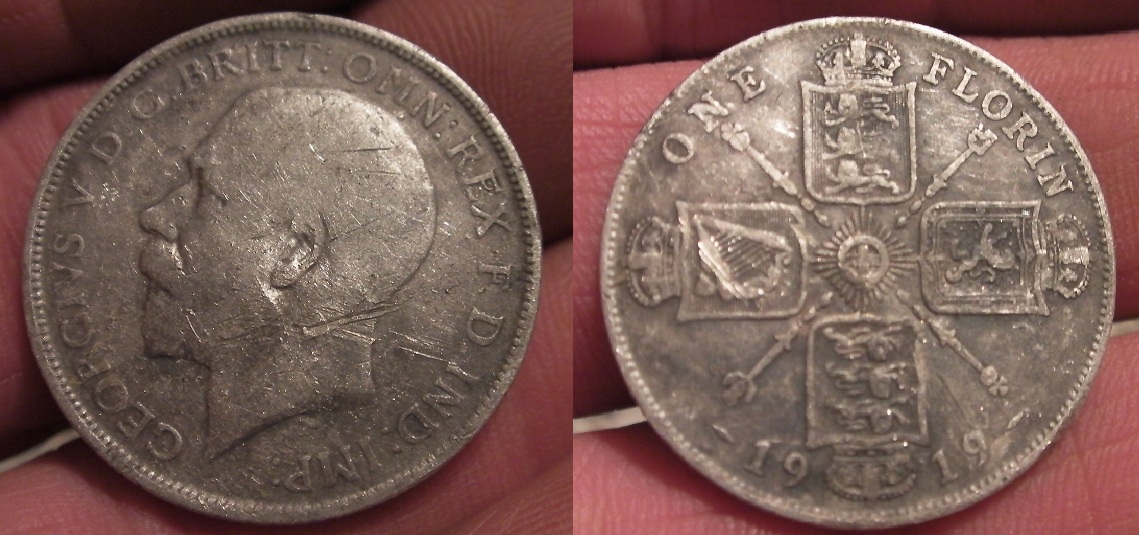 I think 3 or 4 hammies and a couple milled silver were found,

wendell got a nice Georgian pipe tamper (mother and child)
3-15-12
These 11 hour days are starting to catch up with me. 6 years ago it was no problem. now I'm sore! LOL
long day with no silver for me. got a roman bronze AS.
the new guy Seattle Casey found the most beautiful full Celtic gold stater.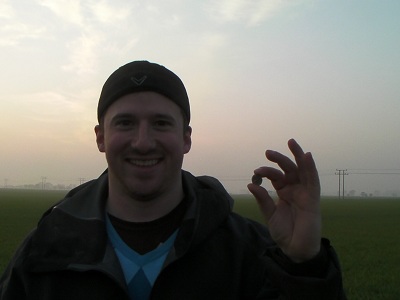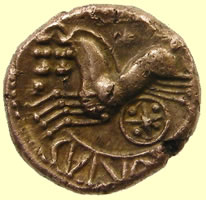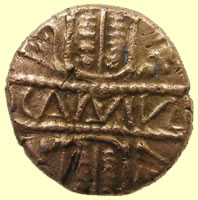 10-40 AD Cunobelin Celtic gold full stater - very rare bigga type
5.51g, 16.86
3-14-12
Another day in Paradise! The fields are flat as billiard tables.
I managed a Charles 1st, 2 pence hammered silver coin and lots of do-dads.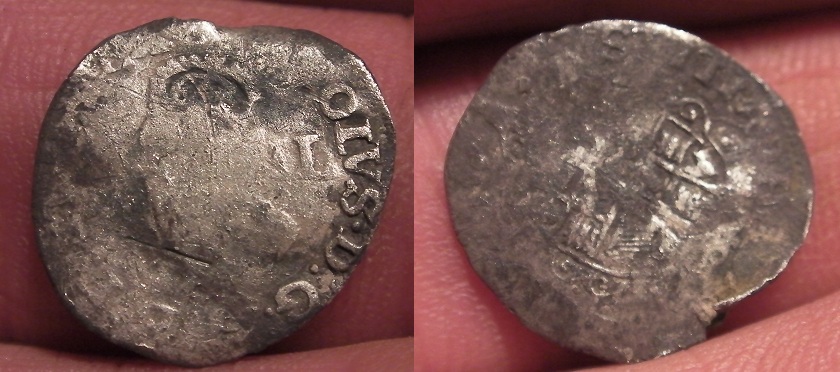 The rest f the team are doing much better then I am. several hammered silverwere found. Wendell got a Henry the 6th full groat.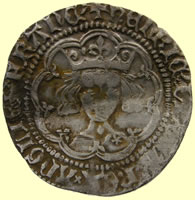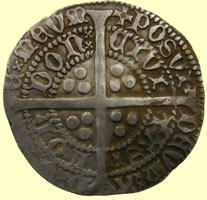 3-13-12
I got a couple neat artifacts and pulled a milled silver shilling 1883 at 5:30 pm to save the day
John got a Celtic 1/4 stater, 8 miles away from the one tim found yesterday, Same tribe different die type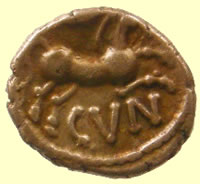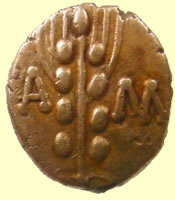 10-40 AD Cunobelin Celtic gold qtr stater - Linear type



VC Dan got a very cool 1600 BC chisel
3-12-12
Rough Day for me, No silver or cool artifacts. Several of the other guys made great finds.
Tim's Celtic gold 1/4 stater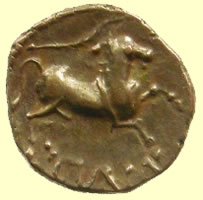 .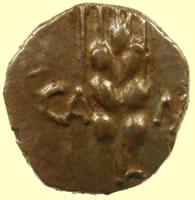 10-40 AD Cunobelin Celtic gold qtr stater - 11.89mm,1.22g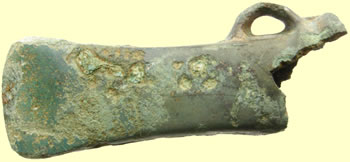 Canadian Marty's 850 BC bronze Axe head
3-11-12
First full day in the fields. Hit some new land. I did well with a roman silver( still in the dirt)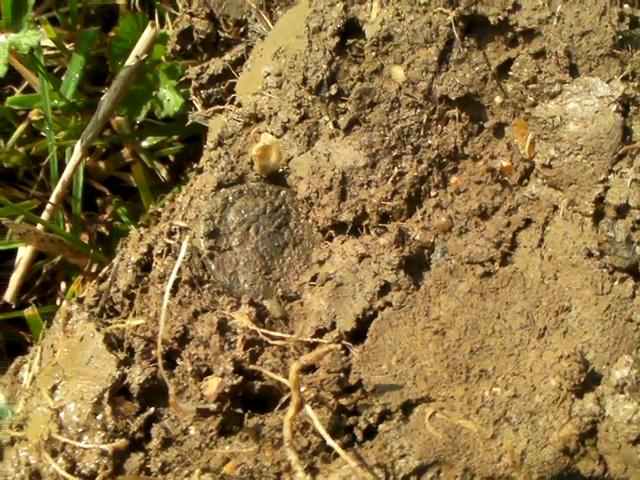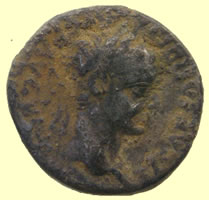 This is another of the so-called "Tribute Pennies" - a denarius of Tiberius - he struck basically only this one type of denarius throughout his entire long (24 year!) reign between 14 & 37 AD. The reverse is PONTIF MAXIM - referring to Tiberius' position as the head of the State religion, and the seated figure is generally accepted to be his mother, Livia. If not, it's some generic personification - there are a couple theories which it might be, but generally people say Livia for the reverse.
And a Silver Saxon Pin or fibula brooch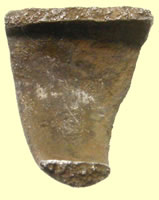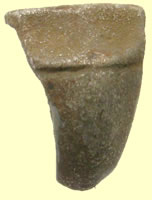 3 other hammered silver found, several milled silver, a Tudor gold on silver clothing fastener by VC Dan,
and a almost full 850 BC bronaze age socketed axe head by Can Marty.
3-10-12
First afternoon in Colchester. We got in 5 hours of hunting. I managed a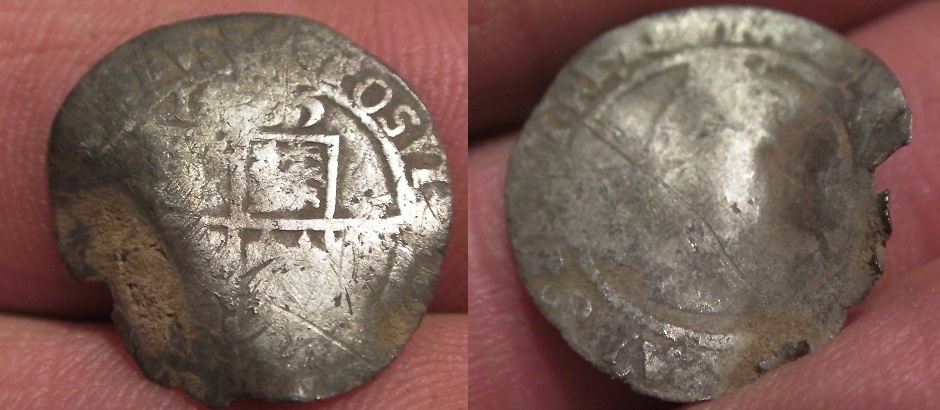 1565 or 85 Elizabeth hammered silver 3 pence
Wendell, and VC Dan got hammered pennies and Terry got a milled 6 pence.
Nice easy start to the hunt.
3-9-11
Hit the Thames river under Millenium Bridge for an hour or so. I got 2 buttons with some writing or design, an early clay pipe, several new coins.
I met Mackie the mudlark down there and he had a blinding morning with a Commonwealth Shilling that looked like it was in good shape.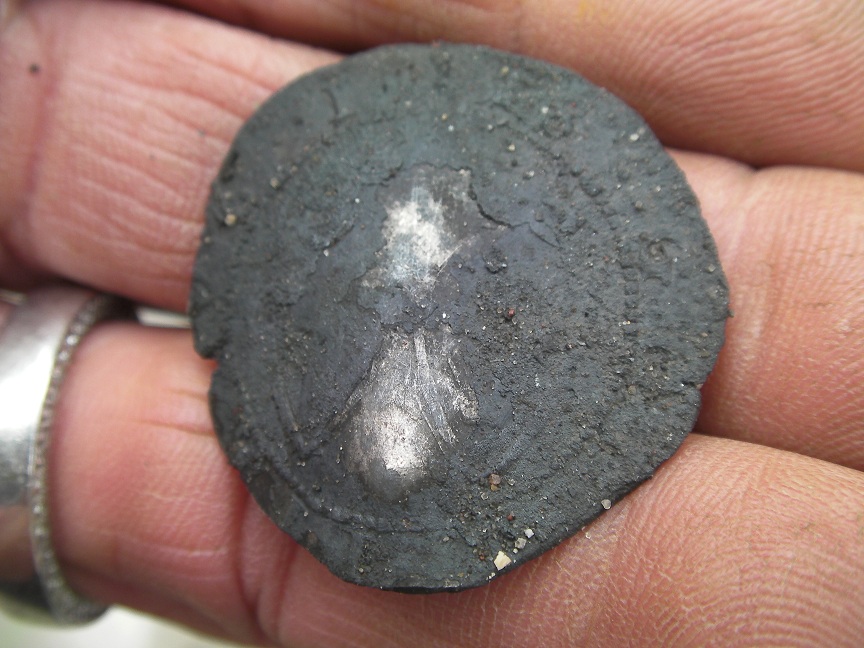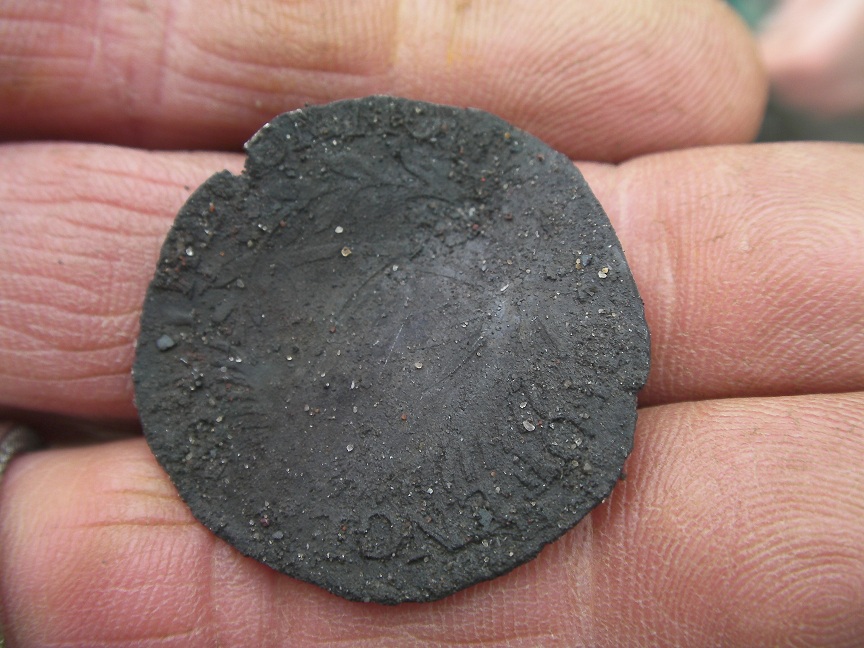 Here it is cleaned beauty coin and an expensive one about 500 pounds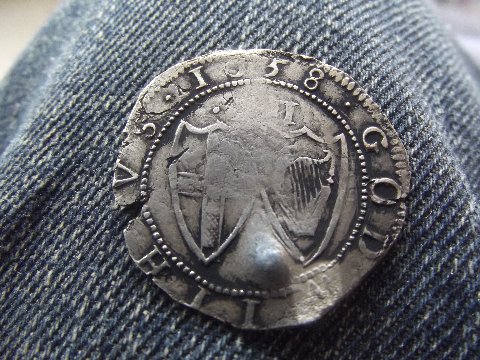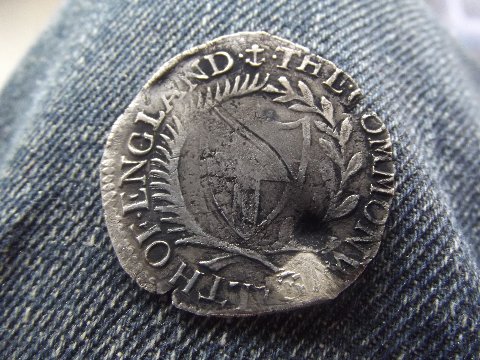 He wanted a pic with my Celtic gold so he could give his friend Ray a good wind-up.
Great to see you Mackie!
3-8-12
Today is a travel day!
Arrive in London tomarrow 6am. Plan to drop the bags of at Heathrow cottages and head into London.
Low tide is 8:30 and I am hoping to get a little larking in, I have an appointment at the museum of London at 2 to pick up my finds from last fall.
Then evening low tide is 8:30 pm and it is almost a full moon more poking around on the forshore (Millenium Bridge)
Then 3 weeks of plowed field hunting. I will try to post pic's of finds daily if I have the time and energy.
3-7-12
Premier of Nat Geo show was a lot of fun last night. about 35 to 40 people showed up to share the first viewing with me.
Everyone was very happy with how the show turned out. There were even another 12 people that came to the bar to watch the hawks game,
when the show was over they all asked questions about the show. Fun event.
A Fire fighter friend that is starting a photography business took lots of photos. Will post some when I get them.
3-5-11
Well tomorrow is the North American Premier, private brew and view for friends, family and local hunters.
Party from 7 to 10pm. Cash bar at Wrightwood Tap, 1059 W Wrightwood, Chicago
The show will start at 8pm. We have the back room which only holds 50, I have about 35 RSVP's if we get more than that we can spread out into the rest of the bar.
It's a sports bar with lots of tv's. There will be some light snacks so have a beer and enjoy the show. Minelab has given me some cool give aways,
mini mag lite's, carabiner compass's and a back pack. I will also have some of the new Chicago Ron logo caps.
The North American air date is March 20th at 8pm eastern, on The National Geographic Channel.
3-4-12
What a rough day, wind and waves were not cooperating. I tried one beach for an hour or so and worked mostly along the shore.
Not too many heavy targets so we moved to the giving beach, it looks like the vault may be closed.
3-1-12
at the beach this afternoon for 3 hours, The hole is starting to close.
I got about 10 coins including a merc, a rosie, a buff nickle and a couple wheats.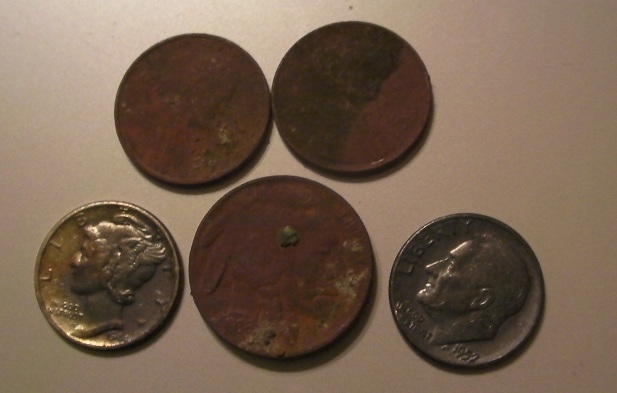 1944 Merc, 1957 rosie, 1936 buffalo nickle
2-28-12
I am hostage at the firehouse today and, Looking4seated and Treasurefiend hit the beach,
everyone got a little gold and some silver.
I'm out in the morning weather permitting!
2-27-12
Having a couple hours to kill I decided to try our new beach again, I knew the waves would be more of a challange.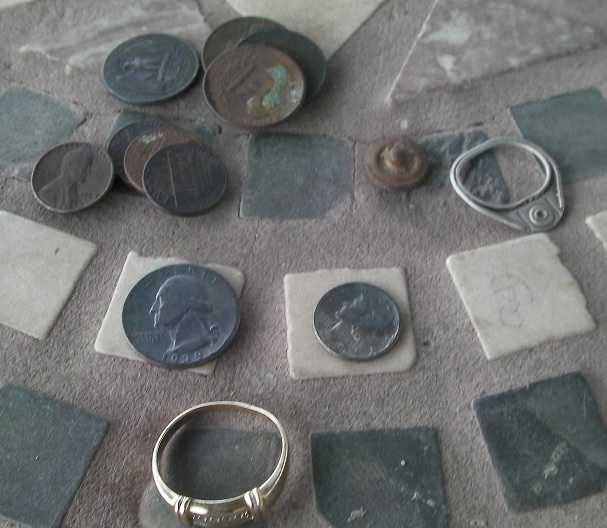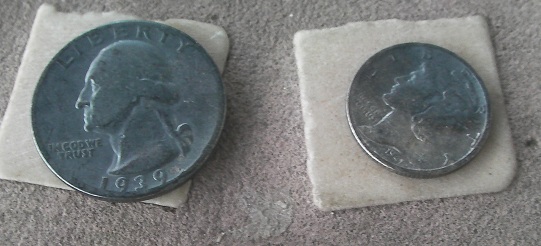 Total-----------------------------------------------------1939 Wash qtr and 1941 Merc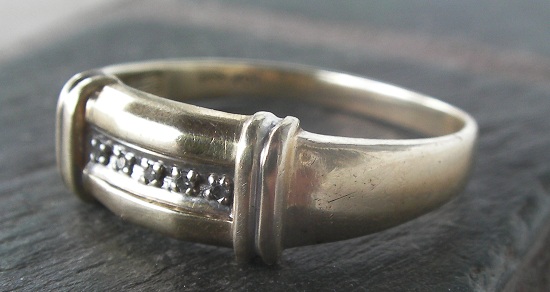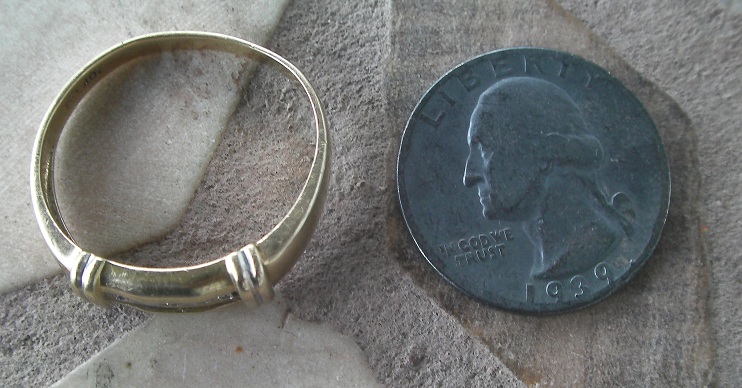 10K wedding band, 3.3g ----------------this thing is huge, fits on my thumb
2-26-12
Thanks to another hunters willingness to share, without speaking?
I found myself at a beach I haven't hit since late november. spent 4 hours in the water and the results were stellar!
I had forgotten to bring my battery charger to the firehouse so was running less than optimal voltage, but still managed 4 silver coins and lot of other targets.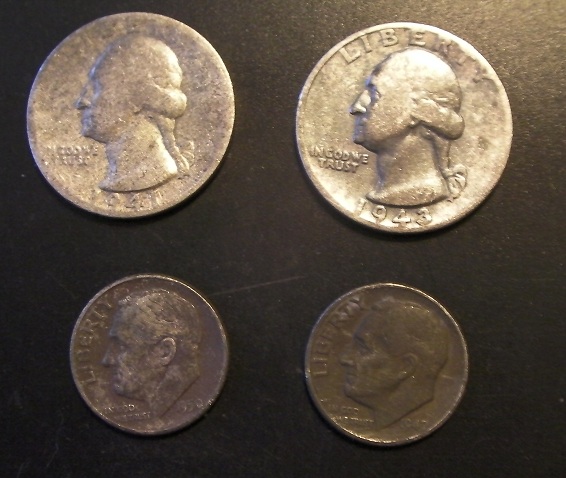 1941 and 43 washington qtrs, 1951 and 53 rosie dimes
2-23-12
This is the 5th hunt in a row with gold, truely amazing for February water hunting.
I spent 2 hours in the water. I did very well in a honey hole with a gold ring and a silver medalion, 5 feet away I got a 2nd gold ring.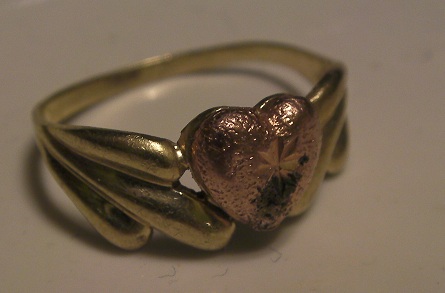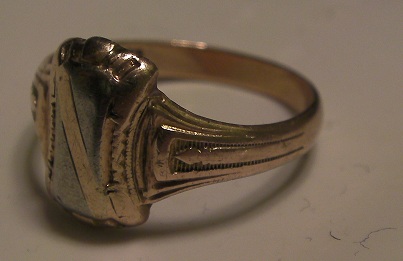 14K heart ring,2.1g-----------------------10K High School ring, 2.7g
2-22-12
Thames Treasure Hunters Premiered in England.
National Geographic HD.
Review by: Virginmedia.com
Who's in it?
When American tourists come to London, they tend to want to see landmarks like Buckingham Palace, Big Ben and the London Eye. But not Ron Guinazzo – he was all set to get muddy on the shores of the Thames, and he certainly achieved that ambition…
In a nutshell
Mudlarks have been around for ages. You may even have spotted them accidentally: the odd chaps trudging through the wet squidgy mud on the banks of the Thames, swaddled in warm clothes and scrupulously waving a metal detector over just about everything. The Johnny Vaughan series Mud Men has popularised their hobby, but this particular documentary had an interesting twist: it followed an American treasure hunter who was more used to the golden sands of the States than the bogs of Blighty.
Fair play to the man – Ron Guinazzo was definitely up for adventure. Having already established himself as an ace beachcomber and finder of lost jewels in his native land, he flew into London and was shown the ropes by some seasoned mudlarks. After that it was time to, well, lark about in the mud, digging up lost trinkets which were almost impossibly ancient.
What's the verdict?
What made this interesting (apart from the promise of sudden finds) was Ron's view of Britain. You might think he'd have been a bit perturbed by the deeply unglamorous browns and greys of the Thames, but actually he was captivated by chance to unearth properly historical items – a far cry from the shiny modern stuff he digs up in the USA. Makes you proud to be British, so it does!
Star rating
4/
Review of Thames Treasure Hunters See February 22rd
2-20-12
Got in the water for about 2 hours befor the waves got too high for waders. Did manage some goodies!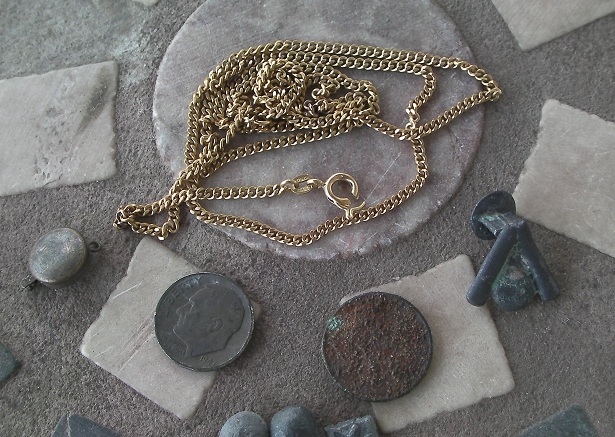 gold chain, 1947 siver dime and some other crap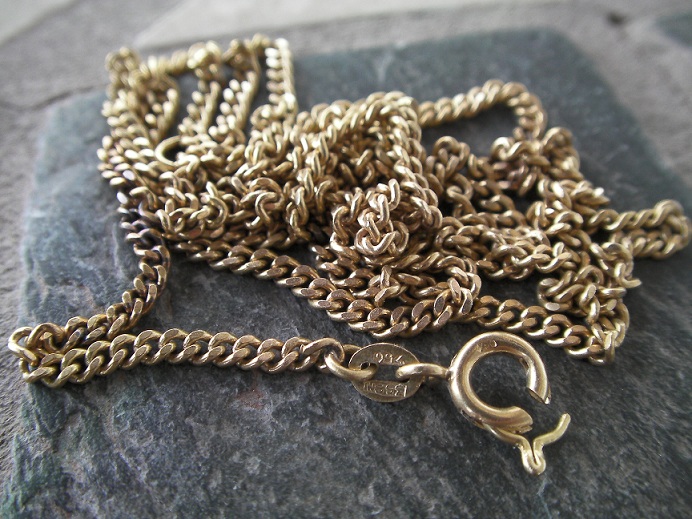 18K gold chain, 24" long, 12.0 grams. NICE!
2-18-12
What a wonderful morning,
I put out a new video last night. #35 Getting gold in the cold. Winter water hunting Lots of great comments.
I got 2 gold, a possable silver chain and charm, silver earring and a 1948 rosie.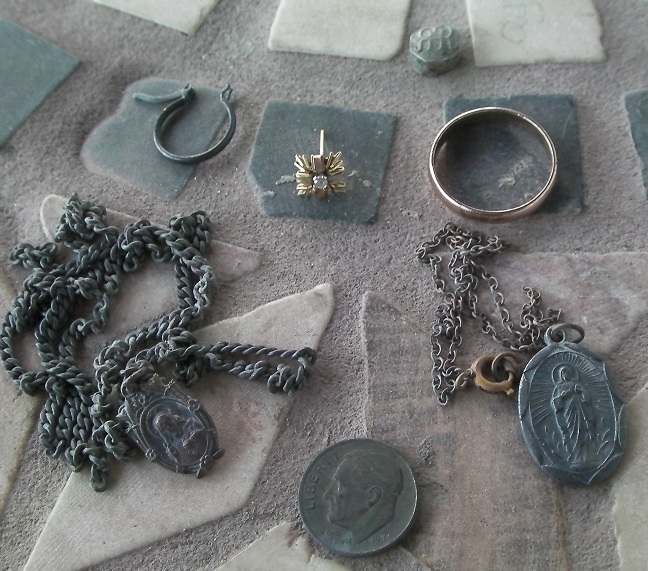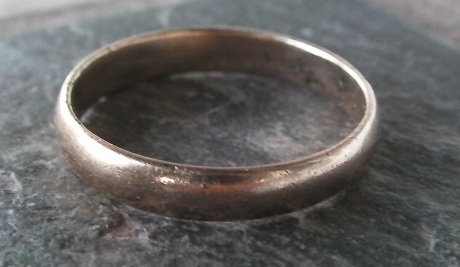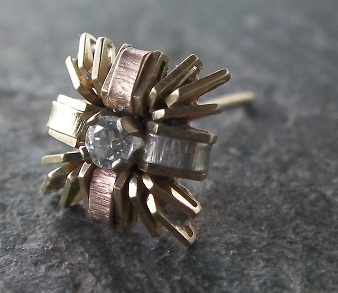 10K wedding band, 3.1g------------14K stud earring with CZ, 0.8g
2-17-12
Got a good early start this morning I hit the giving beach. 7 to 10:30
Lots of targets still, I got a beautiful and Huge! 14K Madonna medalion 13.3 g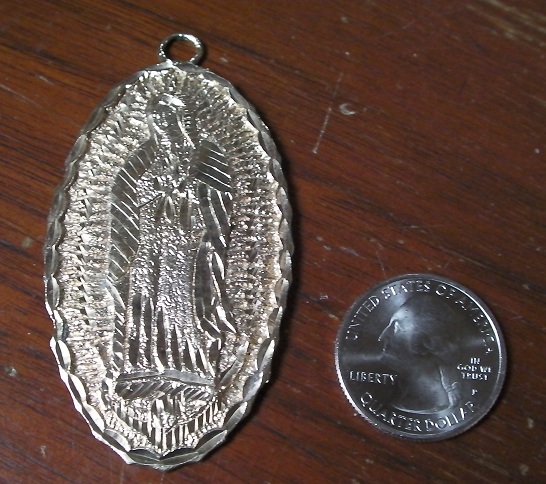 2-15-12
Nat Geo Update!
UK premere of Thames Treasure Hunters: Lucky Muckers
February 22nd 9PM, Nat Geo Channel
Treasure on the Thames the National Geographic Show I did last spring.
Pictures on Nat Geo AU website Treasure on the Thames, Lucky Muckers
Lots of great still photos from the shoot.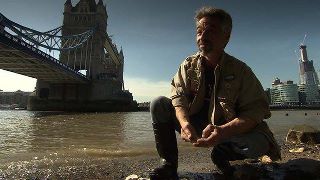 US website has a 2and a half minute excerpt Lucky Muchers Video excerpt
2-15-12
Now thats more like it, the wind was a little pushy out of the south and the waves started to build, I only put in a little less than 2 hours.
It was time well spent, got a Gold chain, silver bracelet, a junk medalion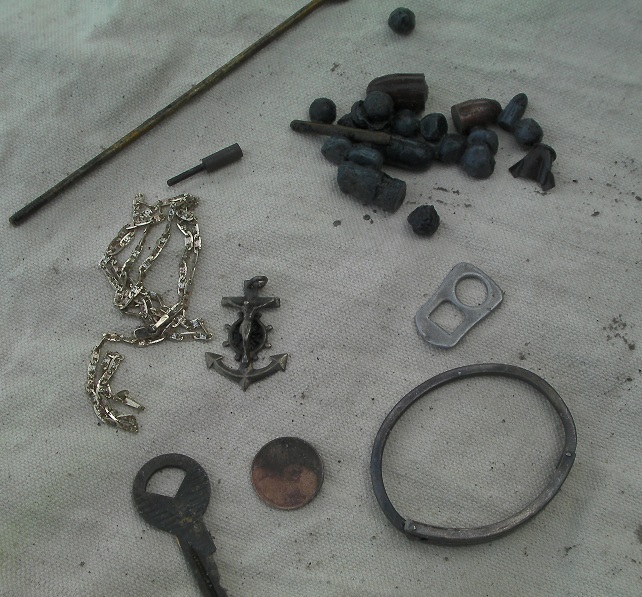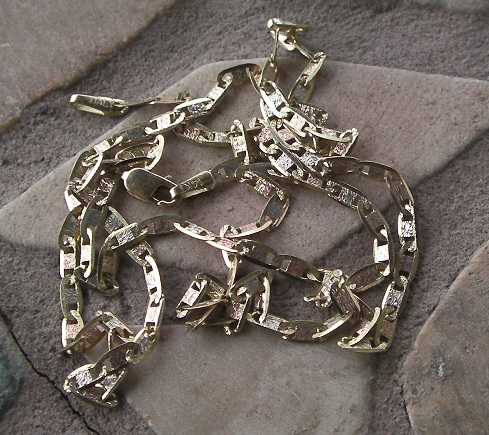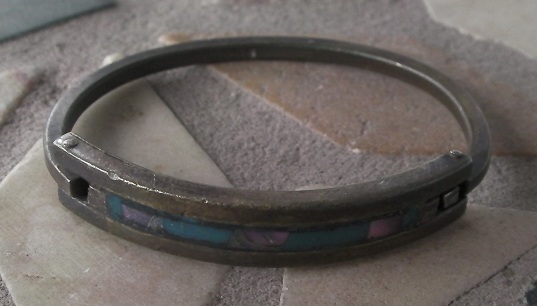 14K Dakota gold Chain. 20"4.9g-----------------------Silver , terquoise and mother of pearl bracelet
2-14-12
Right from the firehouse into the frying pan, actually more like into the ice bucket. LOL
Spent about 2 hours in the water this morning, some more lead, 5 coins and a junk medalion
2-9-12
Met lookin4seated at the beach this morning. I think we spent about 4 hours out in the water.
Lake was dead flat and we all dug lots of targets. I got another 50 of those lead balls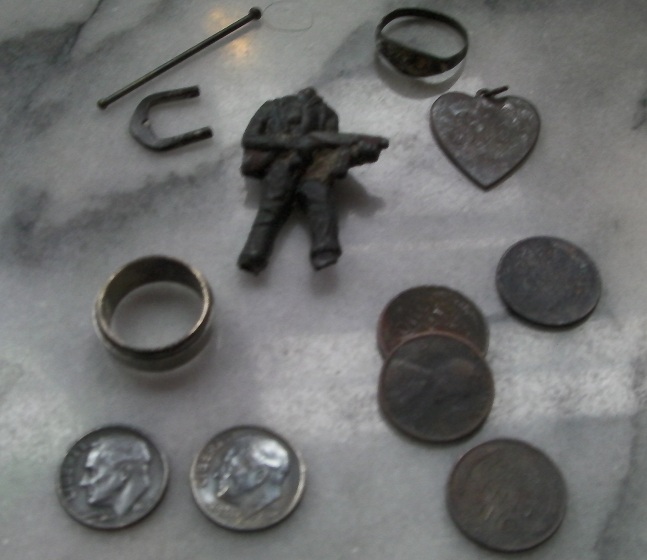 a couple junk jewlery, 4 wheats, lead soldier, antique tie bar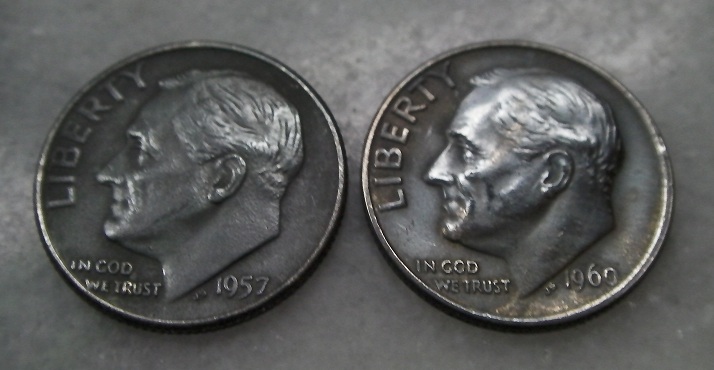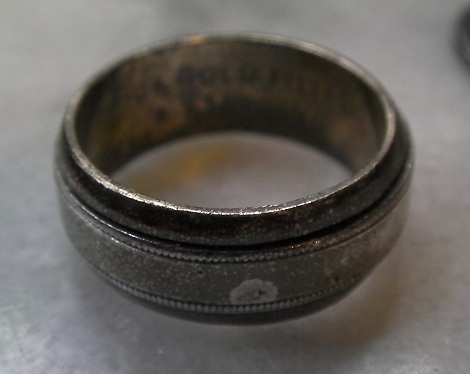 2 silver dimes---------------------------------------------------- a 10k gold filled and sterling ring.
L4S got a rosie and some other coins and a couple junk rings.
5-8-12
Worked on new video today. History's Dirty Secrets, #34 Lost gold of the giving beach.
This is the last of the footage from Nov and Dec at the giving beach. Lots of great finds even though it was very cold
Mark and I managed somr great coins, artifacts and Jewelery.
Lost gold of the Giving Beach!
2-5-12
Back down to the lake , It was a little windy today but the waves were cooperative.
I dug about 10 coins, a couple dozen lead balls, couple keys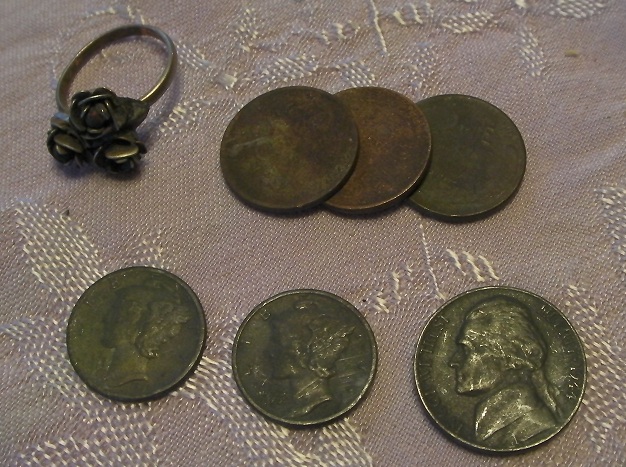 2 merc's 36 and a 41 a 1944 p war nickle a couple wheats and a cool looking plated antique rose ring
2-3-12
This will be a long post today as I have a few things to share.
I spent this morning at the giving beach. spent 3 and a half hours detecting in a 30foot x 20 foot area.
This area is littered with iron and lots of lead, the signals are often very light, and once you disturb the area targets seem to appear.
I managed exactly 75 of those little lead balls, 3 wheat pennies, a nickle, a dime, a corrod ed skeleton key and a few other pieces of metal.
2-2-12
What a great morning, got off from the firehouse and headed straight for the giving beach!
was about an hour brfore I got my first good target a 10 gold filled earring, then I worked a washed out area that has produced lots of lead
and some small gold. Dug lots of targets mostly small lead.
then I got my find of the year so far a 14K wedding band. The inscription is what makes this a phenominal find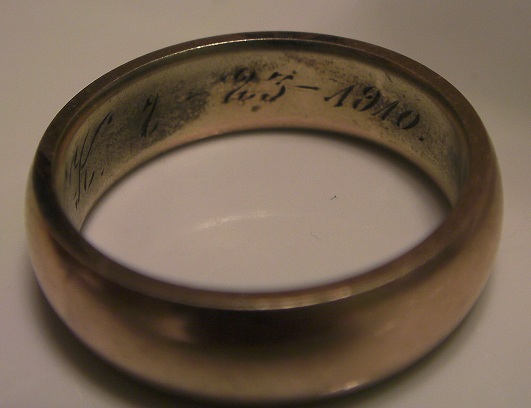 V.K. 2-23-1910
This ring was obviously lost early as the ring and inscription show little wear!
21 days untill their 102nd anniversary!
My oldest ever inscribed ring!
1-31-12
Temperature got up into the 50's today, so I spent 3 1/2 hours in the water.
Plenty of targets mostly midrange or low tones here's the total haul. Plenty of pull tabs and the little lead balls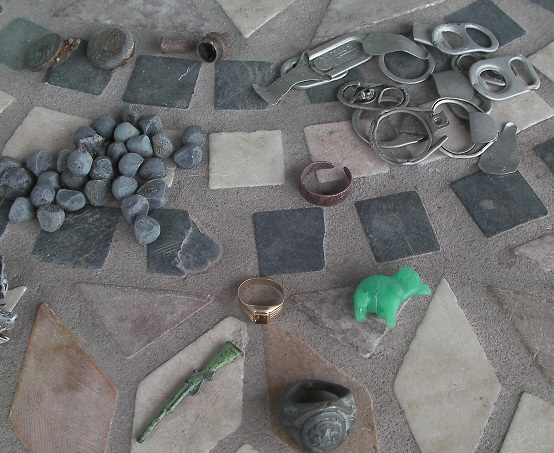 The good stuff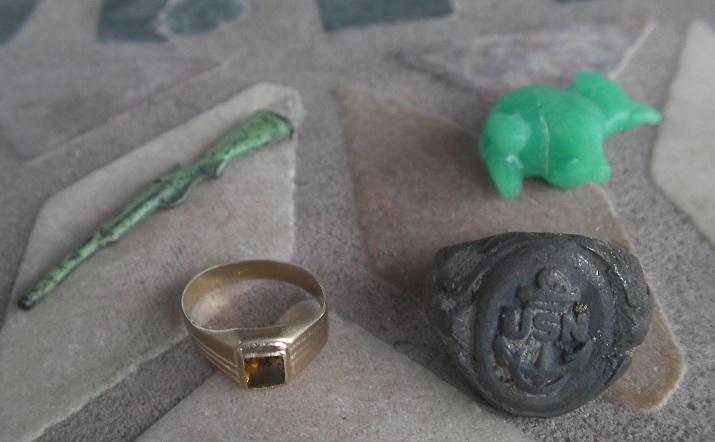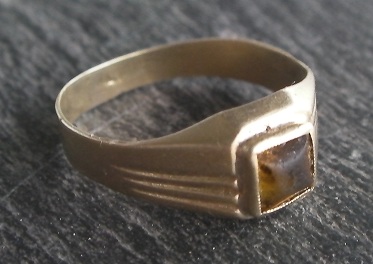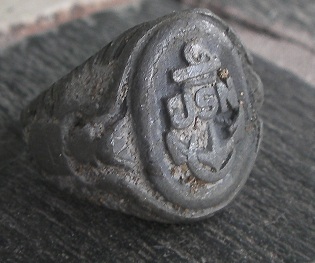 14K very tiny womans ring, 0.8g-------silver WWI US Navy ring

Crackerjack Rifle with paint still intact. I love these crackerjack prizes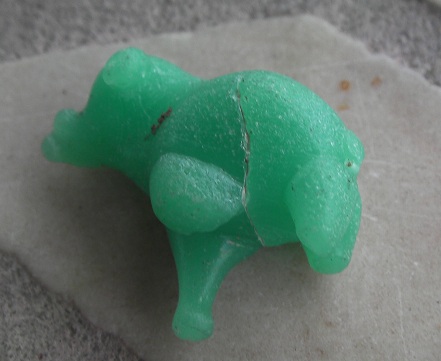 Jade elephant
This was an eyeball find, I thought it was a wad of gum or a piece of colored glass
1-28-12
I was at the beach early this morning. Hunted for about 3 and a half hours. The water is 38 degrees and the wind was whipping a little.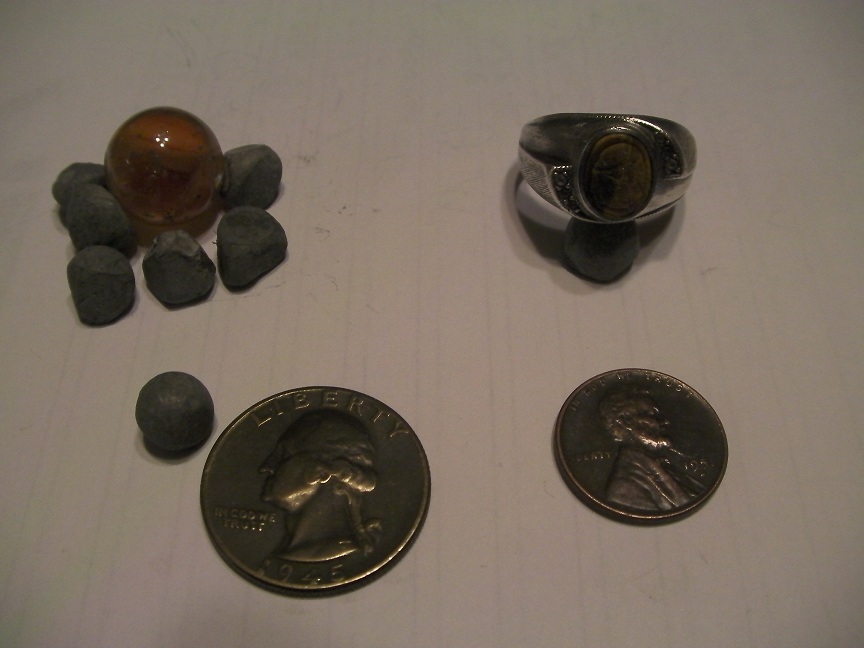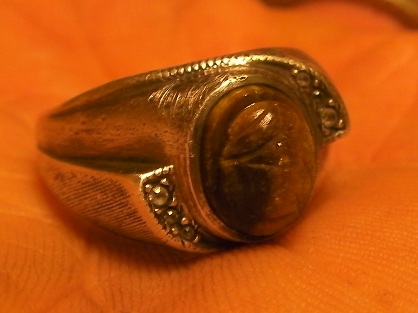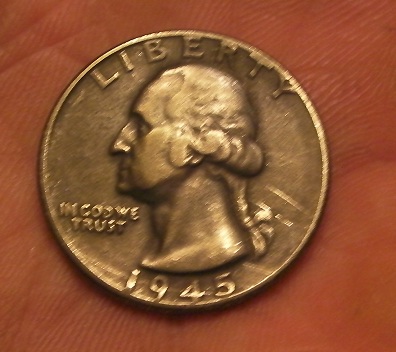 I managed a silver ring with a carved tigers eye stone and a 1945 silver washington quarter.
1-26-11
Had the logo I came up with a couple months ago put on hats today.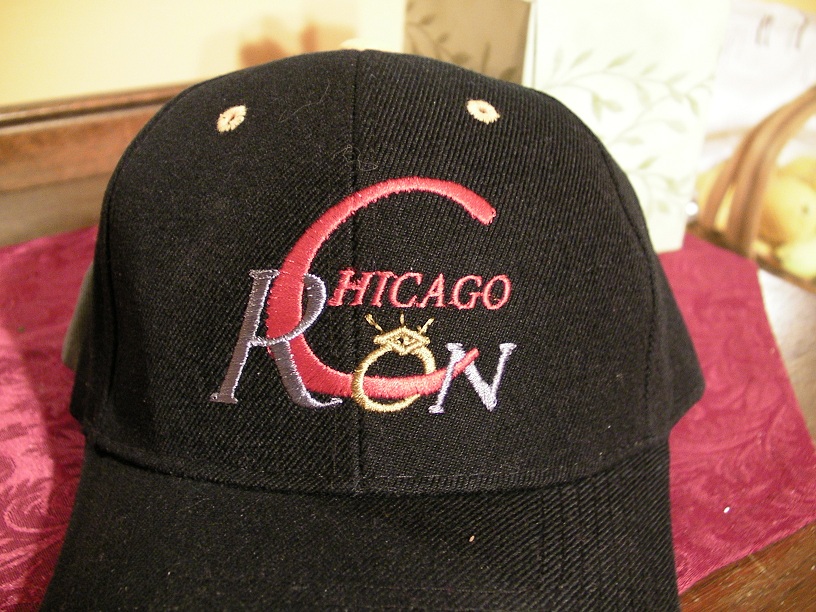 Silver and gold on dark color-------------------------------------Black and gold on light color
I think I like the silver and gold on dark better.
1-25-11
I received notification from the Colchester museum today that they are interested in acquiring my mideval Hawking whistle.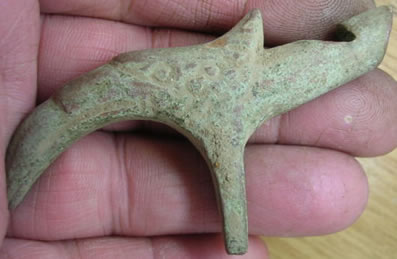 I found this in England in March of 2008 it is from the 1500's to 1700's. One of only two examples known.
The other one is in the whistle museum.
I sent a letter last spring asking if the Colchester would be interested in me donating this piece.
This is a piece of history that needs to be shared and not just sit in my display case.
I will be bringing it with me this March to present to the curator of the Colchester Museum.
1-10-12
Hit the beach again for about 3 hours got a 1942 merc, and 2 thin gold rings.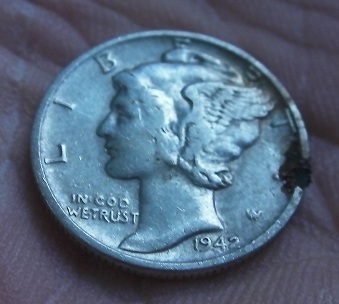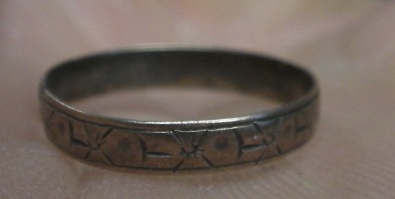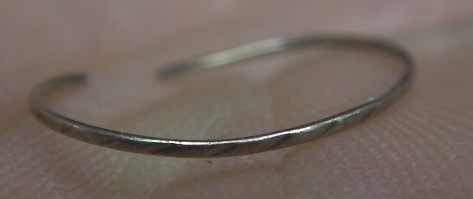 10K antique gold band,0.8g -------------------------- 10k twisted wire gold ring,0.2g
1-9-12
Ventured out for the first hunt of the year. managed about 40 coins off the dry sand including a buffalo nickle. no jewelery today at all
9-16-11
Cara came and picked up her ring. She wrote a very nice thank you letter.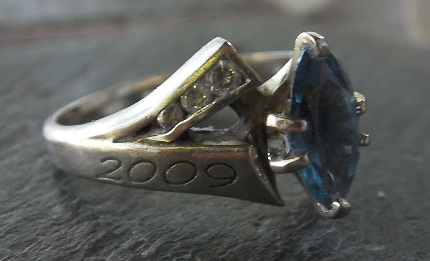 14K white gold 2009 Class ring
8-5-11
George came by the firehouse to pick up his Platinum wedding band. He will forward a letter.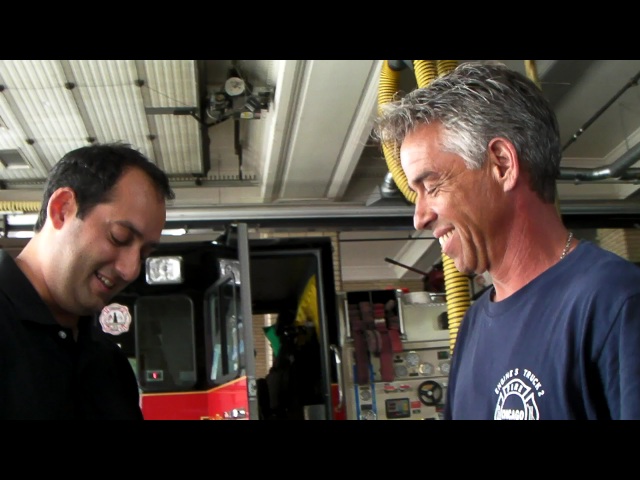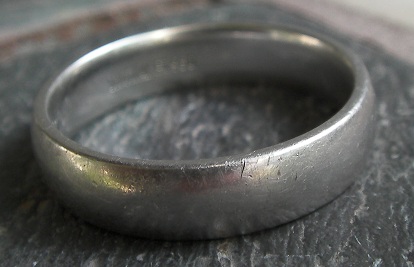 There is always hope!
8-3-11
Got off from the firehouse and headed down for some sand shooting. The waves were a little too rough so I just hunted dry for 2 hours.
Got about 5 dollars in change. Then I went to the church my wife and I belong to, to do some demolition in their new space, when I was done at 2pm I checked my e-mail and had another lost ring ad on craigslist. It said platinum ring lost on or near the vollyball courts north of the bridge. I sent the person an e-mail asking for more info and got to the beach before he called back,
Not knowing what court he was on I looked over the 20+ courts and came up with a game plan. On the 4th court I got a very smooth low tone and there it was when I dumped the sifter. It only took 15 minutes. 950 Platinum ring with inscription. 9.3 grams over 500 dollars just in scrap.
When I returned to the car George had called twice. I called him back and he started to tell me where he was playing and I interupted him saying I had found it already. He is coming to the firehouse on Friday to pick up his ring.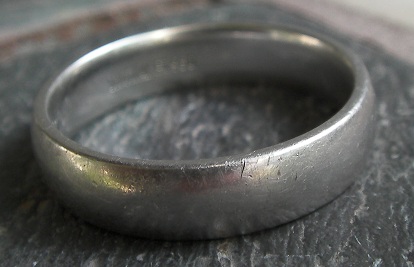 950 Platinum wedding band. 9.3grams
8-2-11
Went out real early for 3 hours before the firehouse. From 3 to 6 am.
6 or 7 dollars in change a small silver ring, and what I thought in the dark was a gold wedding band. Who wears gold colored stainless steel!
Jason came by to pick up his ring.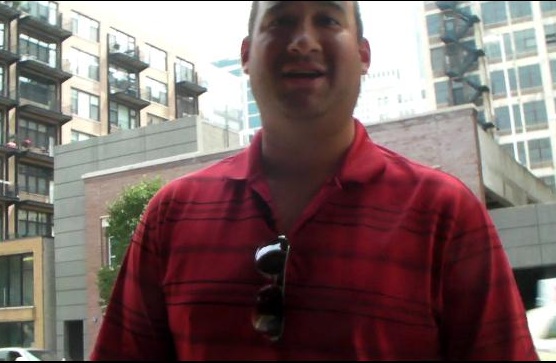 Another happy return. 14K white gold band 11.0grams
7-30-11
Wall Street Journal article. will be in Sat 7-30-11
Metal Detectors Hit the Jackpot
Sales are way up as gold prices soar; hauling a pound of jewelry off the beaches of Lake Michigan
In 1985, Ron Shore began selling metal detectors from his Chicago basement. The shop limped along for two decades, and five years ago, with the price of an ounce of gold at about $650, he nearly closed it. This year, gold has soared to more than $1,600 an ounce, and Mr. Shore, 66, is on track to rake in $1.2 million in sales. "It's been gangbusters," he said, noting that his retail business—which sells detectors priced from $150 to $25,000—has doubled every year for three years running. In December, he quit his day job with a graphic-arts firm. "I couldn't keep up with it anymore," he said. With the price of precious metals on the rise and the economy stuck in a weak recovery, the metal-detector business is booming.
"It's the get-rich-quick mentality, or find some extra change to put in the gas tank," said Mike Scott, sales director for First Texas Products of El Paso, which last year sold $15 million worth of its gold-prospecting metal detectors, marking the third consecutive year that sales of the product have tripled.
With the economy in a slump and gold at record highs, more people are supplementing their income by hunting for treasure - with metal detectors. WSJ's Jack Nicas reports from Chicago.The top U.S. retailer, Kellyco Metal Detectors in Winter Springs, Fla., saw annual sales climb 63% from 2005 to 2010, to $24.8 million. The store projects sales of $26 million this year.
The phenomenon isn't limited to the United States. Minelab, an Australian company that sells high-end metal detectors for as much as $5,600, sold $118 million worth last year, more than double its sales of $46 million in 2009. Minelab partly attributes the jump in sales of the premium detectors to a gold rush in Sudan, where droves of modern-day prospectors with gold fever have traveled in search of fortune. The company projects continued growth this year.
Metal detectors began largely as military devices, said Stu Auerbach, who opened Kellyco in the early 1970s, when simpler, cheaper versions of the devices hit the commercial market. Sales remained steady for decades, he said, until they started to spike five years ago.
The hobby's rising fortunes have made a virtual celebrity of "Chicago Ron" Guinazzo, a Chicago firefighter whose weekly YouTube videos of detecting tips and treasures have drawn nearly 850 subscribers and 278,000 views. Mr. Guinazzo got his start with metal detectors in 1983 when he used one to look for his missing high-school class ring. He never found the ring, but since then has unearthed countless others, along with gold coins and dentures. For a dying woman, he once found an urn containing her late husband's ashes.
Mr. Guinazzo, 50, said that he and his partner Mark Slinkman, 40, hauled a pound of gold jewelry off Chicago beaches last year. They attribute their success to a mastery of the nuances of their detectors' beeps. (Different metals and depths elicit different tones and pitches from the machine.) The two use a Minelab Excalibur, a $1,300 device made for underwater detecting "We've built a rapport with our machines," Mr. Guinazzo said on a recent morning, smoking thin cigars with Mr. Slinkman as they leaned on their Excaliburs along the Lake Michigan shoreline.
Nearby, Lamont O'Laughlin, a 51-year-old electrician, swept his detector listlessly over the sand. "Just coins," he said of the day's haul. "Those guys find all the good stuff."
Concerned that national archeological treasures will be looted, many countries, including France and Italy, ban or restrict metal-detecting. But some have made peace with the amateur treasure hunters. More than a decade ago, the British Museum began recording artifacts found by the public, creating a registry of the finds for archeologists, said Michael Lewis, deputy head of the program. Detectorists, as they call themselves, have contributed most of the registry's 700,000 finds, he said, and archaeologists have since largely dropped their complaints.
Historians and detectorists have also teamed up in the Hamptons on New York's Long Island. Since November, detectorists have paid the Southampton Historical Society $100 apiece for a weekend of searching on the society's private land. Detectorists have brought home Colonial-era coins and musket balls, and the program has brought in nearly $10,000 to help the society restore old barns.
For most hunters, real treasure is elusive. Mr. O'Laughlin and his brother, Casey, 50, have been detecting for decades but usually find garbage or lost change. "You barely find enough to pay for the batteries," Casey O'Laughlin said.
Javier Castrejon said that he bought a $250 detector last year, thinking it would pay for itself, but quickly realized otherwise. "Mostly I find nails or buttons," he said. But the 33-year-old said that he enjoys the new hobby and, "being laid off, any extra change helps."
Mike Bach, an 80-year-old actor, bought his first detector last month and, after two days, bought another for his 72-year-old wife, Darlene. The Bachs say they fell for the hobby's adventure, not its returns. "I've racked up about $1.85 in quarters and pennies," Mr. Bach said after a recent day of detecting. "But it's addictive...like prospecting."
By JACK NICAS
7-10-11
Midwest Historical Research Society Picnic is today at 10am. I'm the hunt master and will be running a poker hunt and red, white and blue penny hunt for members.
Lots of good food and fun.
UPDATE!
got a call from a guy that lost his wedding band at a northern beach, told him I could meet him tonight. Took about an hour! 14K white gold wedding band 5-7 grams
He was kind enough to write me a check for 150.00 and said he will forward a e-mail thank you letter.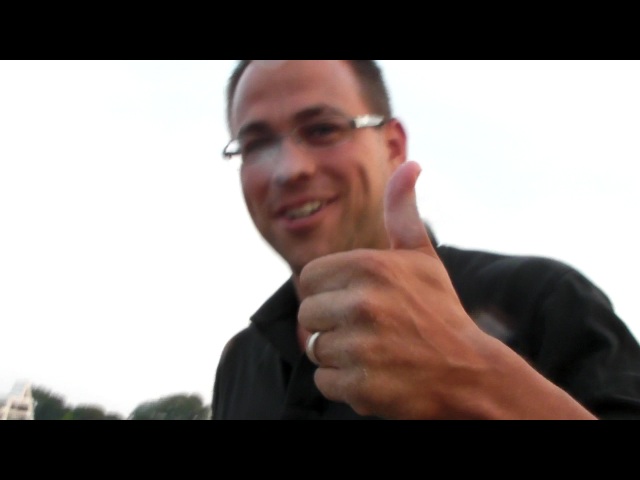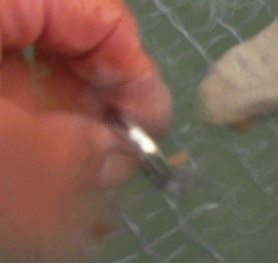 Also snagged a silver dolphin ring and a 14K gold plated ring.
7-7-11
Should be a fun day.
I'm giving a presentation to 15 4th grade students at Northwestern University. This is the 3rd year I have done this presentation. The class is one of Northwestern's Center for Talent Development summer classes.
Treasure Hunting: Treasure hunting is part geography, part history, part science—and all fun! Students explore the world of treasure hunting from pirates and geocachers to archeologists and historians, examining the motivation for searching, paths to discovery, and skills necessary for success.
I will be showing some of my finds from parks, beach and my England trips. Taking the kids down to the beach after lunch and let them search with a detector for Indian head pennies I recovered from various parks in Chicago.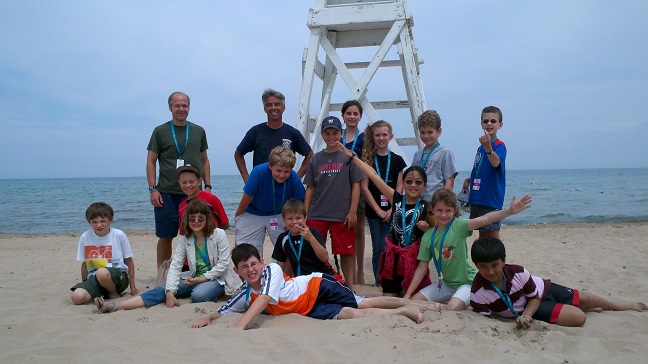 14 future Treasure Hunters.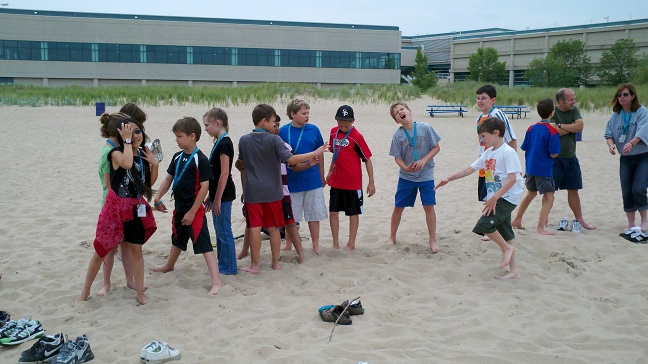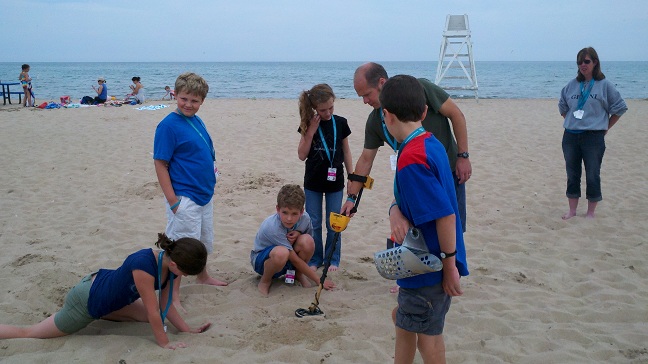 Had a blast with the kids. They were full of questions, mostly what it was worth!
7-4-11
I met Ron Shore from Windy City Detectors at the beach to search for a lost ring. The woman had lost 4 rings from her pants pocket after changing. She found 2 of them right away and spent a week with a rented detector looking for the other two. I started just casually walking the beach as she had not arrived yet.
She showed up at about 9am and I had her reenact the entire process. Iron was present everywhere, I decided to use only the pinpointer as I had a fairly small search area. She had changed in a little alcove behind a rock pile and carried her pants to a spot along the parking lot wall, where she started to fold them and saw one of the rings drop. I checked near the wall with no luck and decided to try where she changed. 5 minutes later I had her ring in my hand. I set up my phone on the wall and caught the return on video.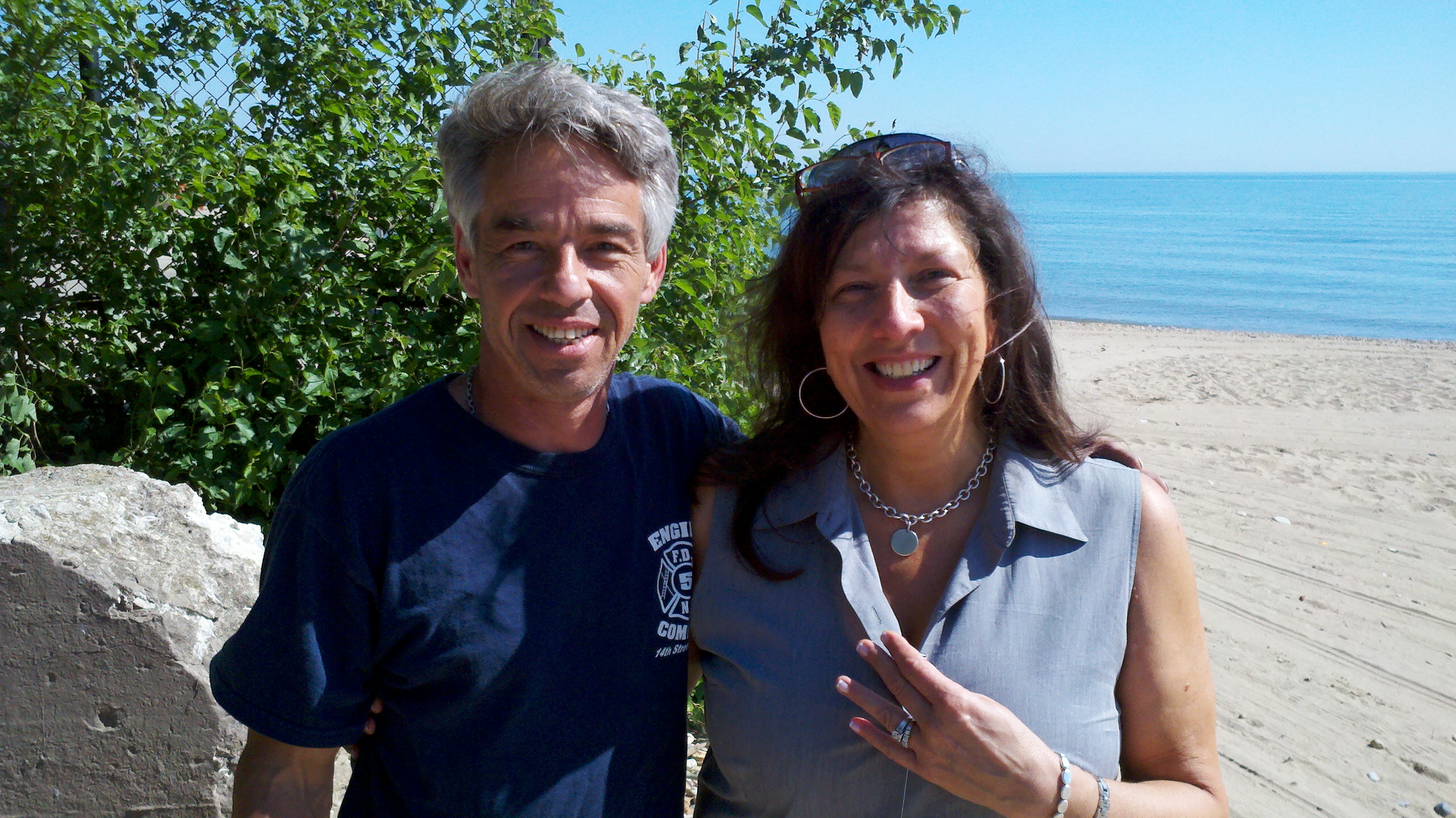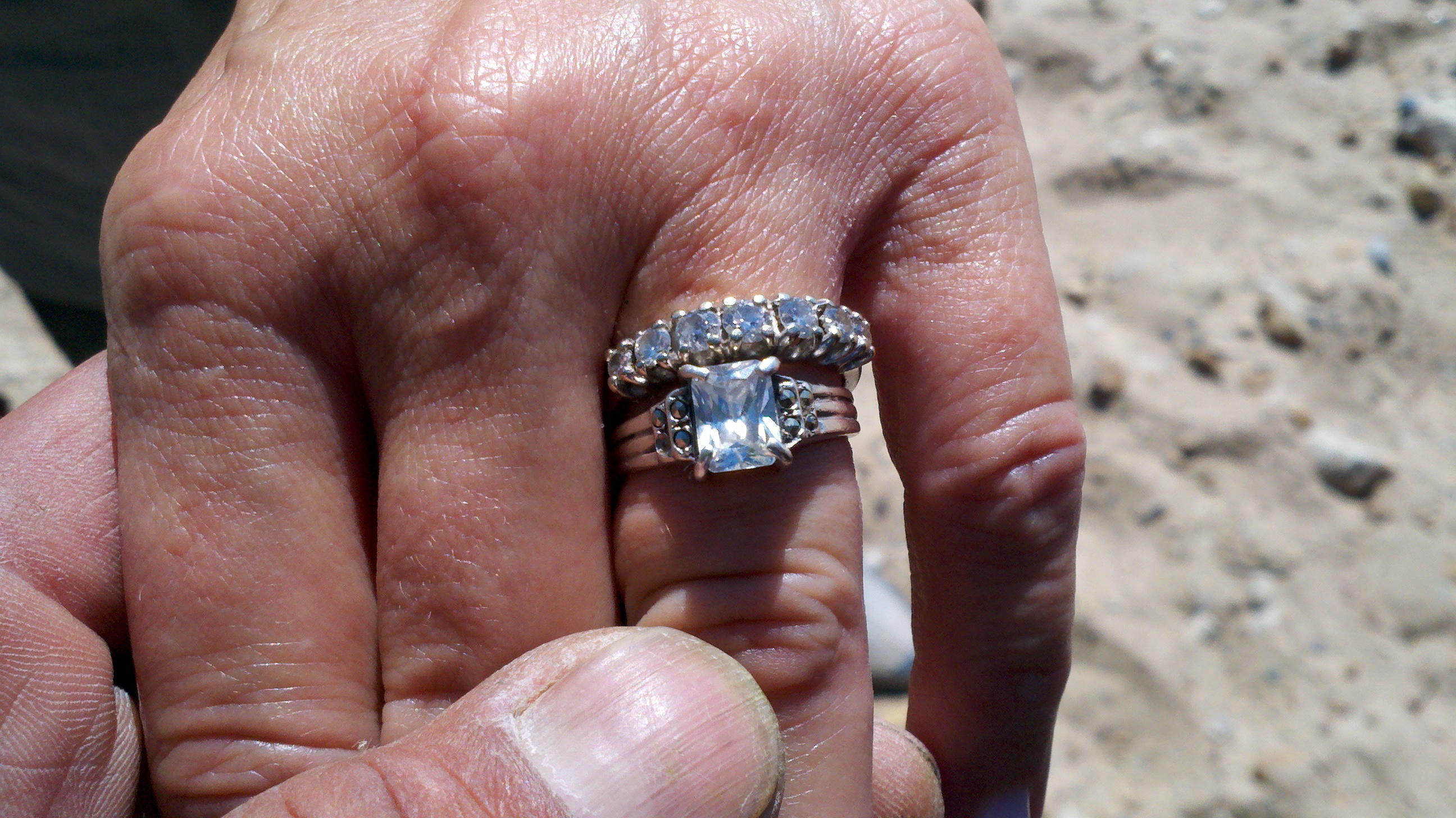 Another Happy return!-------------14K white gold, 2.5ct Diamond ring returned! Still looking for the matching anniv band identical to the one in the picture.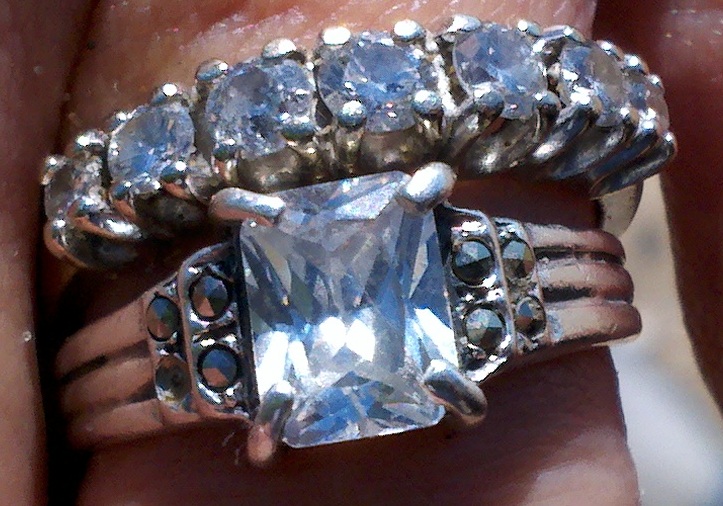 The ring was her engagement ring from her Fiance who past away in 1988, either the stone or the whole ring was his grandmothers. Lots of sentimental value!
UPDATE!
1 PM return to the beach because I forgot a pinpointer, pinpointer was still there and I found the other ring!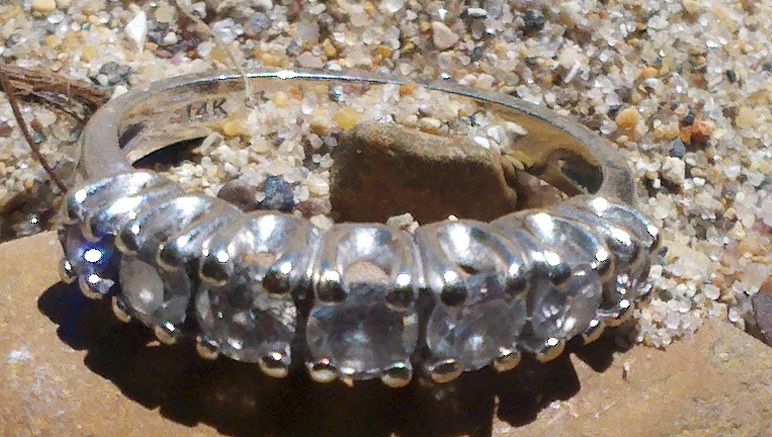 14K white gold 2 carat total wt, 3,6g
6-17-11
UPDATE:
I have been editing the video of the last 8 days of beach hunting. while editing the chain portion i got to look at the video close-up and the mark on the chain is 18K and in a oval underneath the K mark 950pt.

This thing is Platinum with an 18K clasp!
32.4 grams of 950 plat is 1800 instead of 1200! Holy crap!
I caught up to mark on all counts today!
What a banner day. Just goes to show, I walked the shoreline of this beach yesterday. Today it was like a different beach!
I scored 1 platinum chain, 4 gold and 2 silver, Mark got a men's 14K white gold band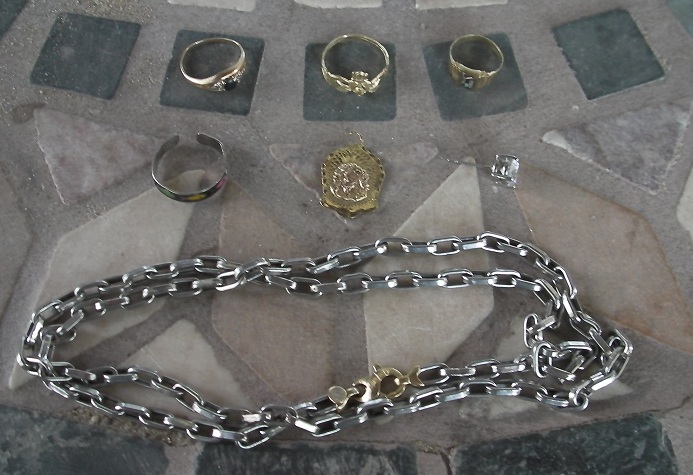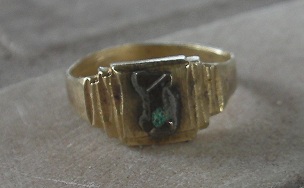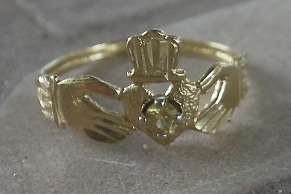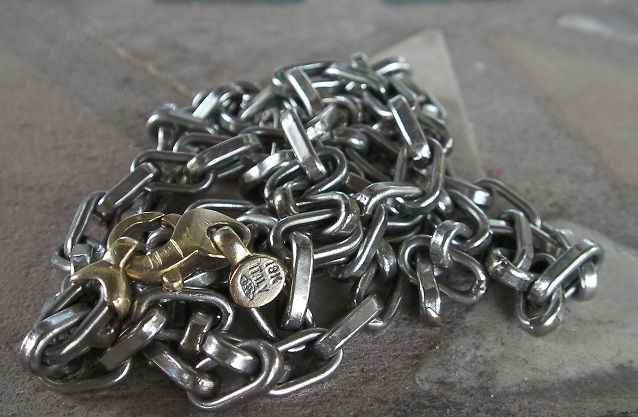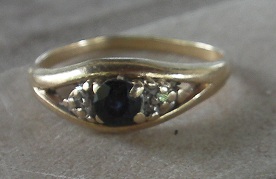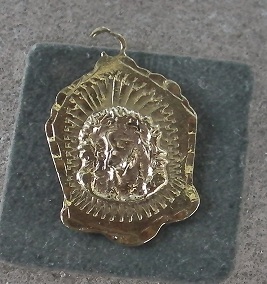 14K kids initial ring, 1.2g-------14K claddah ring, 1.2g------------18K and 950 Platinum chain, 32.4g----------14K with black stone, 1.7g-------14K medallion 1.8g