Red highlighted areas are links

This is a group trip, everyone is there to have a good time, find stuff, and enjoy the friendship. Everyone is genuinely happy for any member of the team that finds good stuff. No miserable gits who can't celebrate someone else making a good find. Most of the people going have made several trips, everyone pitches in with dishes and general clean-up. We have lots of laughs and do a lot of ribbing. So if you can't take the heat get out of the kitchen!
There are 2 rules
#1 if you find gold you buy a round at the pub.
#2 everyone carrys a walkie talkie and we share information about good finds. As a part of the team you must report silver or gold on the radio, it helps to keep up moral when others are not finding stuff, and remind us all that it is out there. Chris says my teams are like Locust on a hot spot!
I have been running these trips since 2005, that's 25 + trips, More than a year of actual detecting in England. We have found over 150 gold items Celtic, Saxon, hammered, roman and milled Gold coins. Ancient, medieval, 1700 to present gold rings, and other items. Celtic Silver, Saxon Silver, and artifacts from every period 1200 B.C. to present.
This hunt is for serious detectorists, We hunt from 7 am to dusk. Rain or shine. you should plan on 10 or 11 hours of hunting per day. If you need some time off you are welcome to stay at the barn and hang out. The barn has internet service and Sky TV.
Most of the land we are detecting has never been detected before we got it other than a few locals on weekends, and brand new sites are added as we get them to keep it exciting. Last season we got 5 brand new fields totaling over 300 acres we hardly scratched. Colchestertreasurehunting has now got permission to hunt more than 30 sites, 500+ fields. Most of the fields are plowed, rolled and planted every year. It is a crap shoot as to which fields are ready when we go. Weather, crop rotation and other factors all have effect on land availability. I have on 1 trip found 2 Celtic gold coins from different tribes. Another trip my oldest silver coin was a 1840 shilling. It really comes down to knowing your machine and walking over the good stuff.
Colchester Treasure hunting finds Page
Everything is done by the book. All finds over 50 years old need to have an export license to take them out of the country. Any non coin item over 300 years old, with more than 10% gold or silver is reported to the coroner as potential treasure. The hoard rule applies to a group of coins 2 or more for silver or gold coins, 10 or more for other base metal coins. Hoard means coins of the same type found on the same field. The museum has the option to buy any declared treasure or Hoard, If bought the finder and the landowner split the paid amount. If the items are disclaimed by the coroner the finder has them returned to him/her.
When you are done hunting for 1, 2, or 3 weeks you will bag all your finds with your name and all contact information. Our host will then do all paperwork for an export license. He will be the liaison with the coroner and the museum. Your finds can be shipped to you if you wish (cost is 20 pounds for up to 2 kilos)or you can pick your finds up on the next trip.
Be aware Export process can take 4 to 6 months Treasures and Hoards can take years to complete the process.
Your trip includes: 15,000 + acres to wander, 350+ fields, all export paperwork, 7 nights at the barn, van rental, gas, transportation to and from the Hilton Garden Inn. We have breakfast (cereal, oatmeal, muffins, toast, coffee, juice, no eggs and bacon), lunches and snacks. I buy fish and chips the first night or make fresh steak and ale pies from the local butcher, cook a big pot of chile at the barn one night and the rest will be local pub dining or Lucca the Italian resturaunt in Manningtree.
We will be eating out 4 or 5 nights per week. There are several pubs we go to on a regular basis The court house near Bromley, The Layer Fox or Donkey and Buskin in Layer-de-hay and an awesome Italian resturaunt Lucca or the Crown in Manningtree. We are looking into new pubs in Harwich for upcoming trips.
The location we use is the Wheatsheath Barn, a 4 bedroom, full kitchen and laundry.#1 Queen size single bedroom # 2- 2 single beds off the hall, 3rd room 1 king size bed. #4 2 single beds, Living room with sleeper sofa.
When an opening becomes available any outstanding raffle winners have first option at spots, then I go to the wait list. If the wait list is short I may be able to give you a couple days to figure it out, if the list is long you will need to decide within 24 hours.
Price does not include airfare!
Price is 1900.00 US for 1 week slot .
Deposit 1000.00 per week to guarentee your spot
balance due 45 days before hunt
Spots will be filled as I receive payment.
Blue Deposit paid
Red Paid in full
Fall 2018 staying at Wrabness Barn
| | | | |
| --- | --- | --- | --- |
| Sept 29 to Oct 6th | 6th to 13th | 13th to 20st | 20st to 27th |
| Dutch Robbert | Cal Jonathan | NY Chris | Steve Herschbach |
| Cal George | Cal George | NY Todd | Gypsy Mike |
| Boston Mike | Boston Mike | NY Andy | John Henschen |
| Fla Mitch | ND Jon Slusser | NY Ralph | Cal Gail |
| Fla Paul | Fla Paul | Fla Mark | Cal Mark |
| Fla Wayne | Or Jerry | VA Marge | Wis Tim |
**************************************************************************
Spring 2019 Staying at Wrabness barn
My Barn
| | | | |
| --- | --- | --- | --- |
| March 2nd to 9th | March 9th to 16th | March 16th to 23rd | March 23rd to 30th |
| DC Nick | DC Nick | Fla Sean | OPEN |
| Cal George | Cal George | Gypsy Mike | NY Todd |
| John Lab | John Lab | Mass Mike | Or Jerry |
| Bav Terry | Bav Terry | Wa Mike | Chicago Tom |
| Wendell C | Wendell C | Va Margie | Va Margie |
| Oregon Stuart | Oregon Stuart | Fla Mark | Fla Wayne |
Tim's Barn staying at Bird farm
| | |
| --- | --- |
| March 3rd to 10th | 10th to 17th |
| Fla Paul | Fla Paul |
| ILL Mike | ILL Mike |
| OPEN | Dutch Robbert #23 |
| Sea Casey | Sea Casey |
| ILL Andrew | ILL Andrew |
| Ga Buddy | Ga Buddy |
**************************************************************************************************************
Fall 2019
Staying at Wrabness
| | | | |
| --- | --- | --- | --- |
| Sept 28 to Oct 5th | Oct 5th to 12th | Oct 12th to 19th | Oct 19th to 26th |
| Dutch Robbert | Cal Jonathan | NY Chris | Fla Wayne |
| Cal George | Cal George | NY Todd | Gypsy Mike |
| Boston Mike | Boston Mike | NY Andy | Fla Stan |
| DC Nick | DC Nick | Fla Mark | Cal Mark |
| Fla Paul | Fla Paul | Or Jerry | OPEN |
| Fla Mitch | Fla Mitch | VA Marge | VA Marge |
E-mail me at treasure@chicagoron.com
with any questions
Thanks,
Ron
Video's of previous hunts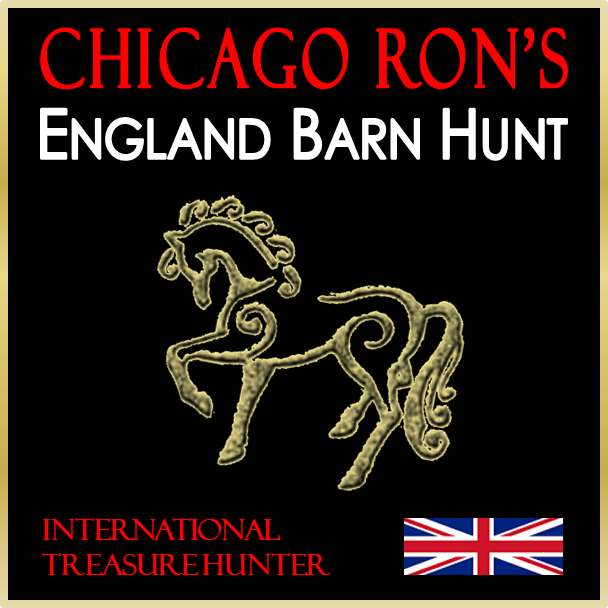 Spring 2015 hunt video
March 7th to 28th
************************************************
Spring 2013 hunt video
March 9th to 30th
***********************************************
Spring 2012 hunt video
March 10th to 31st
************************************************
Fall 2011 hunt video
Sept 30th to Oct 20th
*********************************************************
Letters from hunters!
*********************************************************
Florida Stan - October 2015
Well I just returned from the detecting trip of a life time with Chicago Ron and 5 other diehard detectorists in Colchester, England and feel compelled to share the experience. I have been asked dozens of time "what was it like" and have come up with the following analogy: The experience is a bit like a week of Christmas mornings. Picture yourself on 10 football fields. On those fields are 200 Christmas presents addressed to you. It could be a coin, piece of old copper or lead, something cool, old or rare. Could be what I have dubbed the "pull tab of England", the notorious flat button (there are plenty of those to go around) and lets of course not forget GOLD! You just never know (well maybe have some idea if you've learned your machine) what the roll of the dirt will reveal. My first find was an odd small metal "T" shaped thing that was John Deer Green. A broken part to a tractor I thought, but keeping mindful of what I was told, "toss EVERYTHING into your pouch". I did so and moved on later to find out it was a 2nd century Roman Fibular Broch. Great, now I'm the "tractor part" guy. No worries all that was taken in stride with plenty of good natured ribbing and I quickly discovered that it was all about the hunt and sharing that adventure and fellowship with my barn mates and not who was the most knowledgeable. If you're a fan of one liner movie quotes like I am, you're in for a treat as they are woven into the lexicon of daily conversations. The detecting was just as billed. Grueling, exhausting, intense FUN! Up at 6 a.m. in the van by 7 and on a field by 7:30 – 8:00 depending on where we went, stopping at dark. Wake up next morning and repeat. Now that's a groundhogs day I can live with. Ron and the returning members were very knowledgeable and eager to help point out important information on the fields and offer advice on machine settings etc. and genuinely interested in everyone having a great experience with the most chance for success. I relished having a most hammered coin competition to get the competitive juices flowing. We hunted around some of the most beautiful English countryside with incredible centuries old churches as our back drop. Great adventure, great group of guys and an overall experience I soon won't forget. Already plotting my return for more tractor parts!
FLStan
*********************************************************
Oregon Mike Had his first trip across the pond Oct 2014.
First trip to England
I have been metal detecting for about 30 years in the United States.  I've detected farms, beaches, parks and military posts from one coast to the other.  I made the decision to travel to England to try my luck with the "old stuff." I spent numerous hours researching sites and hunts until I found the hunts in Colchester with Chicago Ron on YouTube.  I began to review the Colchester Treasure Hunting and Metal Detecting Holidays website.  I was amazed at the finds from this club, but the acreage they have permission on impressed me even more.  I began researching the history of the area and knew this was an area that would give me the best chance at finding ancient and newer artifacts and coins.
My goal was simple for the trip: Find one item older than the United States, and I would be happy.  Ron was our guide for the week.  Ron is as lively in person as he is on his videos, and sharing a barn with him and like-minded detectorists made for a wonderful week.  Ron's knowledge of the "huge...tracts of land" to hunt allowed all of us to make spectacular finds in that short week.  During the first day, I was able to accomplish my goal with a 2nd century Roman brooch and my first hammered silver and copper coins.  The rest of the week was just as spectacular, at least for me.  Bull Head George III six pence, more hammered silver, Tudor clothing fasteners, Saxon doodads, trade tokens, Mounts, and "greenies" rounded out the week.  I was lucky enough to put my coil over 12 hammered silver coins the week I was there.  It was more than I could have imagined to find in one week.  I did, however, learn a few valuable lessons on this first trip that I believe will help anyone thinking of Joining Chicago Ron in Colchester for a go at detecting in England.
First, If you are planning a trip in the near future, and you are new to detecting or have not begun, take the money you would spend on the trip and invest in a machine known to do well in England and the United States and plan the trip at a later date. Make sure your machine can withstand or be protected from the elements.  It rains a lot in England, and it might even snow in early March. Second, spend as much time as you can using the machine and learning how to make adjustments for all conditions.  Preset American programs may not be adequate for the UK small finds.  Remember, a hammered silver farthing will fit on your pinky nail and barely overlap.  I used a program I developed for small silver, maximum depth, and just on the edge of stability for two months before I felt comfortable I was making adjustments that would give me the edge in any condition.  Third, you will be hunting for 10-11 hrs each day, so be prepared for a little pain by the second or third day.  Ibuprophen was my best friend that week.  Apparently, I'm no spring chicken any more.  Fourth, regardless if you are going in March or October, invest in good rain gear.  It will mean the difference between missing half or an entire day of hunting, or toughing it out, getting wet and being miserable and cold for a hunt. You will be paying good money to hunt in England, so spend the extra $150 or so on proven gear.  Fifth, when you finally arrive, well prepared, and confident, you will have the time of your detecting life, so enjoy it.  There will be people in your barn with lots of experience hunting in England, so use their expertise to your advantage.  Don't be afraid to ask lots of questions and run your coil over as many finds as possible to get the tones down.  Sixth, if Ron's barn is full for the time you can visit, Tim, Sal, or Mindy may be able to accommodate.  I've met them all and would hunt with any of them since they know the land, can help you with your machine, and they all know where the goods have come from.
Best, GL and HH,
(OR) Mike
Thanks Mike it was awesome hunting with you. youwere well prepared and it showed in your finds!
Awesome English trips for hard-core detectorists. By: Talkin Tom
I've been metal detecting for 11 years, and have found just about every type of coin minted in the United States, plus an interesting variety of jewelry. We have formed a club called "Titletown Treasure Seekers so we can show finds and share adventures. My club members and I have enjoyed our years of detecting immensely, but many of the local spots have been hunted out. Consquently, we are looking for new challenges.
Most of us in this hobby are middle-aged, and we might only have 10 or 15 years left for rigorous detecting. So, we're forming "bucket lists" of the most awesome metal detecting and treasure hunting experiences possible.
At the top of the list is metal detecting hunts to England. "Chicago Ron" is famous for his spring and Fall England Hunts, made famous on YouTube and National Geo. http://ChicagoRon.com
Ron's trips are a dream come true. They include six-person teams, rustic, comfortable accomodations, 3 meals a day, trips to English Pubs, 12,000 acres to hunt in 250 fields, and export paperwork handled including photographs and documentation of finds. Ancient coins,gold jewelry, and artifacts are possible finds.
Running two trips per year in spring and fall for the past 8 years, the hunts take place from 7 AM to dusk, which means 10 or 11 hours of hunting bliss each day. Like farm fields in the U.S, the sites are plowed, tilled, and planted every year, so there is literally constant turnover. Nobody knows for sure what they will find.
After viewing several Youtube videos of these trips, I've concluded that the most intriguing aspect is the other hunters, especially Ron. They become as excited as little kids about each other's finds, and all share the same passion for recovering treasure from the ground and unlocking its mystery. Each piece found has a story that goes with it, and the story might go back as far as 1200 B.C.
There is even a trip raffle, so there is a chance of winning a free hunt, provided the winner pays for transportation to England. Everything is coordinated with the English Colchester Treasure Hunting and Metal Detecting club, partnered with the Midwest Historical Research Society. They work together on these hunts for years to keep them at a professional level. All finds are registered, regulations are followed, landowners have given permission, and all details are well taken care of ahead of time.
So, save your money, tune up your gear, bring some pain killers for those aching joints, and shake a leg! It's time to find some ancient treasures, experience an adventure, and cross one off the bucket list!
Letter From California Gary about his hunt experience. October 2010
Hi Ron,
Just wanted to drop you a note about my experience with the England Colchester hunt Oct. 2010. I had a great time. One week is not enough! From the first day to the last, each day was filled with the excitement of the potential of finding something extraordinary. Everything you told me about the hunt was as it was. All the fields we hunted yielded relics, coins or both. I found coin and relic keepers on every field I hunted. Items found, by everyone involved, ranged in years from 70 B.C., Morini Gold, to the 20th century modern coins. It was quite the experience for me to find two 1st century Roman bronze coins. I can only imagine what stories those two coins could tell? Everyone involved with the group I was in were very friendly and helpful to me as I was the novice member of the group. Ron, your enthusiasm, was very contagious, you wore us out with your energy. Tim, who will run his own barn in March 2011, was/is a very capable second in command. He, like you, is very knowledgable about what areas had very old history to them and what had been found in those areas. The rest of the group, Mike, Jim, Jeff and Bill were all knowledgable and experienced detectorists. All very fun to detect with. I'm looking forward to another trip across the pond to see if I can find an older coin or relic than my 1st century Roman coins. Thanks Ron and Chris for making this trip possible for me.
**************************************************************
Article about Brian Feierday first trip in
March 2011
At 35,000 feet Brian Feierday felt good. His months of waiting and planning for this one week treasure hunting trip to England was starting to bear fruit, he was on his way. On March 17, 2011 Brian left SETAC for Heathrow Airport, London, England for seven days of treasure hunting with hunt organizer, Ron Guinazzo, a Chicago firefighter by trade and a professional treasure hunter (TH'er) that has been in this business for seven years and has the gold and silver coins to prove it. Upon arrival, Brian made his way to
a bread and breakfast cottage near Heathrow where he would spend the night and team up with other TH'ers that had arrived during the night and morning. The following morning, he and the other TH'ers left for Colchester to drop off their baggage and head for preselected farmers fields, and they numbered in the hundreds, that a TH'er could select from. Each TH'er was provided a map that was marked with the fields that they could treasure
hunt.
After arriving at the Barn, a farmer's barn which had been converted into apartment style living, and rented to vacationers during the summer, Brian helped the driver unload the other TH'ers luggage and then was off to the field to do some TH'ing. Ron found a gold coin that afternoon
and was obligated to buy a round of cheer for the rest of the group that evening during dinner at a
local pub.The following morning after
breakfast, Brian and the group headed to the fields at 7:30 am for a full day of TH'ing. Up until noon he had not found anything of significance
but the afternoon was a different story as he found his 1st silver hammered coin, a Rose Farthing and a large Roman Fibula Broach from
the 2d Century. During the following three days Brian found his 2nd silver hammered coin and a
Celtic Cunobelin silver coin from 10-40 A.D. Once
Ron saw the coin he knew exactly what it was and
stated "it was a great find."During this three day period, Brian found two more silver hammered coins, some "greenies", coins that turn green with age, half a Rose Farthing coin (possibly cut in half) and lots of buttons. By now Brian's legs and back were feeling the effects of several days of bending and straightening up. He was lucky that he had brought leg wraps and were using them now, and he also changed to a shovel with a longer handle, which helped considerably, as he didn't have to bend so much.On Thursday, his last day of TH'ing, Brian found his fifth silver hammered coin and a bronze ring.After lunch Brian and three other TH'er decided to move to a different field. Along the way Brian saw a church
ruin and requested to be dropped off near a church ruins.The area was quiet and peaceful with
shade trees and solid ground. He hunted around the ruins for a while and found a "greenie" or two and then moved onto a trail behind the church and found a beautiful gold ring with emeralds and diamonds. That evening at dinner it was Brian's turn to buy a round of cheer for the group.
Friday, it was off to Heathrow for Brian and the long trip back to Seattle. The experience of TH'ing in England was one he won't forget anytime soon. He will have the chance this fall to do it all over again and possibly find even greater treasures.

Article by Jim Ratcliff, Sr.