2017 Totals
Number of beach hunts: 63
Clad total : 386.00

11

US Silver:7

32

Foreign Silver: 1

Gold weight

62.9 g
Update: 1-1-18
End of year totals
Only managed a couple ounces of gold this year.
10 pieces of jewlery total of 62 grams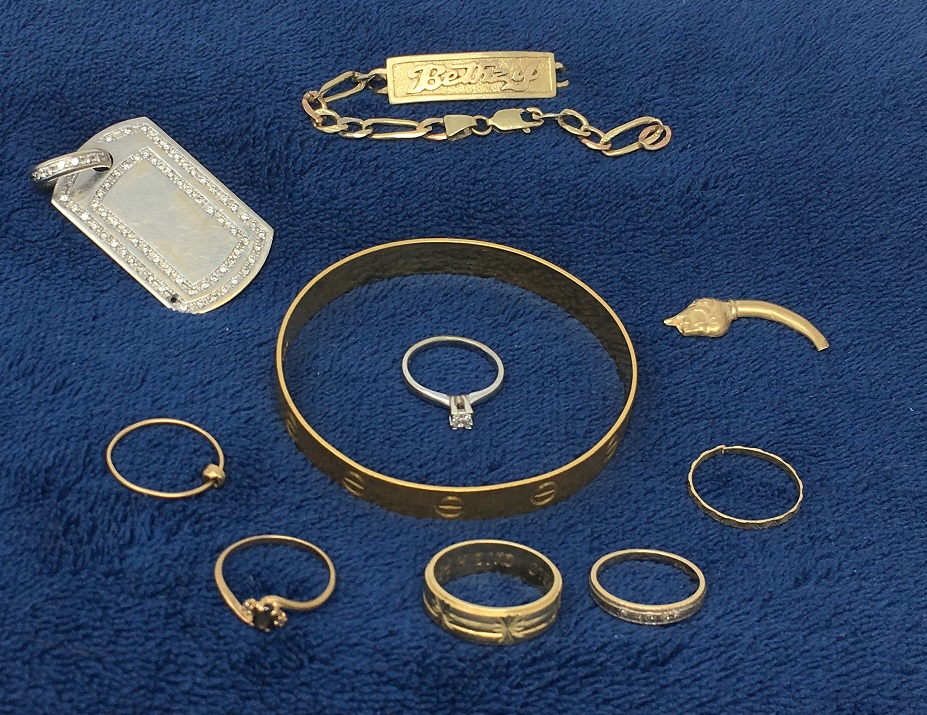 and a 70 BC Celtic gold quarter stater .89 grams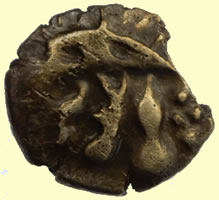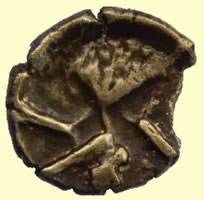 Quite a few silver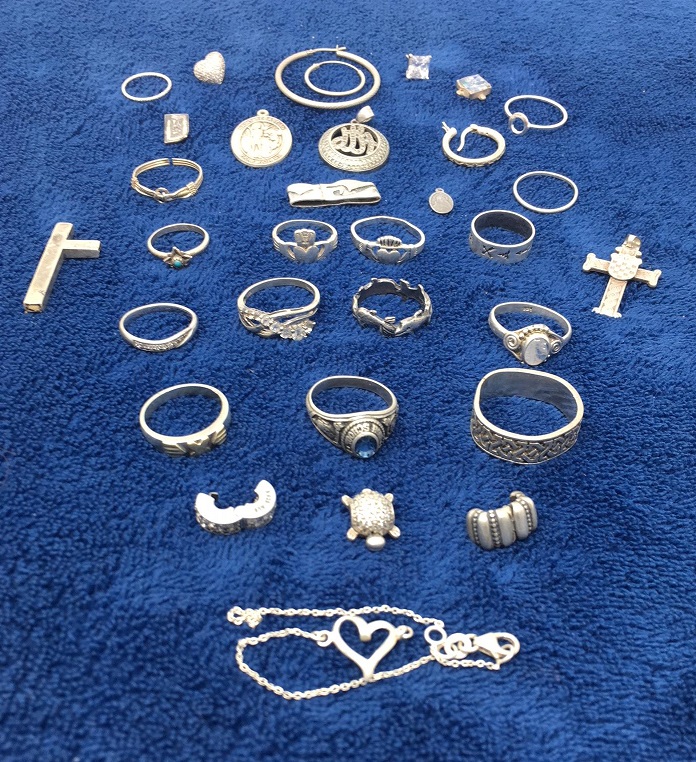 Gretchen's 2017 Goodies
4 gold rings total 7,7 grams
10 silver jewlery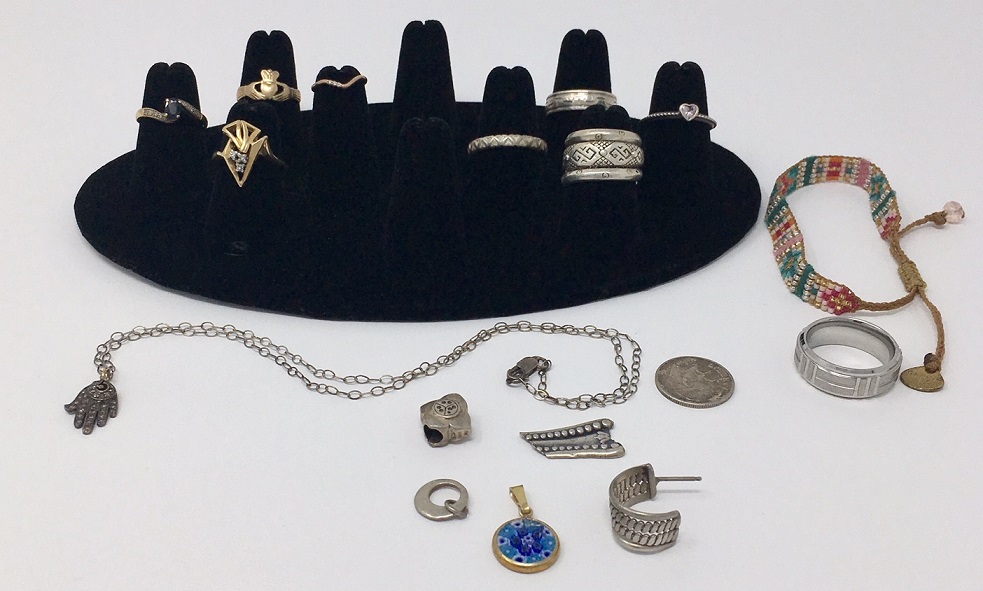 9-27-17
5.50 and a junk ring


9-26-17
spent a couple hours in the water while G did the dry sand
1 scoop! Nice double gold day!
14k band with small diamonds and a 14k with .35 princess cut diamond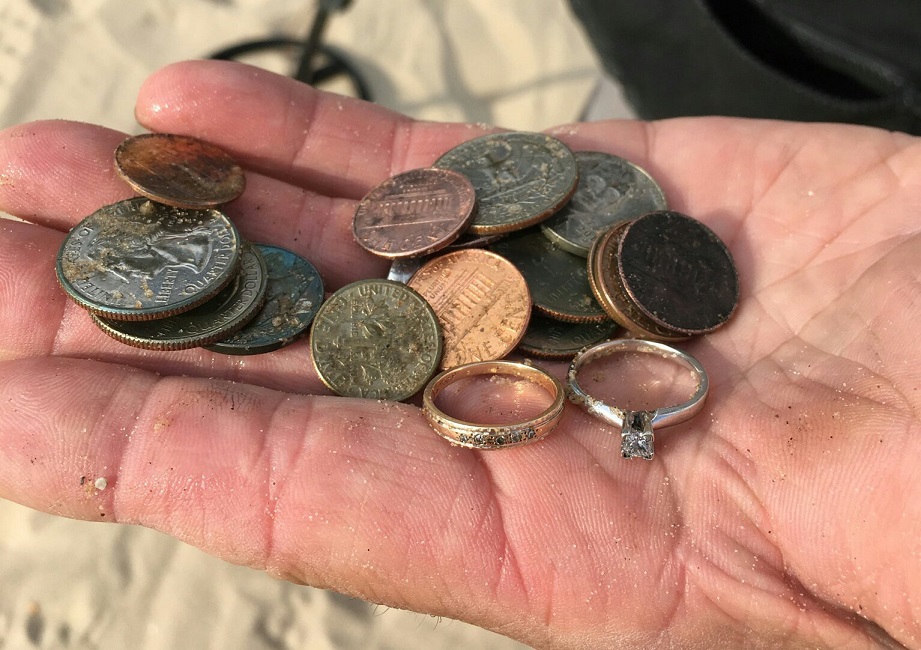 Gretchen's Take
$1.29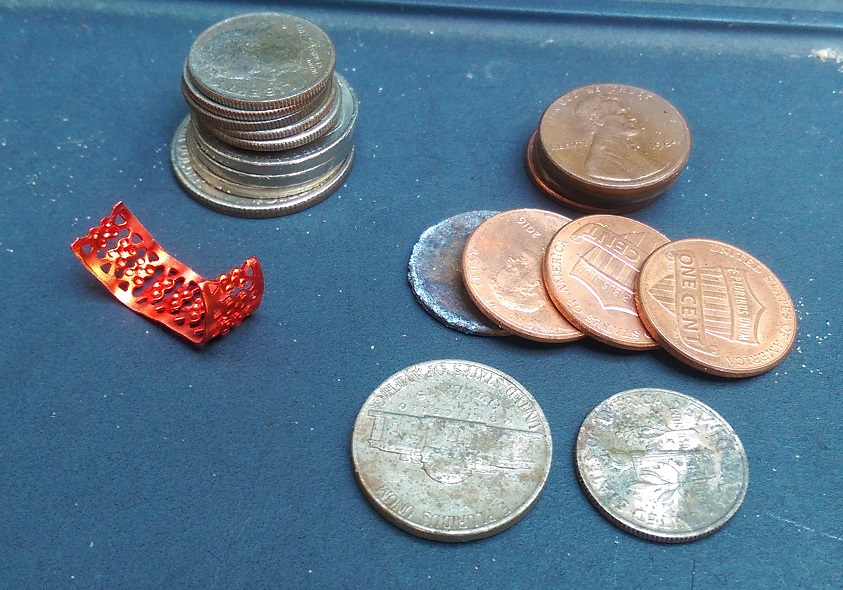 9-16-17
Met up with Tommy Decker and several of the boys for a park hunt
Less that 2 dollars but dig manage some keepers
Antique silver ring, 1923 Mercury dime, 1902 Indian head and a no date buffalo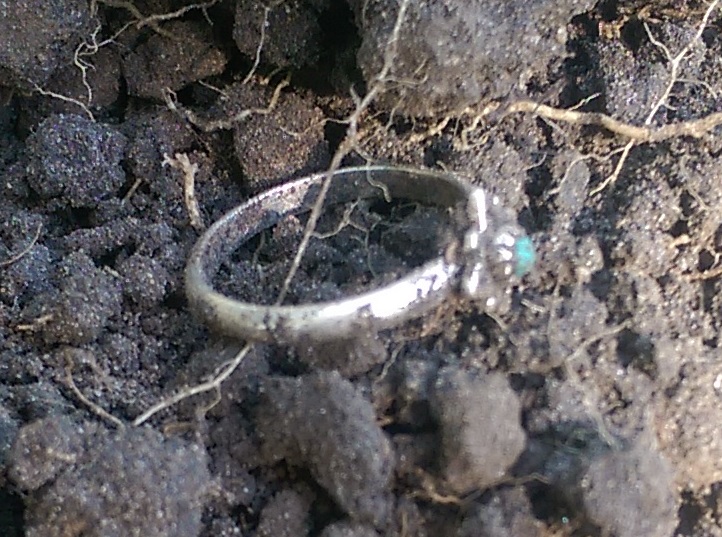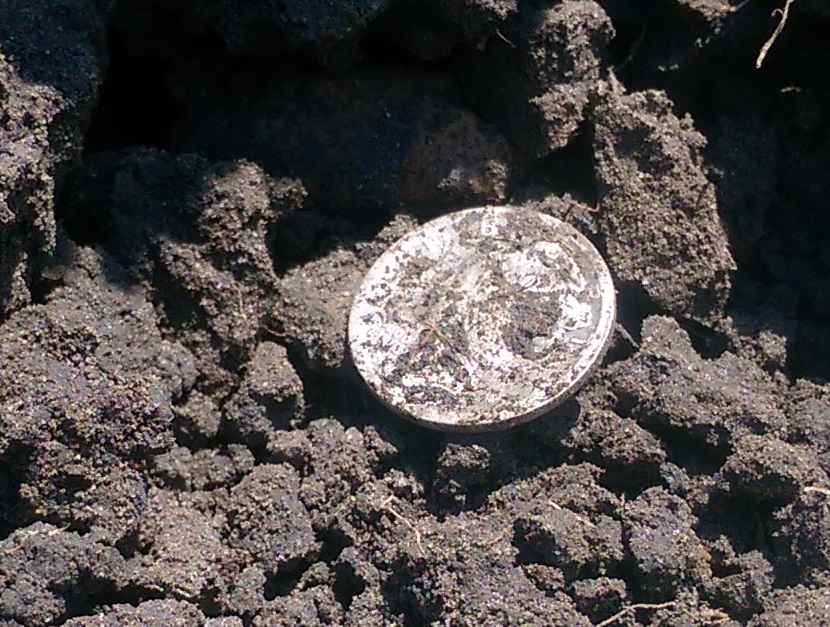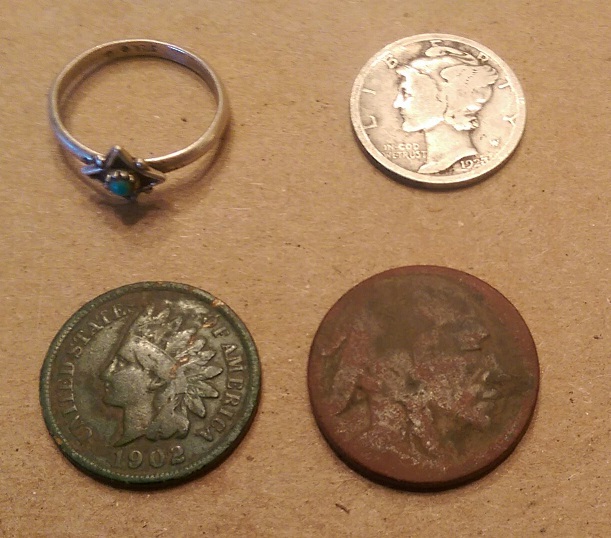 9-13-17
almost 9 dollars and 4 junk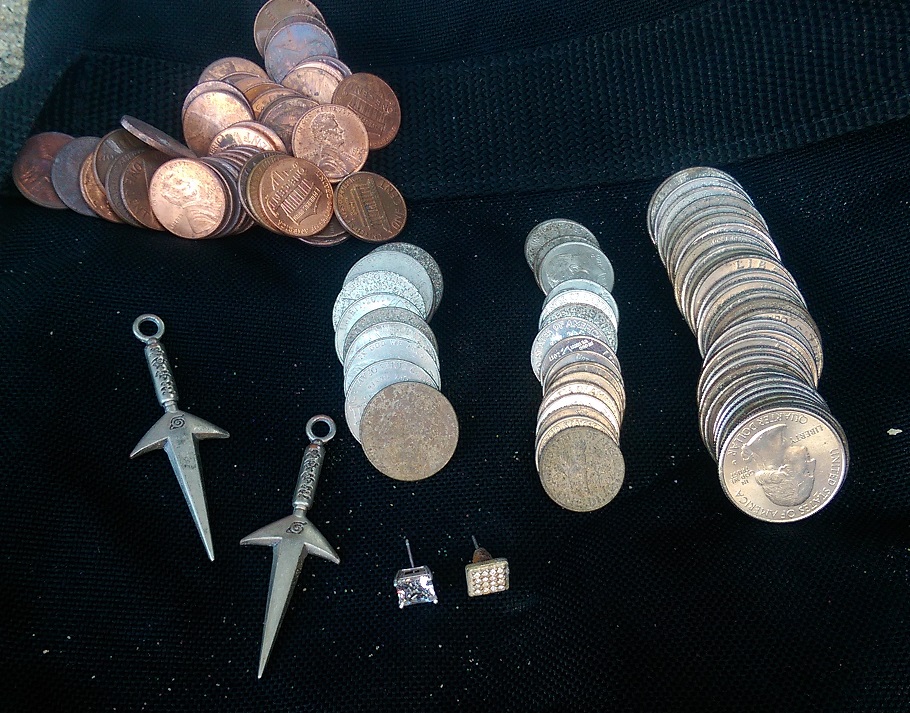 Gretchen's Take
$5.30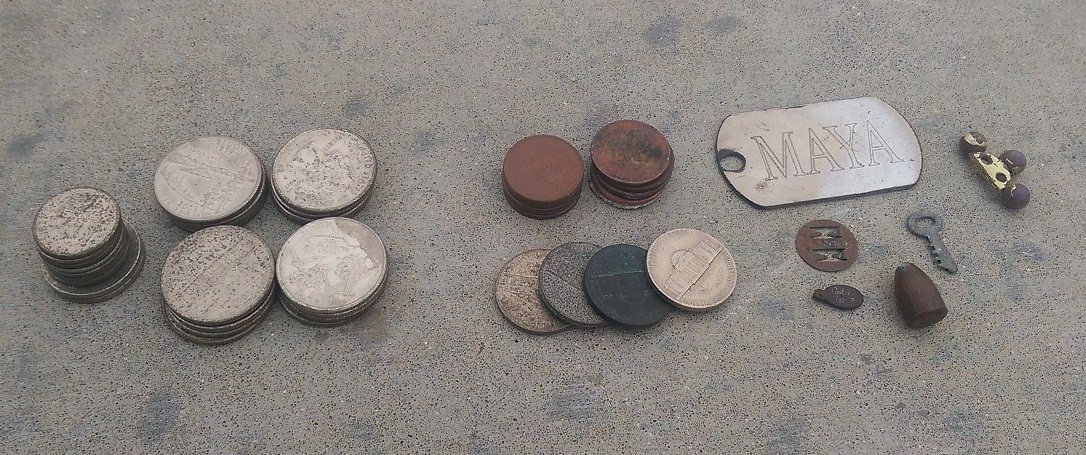 9-9-17
about 4 dollars and 1 junk ring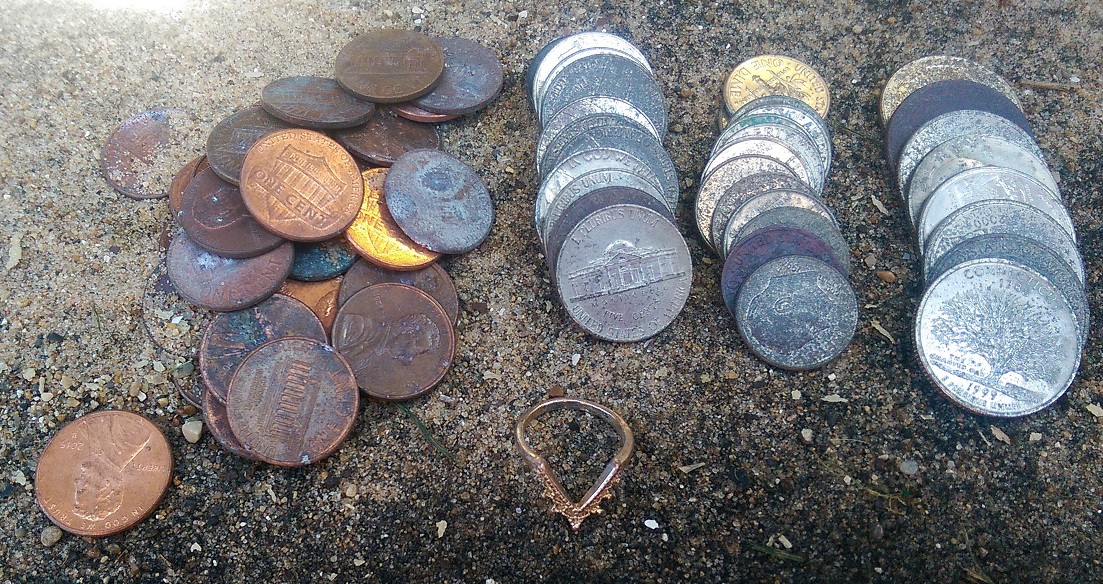 Gretchen's Take
1.87 and 2 cars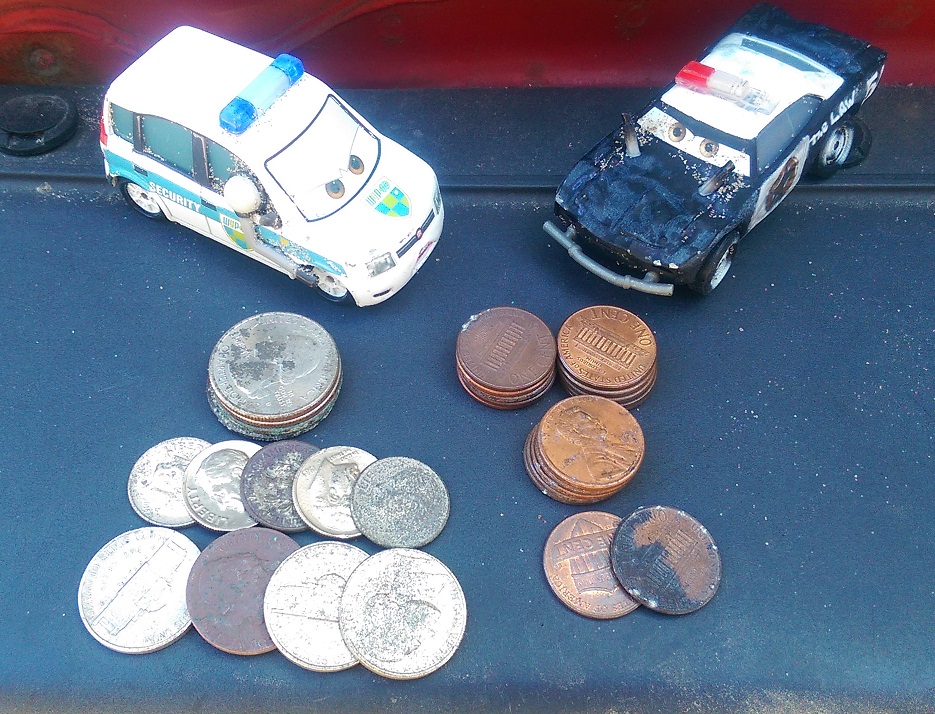 Look at her go!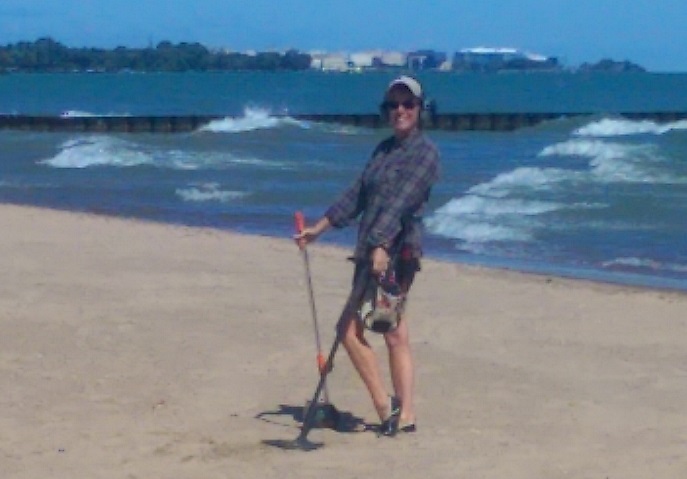 9-6-17
2.20 and 1 junk
although I did get a 1 pound coin worth about $1.30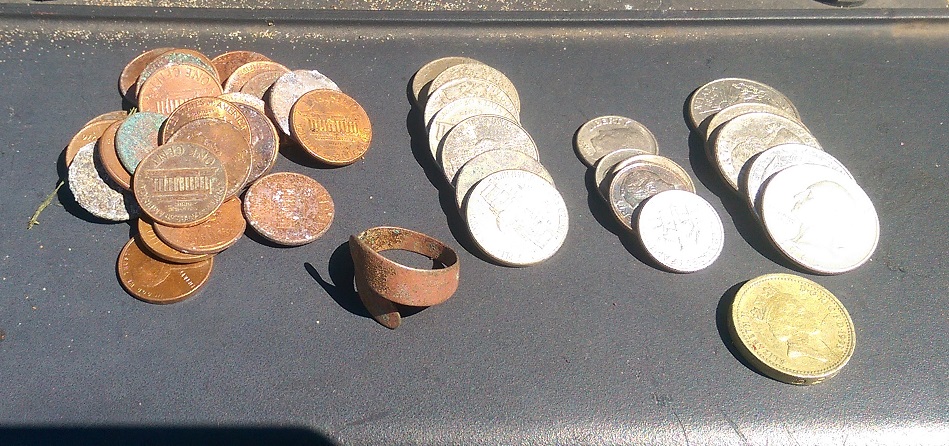 9-5-17
3 bucks and a silver ring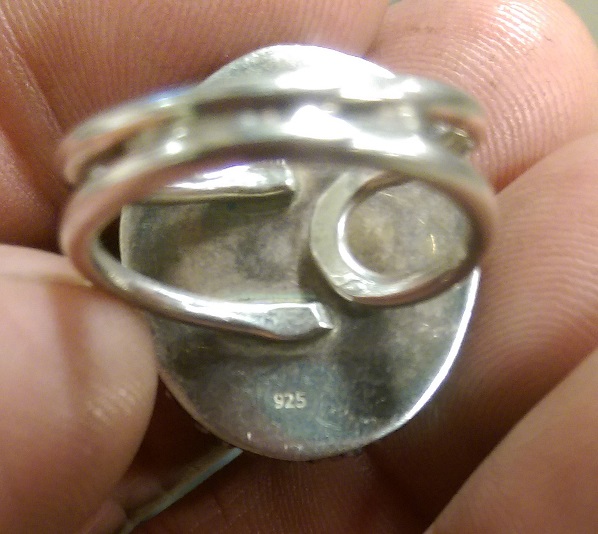 9-4-17
about 2.50 and 3 junk jewelry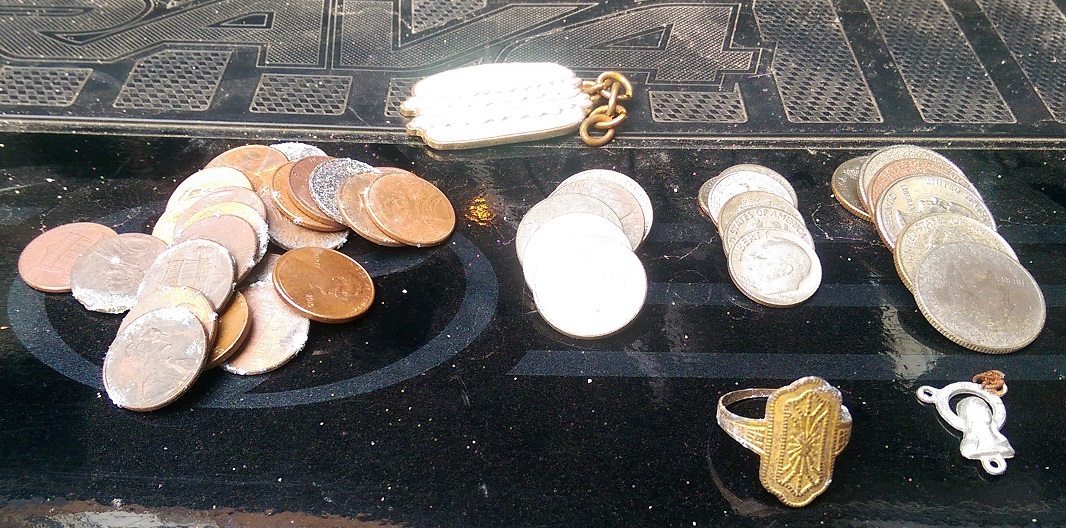 8-29-17
We tried a beachspot where i have found silver coins in the past.
Hunted for about 2 hours and got some oldies
2 silver rosies, a silver war nickle and 2 buffalos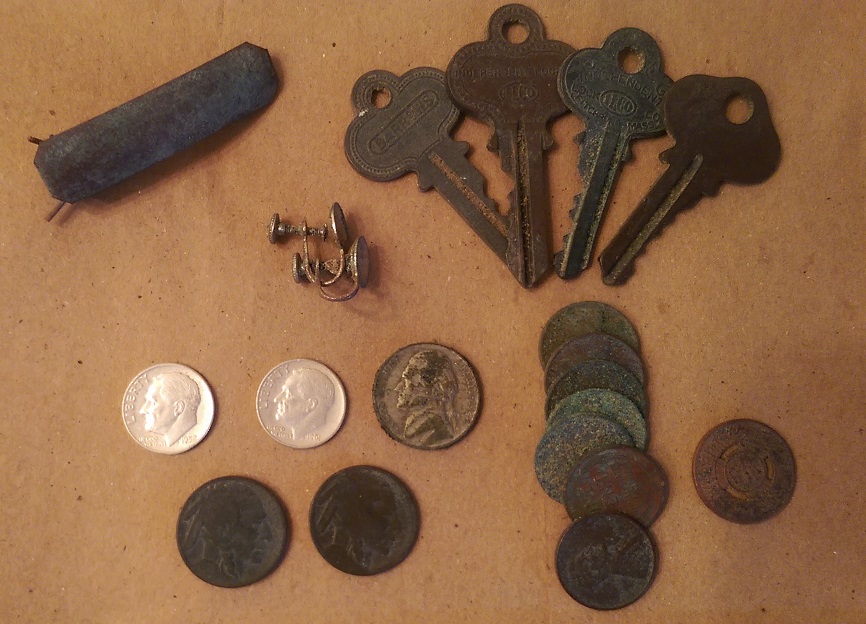 nice 1916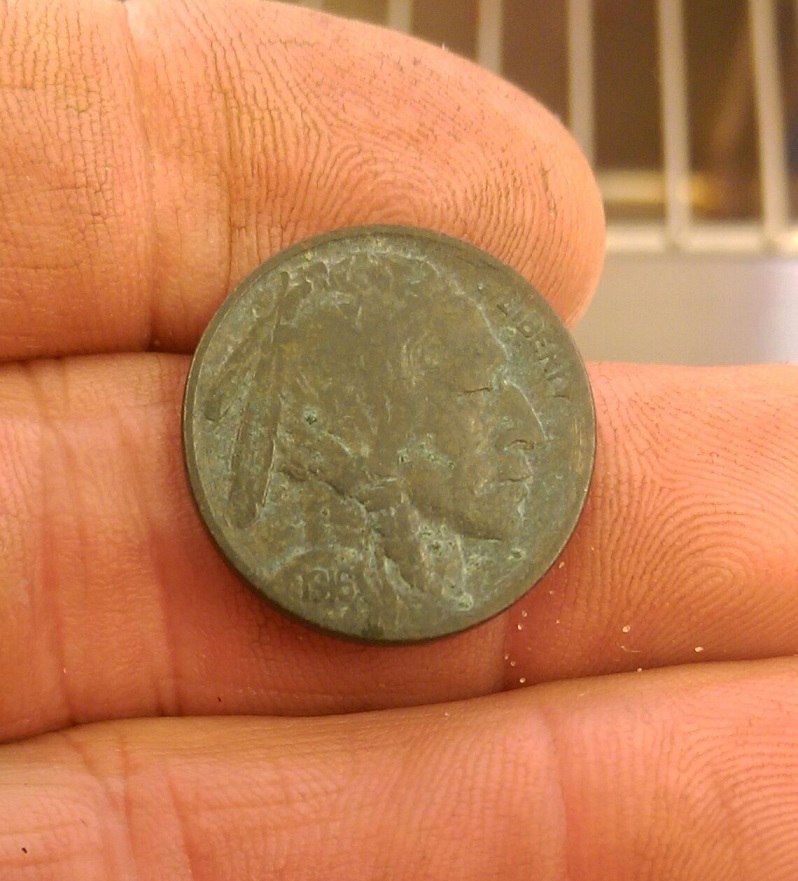 Gretchen's Take
Gretchen wandered out of the old zone, and beat me for total for the day!
She got about 4.50 and I got 42 cents. LOL
Well done G!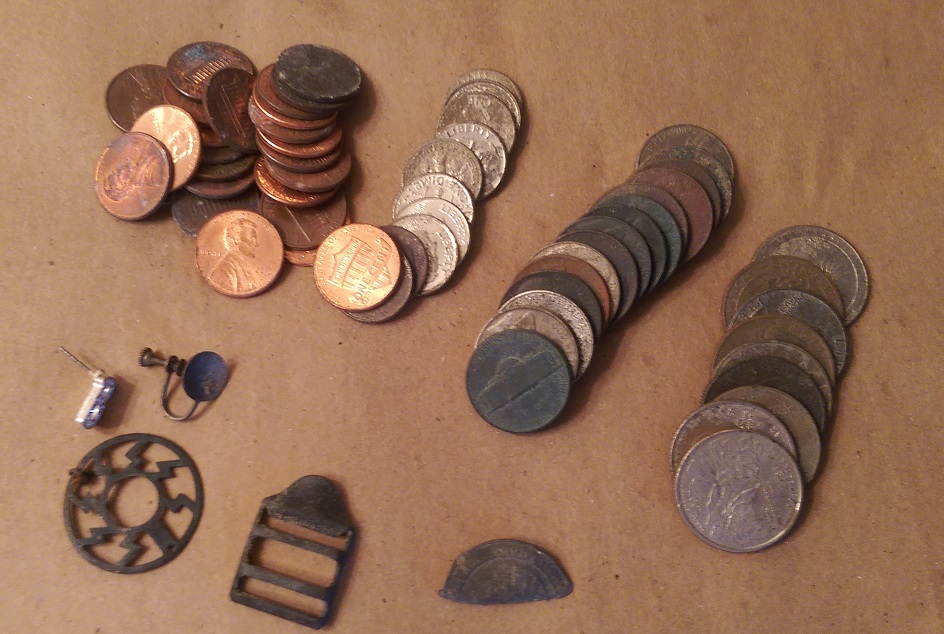 8-28-17
about 4 bucks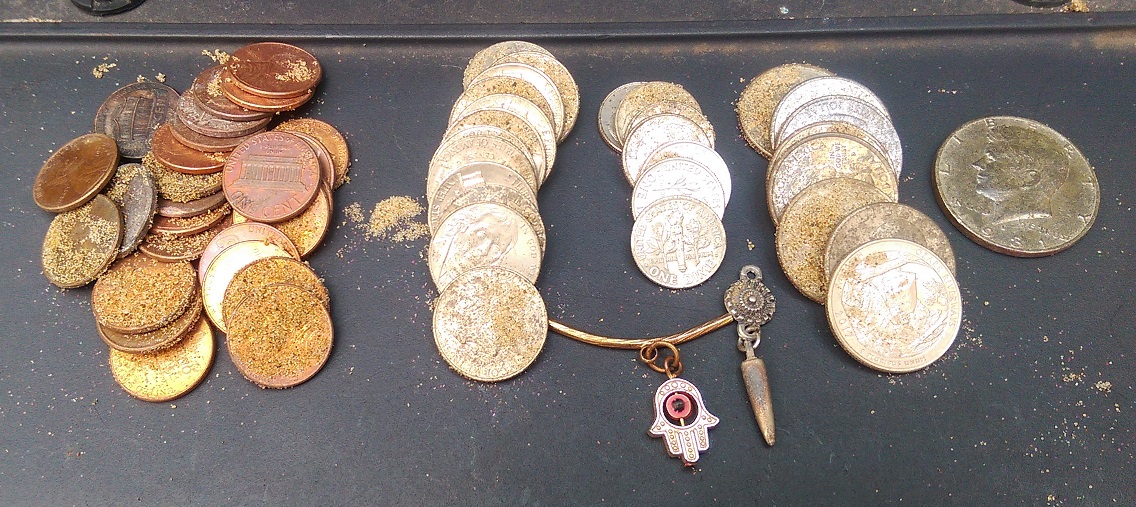 and a silver ring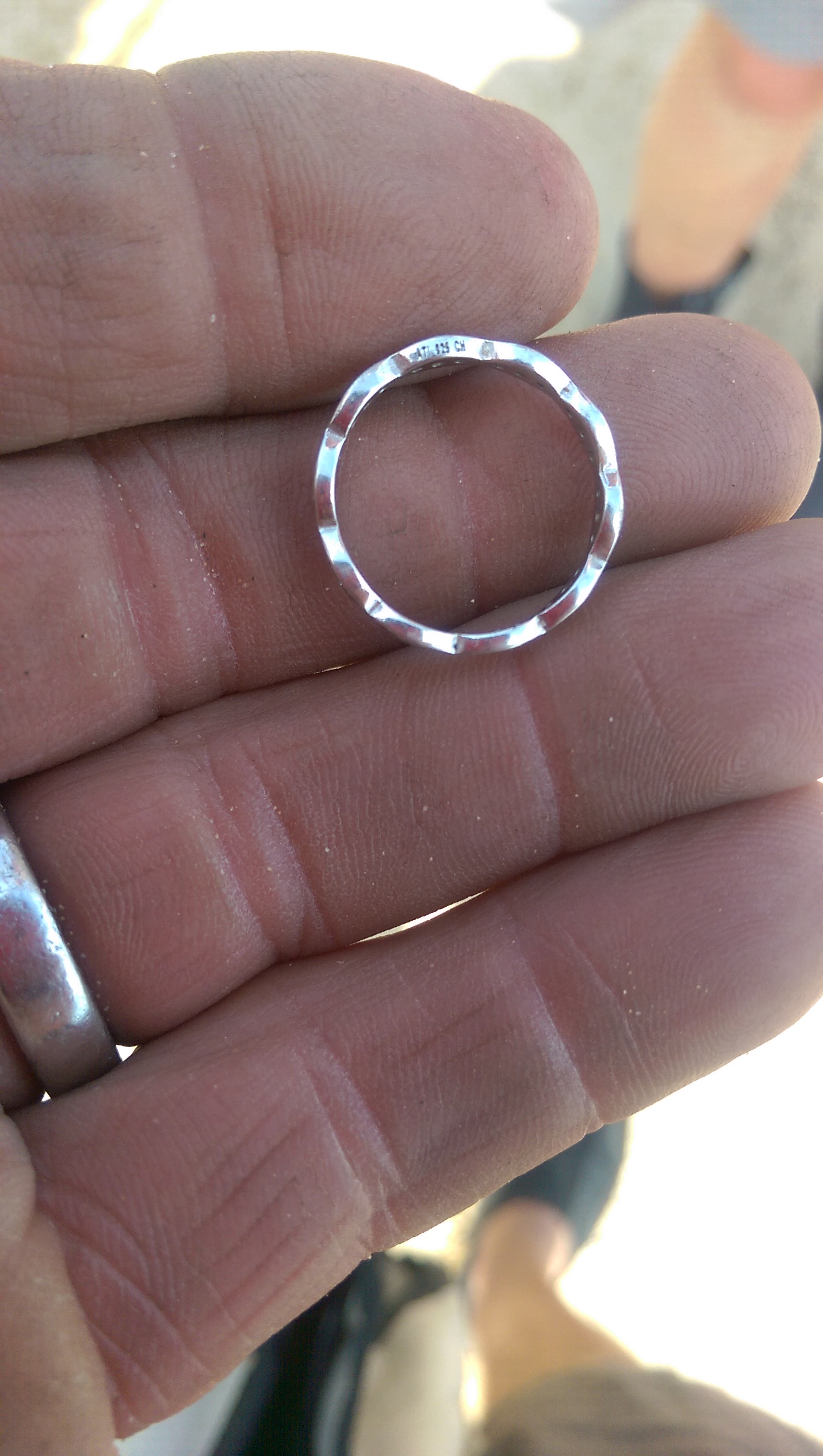 Gretchen's Take
1.38 and some sun as she decided to enjoy a rest while I hunted the water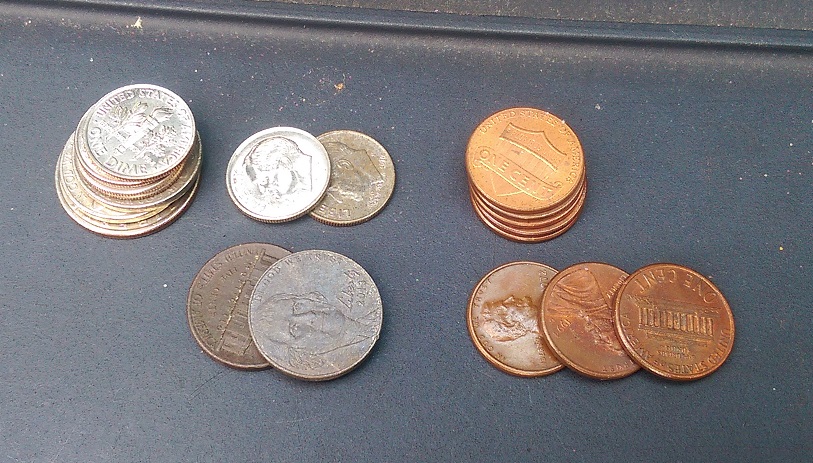 8-27-17
Hit the water for a couple hours
1.50 a silver ring and 3 junk


8-26-17
Hit 2 different beaches for a total of 5 hours
first one had lots of coins 5.50 and a silver earring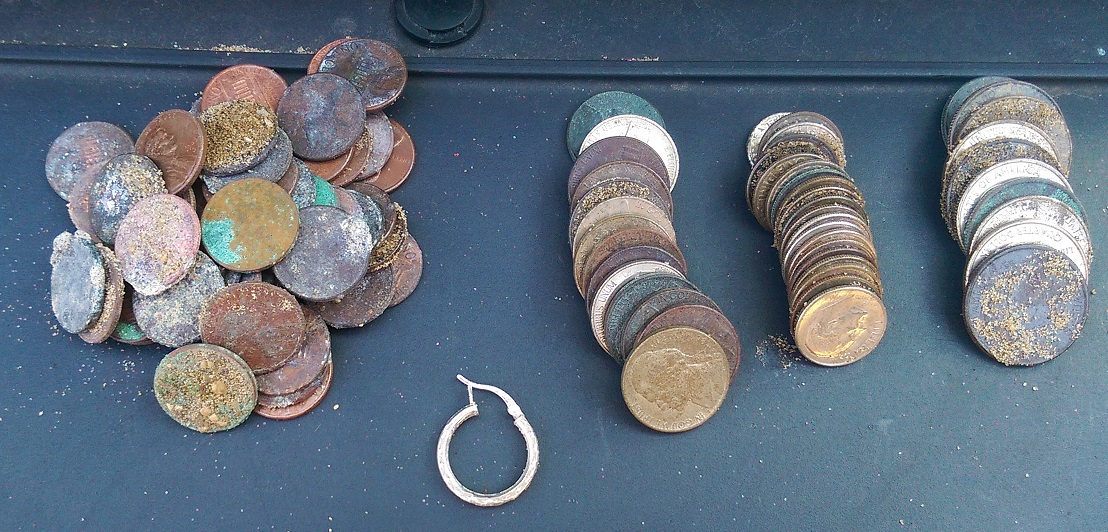 2nd beach, 7 bucks and an elongated penny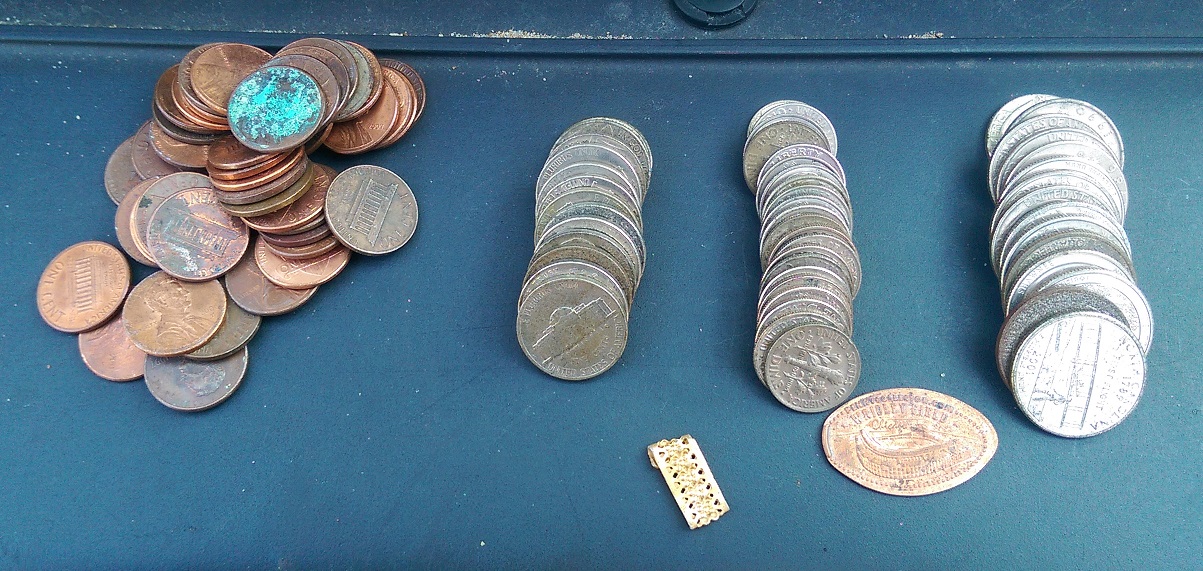 8-21-17
Not sure where the picture on the total finds went but got about 6 bucks and 2 silvers
Claddah ring and a Pandora charm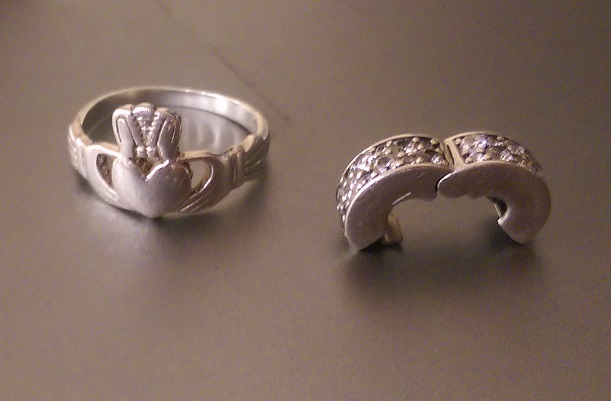 8-19-17
Dry sand 7 dollars and 4 junk.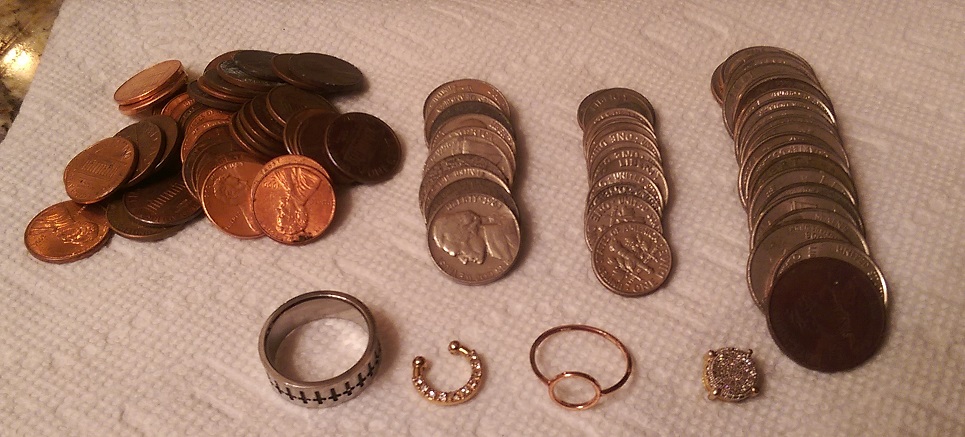 Gretchen's Take
$3.20, 2 junk and 2 cars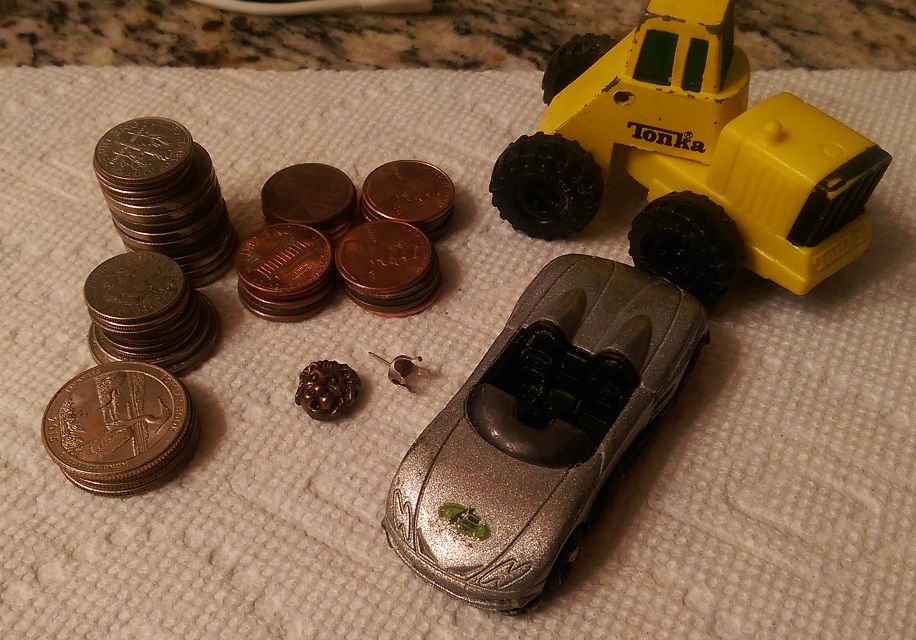 8-16-17
Hit the water for a couple hours
Little over 4 buck no jewlery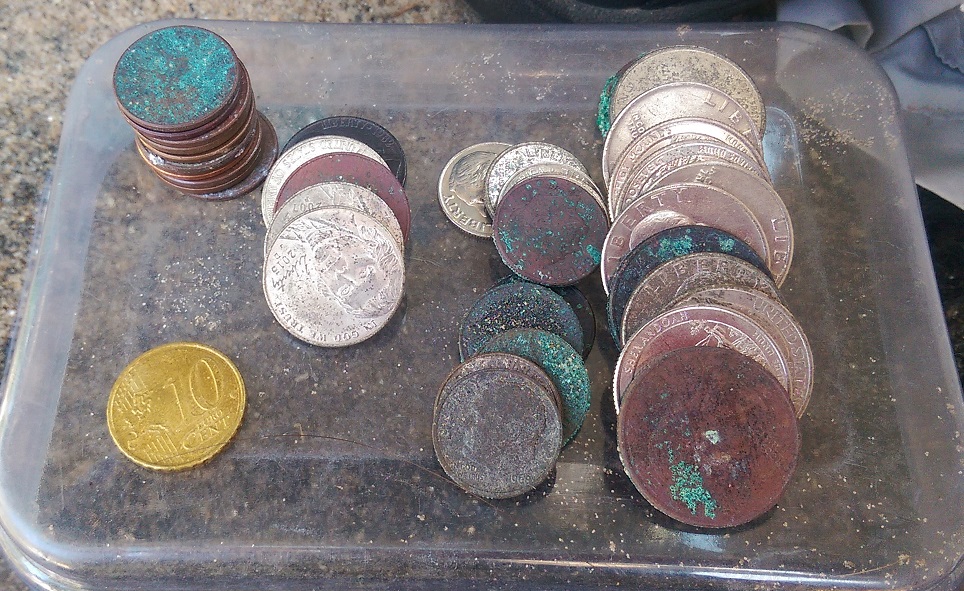 Gretchen's Take
$2.32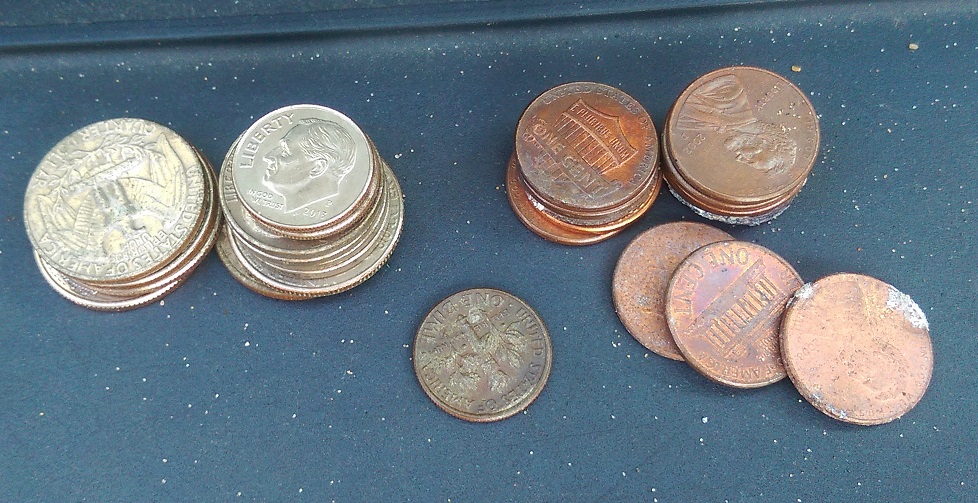 8-14-17
Little sand, little water. $7.50 in change
2 junkers a silver medalion, a stainless ring and stainless cross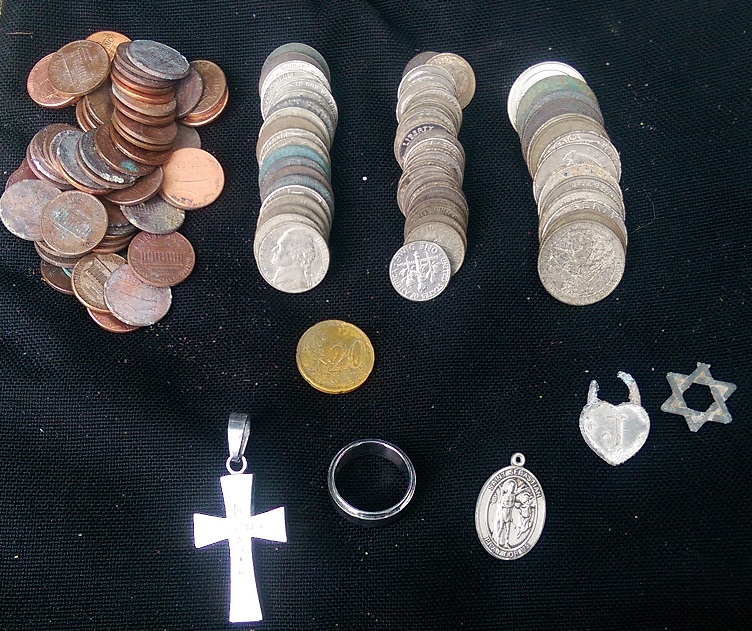 Gretchen's Take
$4.75 and 5 junk jewelry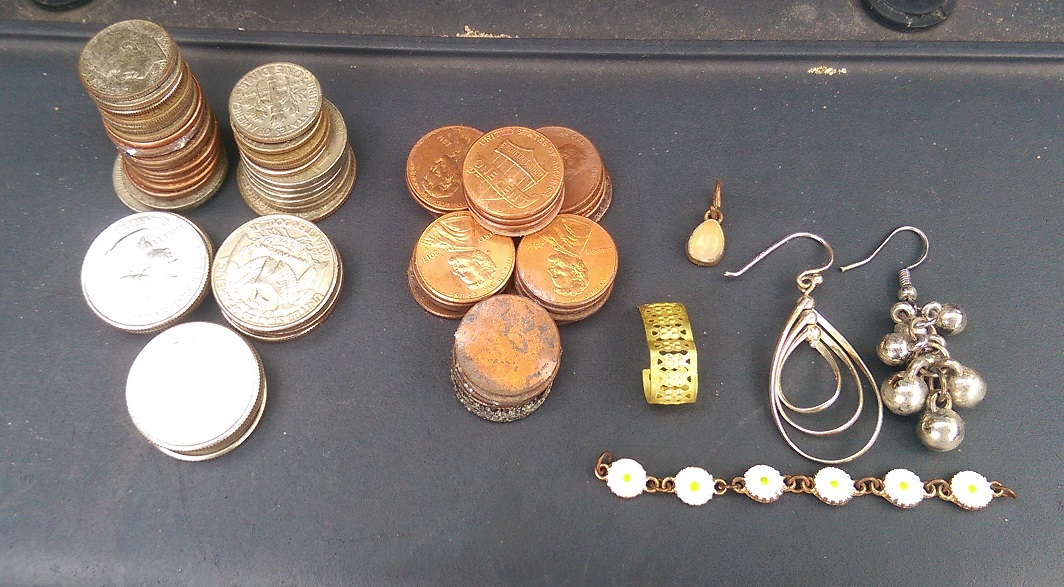 8-13-17
In the dry again, lots of targets. Again just under 10 bucks and 4 junkers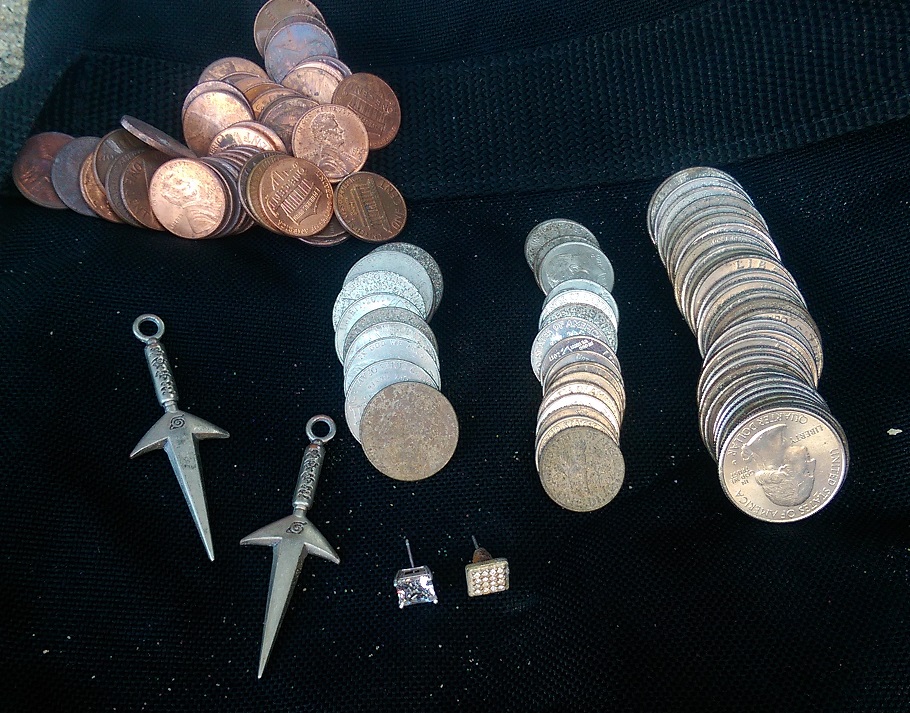 8-12-17
3 hours on the dry sand just under 10 dollars and 2 junk jewelry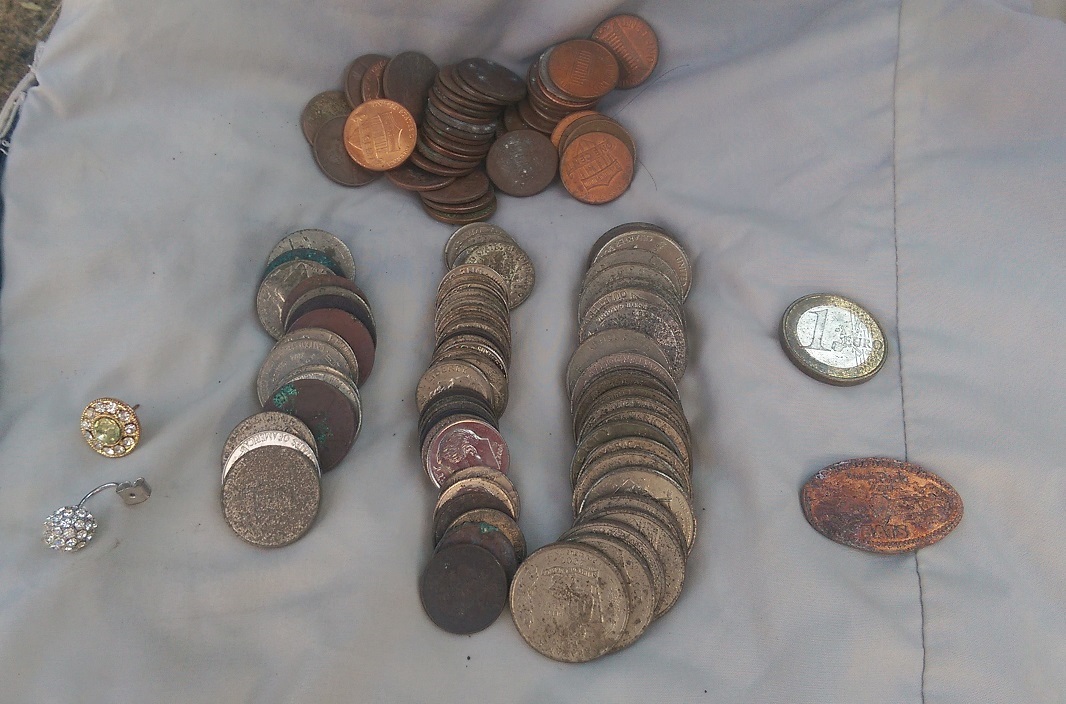 8-11-17
Hit an older beach
Almost 4 bucks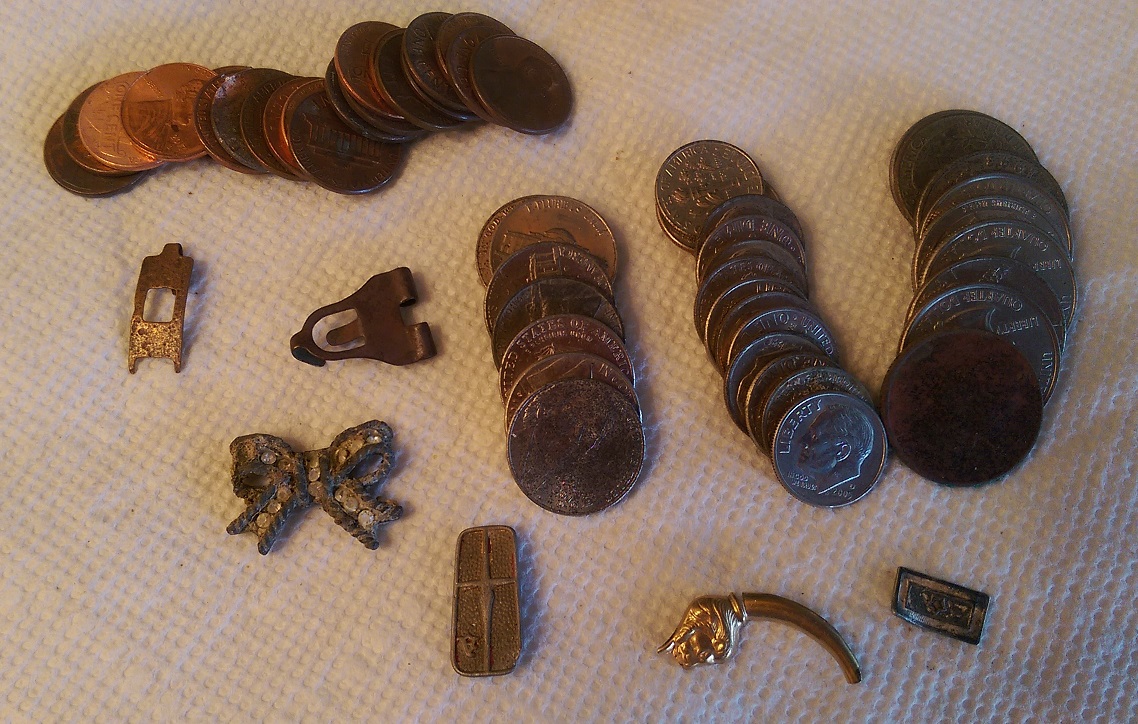 1 piece of gold not sure what it is from but tested 14k 0.6 grams
Gretchen's Take
About 3 bucks and a wheatie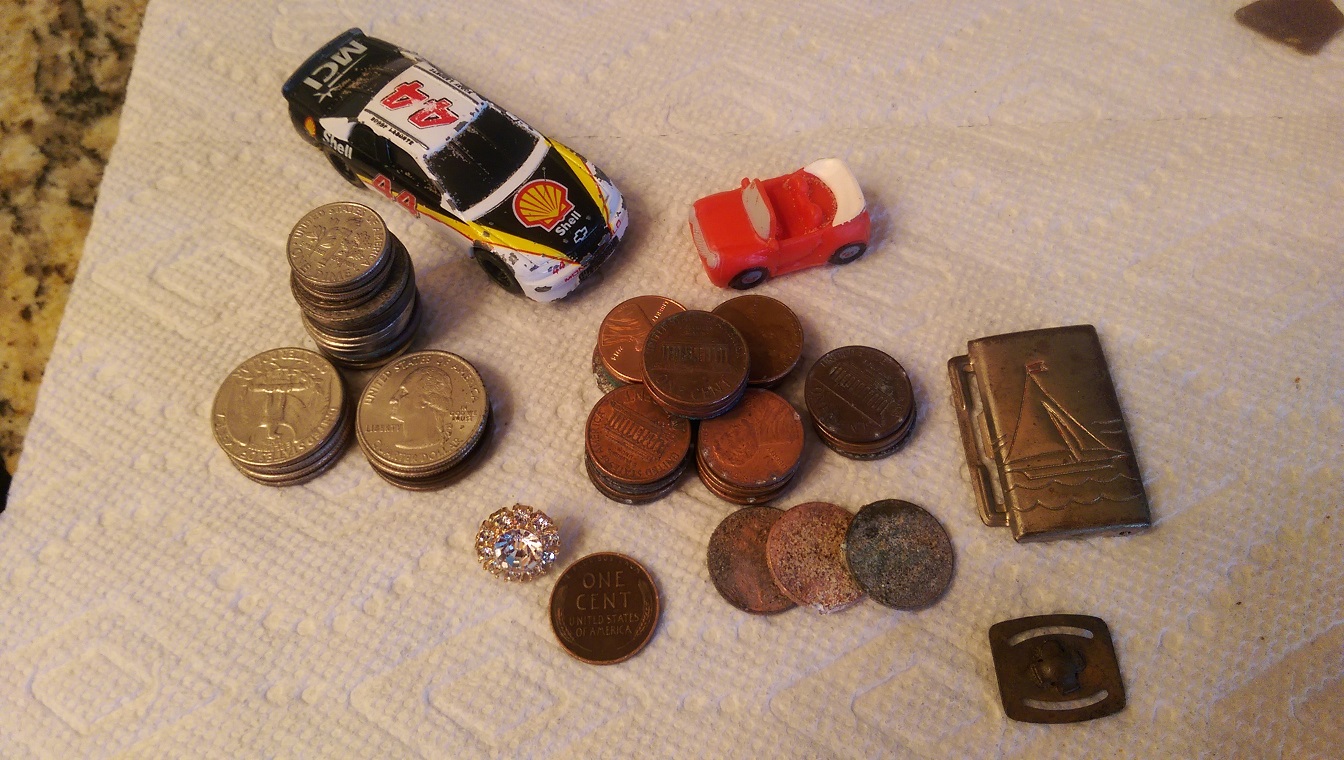 We did find 2 unopened bottles stashed neat the concert venue!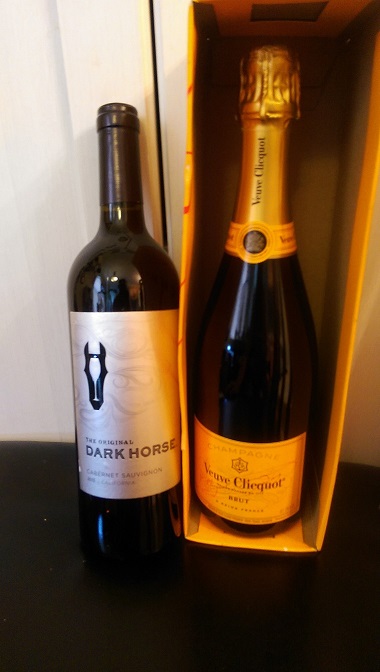 8-9-17
A quick 45 minute hunt before work. $2.36 a wheatie and a junk earring.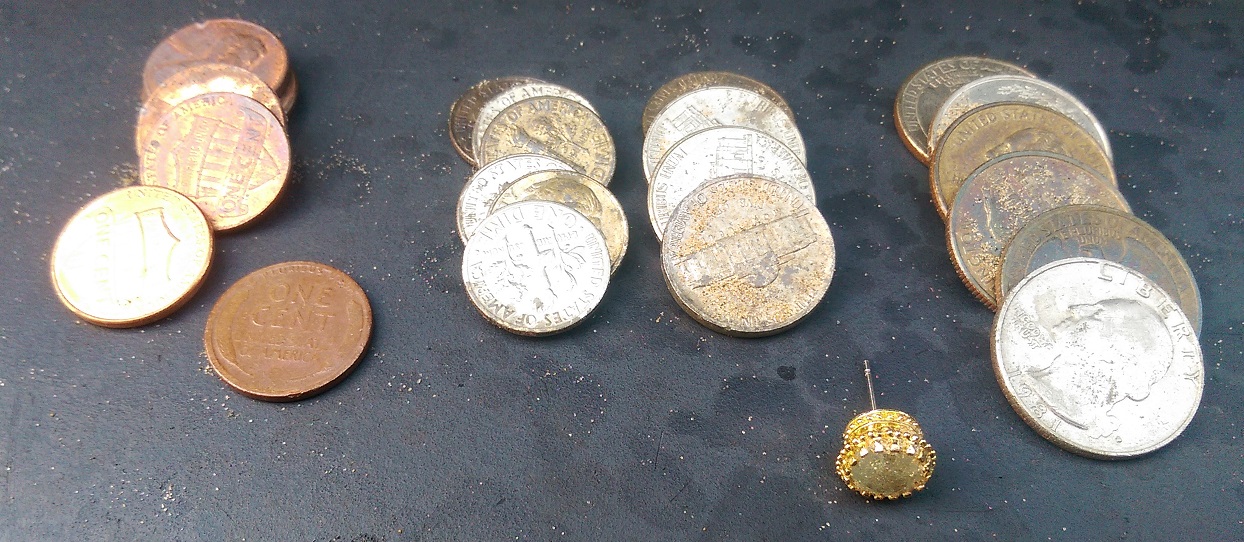 8-8-17
2 more beaches, about 8 bucks, 2 junk jewelry and a thin silver ring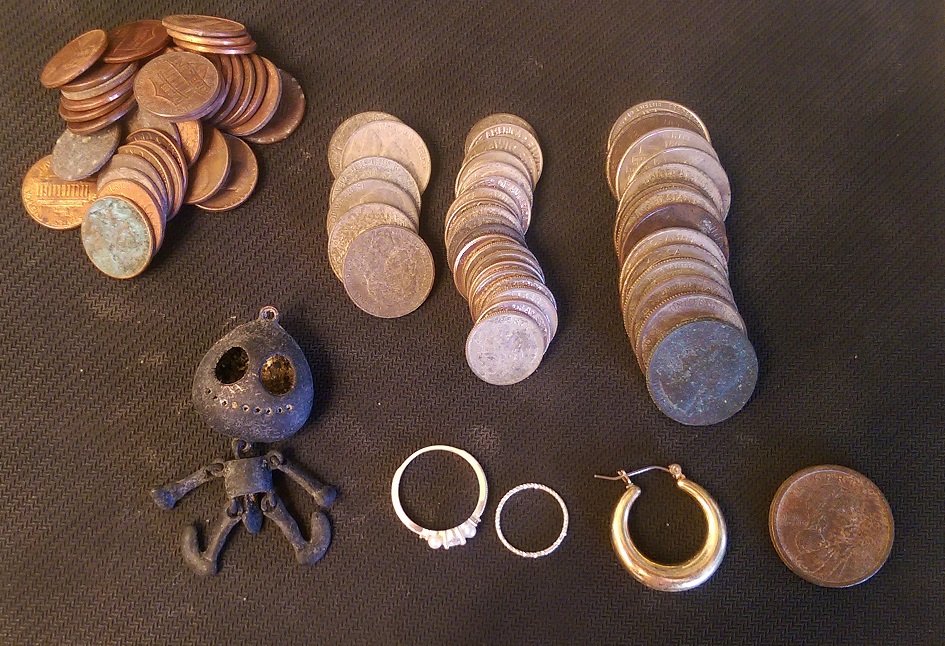 This was either a medalion or key chain (I think) Looks like Jack the pumpkin King! With a penis....LOL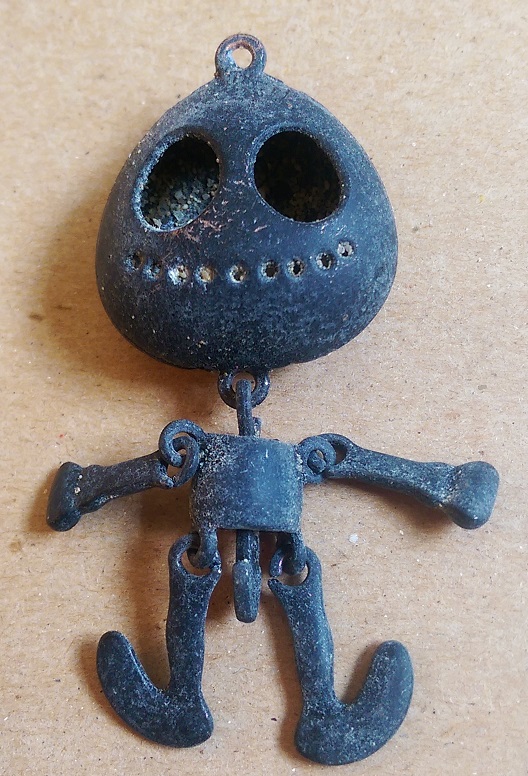 Gretchen's Take
$4.48 a silver pandora ring, a junk earring and an elongated White Sox penny.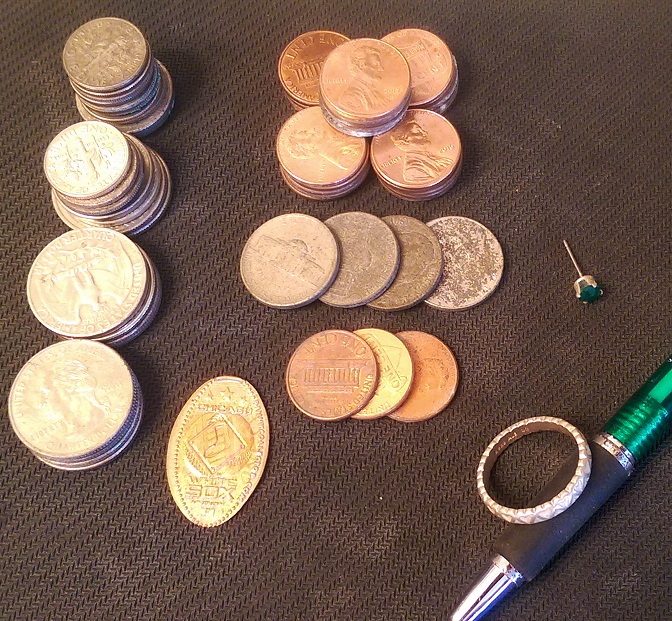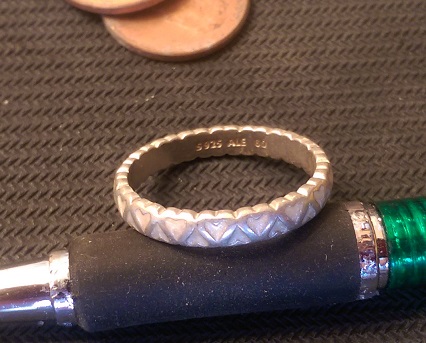 8-7-17
4 hours on 2 different beaches, 2nd beach supplied the goods. 5 bucks in change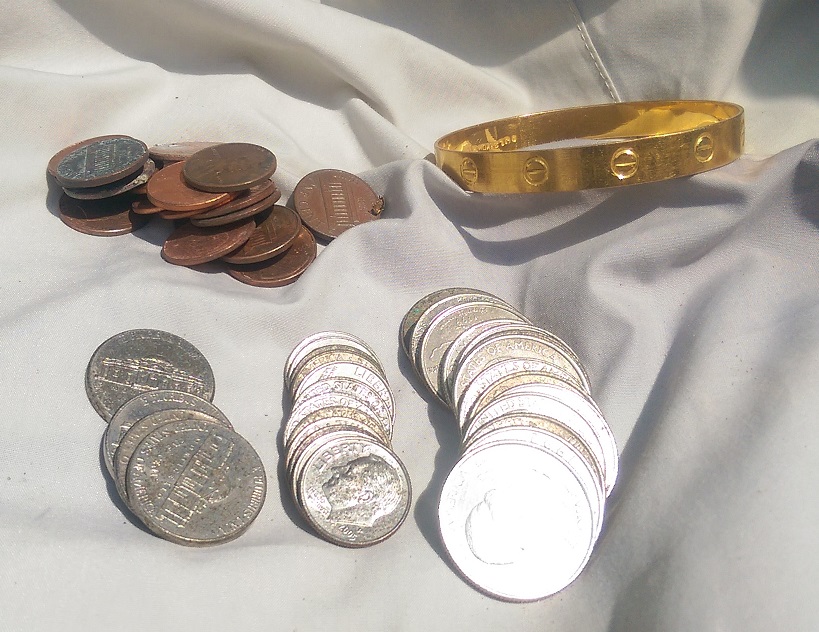 23K gold bracelet, Cartier love bracelet style. 25.1gram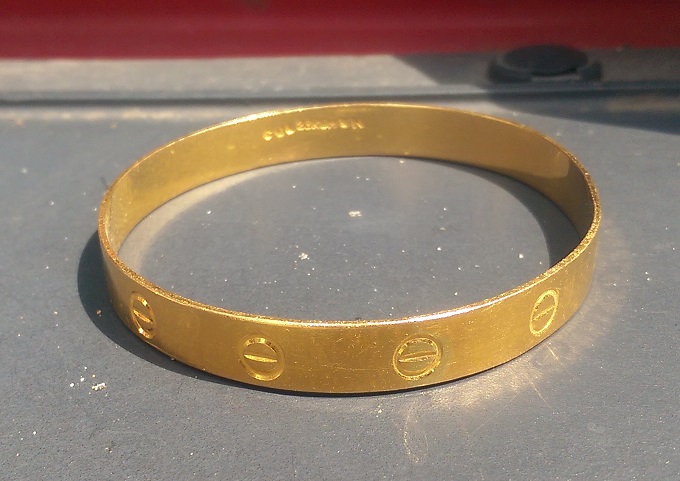 Gretchen's Take
$5.36 a tungston carbide 850 ring and a mishka hand made beaded bracelet

8-5-17
$5.50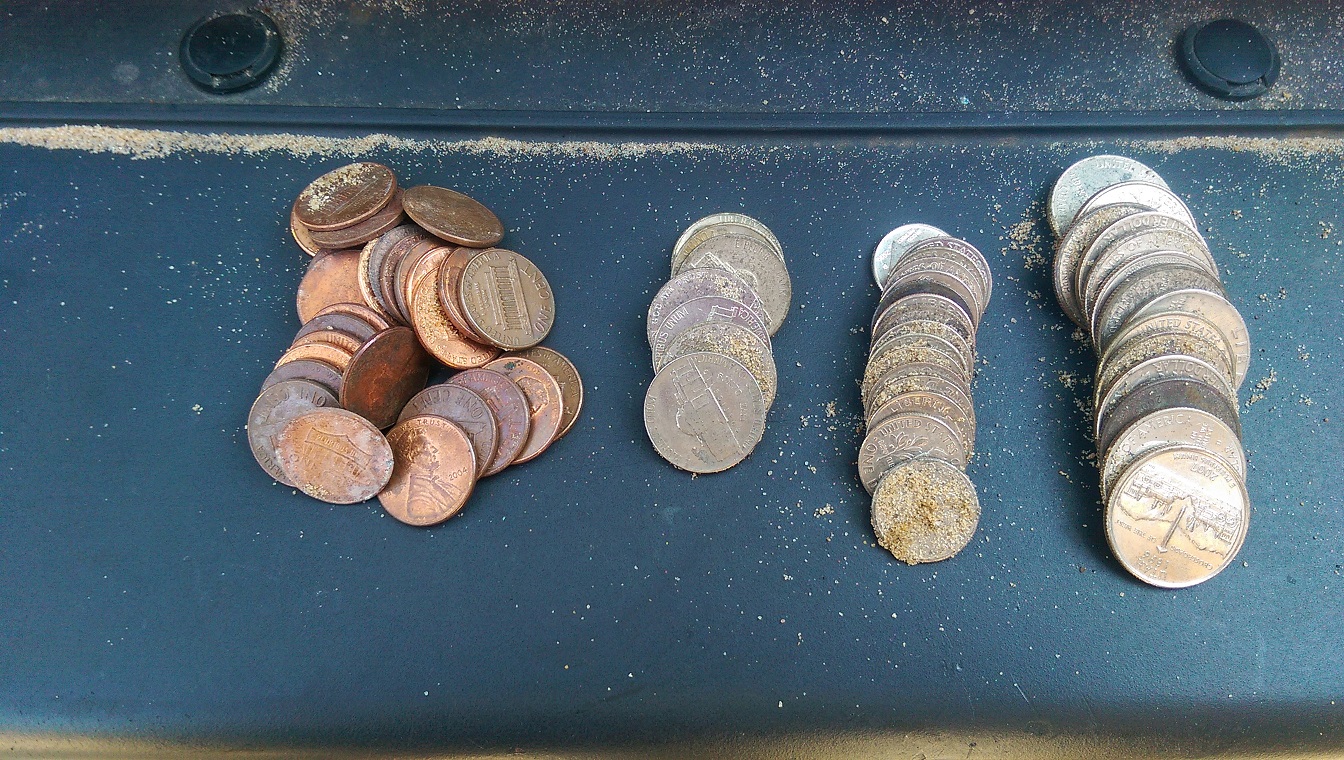 Gretchen's Take
1.08 and 2 junkers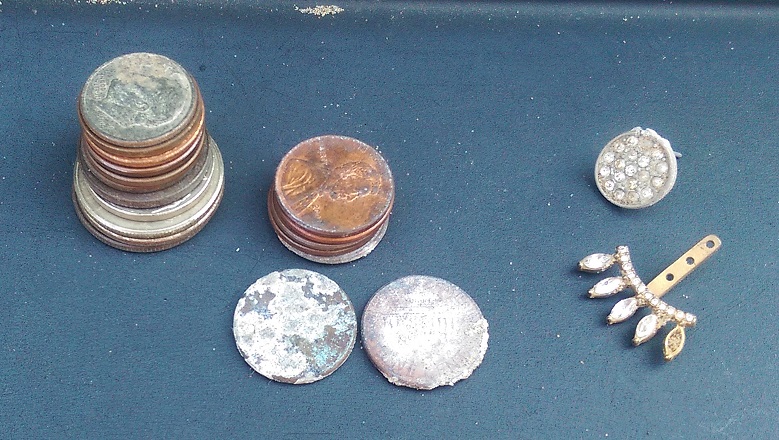 8-2-17
About 8 dollars one junk ring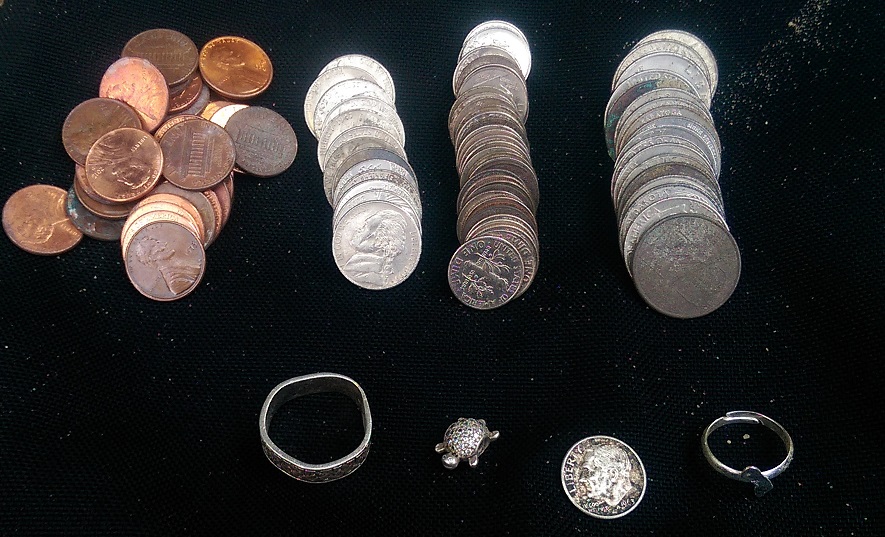 and 3 silvers! turtle is pandora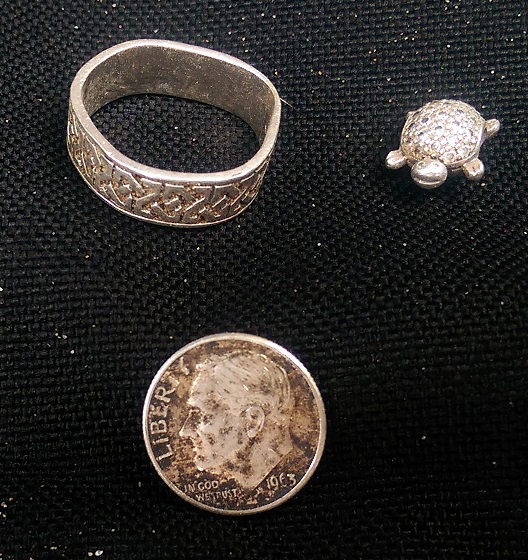 Gretchen's Take
$2.94 and a couple junkers


8-1-17
3 dollars and 3 junk jewelry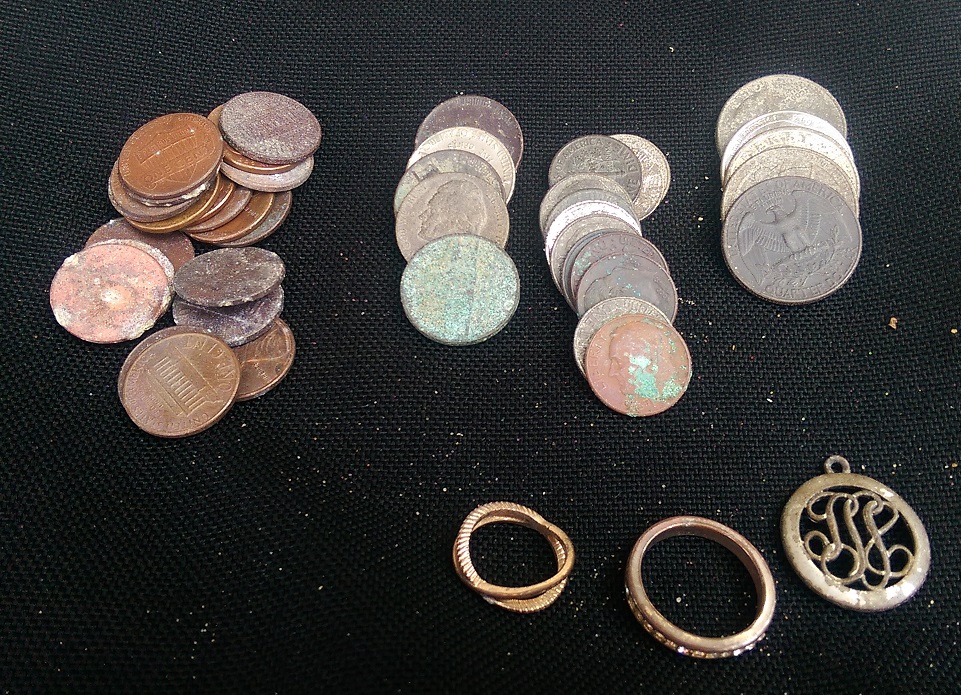 Gretchen's Take
$3.13 and a junk ring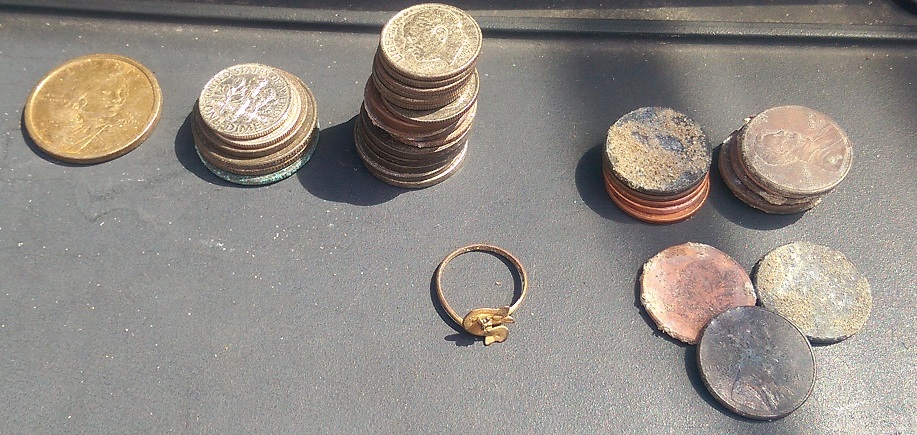 7-30-17
short hunt today $3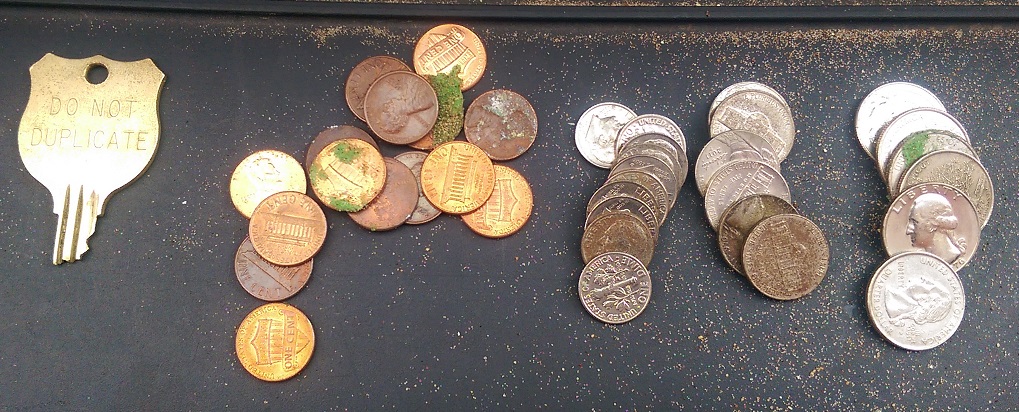 Gretchen's Take
60 cents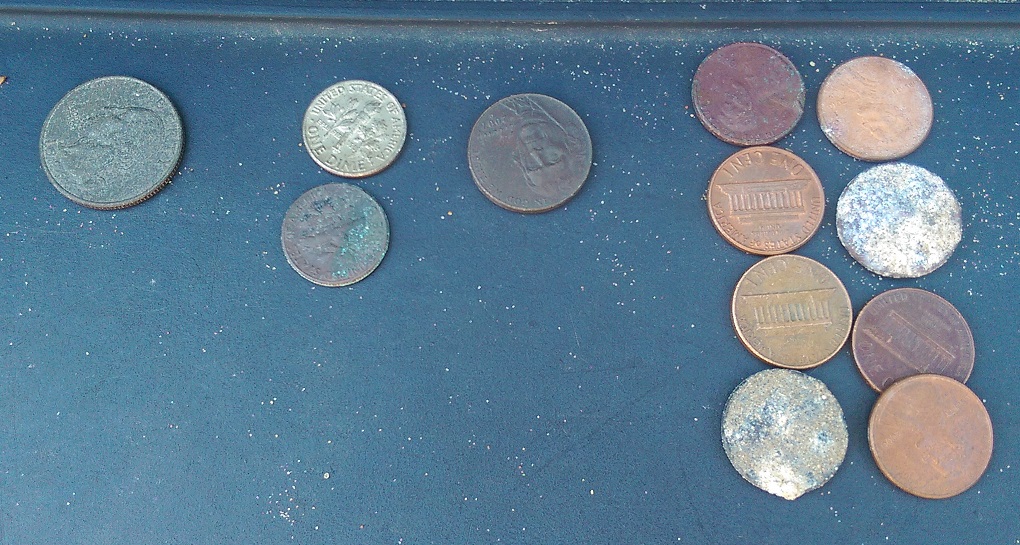 7-29-17
4 dollars and a 1967 beach tag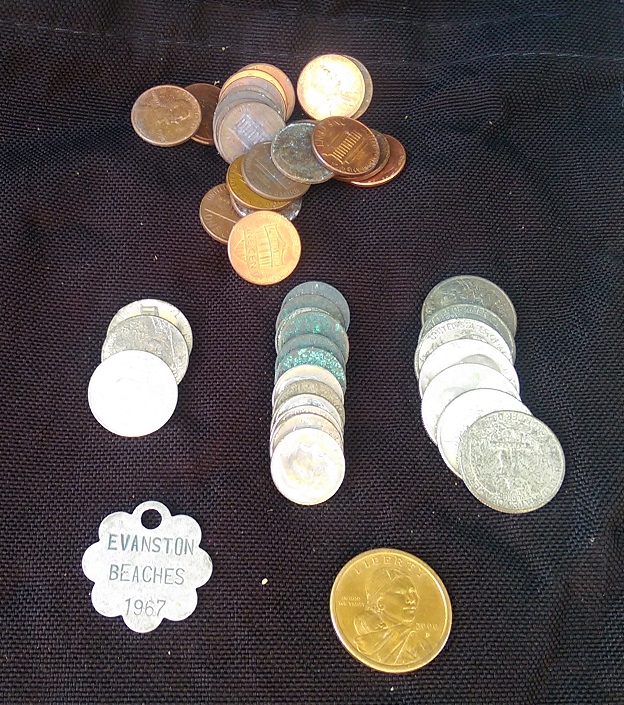 Gretchen's Take
$1.34 and 2 junk jewelry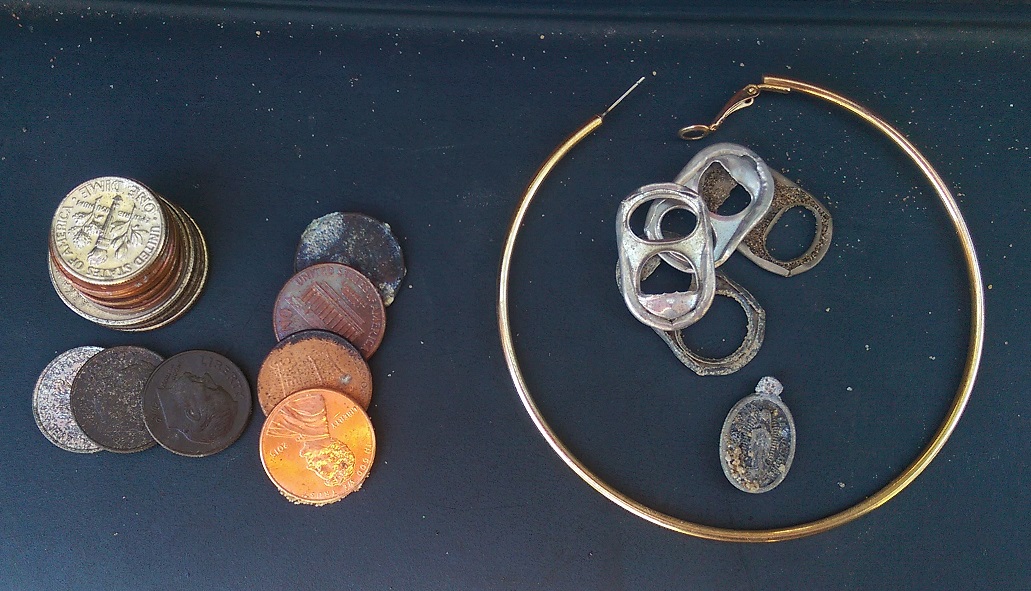 7-28-17
12 dollars, 5 junk jewelry ans a silver earring.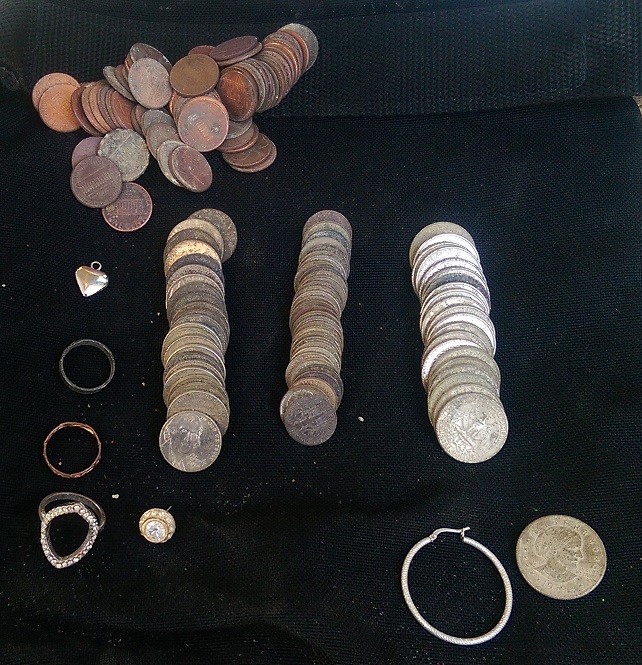 Gretchen's Take
$6 and a beauty little 14K rose gold band with 3 diamond chips
3 other junkers and a spinner.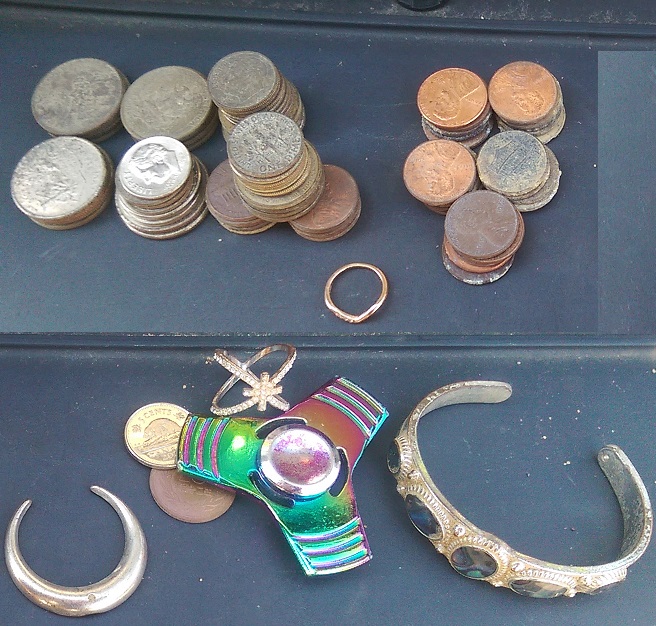 7-27-17
just under 10 dollars a silver claddah ring and a junk ring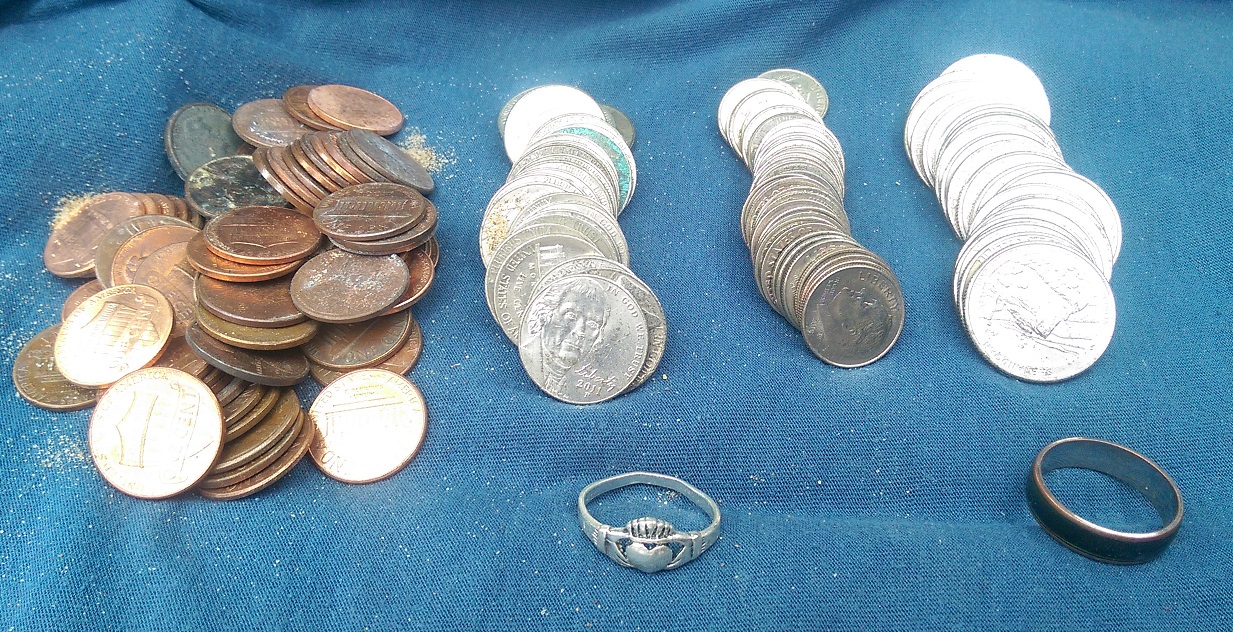 Gretchen's Take
$4.87 and a beautiful 10K ring with 6 small diamonds and a saphire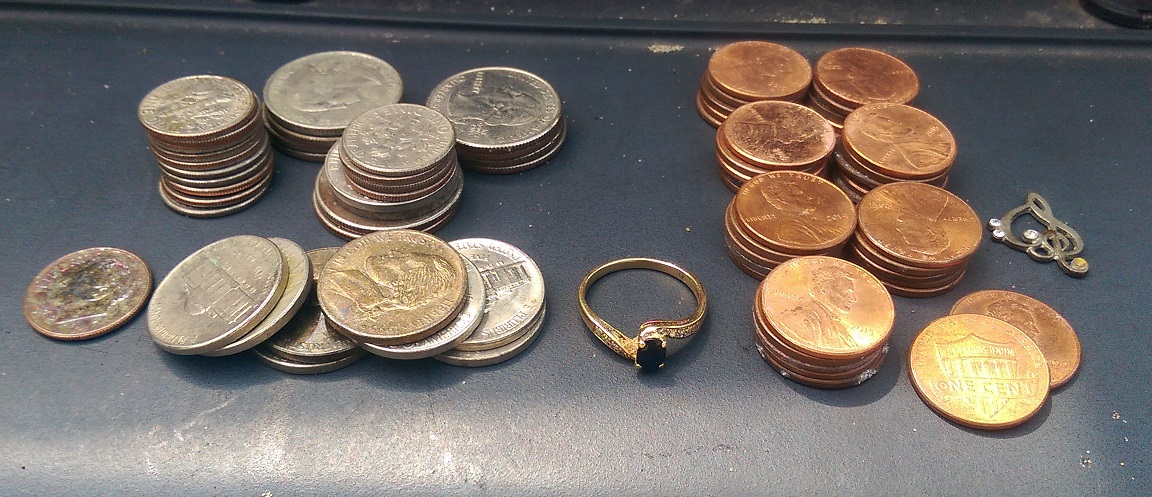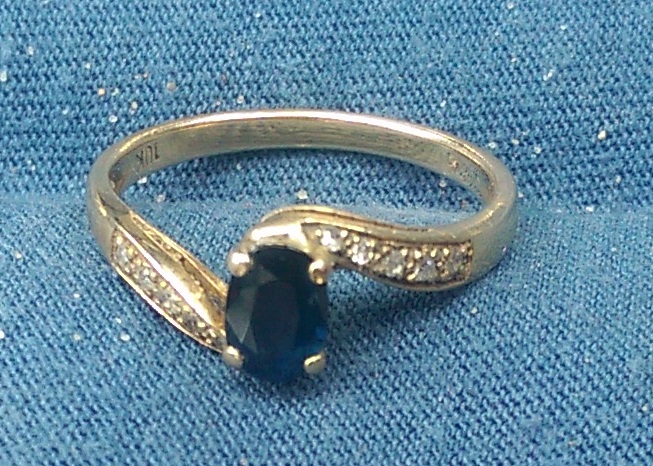 7-26-17
Hit the water for a couple hours after work. couple dollars in clad and $13 in floaters 3 junkers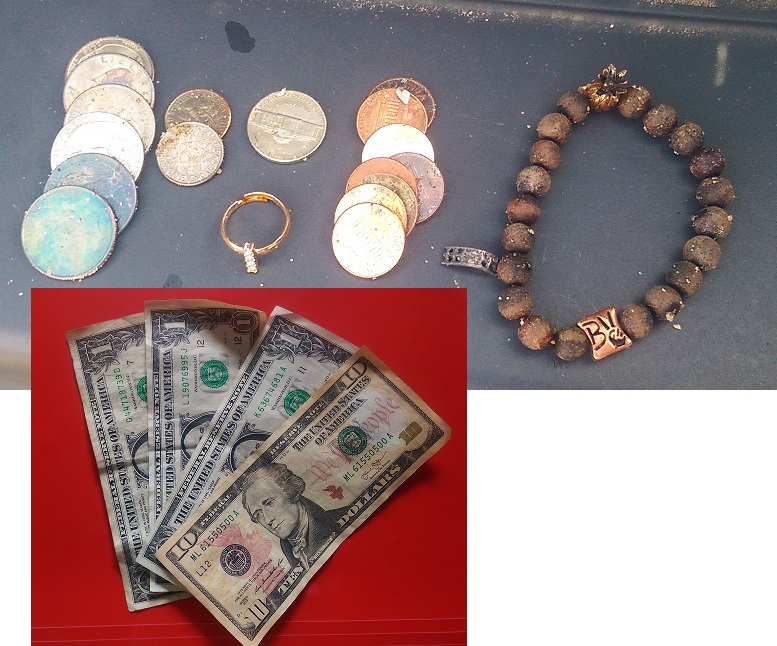 7-24-17
$6.50 and a nitro junk anniversary band

Gretchen's Take
$5.50 a gold plated silver charm and 3 junk jewelry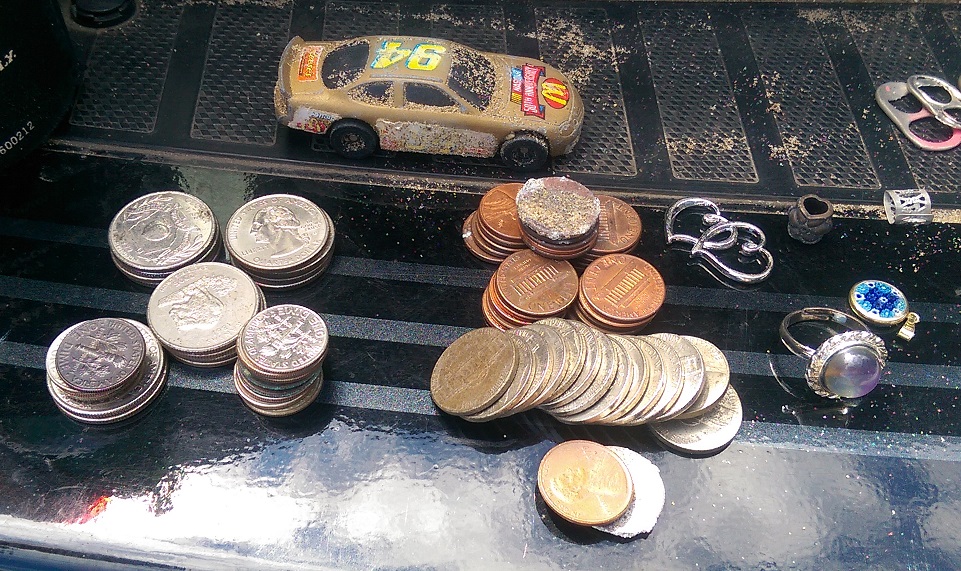 7-23-17
Tried some new beaches, not much for targets. 2 bucks and 5 junkers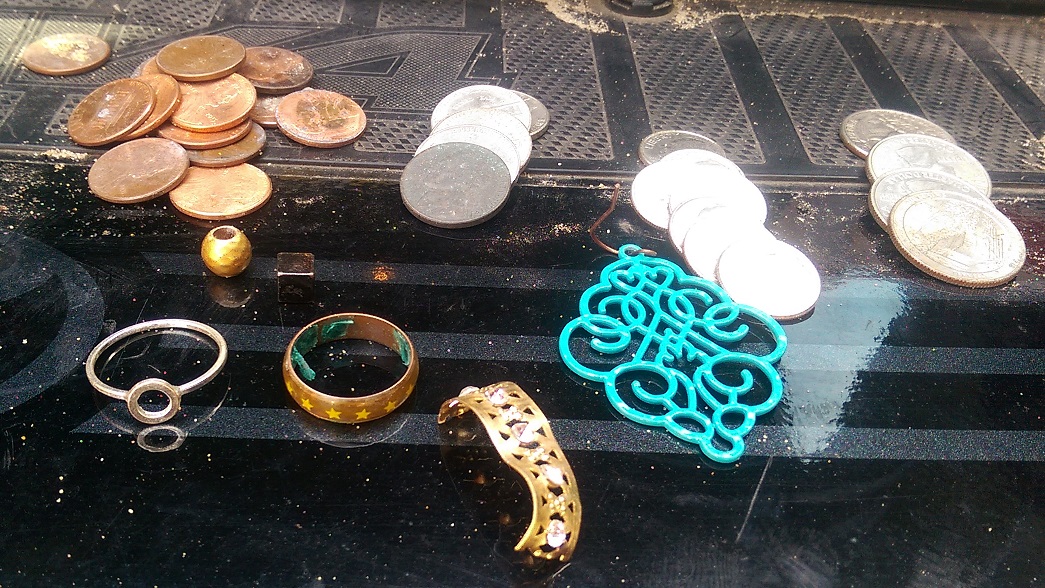 7-20-17
Hit the water for a bit before getting chaised out by lightning
4 dollars and a junk earring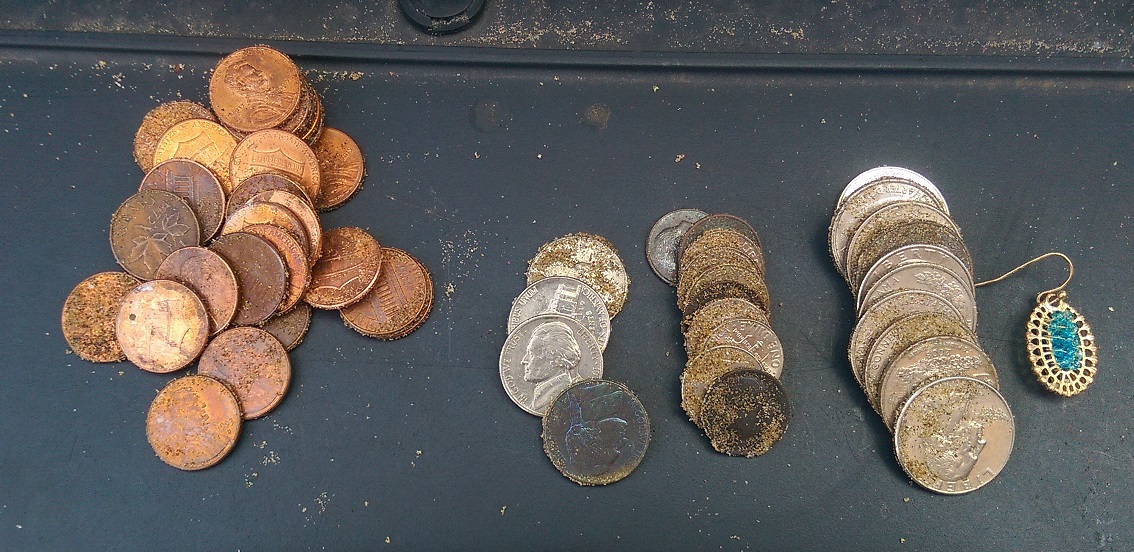 7-19-17
Hit the beach by myself today before work. $4.50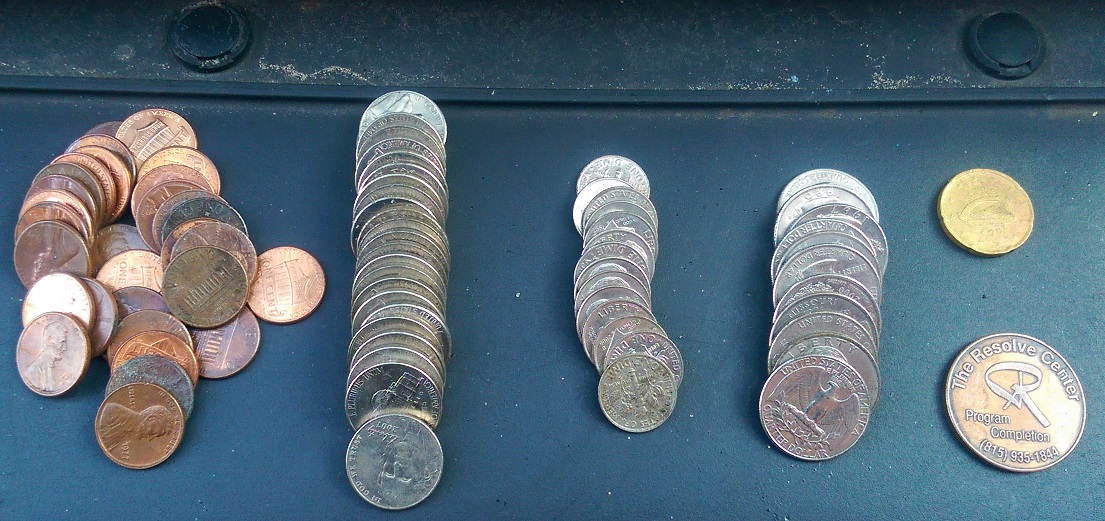 7-18-17
Again about 7 dollars, 2 junk jewelry and another wheatie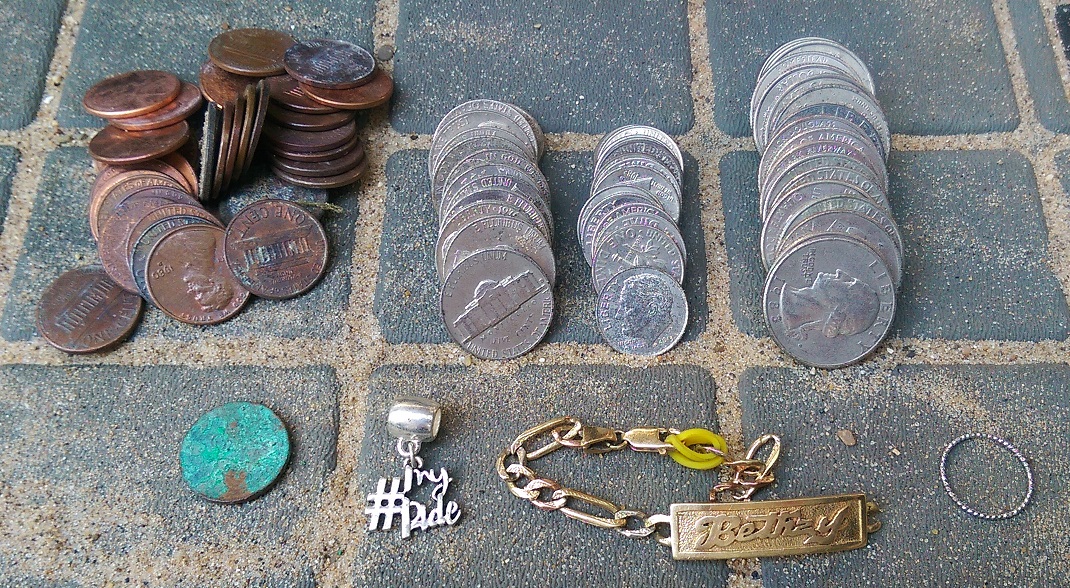 and a 14K Bracelet. 7.5 g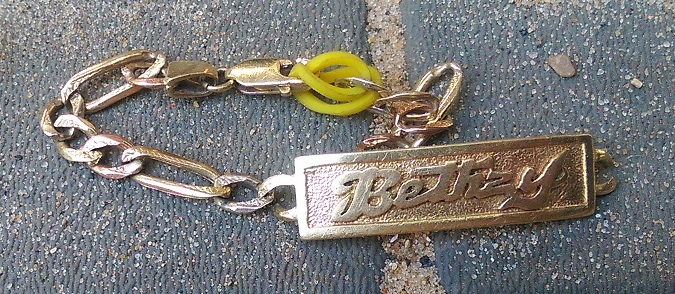 Gretchen's Take
Almost 4 dollars a silver ring, a junk pendant, and a cta token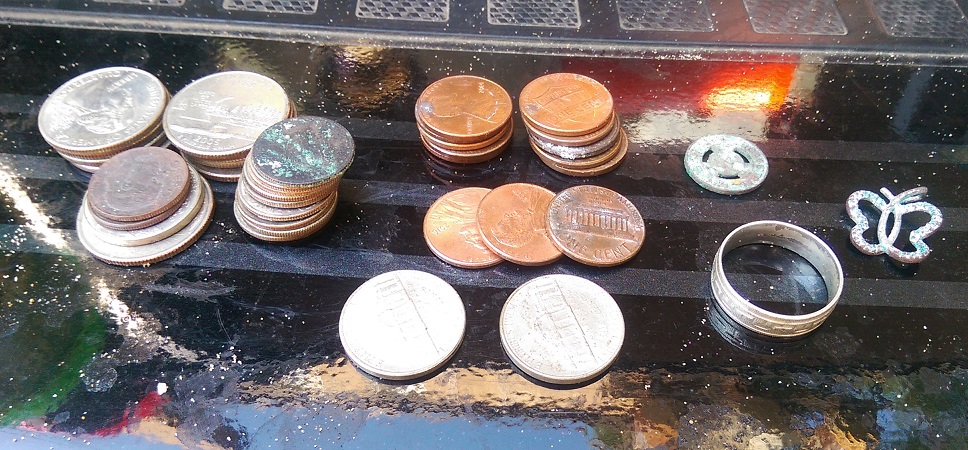 7-17-17
Just under 6 dollars a silver earring and 3 junkers

Gretchen's Take
About 4 dollars and a waterlogged I phone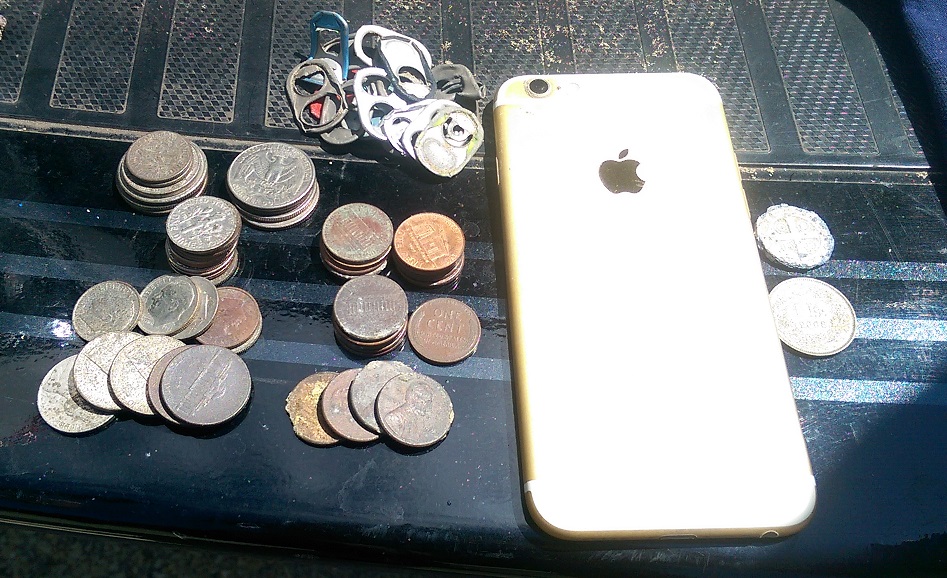 7-15-17
Just under 7 bucks and a junk ring for just under 3 hours.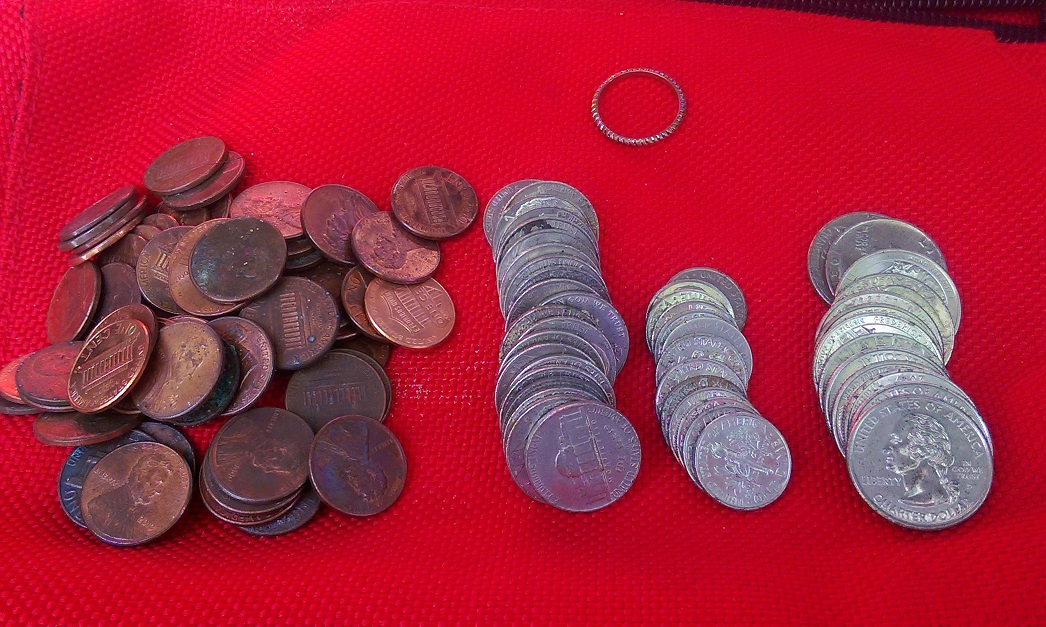 7-14-17
We went back to the 2nd beach from yesterday looking for a lost ring, did not find the ring but got lots of coins!
Just over 10 dollars in change, supprised with the number of coins that we did not get more jewelry!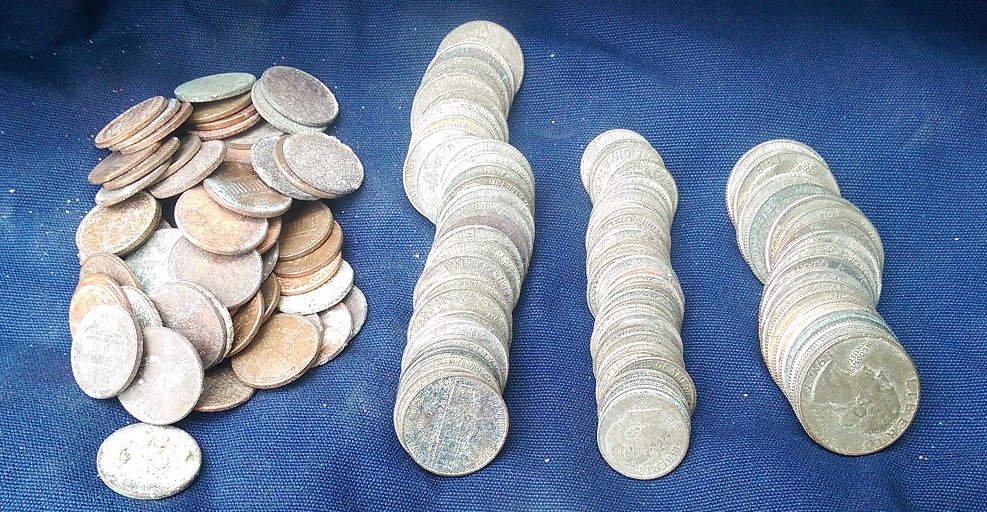 Gretchen's Take
3 bucks and 3 junkers


7-13-17
we did 2 hunts today, about 2 hours this morning. 4.50 in change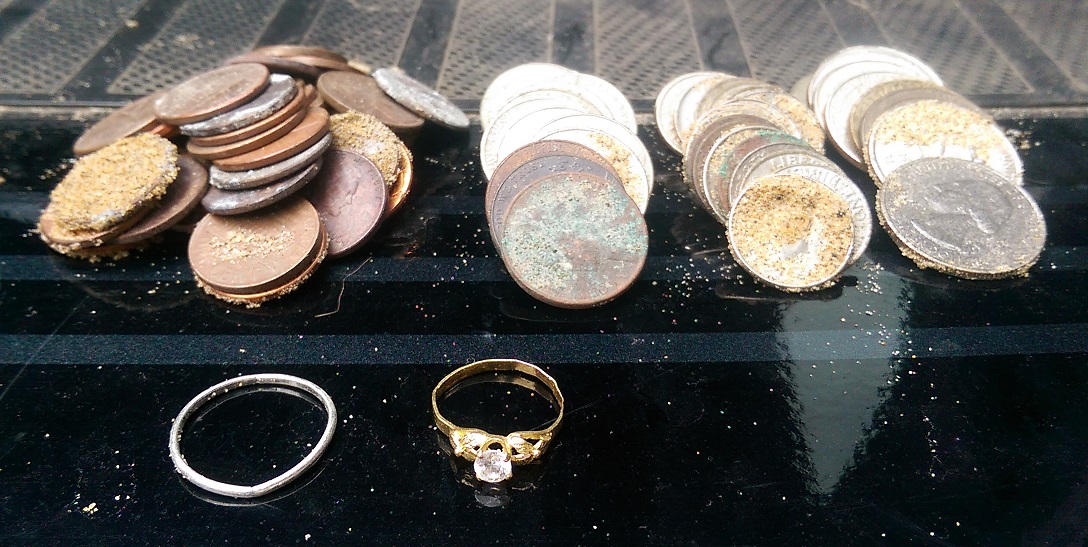 a 14k ring with CZ 1.5 gram and a silver band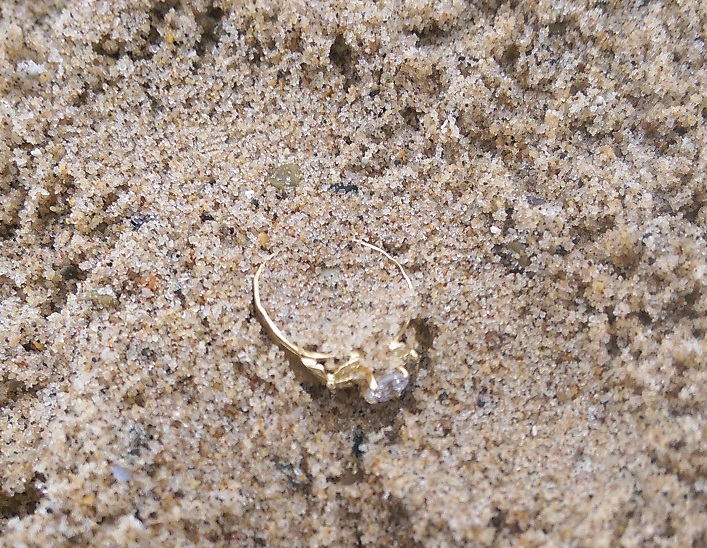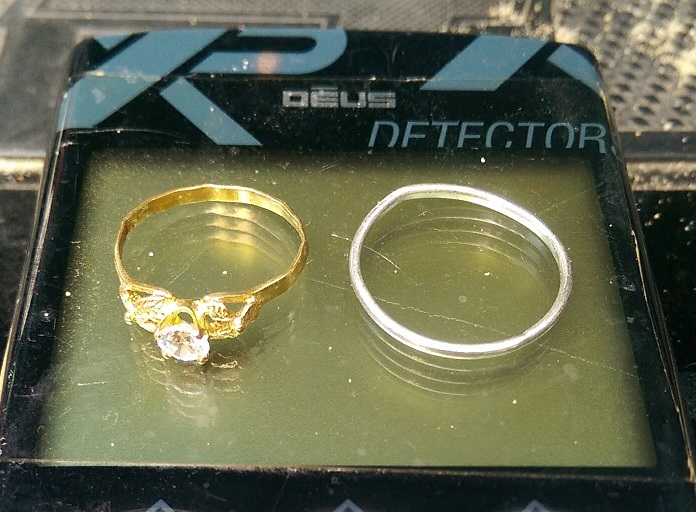 2nd hunt Looking for a lost ring!
6 bucks and a bling earring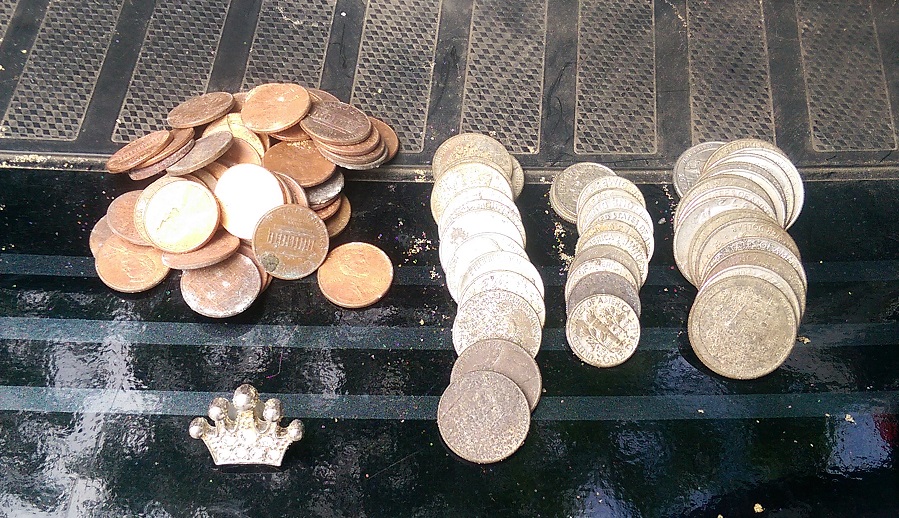 Gretchen's Take
first hunt 3 dollars and 2 junk jewelry

2nd hunt 4.50, a wheat penny and a junk ring.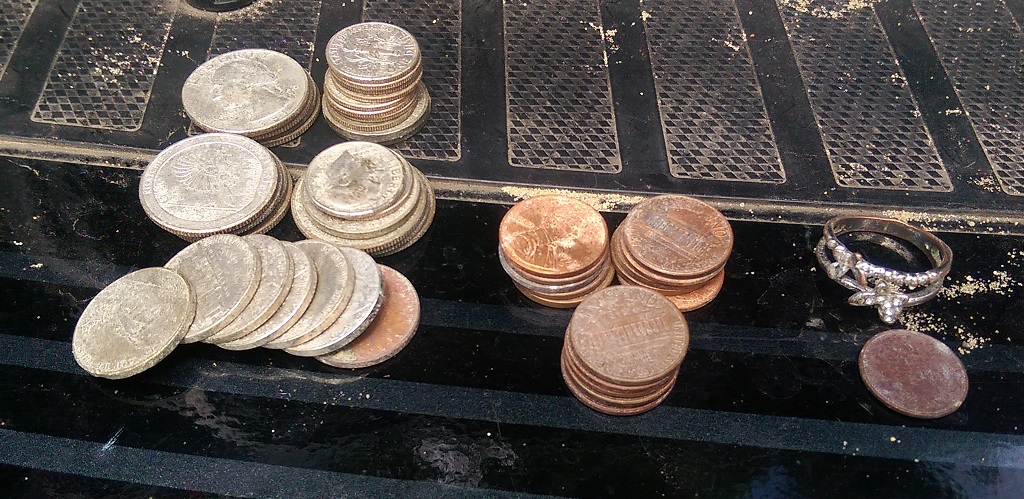 7-12-17
Hit the beach for about an hour, until the rain chased me out.
just under 2 bucks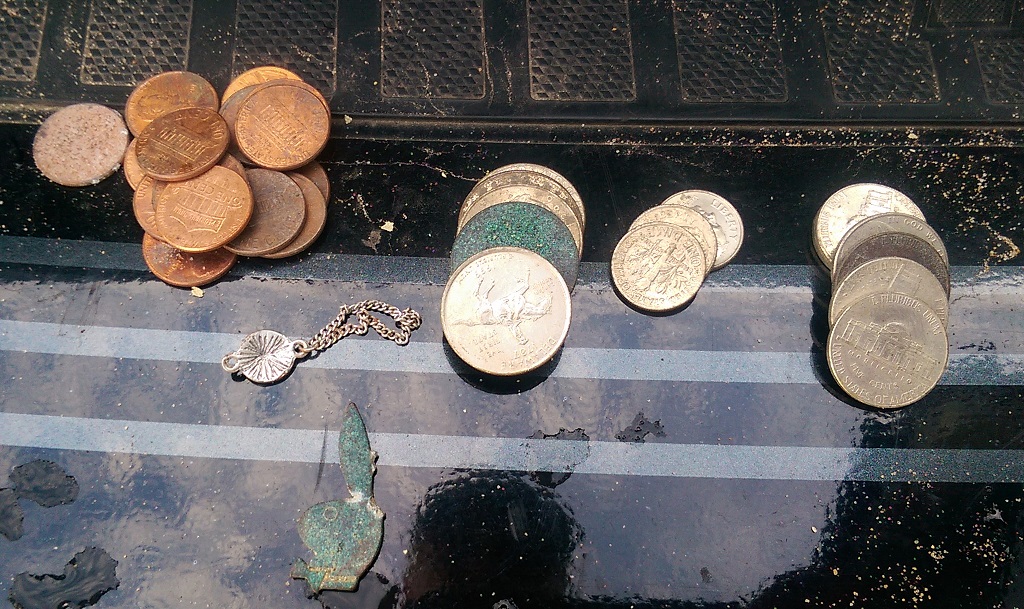 7-11-17
over 3 hours on 2 beaches about 8.50 in clad, a cool mini butterfly knife and 3 junkers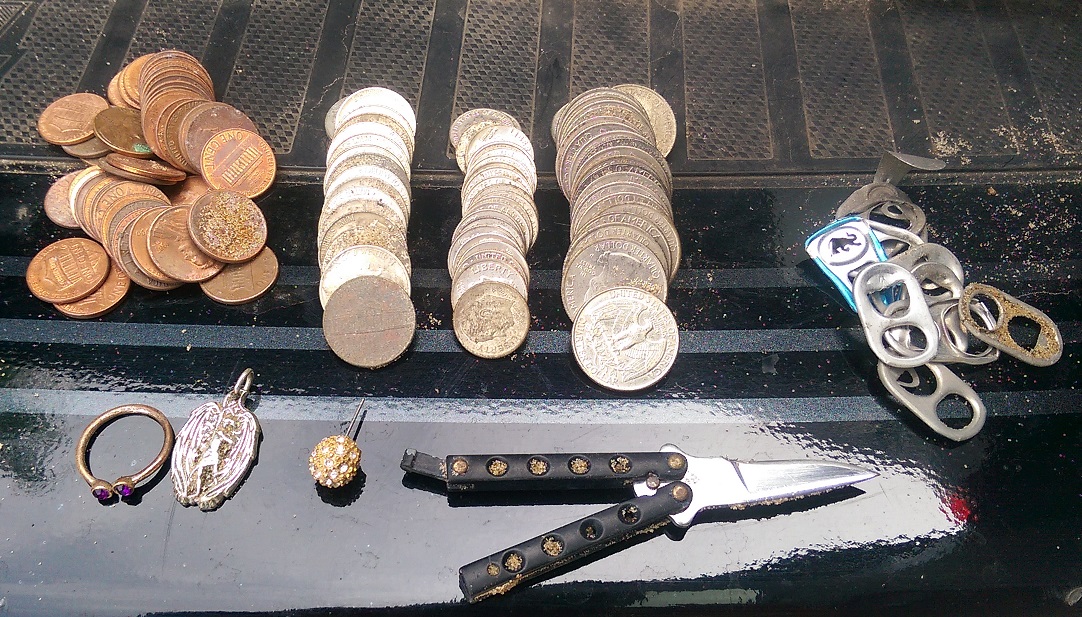 Gretchen's Take
5.00 a wheatie and a silver earring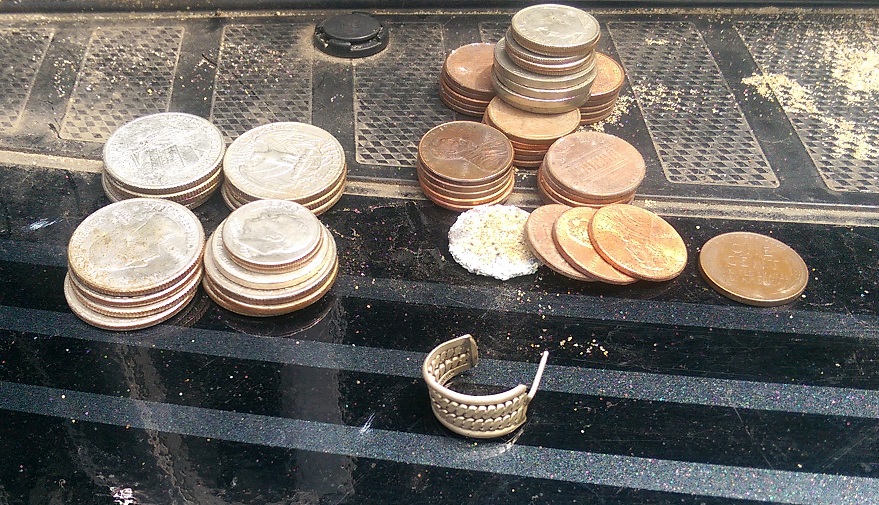 7-8-17
Had some visitors from Iowa, we met Casey and Mindy at NMDD in May.
They were in Chicago for an event and met Gretchen and I at North ave. beach for some hunting then burgets and beers!
Thanks for coming over for a hunt!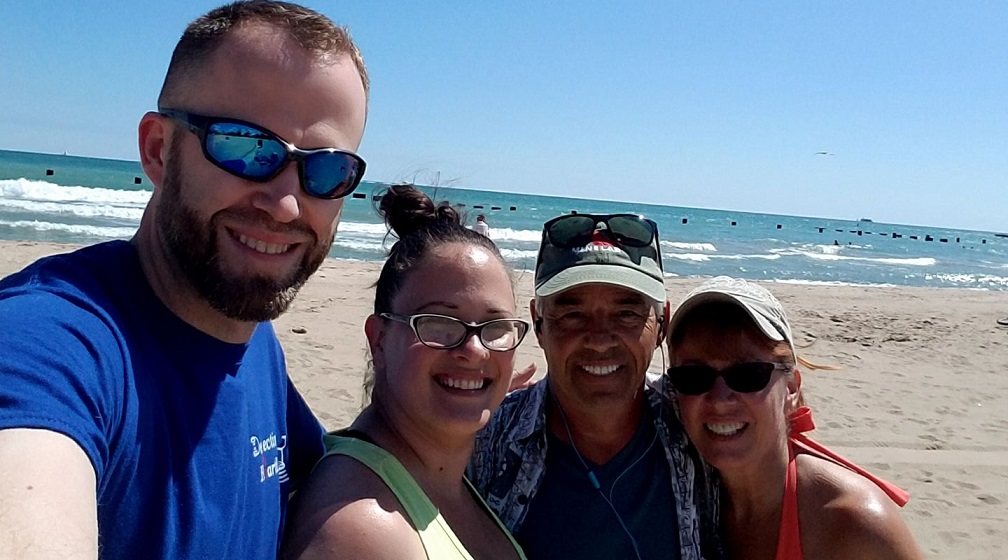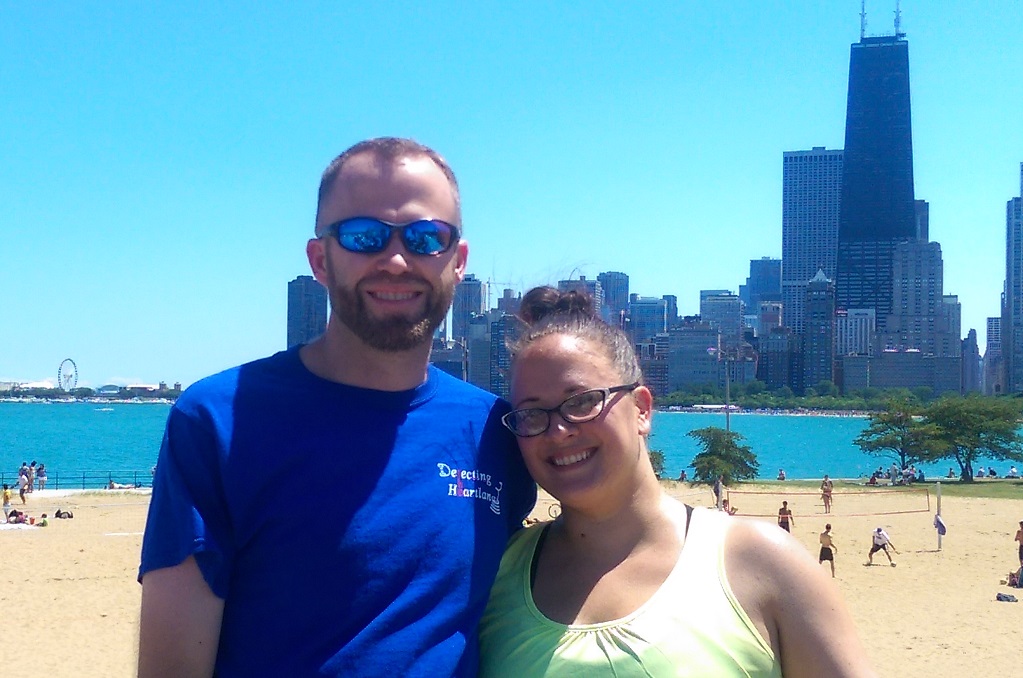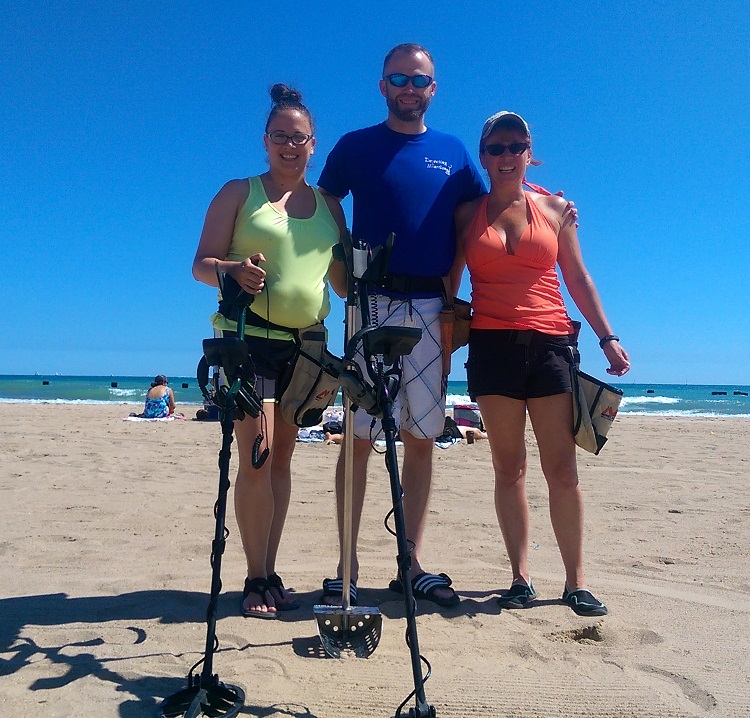 The girls showing off our finds!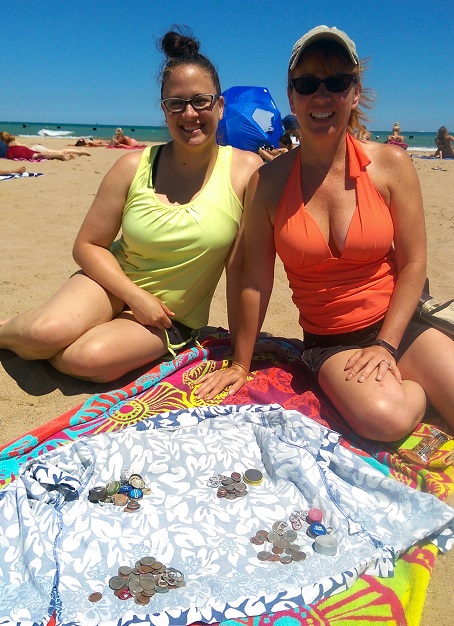 7-6-17
couple hours 3.50, 1 junk earring and a couple foreign coins
there had been lots of competition in the dry sand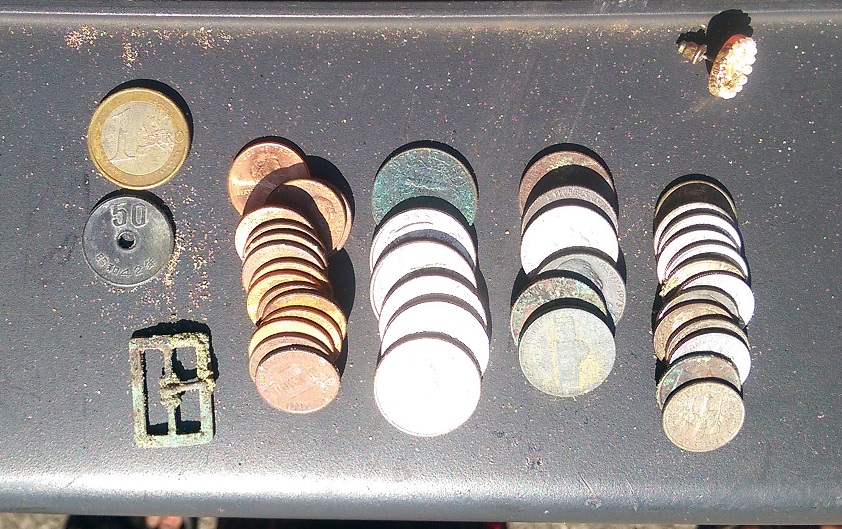 Gretchen's Take
1.20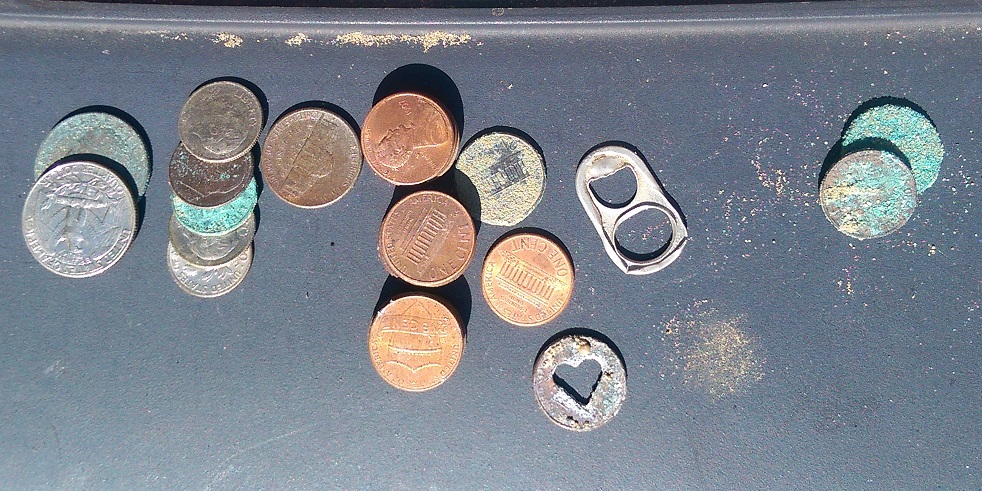 7-5-17
4 hours after in the dry sand after the 4th fireworks display
just over 10 dollars a working watch and 2 junk jewelry.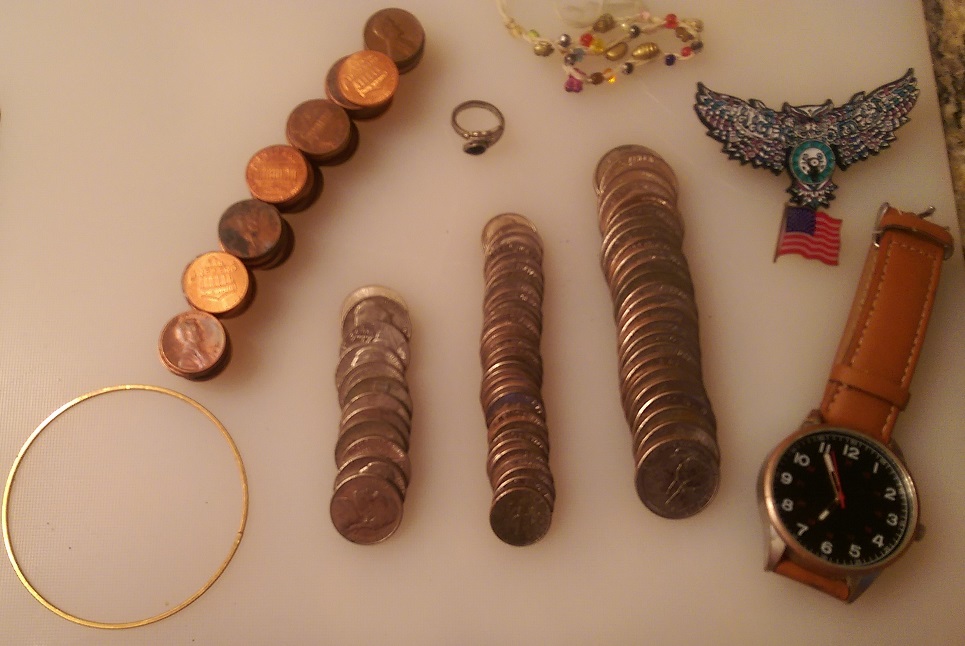 Gretchen's Take
7.70 she is getting better at target recovery!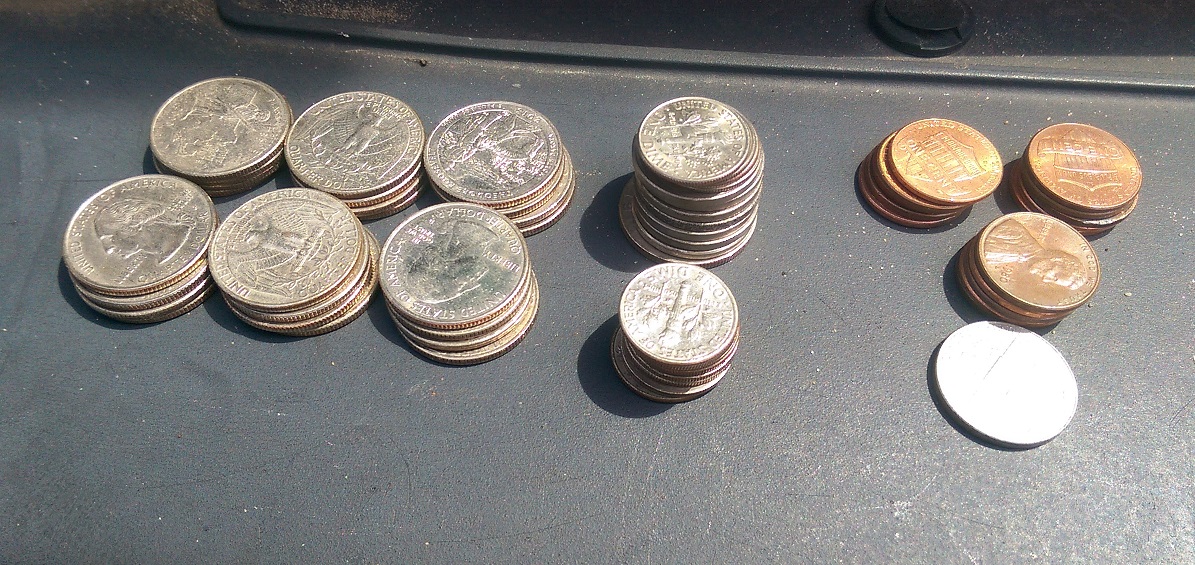 7-3-17
just under 4 hours got me 7 bucks and a junk ring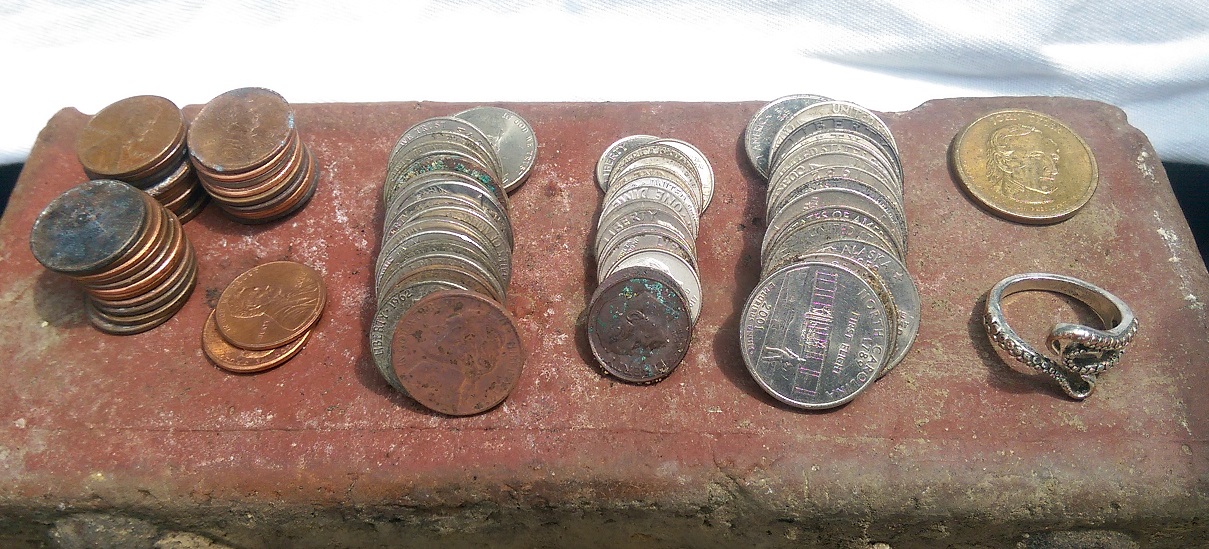 Gretchen's Take
little over 3,50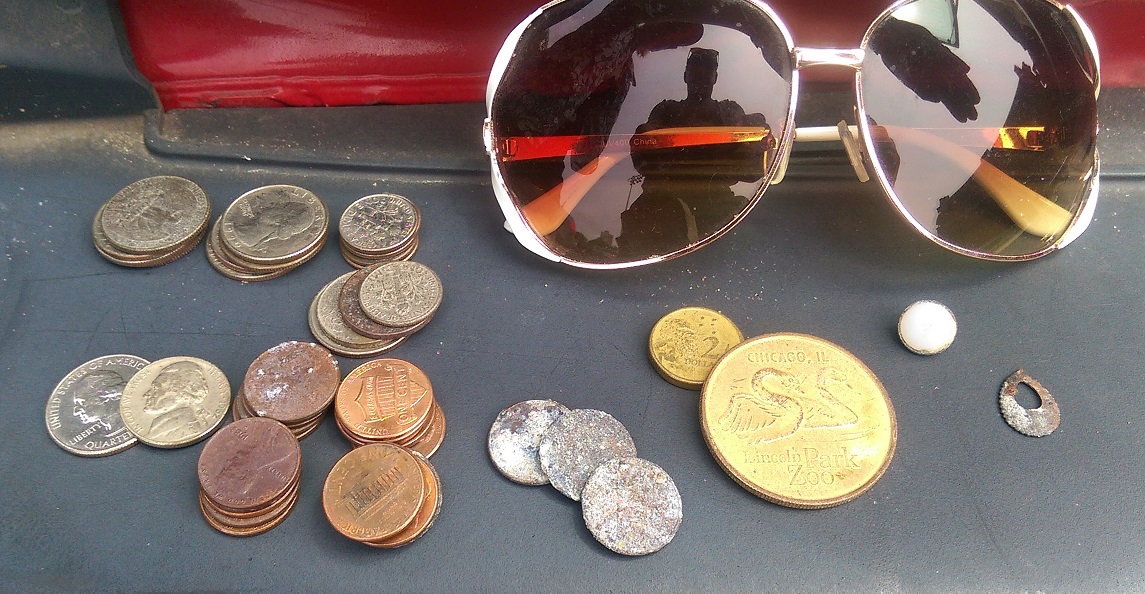 7-2-17
Short hunt today about 2.50 and 2 junk earrings.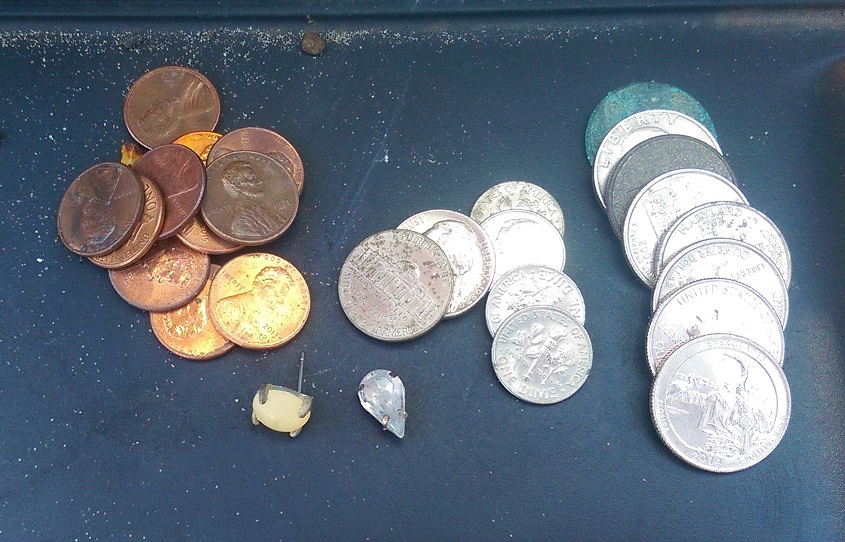 Gretchen's Take
2.15 and 1 junk charm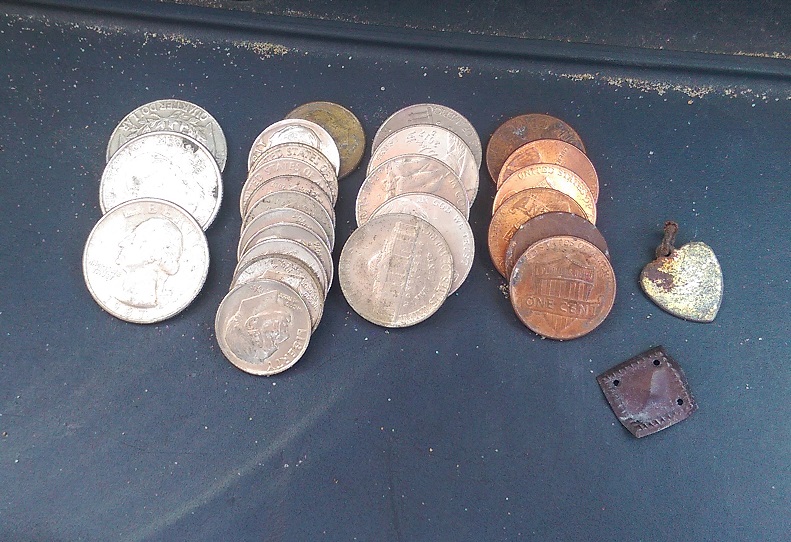 6-30-17
Lots of coins for our 3 hour hunt about 6 bucks, 2 wheaties, a cta token and 2 chinese coins from a bracelet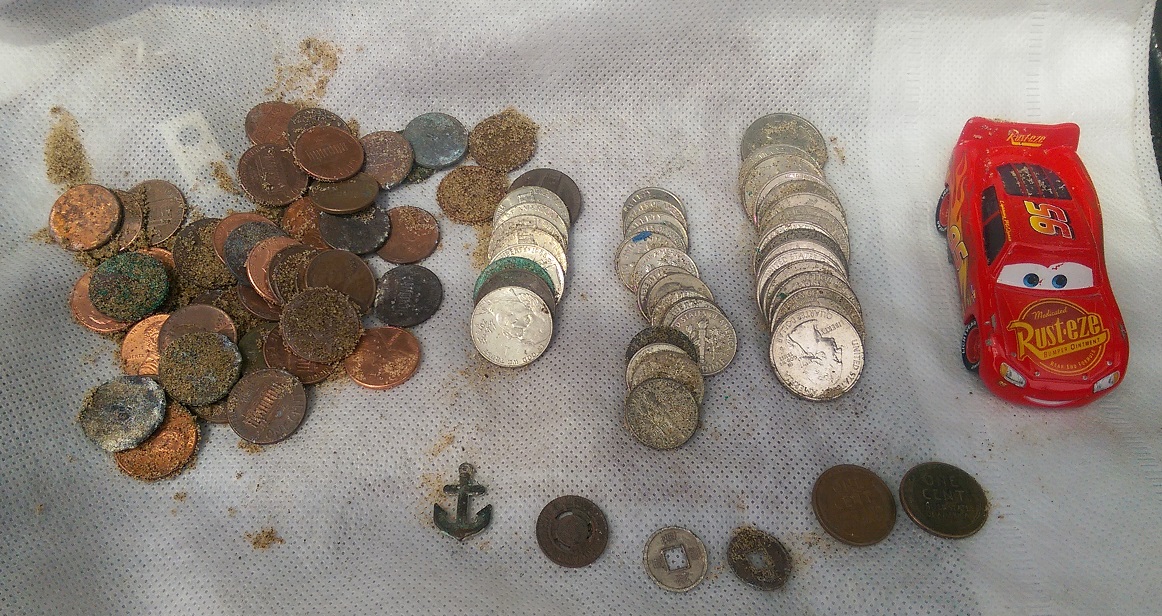 Gretchen's Take
2.12 and a silver bracelet charm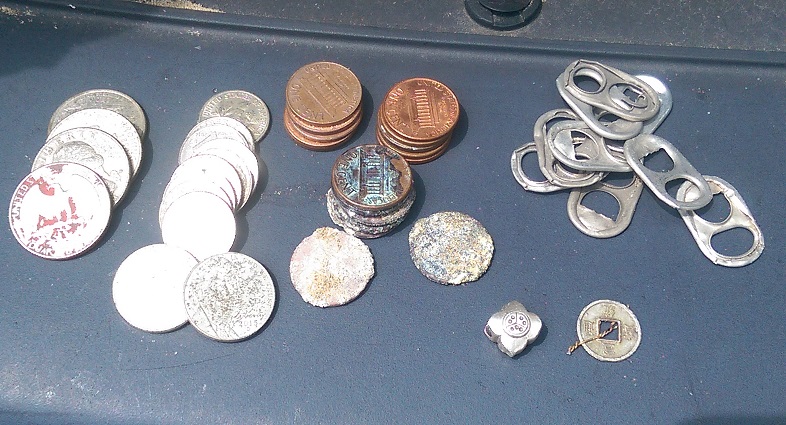 6-29-17
Just a little over 2 hours about 5.50 and 2 junkers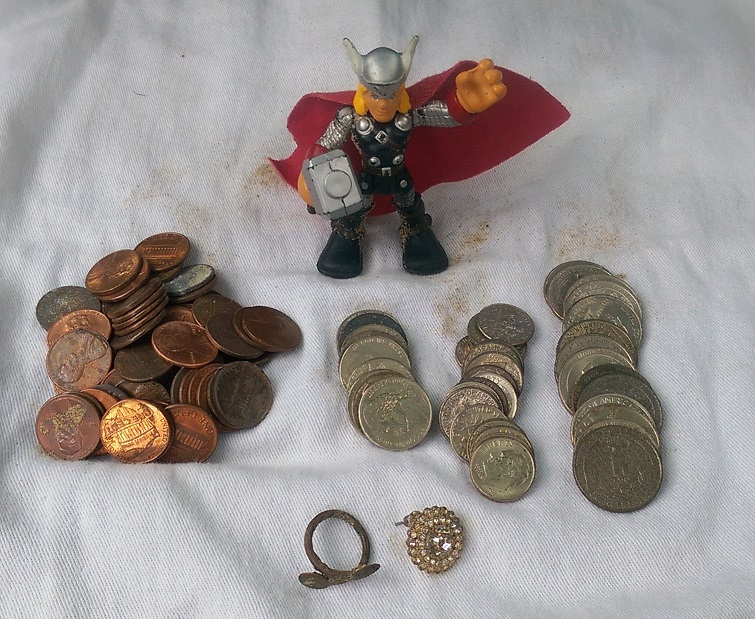 Gretchen's Take
1.82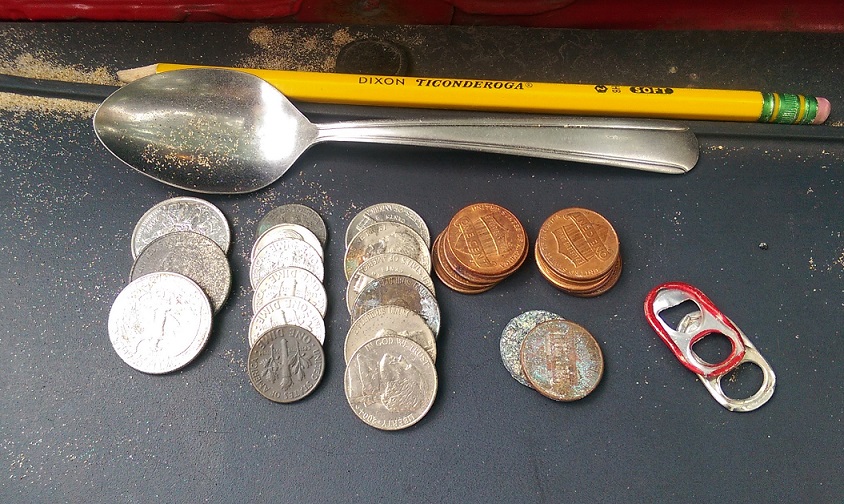 6-27-17
Better day for targets
Hit 2 different beaches, I got about 7 bucks, a working watch (cheap) 2 junkers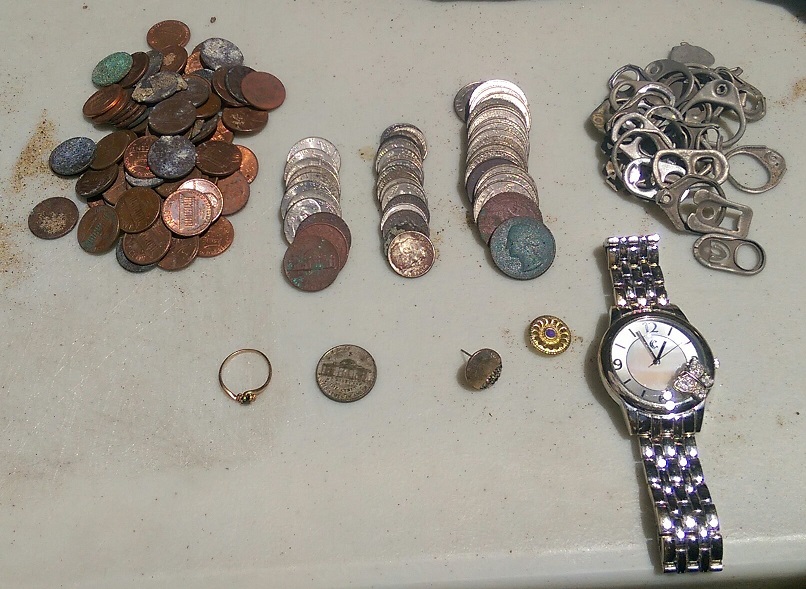 A 10K gold ring with 2 diamond chips and some type of saphire,1 gram and a 1945S silver war nickle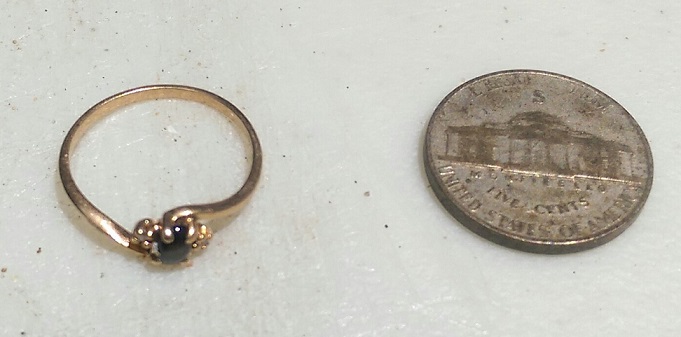 Gretchen's Take
6.75 in change,a Pandora silver ring and a silver chain with a junk medalion.
My girl can hunt!


6-26-178
think the beach got hit pretty well over the weekend, much fewer targets.
4 bucks in change and a fitbit, will charge it to see if it still works.
funny I just lost mine a couple weeks ago and the universe supplies a replacement.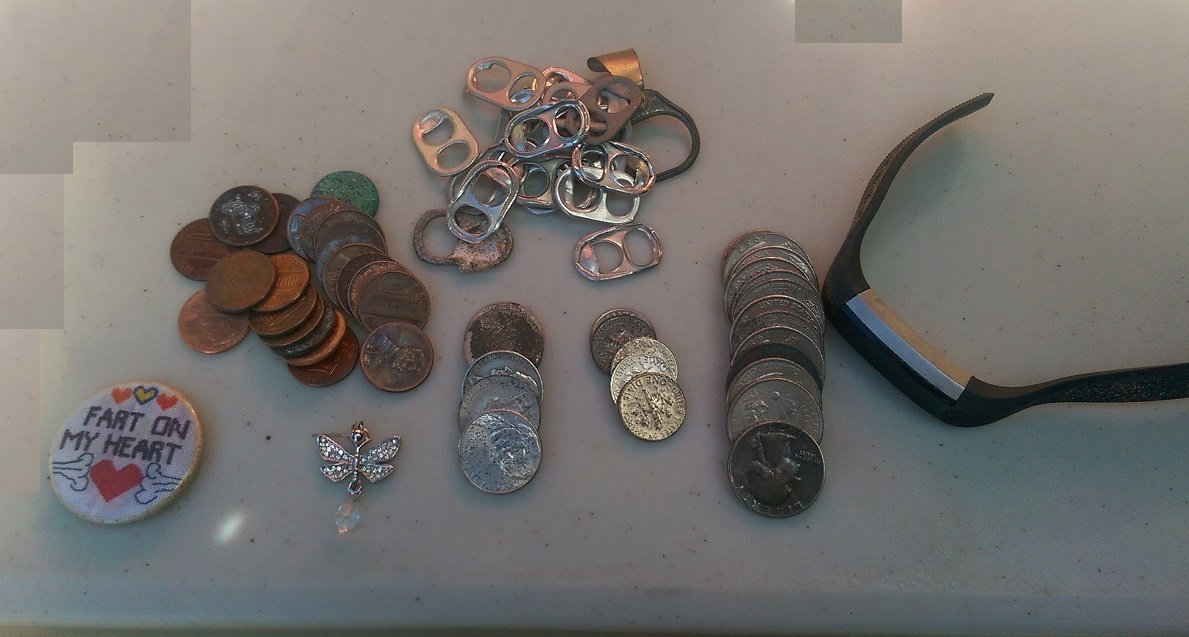 Gretchens Take
1.75 and a junk ring.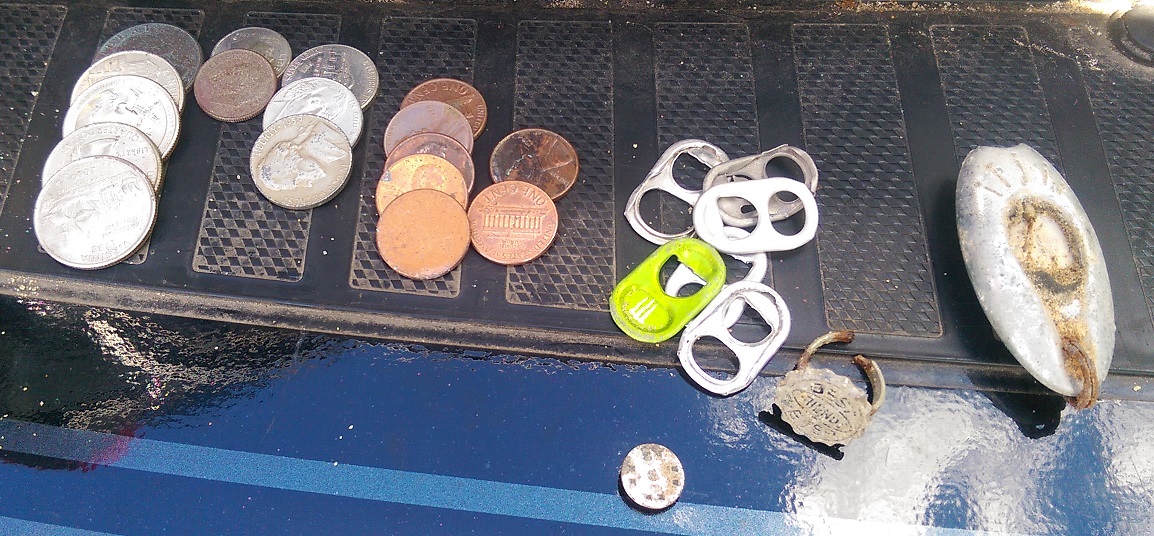 6-21-17
couple hours to play today 5 bucks and a silver ring with 14K gold insets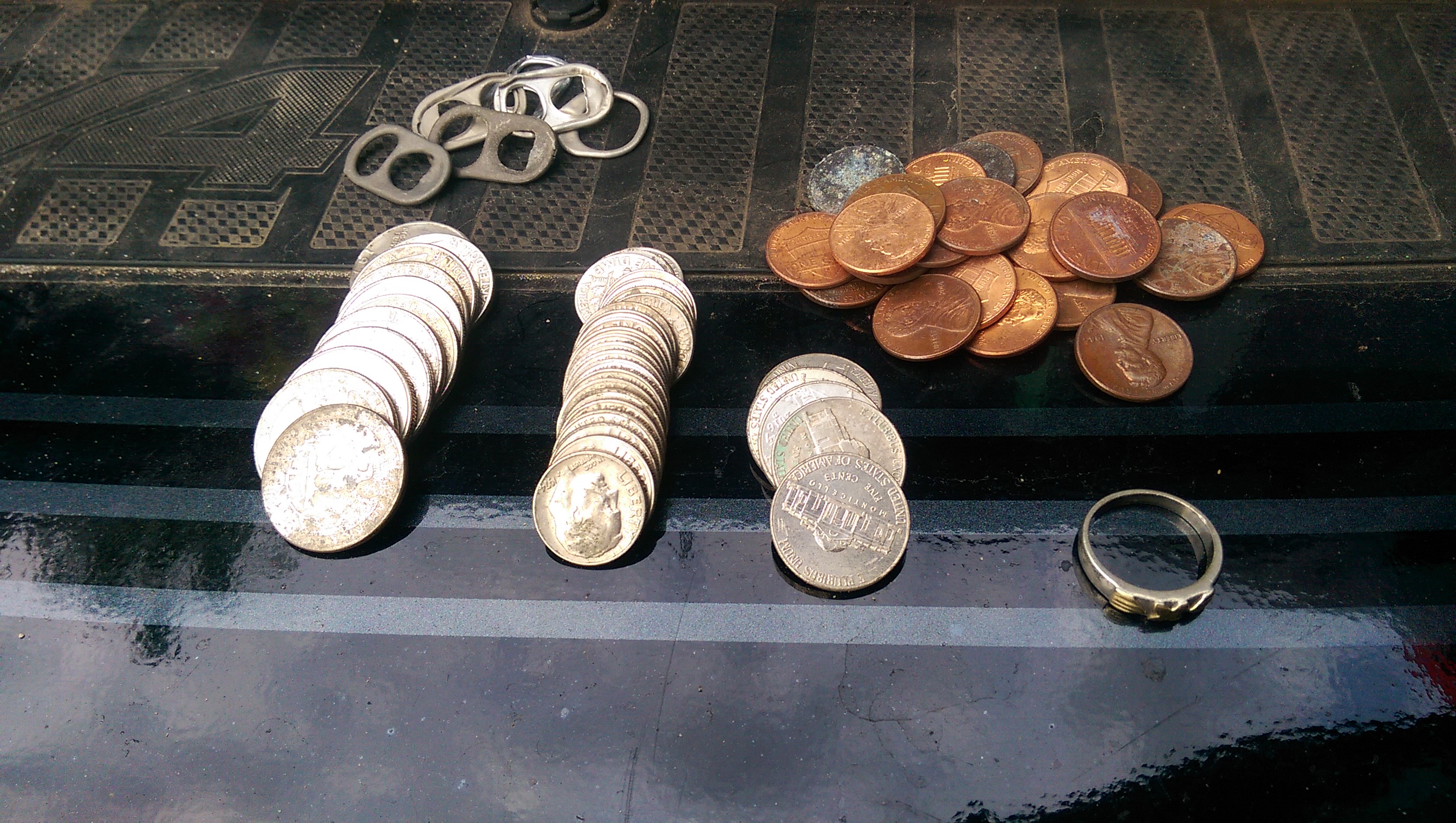 Gretchens Take
2.40 and 2 junkers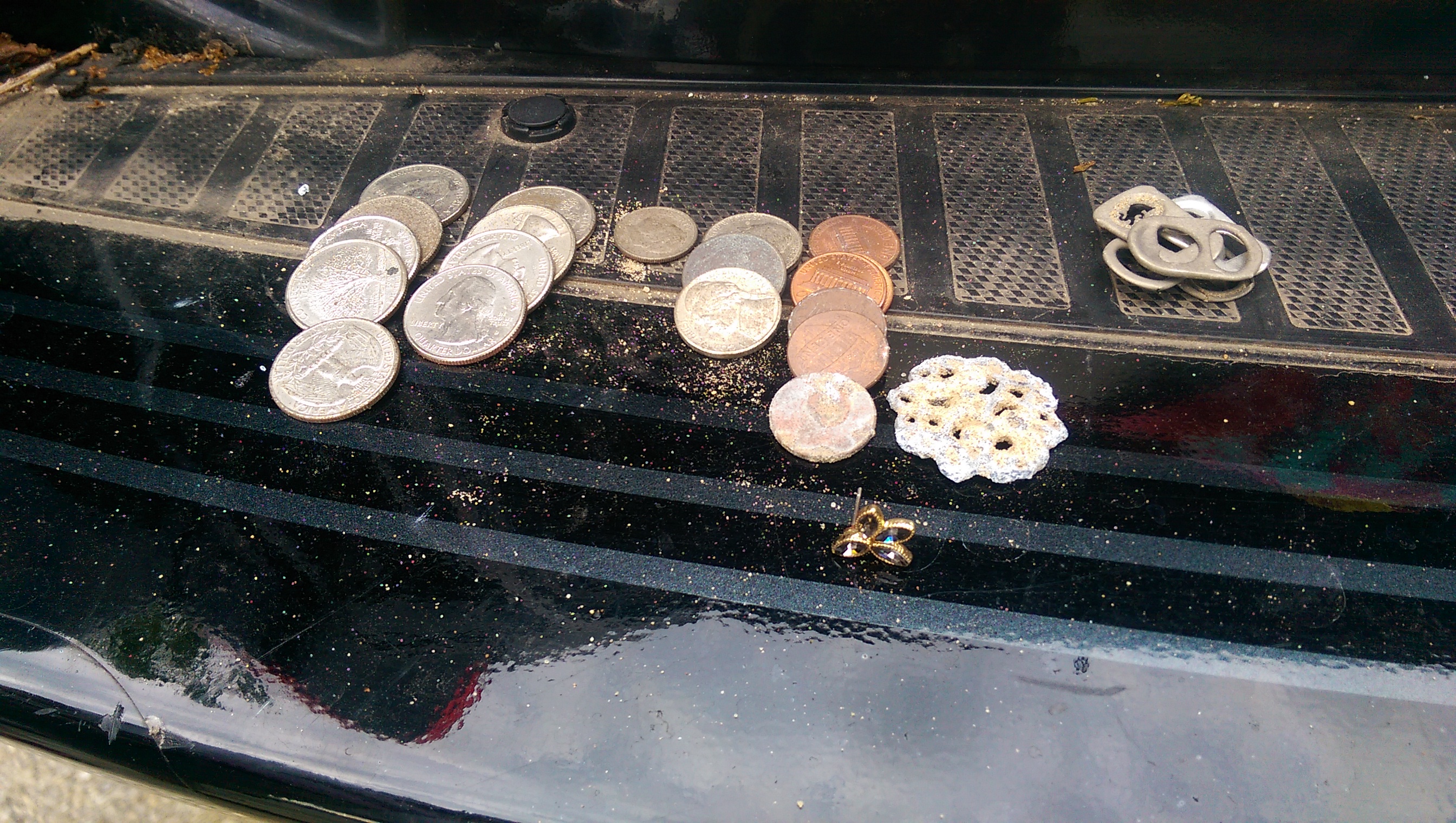 6-15-17
Red letter day, not for me but for my honey!
I managed about 8 dollars in change and 4 junkers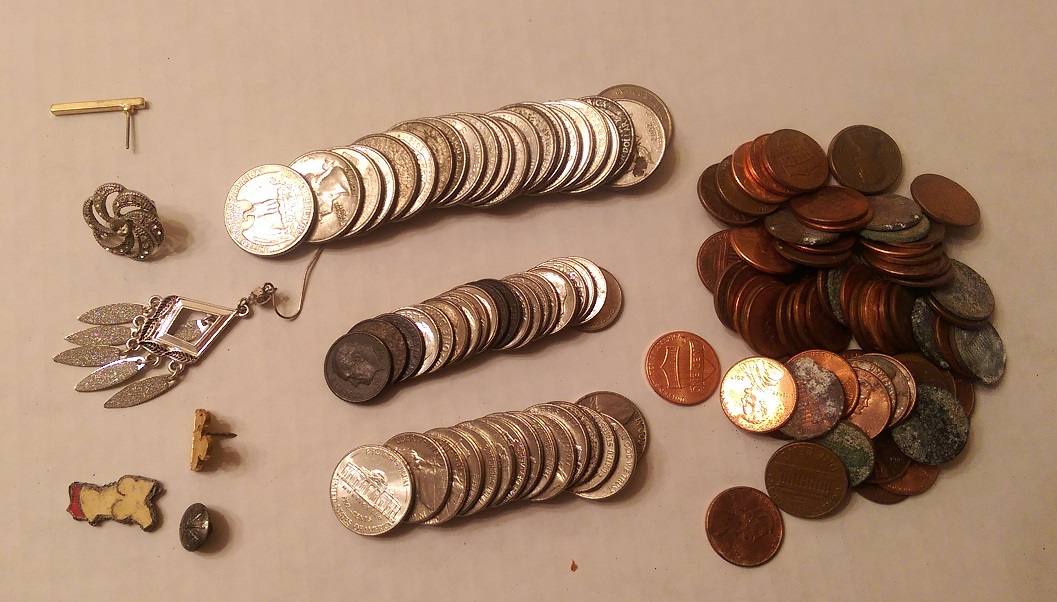 Gretchens Take
3.30 in change and her first Beach Gold!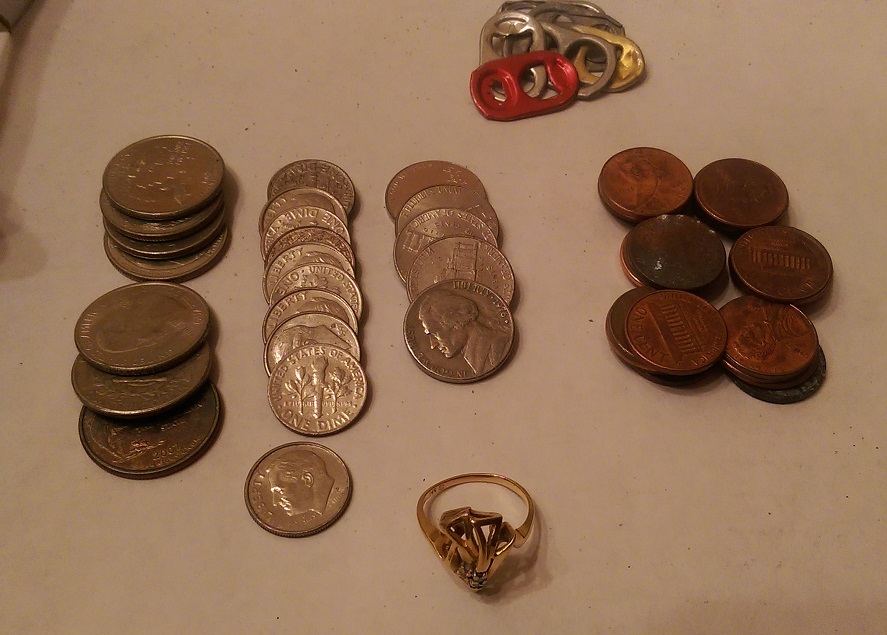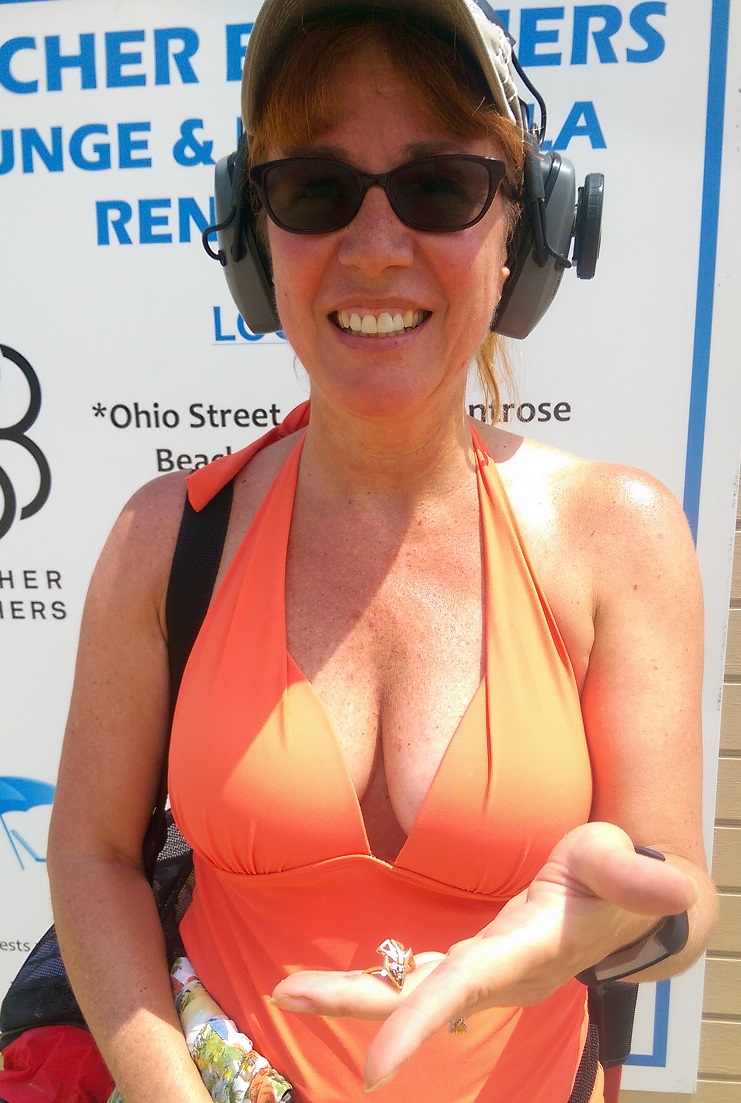 14K gold ring with 3 small diamonds, 3 grams CONGRATS BABY!

6-14-17
3 and a half hours with about 7 dollars, another british pound coin, 3 junk jewelry


6-12-17
4 hours today on a couple different beaches, 9.50 in change 4 junkers...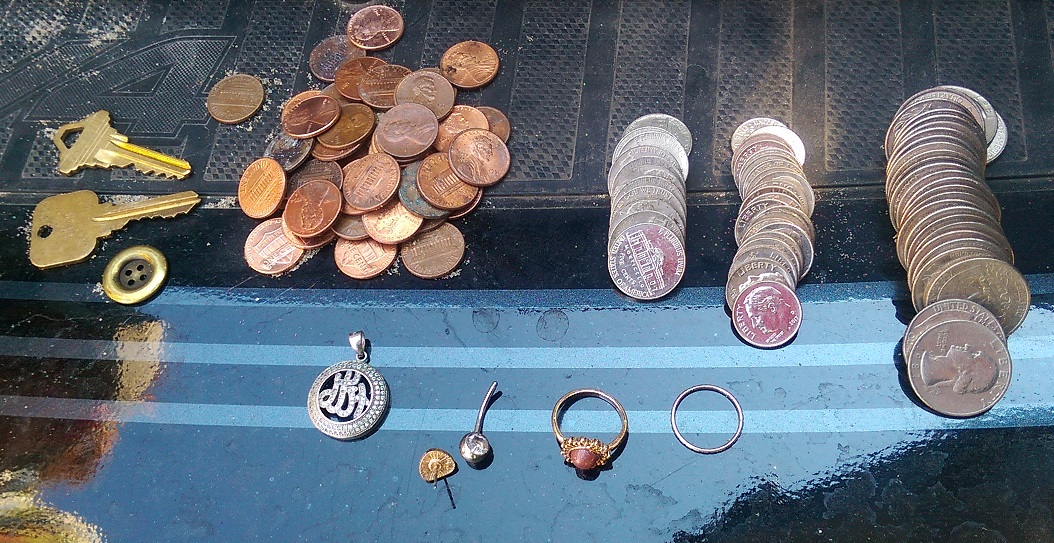 and a beauty silver medalion, stones are CZ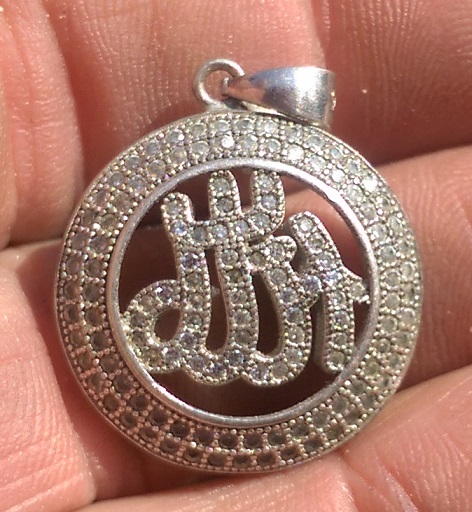 Gretchens Take
4.55 in change and 3 junk jewelry. she's getting there!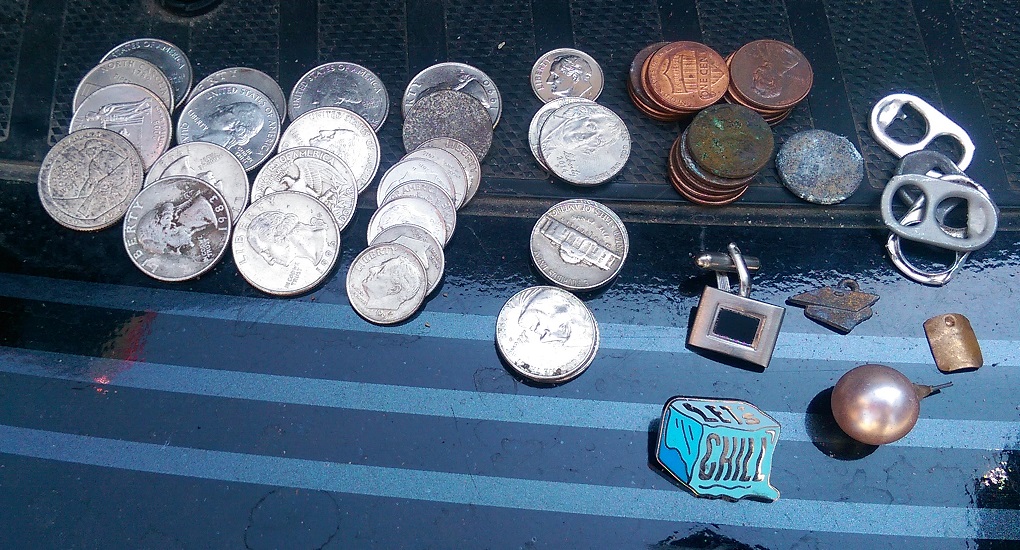 6-11-17
For some reason I missed the other photo of the total. had about the normal of 9 dollars
plus the Nitro which looked good in the scoop. Junk bling ring and 4 other junkers. another wheat.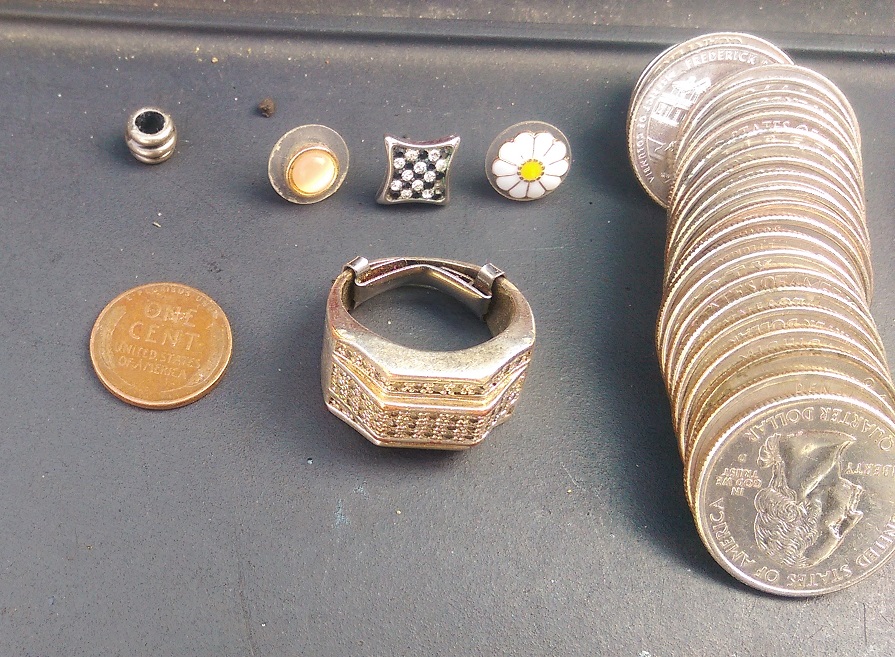 6-8-17
Out for a little over 3 hours after work. lots of coins 8 dollars and another 5 junkers.
Also got a 1 pound British coin 1.25 in cash for the October England trip. LOL


6-6-17
3 hours in the dry, another 8 bucks in the fund. LOL 4 junkers and a wheat penny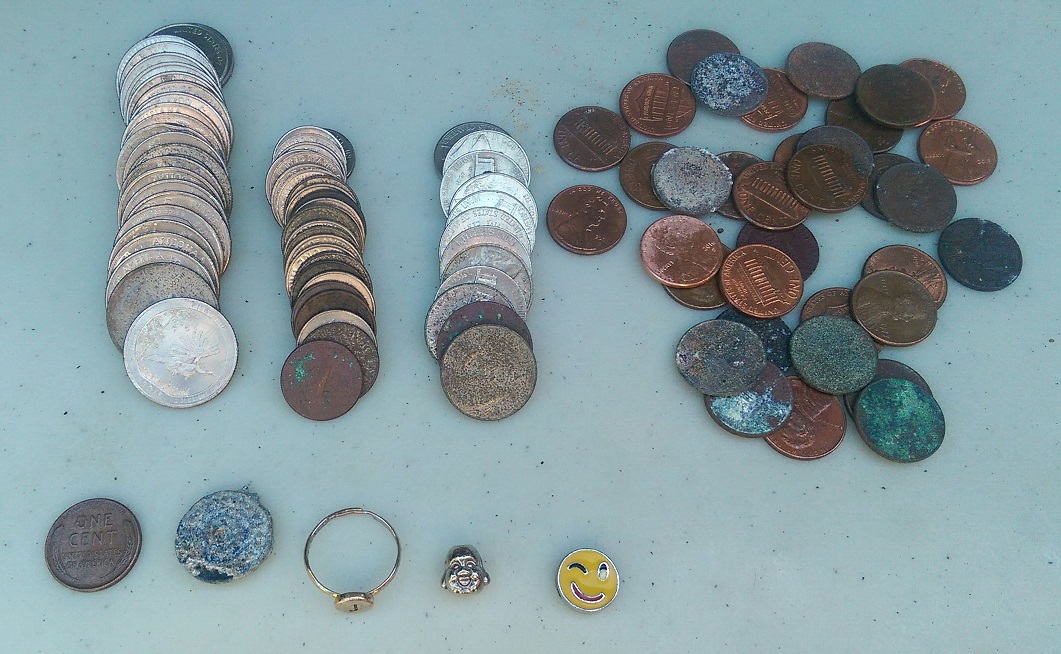 Gretchen's take
Almost 5 bucks and 2 junk jewelry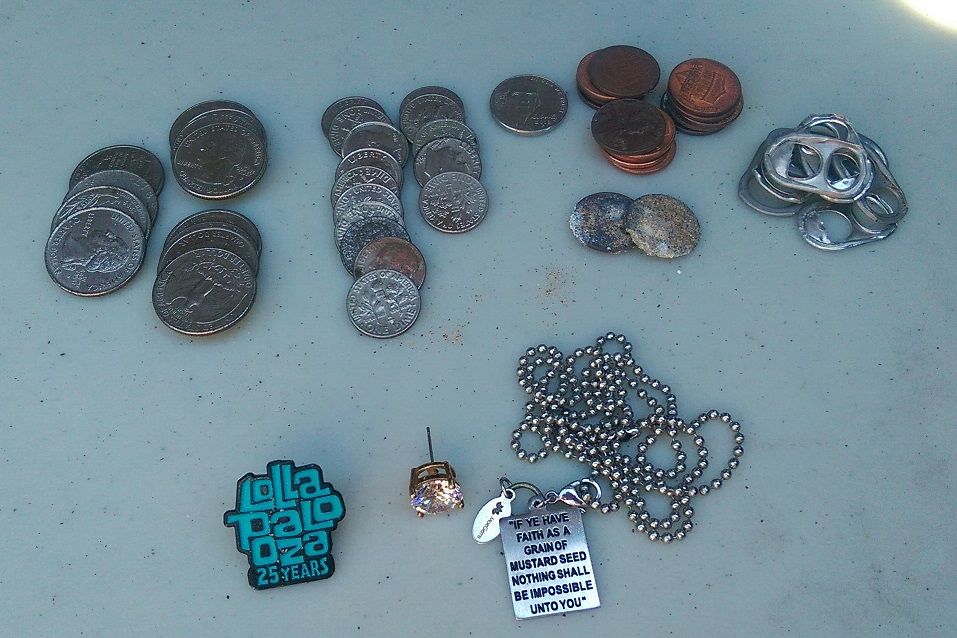 6-5-17
Another 3 hour hunt in the dry sand. The body just does not like the cold the way it use to. LOL
will wait until the water gets into the high 60's to get back in.
About 9 dollars in change and 6 junk jewelry.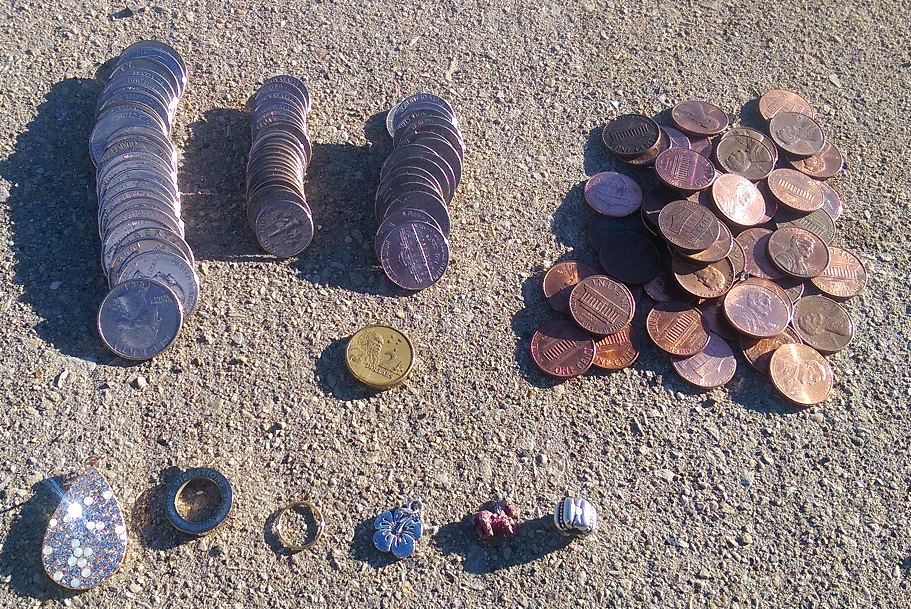 Gretchen's take
Gretchen got about 2.50, She is still learning the ins and outs of beach hunting
and is getting better at recovery with every trip.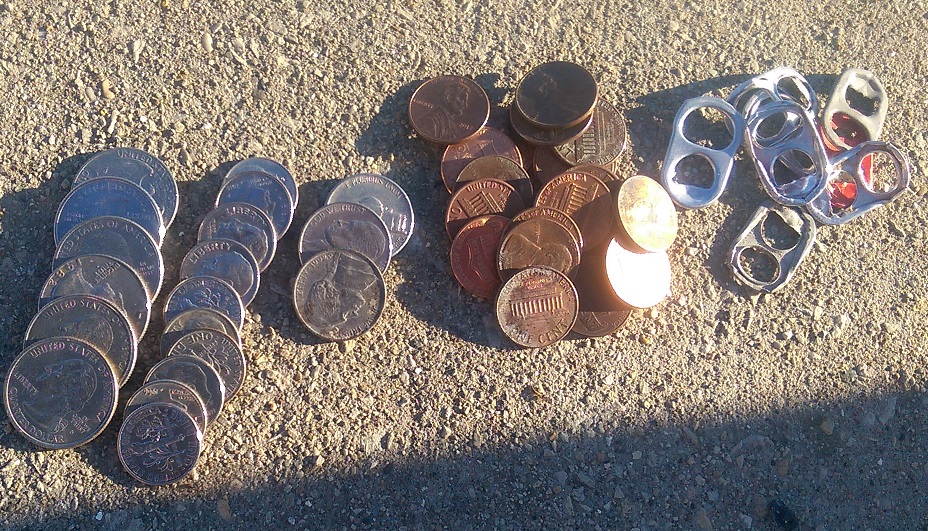 5-31-17
Headed back to the same beach, another 7 dollars in clad. 3 junk jewelry and a siilver ring.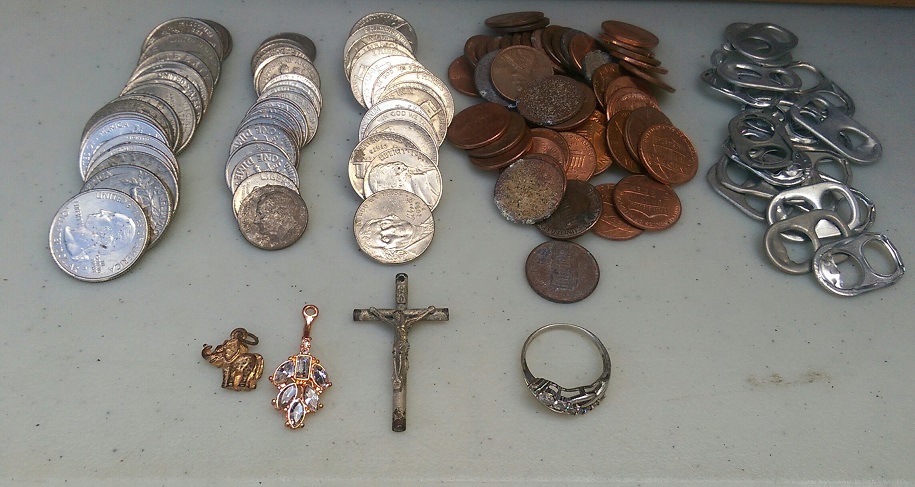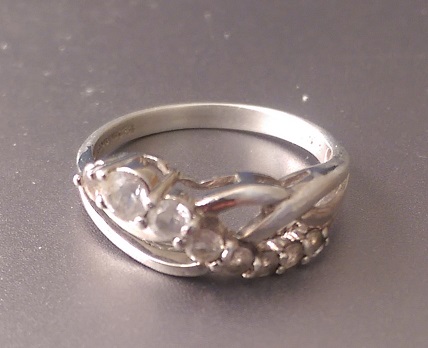 Gretchens take
little over 4 dollars and 3 junk jewelry.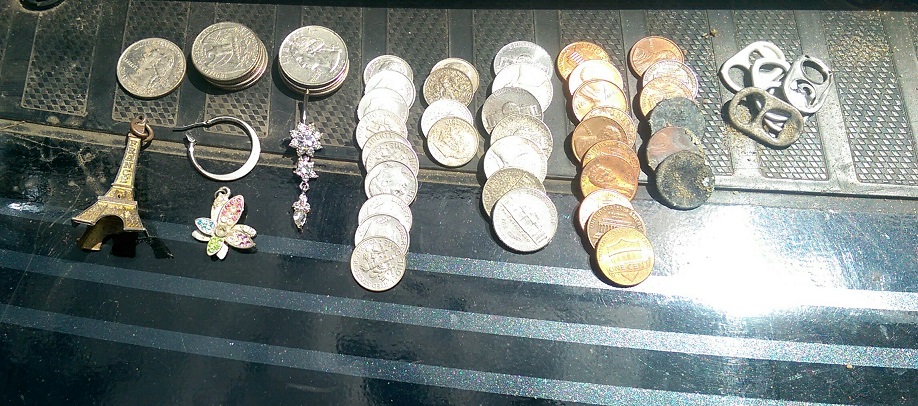 5-30-17
Hit the beach with Gretchen for 3 hours. The memorial day crowd dropped lots of coins.
My take was 15 dollars in change, 2 junk rings, stainless steel chain with a silver cross and a silver heart anklet.
one of the nickles is a 1943P silver.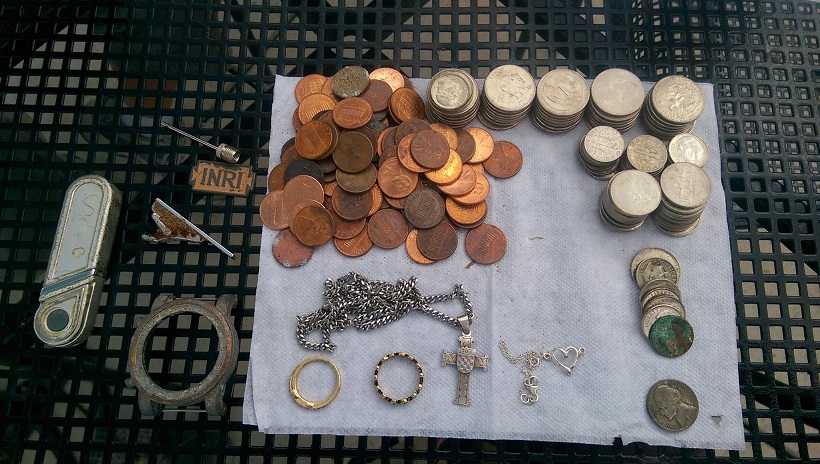 Gretchens take
6.50 in clad and a junk medalion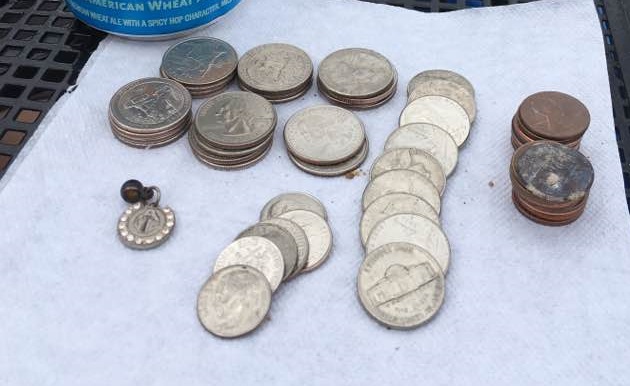 4-18-17
Got out for an hour or so this morning. Went over the area I tried the last two hunts. 1 more ring and several coins.
Tried the GM power mode, got a few targets that were under iron.
Ring was silver plated Indian head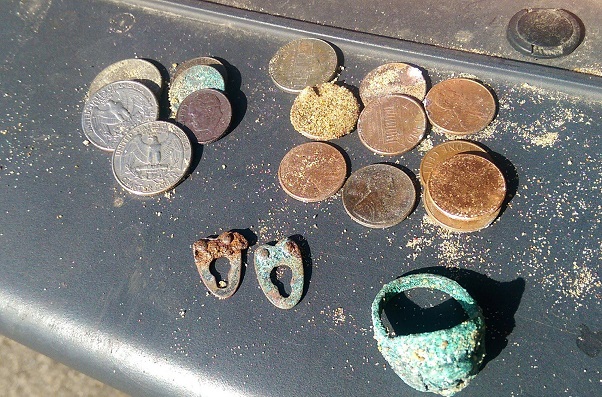 4-15-17
Hour and a half at the same beach as yesterday. Today I went left. Lol
14K men's band and about 2 bucks in change.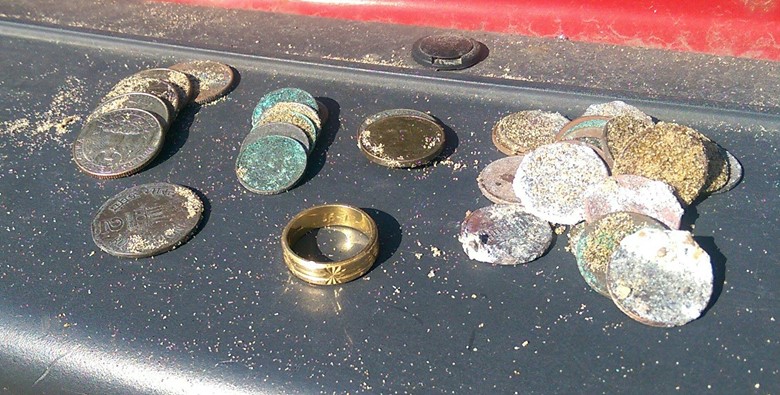 14K mens band 5.5 grams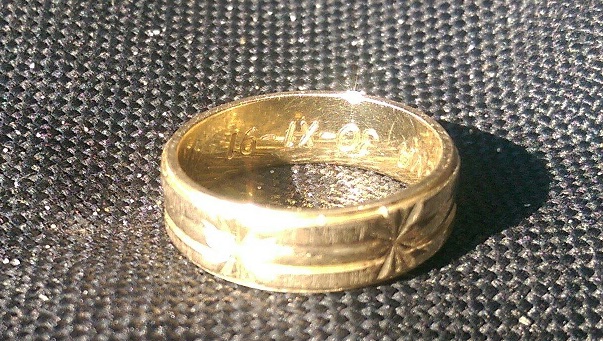 4-14-17
Nice day on the beach.
Worked the wet slope for about 4 hours today. about 3 bucks in change and 8 rings!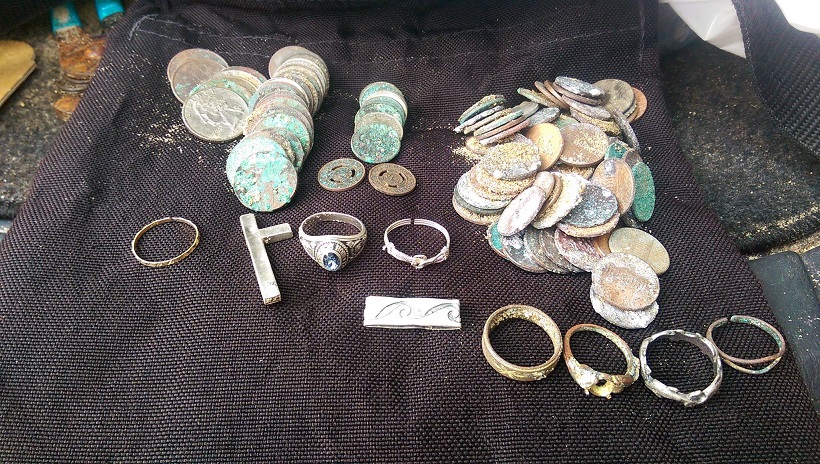 Nice small gold band tested 14K .5g andf 3 silver rings and a broken silver cross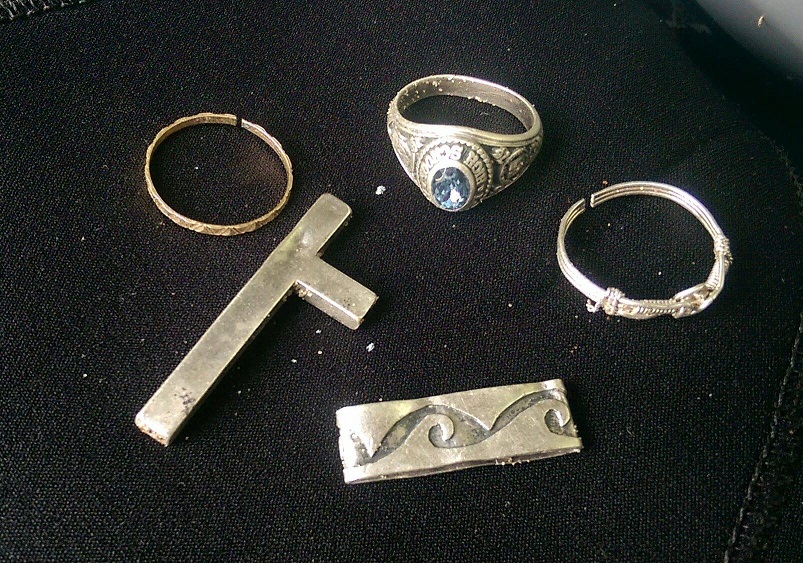 March 7th 2017
Cal George popped a beauty today!
20-25AD Cunobelin silver unit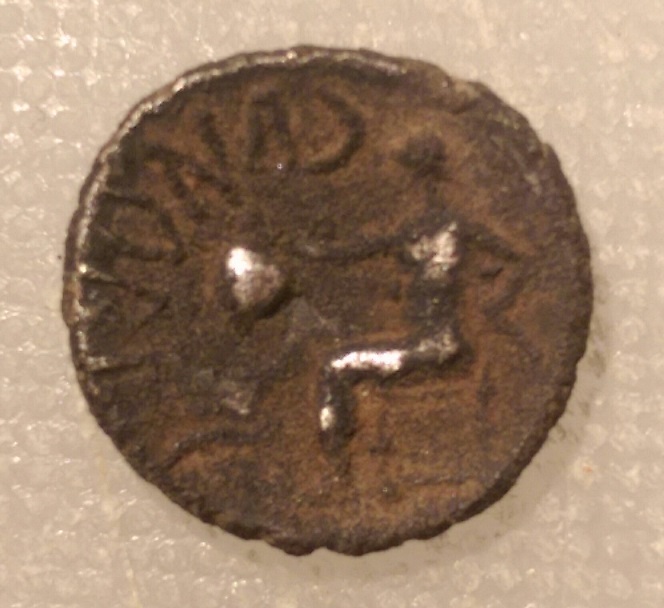 March 6 2017
My first good finds, 1581 cut down Lizzy 6 pence and a silver decoration of woman washing clothes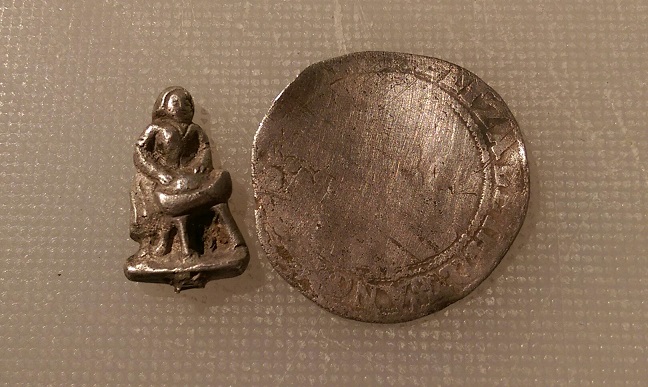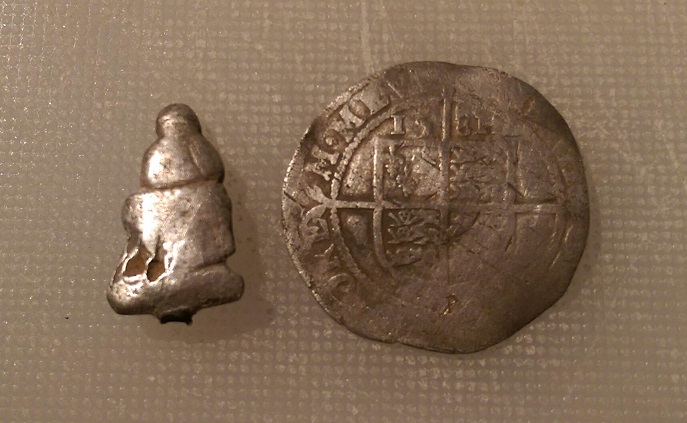 March 4th 2017
Time once again fot the England Barn hunt!
Week 1 team photo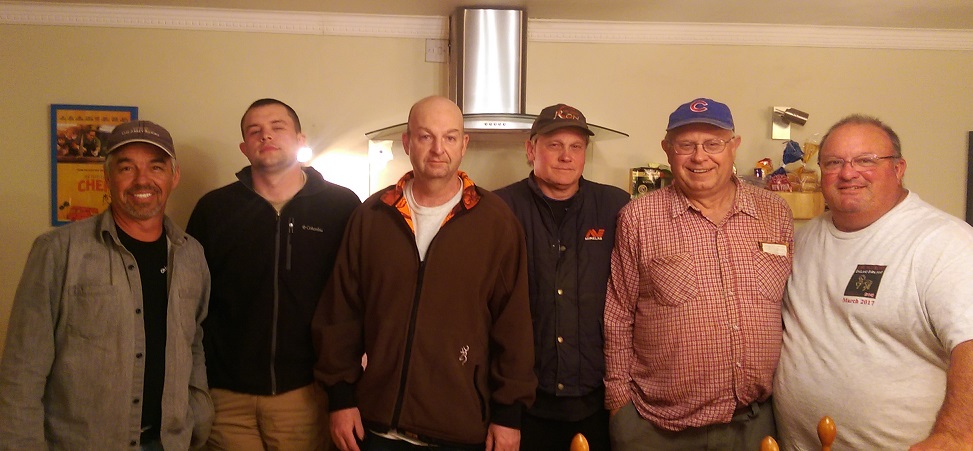 Me, Italy Nick, Bavaria Terry, Illinois John, Tenn Wendell, Florida Stan
February 25th 2017
Gretchen and i took a long weekend in Punta Cana, with Eric and Kathy from the Mix Q101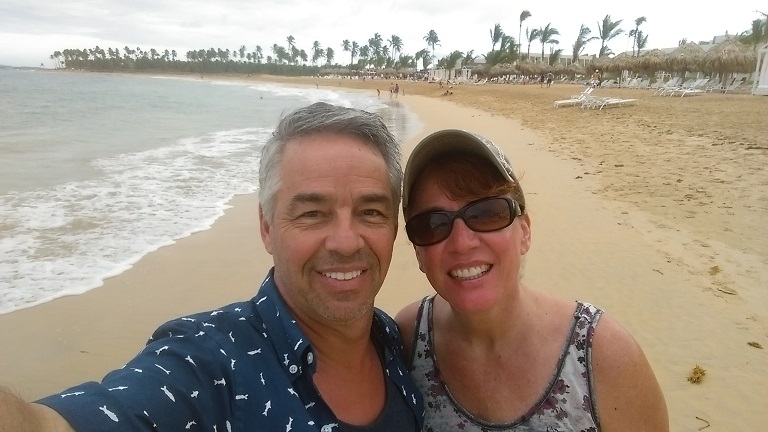 Had lots of fun and got to see 2 concerts
Watching One Republic Rock a set on the beach in Punta Cana! thanks Eric and Kathy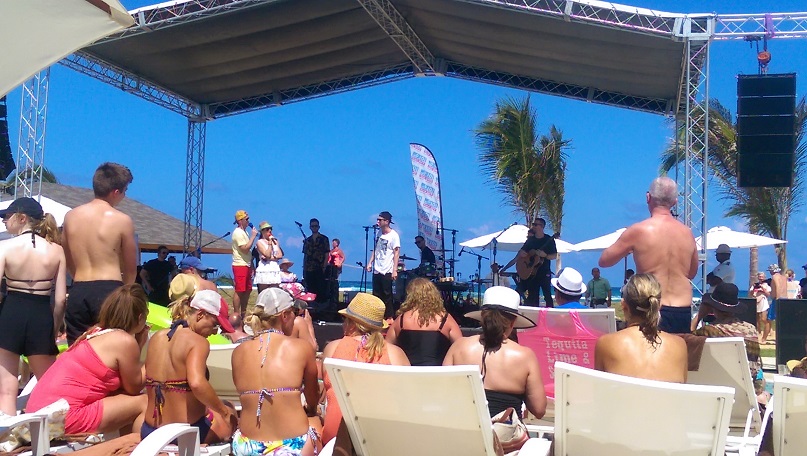 Gavin McGraw on stage with Eric and Kathy
I did hit the beach with the Deus, lots of garbage but not too many coins.
1 tungston Carbide ring was the best of it.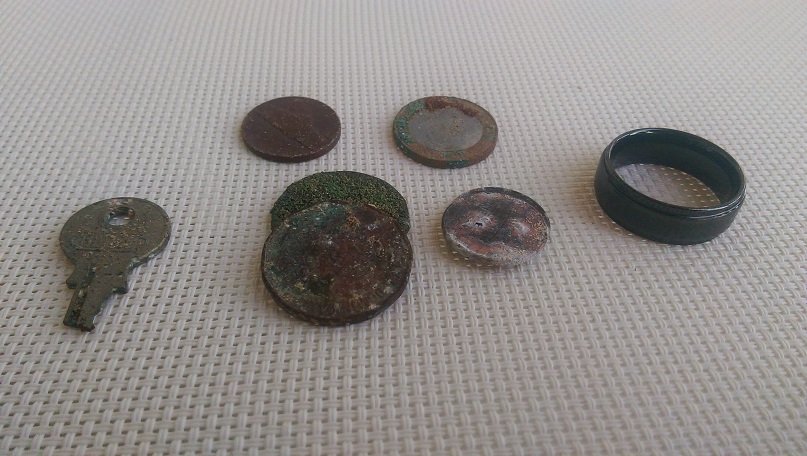 February 2 2017
OK I have to share this as it can happen to anyone. LMAO
I found this platium chain with medalion on June 16 2011, Platinum chain weighs 31.9 grams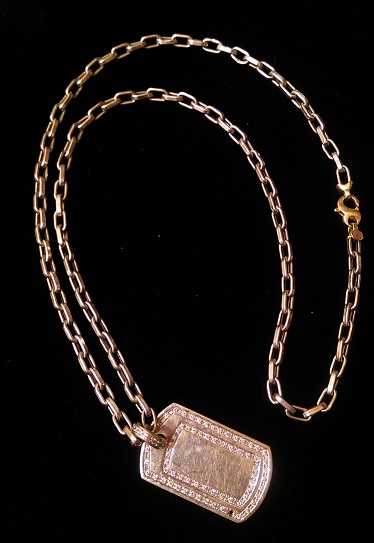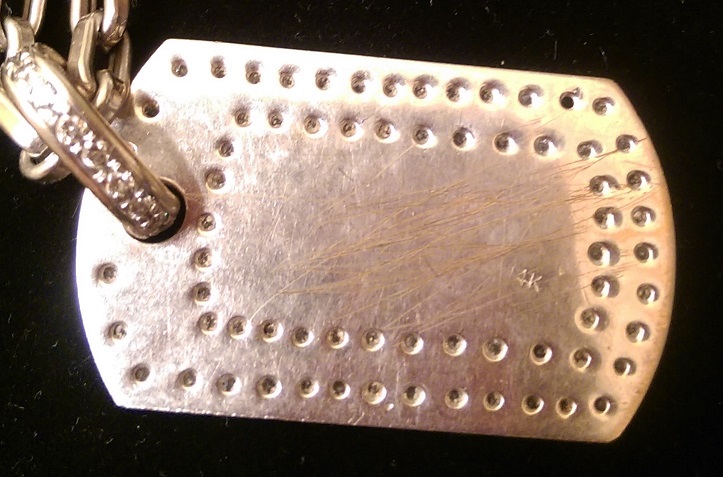 Pic 1- shown as found, the medallion that was on the chain had scratches on the back right near the 14K mark, which went right through the White gold finish. I completely discounted the medallion as junk and threw it into my junk jewlery box!
Now 6 years later! This afternoon I decided to go through my junk jewlery from the last 12 years. I found a couple silver earrings and found the forgotten medalion, after retelling the story to Gretchen I decided to take a closer look at the medallion. First I tested the stones.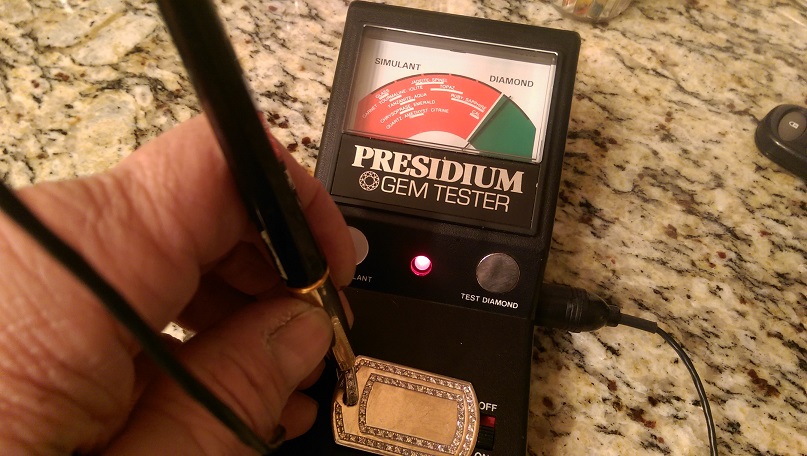 Pic 2 real! 68 1 pt diamonds and 16 2 point diamonds in the bale 1ct total! LOL
tested the gold 14K on the medalion and bale.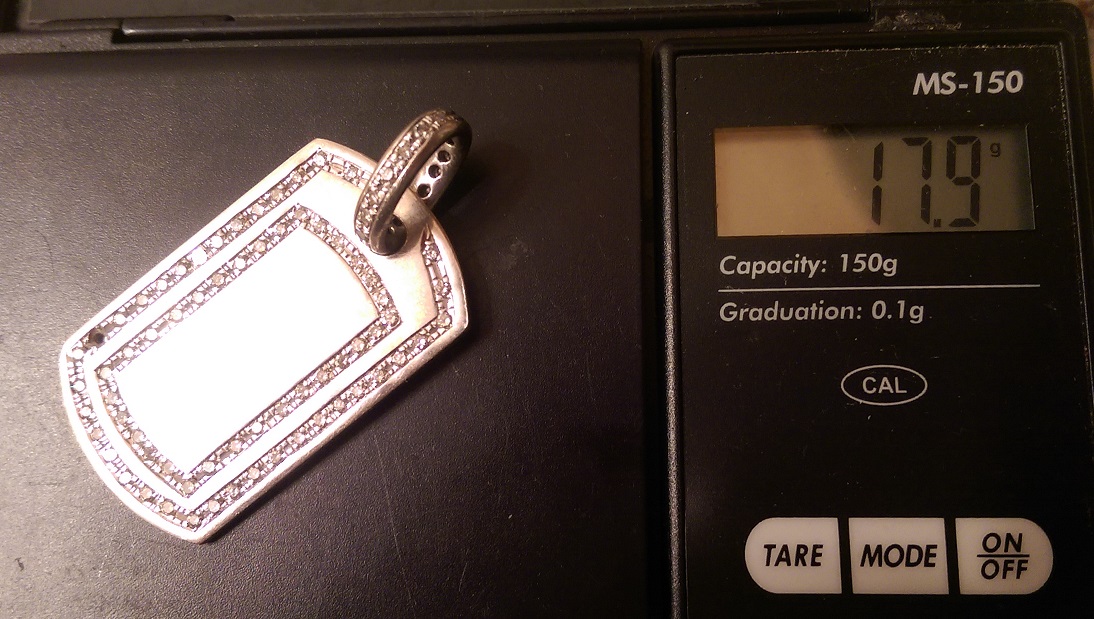 Total weight 17.9 grams of 14k. Scratches only went through the rhodieum coating.
The moral of the story is don't take anything for granted, CHECK IT ALL!